#20 Gourmet Cooking with Marlee Brady
Gourmet cooking may be the last thing on your mind as a mama, but Marlee has some tips that make it do-able and shares why she thinks it's important and matters even in today's busy world.
Hey Mamas.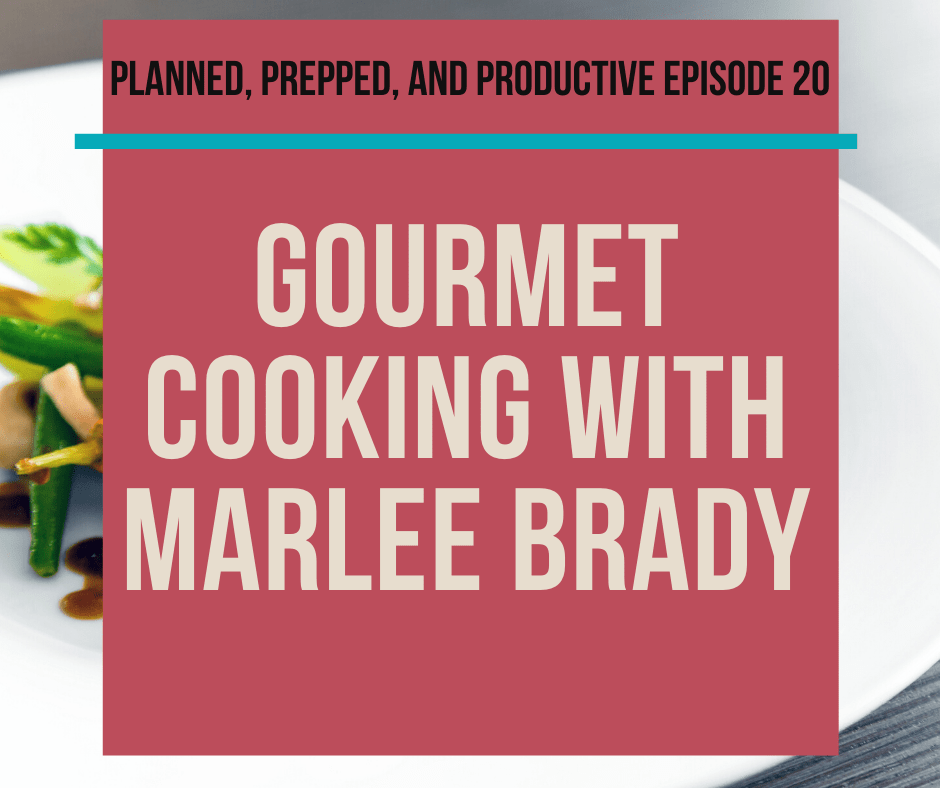 So, you see the title of this post and you may be thinking, gourmet cooking? I'm barely surviving….no way I'm gonna be doing any "gourmet cooking" any time soon.
But I promise, there was some intention behind asking the amazing Marlee Brady of I Just Make Sandwiches to be on the podcast.
I spent several years working in food service management and commercial kitchens prior to becoming a mom and starting this community.
…and ya know what. So much of what I teach here I have learned from observing chefs and seeing HOW they are able to put a meal on the table quickly for a huge crowd.
Chefs are MASTERS of meal planning and meal prep ya'll (though they might not call it that).
It was for that reason that I knew I had to get Marlee on the podcast to talk about gourmet cooking.
Gourmet Cooking with Marlee Brady
Marlee is a trained chef who worked in the culinary field before hanging up her professional apron to start who own food and cooking community (and rock the mom life, so she gets THAT crazy too).
Marlee focuses on teaching others how to elevate their dinners and make gourmet cooking a part of their regular life (…and just take a look at her blog or instagram…she rocks it, her food is mouth-watering!)
Inside this episode you'll find
Why gourmet cooking and cooking from scratch matters even in a world with modern conveniences
What a trained chef has learned about time management from her career in the kitchen
A simple tip for elevating your dinners that DOESN'T take extra time
3 Benefits of cooking from scratch that you can see in your life
How a chef makes homemade meals on the regular without a meal plan (hint, there's still some planning involved)
If you want more from Marlee, you can find her the following places (and she just had a baby so go give her some new mama love!)
Website: https://www.ijustmakesandwiches.com/
Facebook: https://www.facebook.com/ijustmakesandwiches/
Instagram: https://www.instagram.com/ijustmakesandwiches/
Marlee also has some great resources available for her listeners, so check them out if you want to elevate your own dinners!
Basic Cooking Principles email course
7 Simple hacks to elevate your dinner
Want to know my thoughts on Gourmet cooking and cooking from scratch? Check out the following past episodes!
Meal Prep that tastes great in 3 easy steps