Healthy Sweet and Sour Meatballs with Pineapple
These healthy sweet and sour meatballs are made a bit lighter and healthier by using half ground turkey, and cutting down on the sugar found in most recipes. They are also loaded with a simple veggie stir-fry and also contain fresh pineapple. The seasoning of the meatballs is absolutely on point meaning you definitely won't be wanting for flavor with this recipe.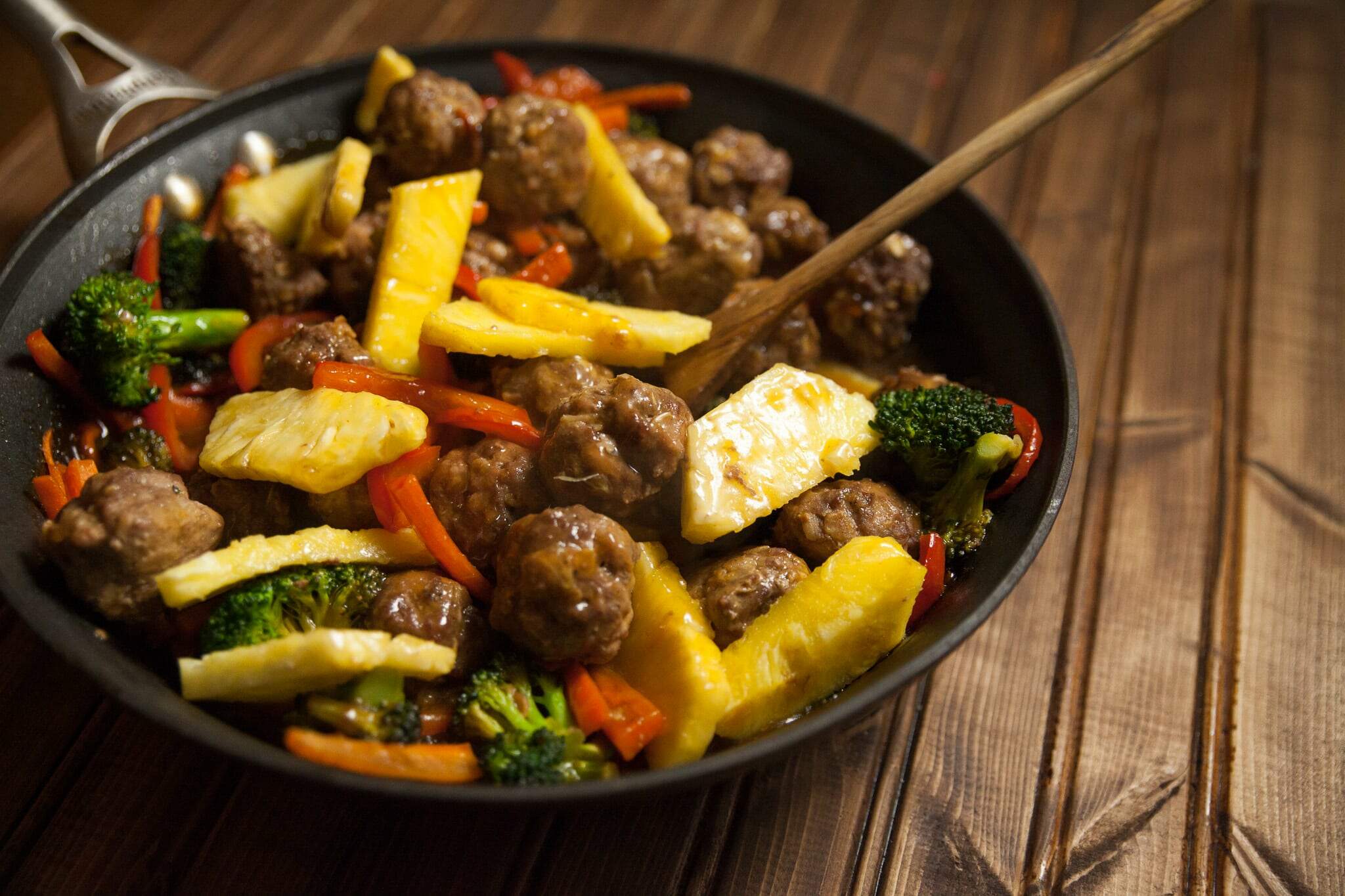 These sweet and sour meatballs with pineapple have been on my favorites list since college.  I don't know what it is about perfectly seasoned meatballs in a sweet and tangy sauce that just hits the spot for me.  This is one of those quick family meals that can be put on the table in no time and is generally enjoyed by everyone (SCORE!).
There are a lot of variations of sweet and sour meatballs out there.  Most of them are some kind of combo of canned pineapple, brown sugar and vinegar, and green bell peppers.  These versions are good, but my version has made quite a few turns over the years that I've been making it, and they are definitely for the better.  Let's talk about some of the changes I've made and why I think you ought to do the same.
Healthy Sweet and Sour Meatballs with Pineapple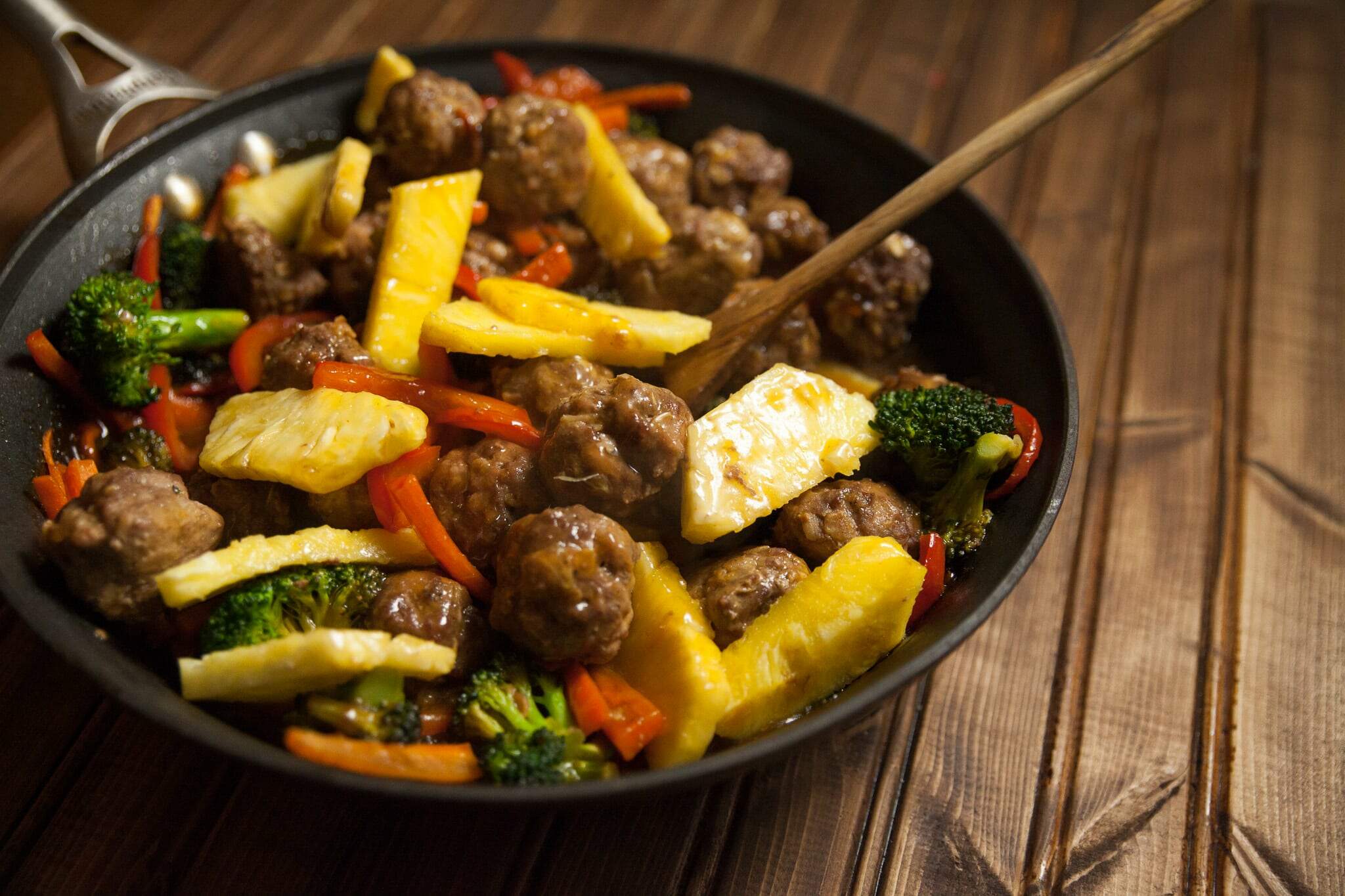 This post contains affiliate links, meaning that if you make a purchase from one of these links a small percentage comes back to me at no additional cost to you. Learn more by visiting my disclosure page.
The first thing that I wanted to do with sweet and sour meatballs, is make them a bit healthier.  I think the first version of the recipe I used called for a full cup of brown sugar.  It was delicious, but yikes, my dinner was at dessert status with amount of sugar.  I cut the sugar in this recipe down to 1/4 C.  I also added a little orange or pineapple juice for some natural sweetness to make up for the refined sugar that was now missing.  I usually use orange juice because I am more likely to have it on hand, but if you choose to use canned pineapple instead of fresh, you may use the pineapple juice straight from the can instead of draining it.
I also decided to use a bit of ground turkey in this recipe as well to lighten it up a bit.  I am not a HUGE lover of ground turkey, and my husband is definitely a beef guy through and through.  One of my favorite tricks for lightening up a recipe though, is to use half ground turkey and half ground beef.  That way, we still both get the typical beef flavor we enjoy, but we cut down on calories and saturated fat just a little bit.  It's a win-win situation.
The last thing I wanted to do with sweet and sour vegetables is up the amount of veggies, and stir-fry them instead of just boiling them in the sauce.  You can really use any veggies you like in this recipe.  I chose carrots, broccoli and red bell pepper because they are pretty standard stir-fry veggies, and I love that the finished product is so colorful and eye-catching with a rainbow of colors. You could also use any color of pepper you like, maybe even throw in some hot peppers for a hot and tangy twist.  You will want a large saute pan or wok to saute all those veggies!
My favorite change to these sweet and sour meatballs that I have made over the years is to use fresh pineapple.  While canned will most certainly do if that's what you have on hand, I highly recommend adding fresh pineapple to your grocery list to take these meatballs to the next level.  You just can't really get that perfect ripe sweetness from fresh pineapple.  Also fresh pineapple happens to be in season in the winter, making it the perfect time to scoop some up!
This fast and easy meal is on our rotation all the time.  Try it out, and I'm sure it will become a regular on yours as well!
What veggies do you think would be totally delicious in these sweet and sour meatballs?
Healthy Sweet and Sour Meatballs with Pineapple
This sweet and sour meatball recipe is a smidge lighter than most because it uses ground turkey and cuts down a bit on the sugar in most recipes.  Don't worry, it doesn't lack in flavor.  Fresh pineapple and the perfect seasoning blend in the meatballs makes this dish super tasty!
Ingredients
Meatballs
1 lb Ground Turkey
1 lb Ground Beef
1/2 C Rolled Oats
1 large egg
1 tbsp soy sauce
1 1/2 tsp salt
1/2 tsp black pepper
1/2 tsp garlic powder
1/2 tsp ground ginger
1 large pinch red pepper flakes
Sauce and Stir-fry
1 C beef broth
1/2 C orange or pineapple juice
1/4 C brown sugar
1/4 C white vinegar
2 tbsp soy sauce
2 tbsp corn starch
1/4 tsp cayenne pepper
1 tbsp olive oil
2 crowns broccoli, chopped, (~2 C)
1 red bell pepper, cut in thin sticks, (~1 C)
2 large carrots, cut in thin sticks, (~1 C)
1 1/2 C fresh pineapple, cut in chunks
Instructions
For the Meatballs
Place all ingredients in a large bowl.  Mix well. 
Roll into meatballs about 1 1/2 inches in diameter.  Place on greased baking sheet.
Bake in a preheated oven at 425 degrees F.  Bake for about 20 minutes, or until a thermometer reaches 165 degrees F. Remove from oven and set aside for later.  I try to remove them from the pan within about 5 minutes, otherwise the fat that has rendered starts to solidify on the meatballs and is a little yucky!
For the Sauce and Stir-Fry
While meatballs are baking. Mix beef broth, orange or pineapple juice, sugar, vinegar, soy sauce, corn starch, and cayenne pepper in a medium bowl.  Set aside for later use. 
Heat 1 Tbsp of olive oil in a large saute pan or wok over medium high heat. When the oil is hot, add broccoli, red pepper, and carrots to the pan.  Let veggies sit for about a minute before flipping/stirring.  Try not to stir too much, as you will end up with soft veggies that don't half that stir-fry crispy-ness to them. Cook for 4-5 minutes until they've reached your desired doneness.
Make sure your sauce mixture is well-mixed and pour it into the pan.  Also add cooked meatballs and pineapple at this time.  Reduce the heat to medium and simmer until sauce has thickened up nicely.  Taste and adjust seasonings if necessary.  Serve over rice.