Make-Ahead Cinnamon Rolls (4 ways!)
Cinnamon rolls are a decadent, drool-worthy brunch treat, but you know what's not drool-worthy? At least not in a good way…waking up at the freakin' crack of dawn to make cinnamon rolls for a brunch party or holiday treat.  Solve that problem and get piping hot make-ahead cinnamon rolls with one of these 4 methods. 
Is there anything better than a piping hot cinnamon roll first thing in the morning with your family for a special holiday or weekend brunch treat?  I am a HUGE fan of a soft, sweet, warm cinnamon roll basically any time.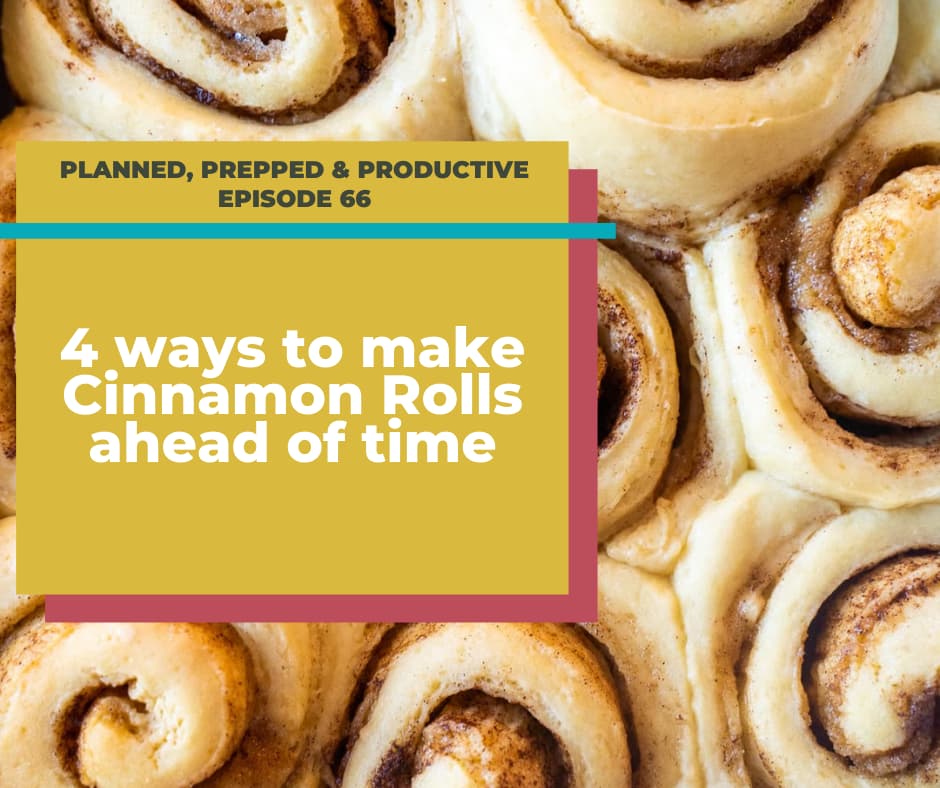 You know what I'm not a fan of? 
Waking up at early-as-fetch o' clock to make those cinnamon rolls happen.  No way. 
If you've followed along the blog or podcast for awhile you know that I love to use #parbaking to solve the problem of waiting for bread to rise and making tasty bread products ahead of time so you can enjoy them whenever you want them (I'm sorry that I shared this, or you're welcome, depends on your perspective. Ha!)
Parbaking usually works great and leaves me with fresh tasting loaves of bread or other bread products whenever I need them, but when I tried to #parbake cinnamon rolls the technique didn't work as well as I had hoped, and so I started out on a mission to find the best way to make make-ahead cinnamon rolls once and for all! 
In this episode I'm going to share ALL of the ways you can make cinnamon rolls ahead of time, but I'll make sure to let you know which method is the BEST! 
Make-ahead cinnamon rolls (4 ways!)
Should we dig into the 4 methods?  Let's do it! 
Method 1: Frozen Dough method
Another method for make-ahead cinnamon rolls ahead of time is to make the recipe as written until just after you've cut your cinnamon rolls.  At this point, instead of letting them rise for a second time you will put them on a silicon baking mat on a cookie sheet and flash freeze them until solid, then you'll move them to a freezer bag.  
When you are ready to bake you will pull them out to thaw and rise before baking. 
This method is not particularly convenient to me if we are having a party or company to enjoy the rolls.  It's a little finicky and time-consuming.  I CAN see the merit though if I want to make a big batch of cinnamon rolls, enjoy some of them fresh, and freeze some for another day. 
I tried it out and it worked well, but the rise time is pretty significant from frozen so this certainly won't solve the problem of waking up early if you want to enjoy them in the morning.  They tasted great and fresh though so it's a method to consider if it meets your needs. 
Method 2: Full-bake method
By far the easiest way to make your cinnamon rolls ahead of time is the "full-bake" method.  In this method you follow the instructions exactly as written, cover and freeze if you won't be enjoying them for a few days or weeks, or leave at room temperature overnight and re-heat in the oven. 
When you reheat be sure to use a low temperature and heat them only until they are heated through so they don't get overcooked.  Try reheating at 250 degrees F for 15-20 minutes.  Add your frosting or glaze straight from the oven on the second day (you don't want to reheat your frosting!) and enjoy. 
I love this method because it's so easy, but your cinnamon rolls might be a touch more dry with this method.  I don't know that anyone would notice or care, but it's definitely something to consider when choosing which method you will use. 
Method 3: Parbake Method
The last method for make-ahead cinnamon rolls is the parbake method. 
As I said earlier, normally this is my favorite method and the best/easiest method that produces the best quality products. 
Parbaking means partially baking, freezing, and then finishing the baking process at a later date.  Technically your products are cooked through when you freeze them, but the goal is to keep them pale and barely cooked so that when you reheat them you can get a nice even browning without over-cooking. 
However when I tried my normal method of cooking at a low temperature, the rolls were over-rising.  I think the problem was that because of the filling in the center they take longer to bake, and because they were baking at such a low temperature they weren't getting set they just continued rising and rising.  
I was pretty determined to make this method work, so I experimented a little.  Here's how I found works best. 
Reduce the Yeast by 25%-reducing the amount of yeast stops that "oven spring" effect and allows me to parbake them slowly without them over-rising. 
Up the parbaking temperature-cinnamon rolls don't handle the low temperature parbaking as well as other things like bread and rolls so I bumped the temperature up to 300 degrees to ensure faster par-baking. 
Method 4: Overnight refrigerator method
The most common method that I've seen on the internet is the the overnight makek-ahead cinnamon roll method.  How does it work? Good question.  Essentially you make the cinnamon rolls as you normally would, but instead of letting them rise you put them in the fridge overnight and bake in the morning.
This method honestly sounded the most promising to me, until I discovered that basically all of the recipes required that you let the rolls come to room temperature AND let them rise before baking them.  It seemed pretty silly to me to even make these ahead if it was still going to take me 2-3 hours in the morning.  The plus side of this I guess is that you can get the rolls out of the fridge and then head straight back to bed, but I was looking for a method that let me STAY in my bed for as long as I pleased in the morning. 
After a little perusing, I found a tip for #not waking up early to let the rolls rise.  The tip is to bake the rolls in a cold oven so that the rolls can get a little extra rise before they start baking.  Another tip to make sure they rise enough is to let them rise for half of their proving time on the counter before you refrigerate them.  The refrigerator will slow the rising time big time, but this way they should be fully proved when you remove them from the fridge and ready for baking. 
I tried this method and absolutely LOVED it.  The rolls were totally fresh and totally delicious and it only required 20 minutes of my time on the morning we wanted to eat them. 
This method solved the problems and worked well!  However, to my surprise, I actually like the overnight method for make-ahead cinnamon rolls the very best.  It is the best balance of a quality cinnamon roll with simple and easy instructions that don't take loads of extra steps or time.  It's a win-win-win for me! 
I hope you enjoyed that recipe, it's our family tradition to make cinnamon rolls for Easter.  Maybe you can try one of these methods for your Easter dinner and let me know how it goes! 
Next week we'll have a fun guest on! My sister who is an aspiring life coach will come on to tell us about how our mental health gets in the way in the kitchen, as well as some ways we can take care of our mental health in the kitchen.  I'm excited to have her on! 
Some drool-worthy sweet roll recipes to try these methods on! 
Make-Ahead Cinnamon Rolls
Total Time:
2 hours
55 minutes
Why wake up early to make cinnamon rolls when you can make them ahead and enjoy them piping hot in 10 minutes? Try one of these ways to make them ahead!
Ingredients
For the Rolls
¾ cup warm milk (whole milk or 2% preferred) (110 degrees F)
2 ¼ teaspoons quick rise or active yeast (1/4-ounce package yeast)
¼ cup granulated sugar
1 egg
¼ cup unsalted butter, melted
3 cups bread flour, plus more for dusting
3/4 teaspoon salt
For the Filling
1/3 C butter, softened
2 tsp cinnamon
3/4 C brown sugar
For the cream cheese frosting
4 oz cream cheese
4 oz butter, softened
1 C powdered sugar
1 tsp vanilla extract
Instructions
Warm milk to around 110 degrees F by microwaving it for 45 seconds. I like to do this by placing milk in a microwave safe bowl and microwaving it for 40-45 seconds. It should be like warm bath water. Transfer milk to an electric stand mixer, add yeast, sugar, egg, and melted butter. Add in flour a little at a time until it starts to pull away from the side of the mixer. You may not use all the flour. The dough should be soft and slightly sticky but form a ball after kneading for 1-2 minutes.

When the dough is sufficiently floured, let it mix and knead for 7-8 minutes.

Transfer dough to a greased bowl and cover it with plastic wrap or a damp kitchen towel. Allow to rise until doubled (45-90 minutes). If your room is cold consider creating a proofing box in your oven by turning it on warm, then turning it off and letting it sit for 5 minutes before adding your dough to the oven.

When the dough has risen, punch it down and roll it down to a 12x18 inch rectangle Spread softened butter over the dough leaving a small margin on the far shorter side of the dough.

Mix together brown sugar and cinnamon and sprinkle it evenly over the dough.

Roll the dough up and pinch it off on the end that you left unbuttered.

Slice into 18 1-inch pieces using a sharp serrated knife.

Put cinnamon rolls in a 9x13 casserole. Cover again and let rise for 30-45 minutes until rolls have nearly doubled.

Preheat oven to 350 degrees F.

Bake rolls for about 25 minutes until lightly browned and cooked through.

While the rolls are baking make the glaze by whipping cream cheese, butter, and powdered sugar in a medium bowl with a hand mixer until smooth.

When the rolls are done spread the cream cheese glaze over the rolls while they are still warm and enjoy.

!Make-ahead directions

For the first method, make the rolls as directed until just after you have cut the rolls. Instead of letting them rise again, place them on a silicon mat or parchment paper on a sheet pan and freeze until solid. Once they are solid you can transfer them to a freezer bag. When you are ready to enjoy them, remove from the freezer and continue with the directions for the 2nd rise. They will take about 3 hours to rise from frozen.

For the second method, simply bake as written and then cover and freeze in the pan. When you are ready to enjoy let them thaw and then bake at 300 degrees until warm.

For the third method, bake at 300 for about 35 minutes until baked through but still pale. Then cover and freeze until ready to use. When ready to eat let thaw and then bake at 350 for 10-15 minutes.

For the final method, make the rolls as directed until the second rise. Let the rolls rise for only 20 minutes before moving them to the refrigerator. When you are ready to bake, bake at 350 in a cold oven for 25-30 minutes until baked through.
Nutrition Information:
Yield:

12
Serving Size:

1
Amount Per Serving:
Calories:

416
Total Fat:

21g
Saturated Fat:

13g
Trans Fat:

1g
Unsaturated Fat:

7g
Cholesterol:

70mg
Sodium:

281mg
Carbohydrates:

51g
Fiber:

1g
Sugar:

25g
Protein:

6g