Meal Prep Grilled Chicken (No Marinade!)
Having meal prep grilled chicken in your freezer is a life-saver for putting fast meals on the table. This recipe is juicy and delicious, and the best part? It takes just 4-5 minutes to prep and get on the table or in your freezer!
Meal Prep Grilled chicken (No Marinade!)
Shortly after I discovered meal prepping shredded chicken I became obsessed! I wanted to create convenience foods to store in my freezer. This way I could have from-scratch meals any time I wanted them. Enter this meal prep grilled chicken (with no marinade!)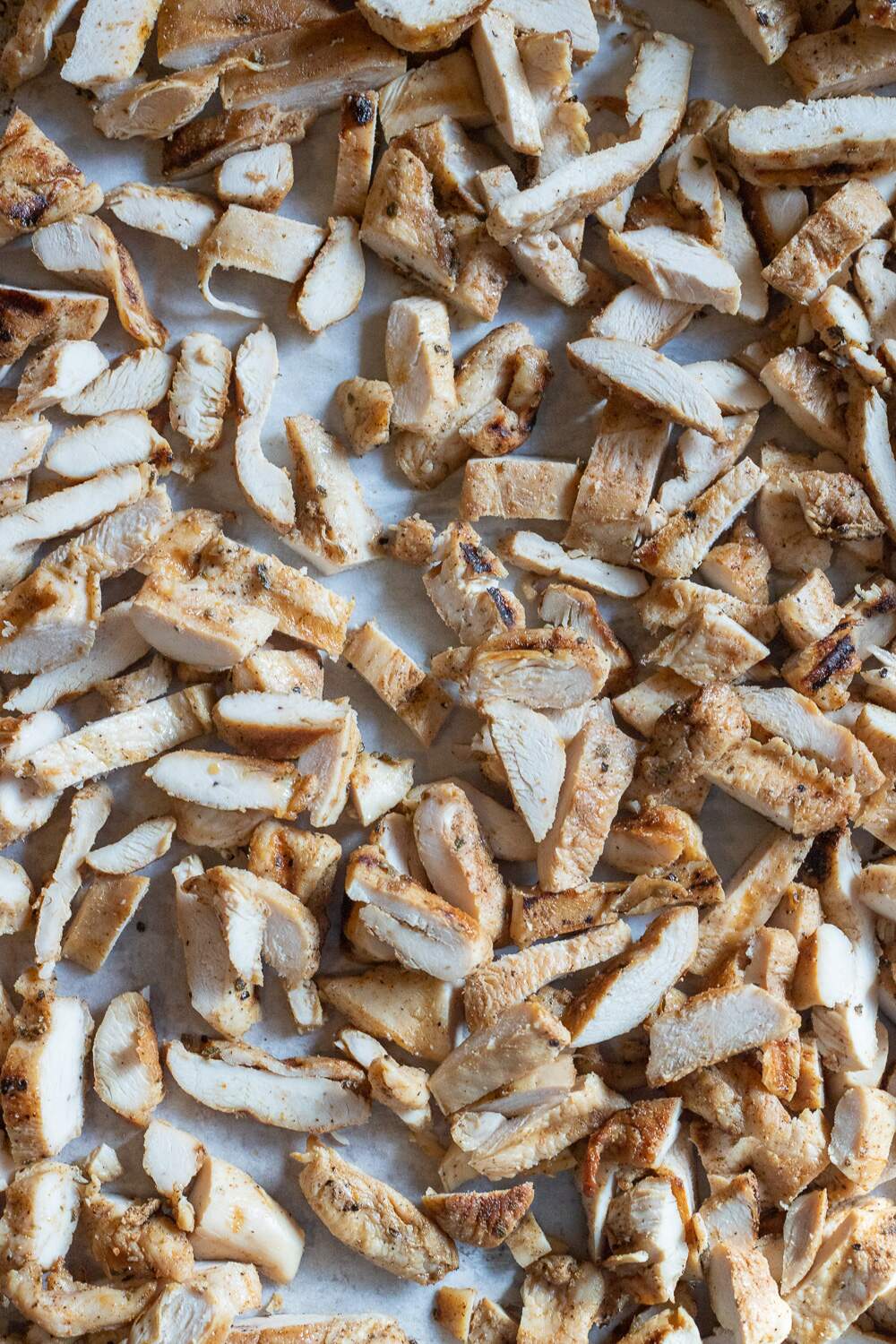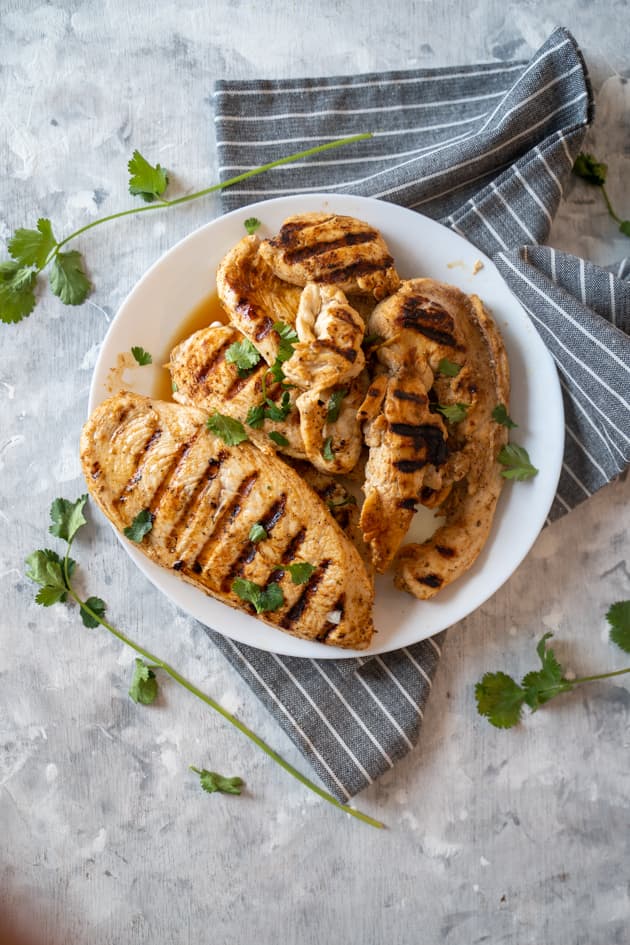 While it's not quite as hands-off as my slow cooker shredded chicken, it's still pretty quick and easy. You can also make it any time without making the time to marinade it. I love having different ways to prep chicken so I can use it in all of the different healthy recipes. This cooking method is super flavorful. I promise it will leave you guessing if you actually had marinated it, it's that good. It's a great way to get flavorful chicken in a short amount of time.
Learn more about why I think that pre-cooking chicken is one of the best things you can do for your productivity in the kitchen on the podcast
This post contains affiliate links. Read more about what affiliate links are and how they are used here.
How to meal prep grilled chicken
This recipe has only a few ingredients and comes together super super quickly, but I do have a few tips to help you get the best results.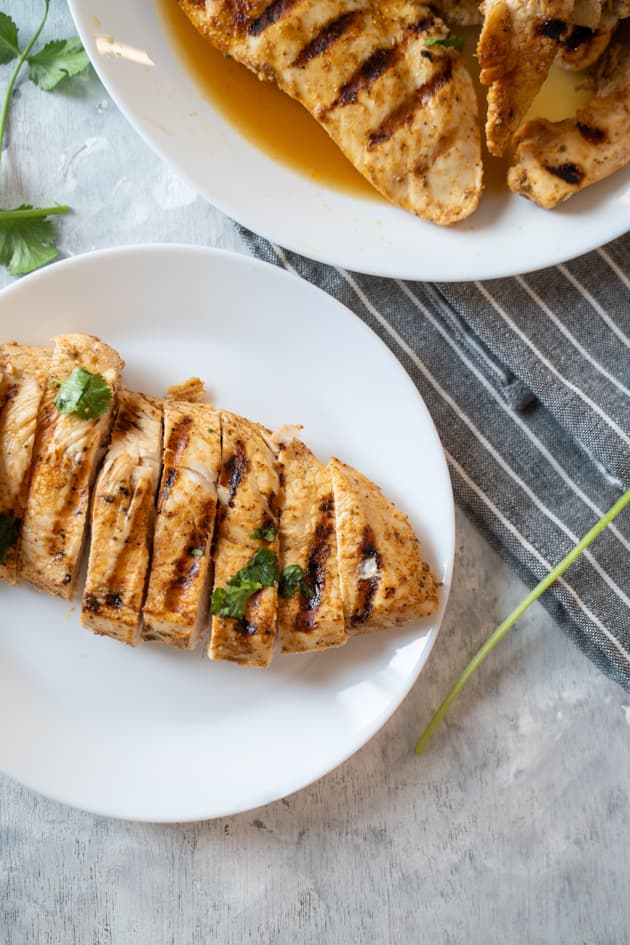 First things first, slice the chicken super thin. I'm talking as thin as you can. Instead of just butterflying the chicken, I usually slice each chicken breast into 4-5 pieces. Slicing the chicken thin helps it to cook faster and more evenly so it's less likely to be dry. Because we will be freezing and reheating this chicken, this is extra important. You want it nice and juicy the first time as it will only get drier as time goes on.
Pound it out using a meat mallet- I don't always do this, but you can tenderize the chicken even more by pounding it after slicing it super thin. An even thickness is also a simple step to get much juicer chicken and help you avoid overcooked chicken.
Use an instant read thermometer and check the internal temperature of the meat. Chicken is cooked at 165 degrees F. I will usually take it off around 160 and it will reach 165 through carryover cooking. Taking the meat off at just the right temperature will ensure it's nice and tender, not tough and overcooked.
Use a George Foreman grill (affiliate link) if it's too cold to grill outside on your outdoor grill (or maybe you're just not feeling like cleaning that bad boy!) This method is a bit more time consuming, as you can't throw all the pieces on at once. Even with that, it's great for multitasking something else like cleaning your kitchen while you take switch out chicken on george. We affectionately call him George at our house ;)) A george foreman grill will also give you nice grill marks.
Cook over medium-high heat. Cooking meat at higher temperatures in a hot pan is what will give you that beautiful crust.
Try chicken thighs-I usually use chicken breasts, but chicken thights can make for some ultra-juicy chicken that you are sure to love!
How to freeze meal prep grilled chicken
Once your raw chicken is grilled and rested it's time to freeze it for later use (after you've snagged a few pieces…it really is super tasty!)
You can freeze the grilled pieces whole, but I am trying to make things as easy as possible for my dinnertime self (I know that dinnertime me is looking for the first excuse to not make dinner) so I chop it up ahead of time so I can easily throw it in my favorite salad, pasta, quesadilla, you name it! You can make chicken meal prep bowls, or look for any other meal prep chicken recipes to add your juicy chicken breasts too.
The best way to freeze grilled chicken is to spread it over a piece of parchment paper on a sheet pan and freeze it overnight. The next day, move it to a gallon ziploc bag and the chicken pieces will stay separated since you froze it separately. You can salso freeze in your favorite meal prep containers. Make sure you use an airtight container to keep the chicken good for up to 2-3 months in the freezer.
If you don't want to freeze your chicken, you can keep it in the fridge to use for dinner tonight and it will keep for 3-4 days longer in the fridge!
How to thaw meal prep chicken
The easiest way to thaw meal prep grilled chicken is to take out how much you're going to use in the morning and let it thaw in the refrigerator. But you can also thaw on the stovetop over medium low heat or in the microwave if you prefer.
If you're making a soup or pasta you can also just throw it straight into the sauce and simmer until it's warmed through! It couldn't be easier!
How to use meal prep grilled chicken.
This meal prep grilled chicken would be perfect for my garlic herb chicken con broccoli. It would also be a great addition to this pear and apple poppyseed salad to make it a meal instead of a side! This chicken can be thrown in so many easy recipes for a last minute dinner.
I also love to use it to make quesadillas like these peach chicken quesadillas from gimme some oven or pizza like this bruschetta chicken pizza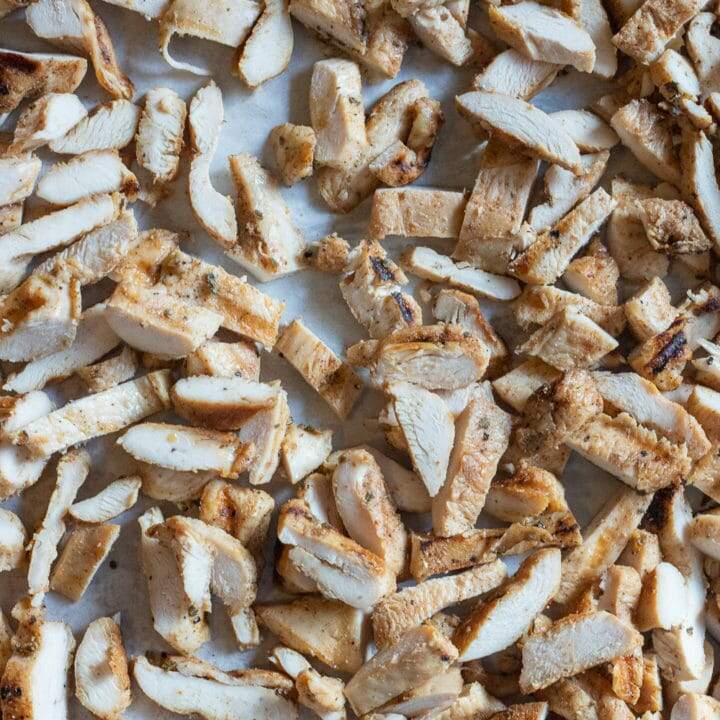 Meal Prep Grilled Chicken (No Marinade!)
Meal Prep grilled chicken is great for adding to your favorite salads, pastas, you name it all week long for quick and easy weeknight dinners! After trying this recipe you'll always want to keep your freezer stocked!
Ingredients
3 lbs chicken breasts
1/3 C olive oil
Instructions
Slice the chicken very thinly, try to slice each chicken breast into 4-5 thin slices
Put in large bowl and pour olive oil and seasonings over it, mix well
Grill until it reaches 160 degrees, remove from heat and let rest for at least 5 minutes before slicing
Notes
To Freeze: Slice and lay in a single layer on a sheet pan or plate lined with parchment paper
Recommended Products
As an Amazon Associate and member of other affiliate programs, I earn from qualifying purchases.