Shrimp Thai Rice Noodles: Easy and Delicious 30 minute Dinner
Spicy Shrimp Thai Rice Noodles can be on your table in no time flat, but don't let that fool you. A few shortcuts allow you to enjoy a dish that's bursting with flavor, filled with veggies, but cooked in a jiffy!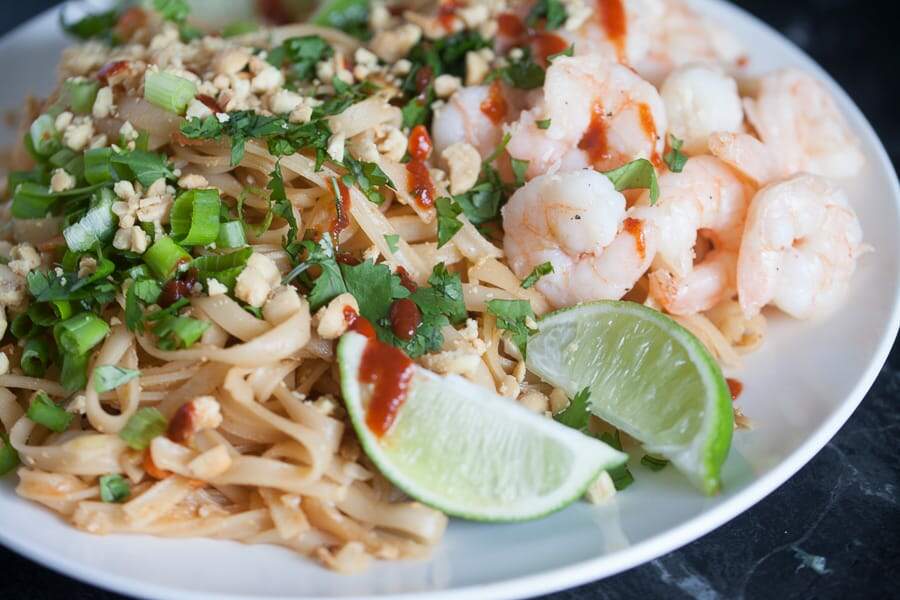 I want to take you into my weeknight dinner world for just a minute.
My typical weeknight goes something like this. I get out my ingredients to start cooking. Last night's dishes are still piled in the sink. The baby inevitably gets hungry and starts screaming. My toddler reaches the point of "hanger" that involves eating apple cores from the garbage and macaroni and cheese ground into the rug under her high chair, and I hover between tears and shouts of frustration.
Is it just me, or is weeknight cooking the bane of just about everyone's existence. It seems that no matter what your situation is, no one has the time/patience/ or energy to be slaving away in the kitchen on a weeknight.
If you are like me, you don't want to sacrifice health or flavor, but you really can't take any more time than is necessary dealing with your toddler in breakdown mode wrapped around your legs. What I really want is a shortcut (that doesn't involve fast food).
Enter: One of my favorite weeknight meals, ever.
Shrimp Thai Rice Noodles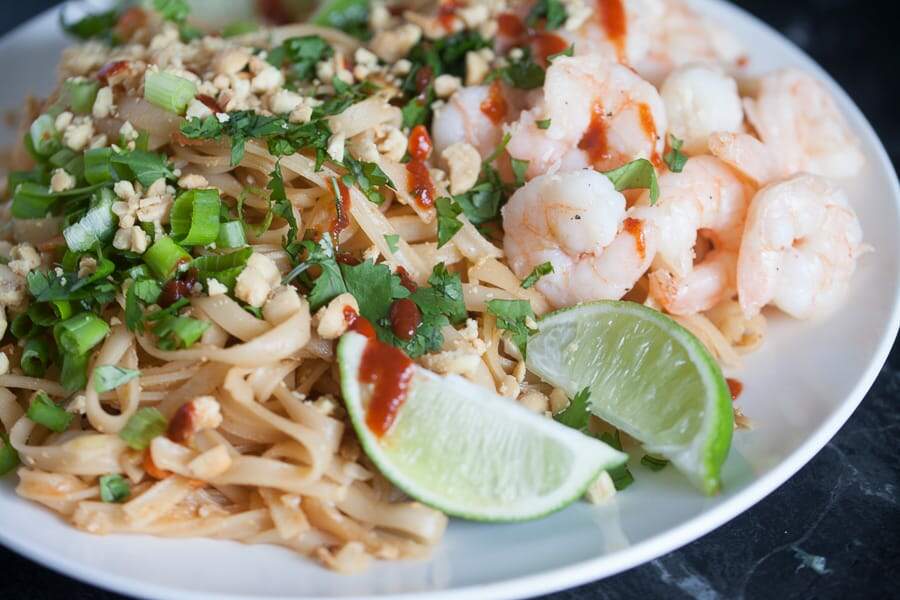 I first tasted shrimp thai rice noodles noodles and company 6 or 7 years ago, and I LOVED it. Needless to say, it was certainly not the most authentic version, but I really loved the unique lightly chewy texture of the rice noodles, the crunch of the peanuts, and the zesty lime flavor.
I was so excited to discover that shrimp thai rice noodles is one of the fastest dishes ever to make at home, making it the perfect weeknight dinner.
The shortcuts
While traditional thai rice noodle recipes are fast, I wanted to make mine a smidge faster. Because I like to make things from scratch, shortcuts are often hard to find.
The Veggies
I wanted my thai rice noodles to be veggie-loaded like most of our dinners around here (gotta make half that plate fruits and veggies), but veggie chopping can be time consuming. I have seen thai rice noodles with a variety of veggies including bell peppers, bean sprouts, carrots, cabbage, green onions, etc…
To cut down on veggie cutting time, I just use pre-chopped coleslaw mix. This gives me pre-chopped cabbage, AND carrots to load up my pad thai with veggies. Then I just have to chop some green onion, nuts, and cilantro and the dish is good to go. I LOVE pre-chopped veggies for weeknight dinners and I like to call them "good, fast food!" This little tip probably cuts chopping time in half for this recipe.
The Protein
As is apparent in the title of this post, shrimp is my protein of choice for this dish. This isn't really a recipe change as shrimp is a common protein in thai rice noodles, but many like to make it with chicken.
I stick to shrimp for two reasons. One is that I prefer the flavor and texture in this particular dish, but more importantly, shrimp is the quickest protein ever. I never purchase pre-cooked shrimp as I find it a little tough, but I do like to buy the raw, peeled, and deveined shrimp. This stuff is great because you don't have to chop a thing, just salt it and throw it in the pan with some hot oil, and it's cooked in two minutes flat.
Cooking the Rice Noodles
This post contains affiliate links, meaning that if you make a purchase from one of these links a small percentage comes back to me at no additional cost to you. Learn more by visiting my disclosure page.
This recipe makes quite a lot, and it's nice to have a bit of space to stir-fry the veggies and noodles. I happen to have a pretty large cooking skillet that works out okay for this dish, but a wok would be even better.
One thing that I didn't know about rice noodles, (you may find them called rice sticks) is that they are not boiled, they are soaked and then sauteed. The soak is the longest step of this recipe, so make sure you get the noodles soaking very first thing. While they are soaking, prepare the rest of the ingredients, and by the time you are ready for the noodles they should be soft enough. You are looking for a flexible "al dente" texture before the saute.
The last important note. This recipe is certainly not authentic. Sorry. Please don't send me hate mail. I completely understand if you want to pass this recipe up for a more authentic version like this one.
The point of this particular recipe is to be on the table lickety split, and if I have to spend hours searching for specialty ingredients it kind of defeats the purpose, doesn't it!? So I use easy to find substitutes in place of harder to find ingredients. Maybe someday that I am cooking on a Sunday, I will try an authentic version. I am sure it is that much more awesome.
But for now, these spicy shrimp thai rice noodles are pretty darn delicious, and they help keep my sanity intact for yet another day, and that's a win in my book.
If you're weeknights feel anything like mine, add this recipe to your arsenal. You won't be sorry.
[fl_builder_insert_layout id="2161″]
[fl_builder_insert_layout id="2102″]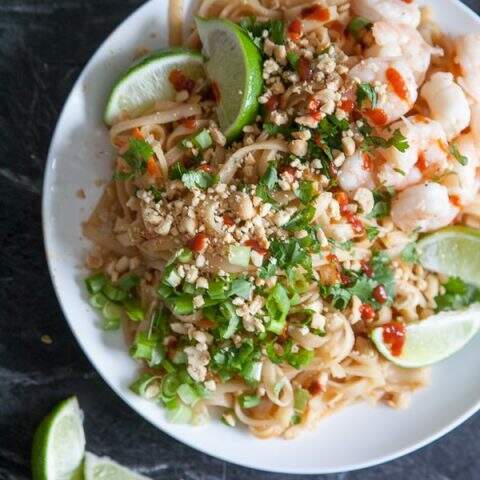 Spicy Shrimp Thai Rice Noodles
Super fast, but zesty and delicious weeknight meal based on traditional pad thai
Ingredients
12 oz Rice Noodles, (sometimes called rice sticks)
2 tbsp Olive Oil, divided
1 lb Shrimp, peeled and deveined
2 C Coleslaw Mix
2 Green Onions, sliced
1/3 C Cilantro, minced
1/4 C Peanuts, chopped
The Sauce
1/4 C Water
1/4 C Brown Sugar
1 Large Lime, Juiced
3 tbsp Soy Sauce
2 tbsp Fish Sauce
1 tbsp Rice Vinegar
1-2 tsp Sriracha Sauce, depending how spicy you like it!
2 cloves Garlic, Minced or Pressed
Instructions
Submerge rice noodles in hot tap water for about 20 minutes until soft and pliable. Drain.
While noodles are soaking, mix all of the ingredients for the sauce and set it aside.
Heat 1 Tbsp olive oil in a large skillet or wok over medium high heat. Season shrimp with salt and stir-fry until just opaque 1-2 minutes.
Remove Shrimp from pan and heat remaining olive oil. Add coleslaw mix and drained rice noodles and stir-fry for 1 minute. Add Sauce and stir-fry until noodles are soft and chewy. If the noodles get dry before they are soft add up to 1/4 cup more water
Remove from heat and top with green onions, cilantro, and peanuts. Garnish with extra lime wedges and extra sriacha sauce