Strawberry whipped cream cheese spread
Strawberry whipped cream cheese spread will take your bagel over the top.  Made with whipped cream cheese, a bit of whipped cream, and freeze-dried strawberries it's fluffy and flavorful and a delicious treat.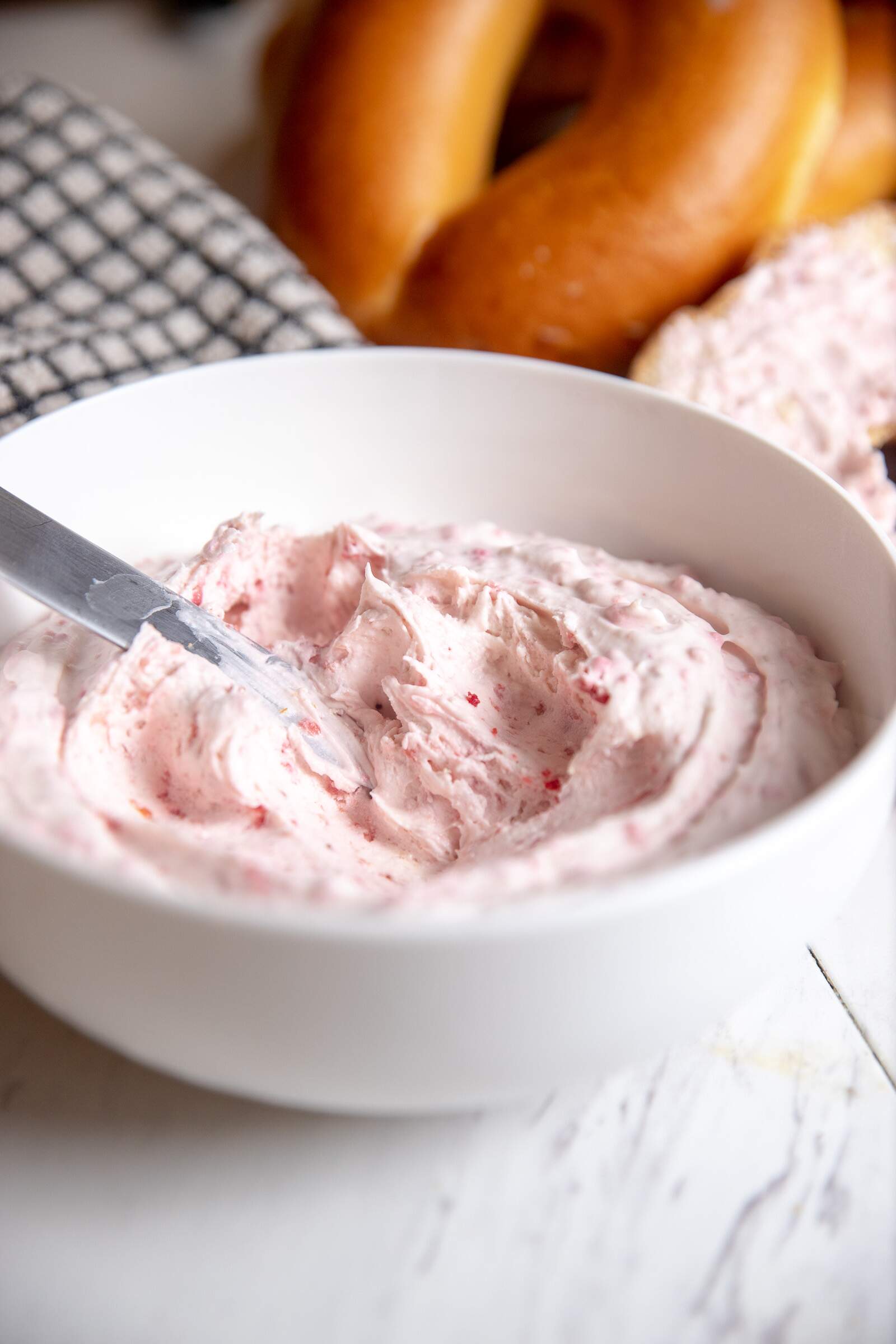 Strawberry whipped cream cheese spread
Is there anything better than a giant carton of einstein's bagels on the break room table with a spread of whipped cream cheese spread "schmears" to choose from?  It's seriously a boss's secret to happy employees for at least a day.  
That "schmear" is out of this world delicious.  I've been trying to replicate for awhile without much success. I've tried fresh strawberries and strawberry jam. 
Fresh strawberries tasted great, but they made the whipped cream cheese spread flat and liquidy.  The jam help up better, but I didn't love the flavor and I still thought it could be fluffier. 
The secret ingredient for light and fluffy strawberry whipped cream cheese spread
Enter: Freeze-dried strawberries.  
I had tasted freeze-dried fruit before, but I didn't think much of it's potential uses and considered it a food storage only item, not something people really want to eat.  
Then I ran into this recipe using freeze-dried strawberries in a frosting to help it maintain it's shape and I thought EUREKA! I think my whipped cream cheese spread woes are coming to a close. 
I tried out my recipe, ad voila.  Homemade strawberry whipped cream cheese spread was born to make the perfect homemade companion to my homemade bagels. 
What exactly are freeze-dried strawberries? 
The process of freeze-drying involves putting food in a super strong vacuum and sucking out all the moisture.  It's how astronauts kept their food good in space so you can feel ultra-cool and sci-fi when you use it. 
Most of the time you rehydrate food before you use it, but in some instances it works great to use it dry.  (like this strawberry whipped cream cheese spread recipe)
Some other fun facts.  Freeze drying is relatively healthy, AND it effects the flavor of the food less than other preservation methods (like dehydrating).
Why use freeze-dried strawberries instead of fresh?
Moisture, yo!
Moisture can often be the enemy in cooking, and especially in anything you want to hold it's shape.  Freeze-dried strawberries allow you to get concentrated strawberry flavor in your whipped cream cheese spread without making it a runny mess.
Where can I find freeze-dried strawberries?
Freeze-dried food must be having a moment because I have had no problem finding it at my local grocery store.  At my store it's located in the snack foods section near the beef jerky and canned nuts. Trader Joe's also carries several different varieties of freeze-dried fruit. 
Don't let this strawberry whipped cream cheese spread recipe limit you, the sky is the limit here.  My grocery store also carries freeze-dried raspberries, mangoes, blueberries, pineapple, bananas.  You could try any of these flavors in your homemade whipped cream cheese spread to switch it up.  The mangoes are seriously delish, so I might be tempted to try that route. 
Why do I need to add cream to homemade whipped cream cheese spread?
Adding just a little bit of whipped cream really helps to add height and airiness to your whipped cream cheese spread.  No matter how long I whipped the cream cheese it just wasn't getting the height and fluffiness of einstein's "schmears"  the whipped cream helps get closer to that light and fluffy texture I was going for. 
Strawberry whipped cream cheese spread recipe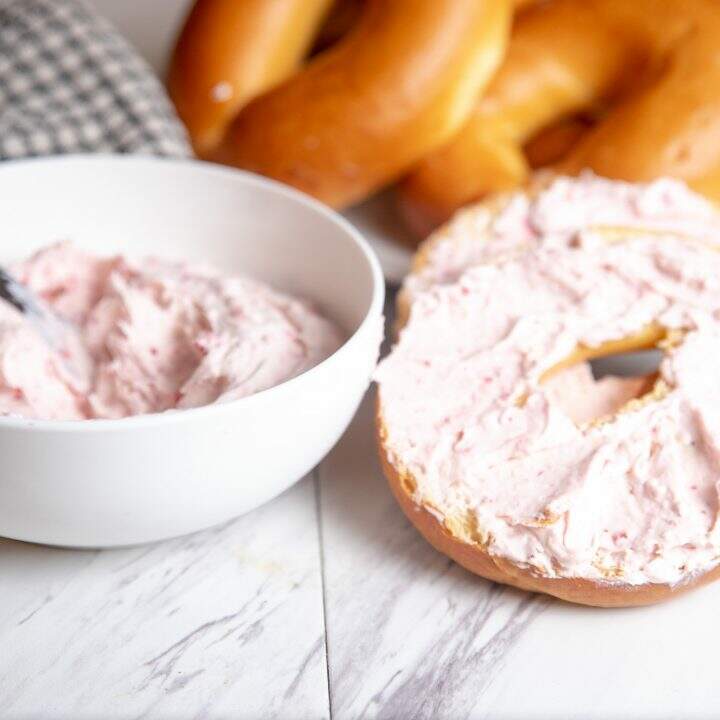 Strawberry whipped cream cheese spread
Strawberry whipped cream cheese spread is better than einstein's. The secret ingredients (freeze-dried strawberries) helps give that delicious strawberry flavor without watering it down keeping it fluffy and delicious!
Ingredients
8 oz cream cheese, softened
1/4 cup of heavy cream
1/2 C freeze-dried strawberries
1/2 C powdered sugar
Instructions
In a medium mixing bowl use a hand mixer on medium high speed to whip cream cheese until light and fluffy (about 5 minutes)
In a separate bowl whip cream until stiff peaks form
Add whipped cream to cream cheese and mix
Using a food processor process strawberries into a powder
Add strawberry powder and powdered sugar to cream cheese mixture and mix well.
Spread over your favorite bagel and enjoy!
Notes
Freeze-dried strawberries can usually be found in the "snack aisle" at your local grocery store.
Recommended Products
As an Amazon Associate and member of other affiliate programs, I earn from qualifying purchases.
Nutrition Information:
Yield:

16
Serving Size:

2 tbsp
Amount Per Serving:
Calories:

78
Total Fat:

6g
Saturated Fat:

4g
Trans Fat:

0g
Unsaturated Fat:

2g
Cholesterol:

19mg
Sodium:

46mg
Carbohydrates:

5g
Fiber:

0g
Sugar:

4g
Protein:

1g
Have you ever tried freeze-dried food? What's your favorite product? Can you think of any good uses of food items you want fresh fruit flavor in but don't want the extra moisture? I'd love to know your experiences, comment or send me a message! and get to whipping for a delicious bagel experience you don't have to wait for "bagel day" at the office for.