#31 Freezer Chicken Meal Prep (2 Ways!)
If you don't love pre-cooked chicken, these chicken meal prep techniques for the freezer are sure to rock your world!
One of my first episodes of the podcast was all about what to do if you are always forgetting to thaw your chicken.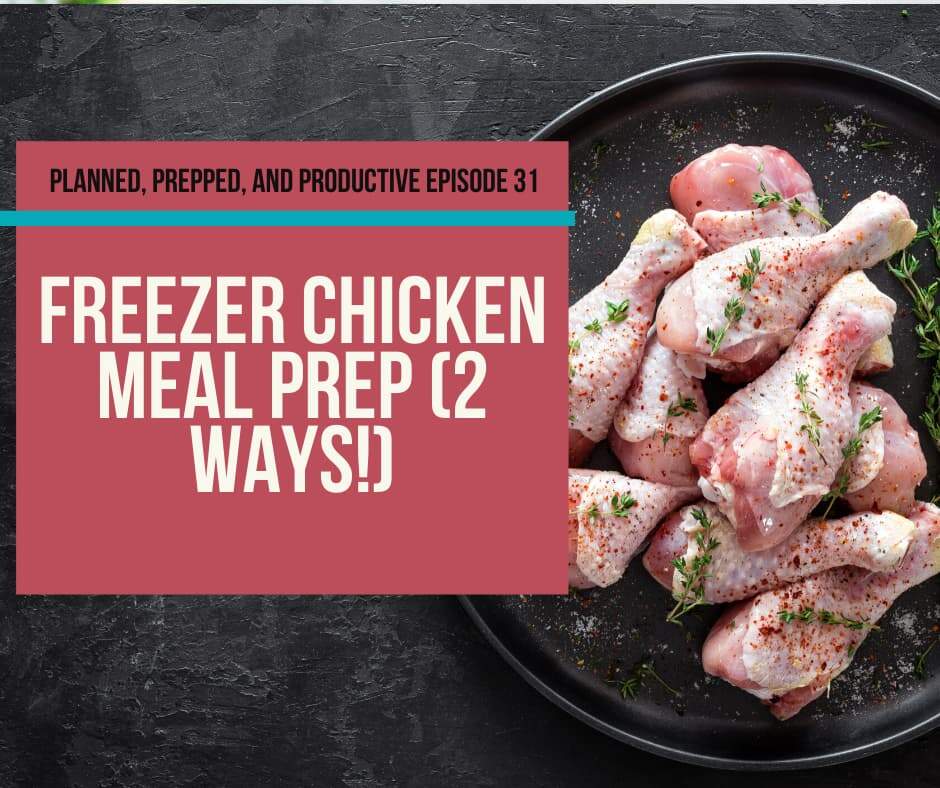 …and please tell me I'm not the only one with this problem.
There is literally nothing more frustrating than walking into the kitchen to cook dinner only to remember that you didn't thaw your chicken.
So instead of getting straight to work on your dinner you are trying wedge chicken breasts off of a giant chicken brick and cursing underneat your breath.
If you haven't listened to that episode, I'll give ya a quick recap.
In my opinion the easiest way to solve the "forgetting to thaw your chicken" problem is to cook your chicken before it ever hits the freezer.
Get home from the store, throw it in the slow cooker or season it, slice it up, and grill it, and freeze it cooked.
Cooked chicken can be kept in the freezer for a few months and it makes quick and easy weeknight meals an absolute breeze.
With shredded chicken in the freezer you can make loads of things like chicken salad, bbq chicken pizza, chicken noodle soup, enchiladas, quesadillas, you name it!
With grilled chicken even more options are available like tasty salads, pastas, or wraps.
Freezer Chicken Meal Prep (2 Ways!)
Pre-cooking and freezing my chicken is still one of my number one favorite ways to meal prep…but it's time to address an elephant in the room.
Some people just don't like reheated chicken.
Guys, I get it. I really do. You might be able to solve that problem by properly cooking, freezing, and reheating that chicken like I talked about in episode 29 but I am humble enough to know that I just might not convince all of you.
But…never fear, because I've always got a solution or two up my sleeve
How to meal prep chicken without pre-cooking it
If you absolutely cannot stand reheated chicken, but you want to utilize the the sanity-saving technique of meal prep all is not lost.
I have two techniques for meal-prepping raw chicken for the freezer that will still save you loads of time in the kitchen, but where you will cook your chicken fresh from raw exactly when you want to eat it and not a second before.
It will be fresh as can be, and you won't have to reheat anything in any way.
You're welcome by the way.
The first method for meal prepping your raw chicken is to marinade and freeze it in the marinade.
Meal Prep chicken by freezing it in the marinade
I've also got a few tricks up my sleeve for making this fast and do-able even if you are always forgetting to thaw your chicken (like me) .
Here's the steps for that, yo!
Trim your chicken as soon as you get home fron the store, and slice it in very thin pieces. Most people say to butterfly your chicken, but I will usually "double butterfly it" so I cut it in 4 super thin slices. Thin chicken will cook super fast and you can even cook it from frozen if you're in a pinch.
Flash-freeze the raw chicken on a sheet pan lined with a silicon baking mat or parchment paper (try freezing for 2-4 hours) then move it to the freezer bag.
Sometime while the chicken is flash-freezing make your marinade. You can make a bunch of marinades at once, or marinade them all the same way. This post has got a few great marinades to get you started. I do recommend freezing in the portion sizes you will use instead of in one big bag so if you forget to thaw you aren't trying to wedge the chicken pieces off of eachother.
Don't worry that your chicken is already frozen when you add the marinade, it will get the chance to marinade while it thaws.
The best way to thaw your chicken is in the refrigerator overnight (the cool thing about slicing it thin is that it will thaw faster. You can also run it under cool water for a few hours if you forget, and if absolutely necessary you can cook in the instant pot or bake from frozen (the slow cooker isn't a safe way to cook from frozen because it will remain in the danger zone for too long.
Meal Prep Chicken by pre-breading it and freezing
Another option for chicken meal prep when you don't like pre-cooked chicken is pre-breaded chicken.
This is one of my absolute favorite ways to prepare chicken for the freezer.
Here's the step-by-step process.
Trim down the chicken as soon as you get home from the store, and slice it thin (just like you would do if you are marinading the chicken).
Make an eggwash and grab some panko breadcrumbs.
Season the chicken with salt and pepper, dip it in the egg wash and bread it in the bread crumbs
Place on a sheet pan lined with parchment paper or a silicon baking mat and flash freeze
After the Chicken has flash frozen for 2-4 hours move it to a freezer bag and put it back in the freezer
When you're ready to eat, you can thaw overnight if desired or bake straight from frozen! My favorite way to enjoy it is to pan-fry it to get it crisp on both sides and then bake until the center comes to 165 degrees F.
Meal prepping chicken this way opens up so many opportunities for fast and easy dinners.
It might not be quite as fast as pre-cooking chicken but it's equally versatile and sometimes just knowing that you have a meal partially prepared is enough to jumpstart your creative juices and help you decide what's for dinner.
Pre-marinated chicken can be grilled and served on the side of veggies, rice, potatoes, etc…
It can also be incorporated into other dishes. The easiest way for me to come up with ideas for what dishes to use it in is to consider how it's marinated. If it's marinated in a soy sauce then it will probably become stir-fry, a lemon-pepper seasoning might become a pasta.
Pre-breaded chicken can go in salads, wraps, or even just on top of a classic breaded chicken sandwich.
So often we assume that something isn't for us just because we don't like something about it (aka meal prep isn't for me because I don't like pre-cooked chicken)…
But most of the time we just have to take a different approach and create a system that works for us.
I hope this episode has gotten your creative juices flowing on how you can save time in the kitchen even if you don't like traditional "meal prepped foods"
Next week we're going to chat about how you CAN improve the quality of your meal prepped foods, and maybe even learn to like leftovers!
Hope you tune in!
Resources:
Good Meal Prep Chicken Marinades