#23 Guilt-Free ways to make family meal time happen
Family meal time is important, but many of the reasons we aren't eating together are beyond our control. Instead of feeling guilty about not eating together enough, here are some ways to make meal time happen even with a busy and stressful modern schedule.
The benefits of Family Meal Time
I planned on a good chunk of this podcast episode and post being about the benefits of family meal time.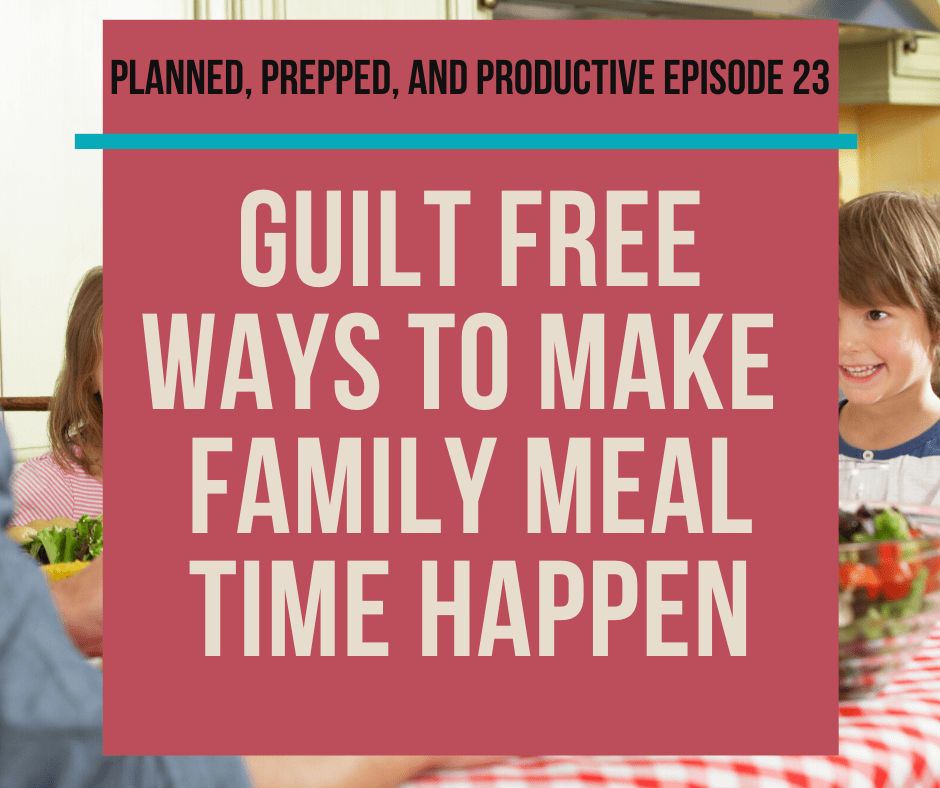 I'm sure you've heard it by now, but family meal time is associated with so many things from a more well-rounded diet, to higher self-esteem in kids, to a decreased chance of kids having depression.
But like I said. You've heard all of that….and as the busy AMAZING mom you are, I know that you don't need one more thing on that to-do list or one more area to feel like you're failing as a parent.
So as well-meaning as the articles spouting off the benefits of something that we used to do but are no longer doing kind of misses the point.
So let's move into a topic that does matter.
Why are we not eating together as families as much as we used to?
Why is the frequency of family meal time decreasing?
The answer is obvious. Our modern lives are busy and many of us are stressed out and overscheduled making a homemade dinner around the table seem too difficult to do.
Most parents know the benefits of eating together as a family, and put even more simply most parents enjoy being with their family (most of the time) and would love to be eating with their family most nights.
But the reality is that modern life makes getting together frequently.
Over 60% of families are dual-income earners meaning that neither parent is home during the day to work on meal prep….and parents in this situation may also be juggling schedules making getting together for dinner difficult.
Even if one parent has the luxury of staying home, work schedules don't always follow a 9:00-5:00 schedule so if mom or dad is home after dinnertime, a family dinner is impossible.
On top of parents' schedules, kids are busy with their own activities as well which may leave mom feeling like a taxi service in the evenings and unable to spend time doing meal prep.
Parents of younger kids may just be frustrated with mealtime battles, and while they may be around the table helping their kids eat it might just seem simpler to save their own meal for a time they can eat without getting drinks, cleaning up spills, and fighting with their kids to eat one more bite of broccoli.
Guilt-Free ways to eat together more often
So what can you do about it?
While I would bet you would love to win the lottery tomorrow and be able to quit your job.
You also do have quite a bit of control over your kids' activities when they are young…but you probably can't tell your oldest they need to quit the school play to be home for family meal time without a lot of drama,
There is definitely a great benefit of doing a little time audit and seeing if there's anything you CAN let go to make family meals more frequent and more important, but when that's just not a possibility…it's no reason to throw in the towel and give up.
With family meals quality is greater than quantity
Only have time for one family meal per week with your family?
Make it a good one and something your kids will remember.
Maybe you can get out the fancy dishes.
Maybe you can rotate through everyone in your family's favorite dinners.
Maybe you can plan fun and interactive menus that everyone can help make.
The point is, if you work on making that one meal special and memorable family meals can become a cherished memory for your kids, even if they didn't happen every day.
Simplify your meals
I really can't say the word "simplify" enough when it comes to family meals.
Maybe you don't have time for a michelin 5 star meal, but you do have a small nugget of time you could all eat together.
Consider that the togetherness factor is more important than what's on the table.
If it's waffles, grilled cheese, spaghetti and frozen meatballs…the key is that you are together.
If we can let go a little bit of that all-or-nothing mentality we can start to enjoy time together more often even if it's a little less than perfect.
Planning is key
I am a huge advocate for a weekly planning session to keep my life and my family's life in order.
Scheduling in a weekly planning session will allow you to clearly see the pockets of time you have and choose the most realistic days for family meals (and the days that maybe everyone has to fend for themselves).
It's important to include your kids and spouse in your planning session so everyone is on the same page and you don't miss anyone's activities.
Choose a different family meal time
Who said that family meal time has to be at dinner time? Does breakfast work better for you? Get up a little earlier and try for family breakfast instead.
Real life isn't perfect, but that doesn't mean we can't make small changes to make our goals work for us. Even if you have to be a little unorthodox, you can totally make family meals happen.
Create habits, even if they aren't perfect
I've said it a hundred times, but this all-or-nothing mentality that most of us moms deal with on a regular basis is killing all of our dream.
Just because we can't do EVERYTHING doesn't mean we shouldn't do something.
So work to create the habit of family dinners with whoever is there. If dad's not there because of a work schedule, or some of your kids are at activities it's okay. You've created the habit.
And as seasons of life change you can welcome those absentees back to the table with loving arms because you've created the habit of having a family table.
Let go of mealtime battles
Ellyn Satter's division of responsibility in feeding says in a nutshell, YOU decide what, where, and when your child eats.
Your child is in charge of if they eat and how much they eat.
In other words, and in the words of the great Queen Elsa
Let it go.
Stop with the dinnertime bribes and recognize that you did your job by providing a meal and let your child take care of the rest.
Sometimes they won't eat. Sometimes they'll whine and complain. But you did your job by providing a meal, and you can just ignore it.
Yes it's challenging, yes kids not eating is a huge trigger for us, but as you work to trust your child the table will become a safe place for them and they will eventually start trying foods.
It's a process. It's not a linear process. They may eat broccoli one day and hate it the next, but when we trust our kids, they will become happy eaters eventually.
And you can focus on what's on your plate, not what's on theirs and actually enjoy your family meal time when you let the battle go.
If you're ready to make family meals happen more often, you might need a meal plan.
Sign up for my free mini-course on meal planning to start getting those family meals on the table more often in no time flat!