#10 Make Ahead Christmas Brunch Menu
This make-ahead christmas brunch menu will allow you to prepare for the holiday in advance so you can enjoy time with your family instead of slaving away in the kitchen.
Have you noticed, that as a mom during the holidays somehow everyone is laughing, talking playing games, having fun…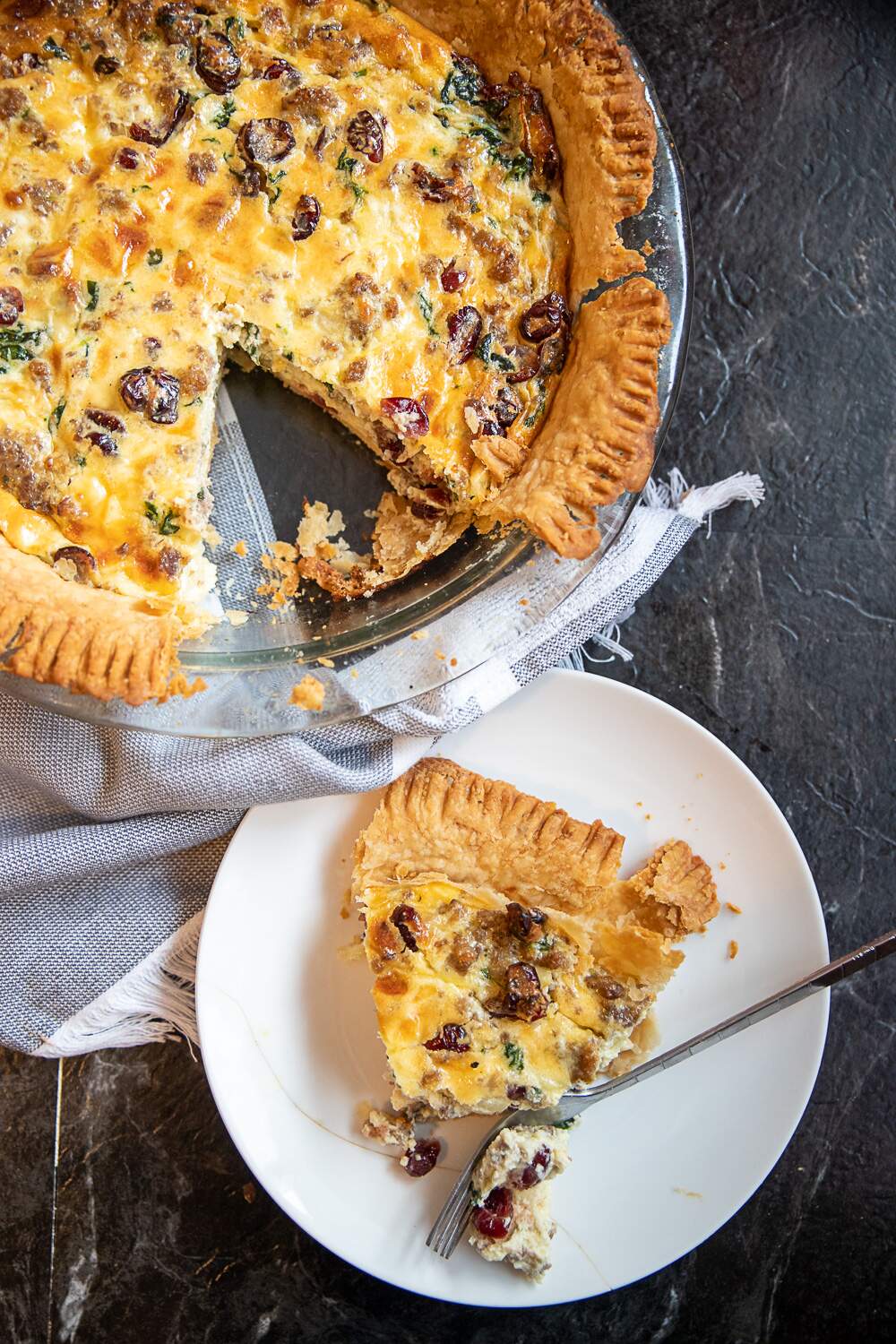 and somehow you're STILL cooking, STILL cleaning, STILL making sure that everyone else has a great time, but you don't get to be a part of it?
Well, let me tell you that I am not about to sit on the sidelines while my family enjoys holiday festivities.
…but I am also not willing to give up my holiday food traditions either.
Enter…this make-ahead christmas brunch menu.
I love making a fancy christmas brunch for my family to enjoy after they open all their presents Christmas morning…but it can be hard to make that happen with everything else going on.
To solve the problem, I created this simple but elegant Christmas brunch menu that can be made almost entirely ahead of time.
So what's on the christmas brunch menu?
I'm so glad you asked.
For a brunch I like to default to a little formula. I want to serve something sweet, something savory, something that grows in the ground, and a drink.
Make-ahead Christmas brunch main dish: Quiche
For our something savory we are going with quiche. Quiche is a great dish to make-ahead because it freezes and reheats wonderfully.
Another reason I like to serve quiche is because if I'm thinking ahead, I can make the crust for the quiche when I am making my thanksgiving pies and freeze it until I need it.
The quiche I use is a sage cranberry sausage quiche to give some seasonal holiday vibes.
Make-ahead Christmas brunch side: Sweet Rolls
For something sweet, I serve sweet rolls. Is there anything more quintessentially Christmas than sweet rolls?
To make these ahead, I use a technique called parbaking.
Parbaking means exactly what it sounds like…partially baking.
This allows you to finish the baking process on the day you eat them so they smell amazing and taste fresh (instead of dry which might happen if you baked them all the way through and then froze them.
I love this technique for all sorts of bread products, but it works great for sweet rolls because they are a bit time consuming to make. Making them ahead makes it do-able for a holiday breakfast without a huge mess.
Bonus: You can freeze the glaze ahead as well in little baggies for the easiest sweet brunch treat ever!
You can use this method for any type of sweet roll. Simply bake for about 2/3 of the time suggested, remove from the oven and cool, then cover and freeze. When you are ready to bake, bake again checking them at about 15 minutes (they will likely take about 25 minutes to bake).
Rolls can be cooked from frozen instead of thawed, but it will take a bit longer.
Since it's Christmas I went for a classic orange roll.
Make ahead Side: Fruit Salad
I always try to include a fruit or vegetable at every party for a little balance…but doing this ahead of time is tricky as fruits and vegetables don't hold very well.
So for this fruit salad, I use canned fruit so it can be thrown together the day before or the day of by only opening a few cans.
I'm sticking with the seasonal citrus theme here with a grapefruit, mandarin orange, and pomegranate salad with lime and fresh mint.
Note: if you're not a grapefruit fan (i'm still deciding if grapefruit and I are friends) you can use canned pears in it's place!
Christmas brunch drink: Non-Alcoholic Mimosas
To me, a fancy drink really puts the best finishing touches on a menu. While I don't make this drink ahead, it's a matter of mixing three pre-made drinks so it takes 5 minutes. Do it while your kids are distracted with their new toys (which will probably only last about 5 minutes, right?)
All you need for this tasty drink is orange juice, cranberry juice, and sparking white grape juice. I like to freeze some cranberries for garnish, but that's totally not necessary!
I hope this simple menu has given you some ideas to help you make a special morning for your family, and also stay present with them as you celebrate.
Do you have a Christmas breakfast or brunch tradition?? Let me know in the comments!