The easiest (freezable) homemade spaghetti sauce
I recently put a poll out on social media to see what you all are making on the days you feel drained and not able to put in much energy in the kitchen.
Spaghetti was one of the most popular answers (and with good reason!)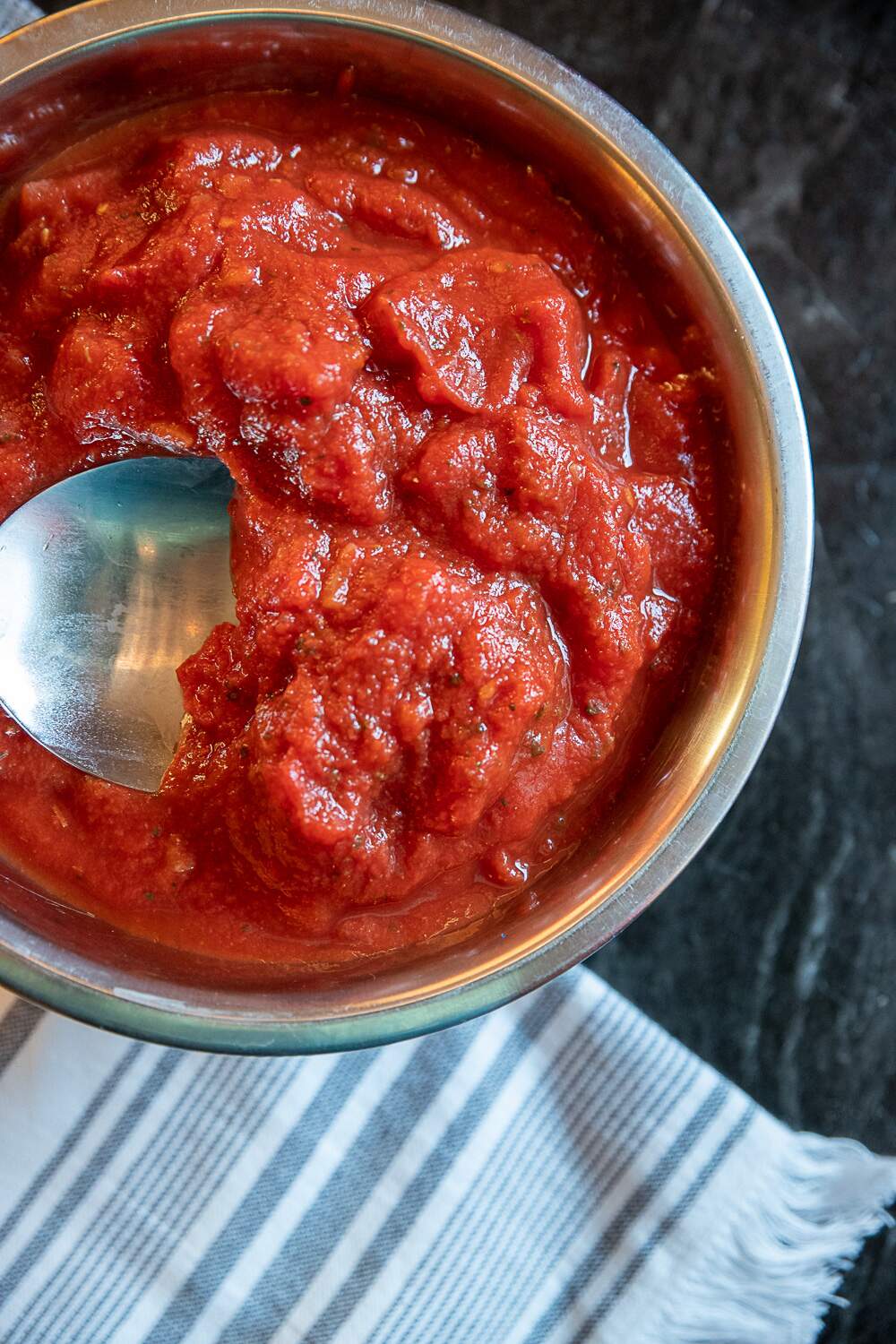 Spaghetti comes together so quickly, is pretty well accepted by all, and can be made with ingredients kept in your pantry.
How to make homemade spaghetti sauce
I know that homemade spaghetti sauce might be a hard sell for some of you loyal readers out there, because after all, isn't the point of serving spaghetti that it's quick and easy.
…and yes, I know that Prego does make it incredibly easy, but hear me out.
I truly developed this recipe with you all in mind. There is zero chopping involved. zero.
All you have to do is open two cans and throw in some spices. Or do like me and make a gigantic batch to freeze for later by making a triple-batch.
After you have literally just dumped everything into the pan, just let it simmer for an hour. Maybe give it a stir here and there so it doesn't burn to the bottom, but it's on low heat and will probably even be fine if you don't.
You can also throw it in the slow cooker on high for 2-3 hours if you don't want to fiddle with the occasional stir.
See. I told you I had your back.
Oh, and this is so so so much cheaper than prego…and super tasty and customizable as well!
How to freeze spaghetti sauce
The key to making this spaghetti sauce as convenient as storebought is to cook a big batch and freeze it for when you need it. Freezing it is as simple as, putting it in the freezer.
This post contains affiliate links. Read my full disclosure policy here.
You can choose different methods of freezing but I usually just use a ziploc bag or these little restaurant tupperwares.
Whatever method you choose, just be sure you leave a little extra space for the sauce to expand as it freezes. Also, if you use ziplocs lay them flat so you can stack and store your sauce once it's frozen.
How to thaw frozen spaghetti sauce
The easiest way to thaw spaghetti sauce is to remember to put in the fridge the morning you want to use it, and then finish heating it in a sauce pan or in the microwave when you need it.
But if you are human and probably didn't remember, don't fear. I usually will cut the plastic bag off and heat it over low heat on the stove OR microwave the container for just long enough to release the sauce cube and heat that over low heat. Easy as that. After it's thaw and hot just add it to whatever dish you are making!
If you are looking for ideas for what to make with this frozen spaghetti sauce, try my super simple lasagna! It features this sauce and is the perfect meal to double or even triple and freeze for later! So yummy!
Find more tips for safe thawing here:
Safe defrosting methods for food
Homemade Spaghetti Sauce
Homemade Spaghetti Sauce
Yield:
~5 Cups Spaghetti Sauce
Total Time:
1 hour
5 minutes
This is the easiest homemade spaghetti sauce you can make. Make a big batch and freeze it for later to have completely homemade pasta dishes whenever you want them!
Ingredients
1 (29 oz) Large Can tomato puree
1 (15 oz) Small Can Petite Diced Tomatoes)
1 tsp salt
1 1/2 tsp Italian Seasoning
1 tsp dried minced onion
1/2 tsp dried basil
1/2 tsp onion powder
1/2 tsp garlic powder
1/8 tsp cayenne pepper
Instructions
Combine all ingredients for a sauce in a medium sauce pan and bring to a boil. Reduce heat and let simmer for as long as you have time (ideally about 1 hour).
Notes
You can also make this in the slow cooker by adding all ingredients to the slow cooker instead and heating over low heat for 2-3 hours.
Recipe can be doubled or tripled for meal prep. Freeze unused sauce and thaw when ready to use.
Nutrition Information:
Yield:

10
Serving Size:

1/2 C
Amount Per Serving:
Calories:

33
Total Fat:

0g
Saturated Fat:

0g
Trans Fat:

0g
Unsaturated Fat:

0g
Cholesterol:

0mg
Sodium:

256mg
Carbohydrates:

8g
Fiber:

2g
Sugar:

4g
Protein:

1g
What goes well with this homemade spaghetti sauce?
Try this recipe in my Homemade lasagna, or use it for dipping my 1 hour breadsticks or garlic bread in!