Homemade Mango Kiwi Limeade a Refreshing Summer Drink
Making your own limeade is fun and easy. Mango Kiwi Limeade is a fun and refreshing twist on the traditional cherry limeade, and with fresh mango and kiwi added it's a more wholesome alternative to a storebought drink mix, that's even more tasty!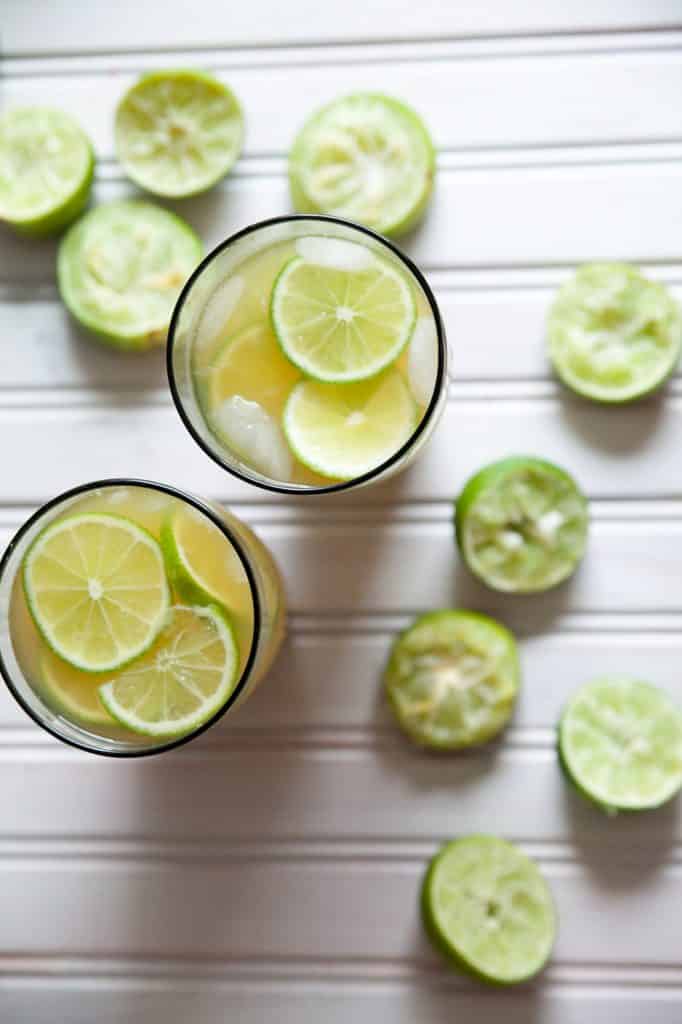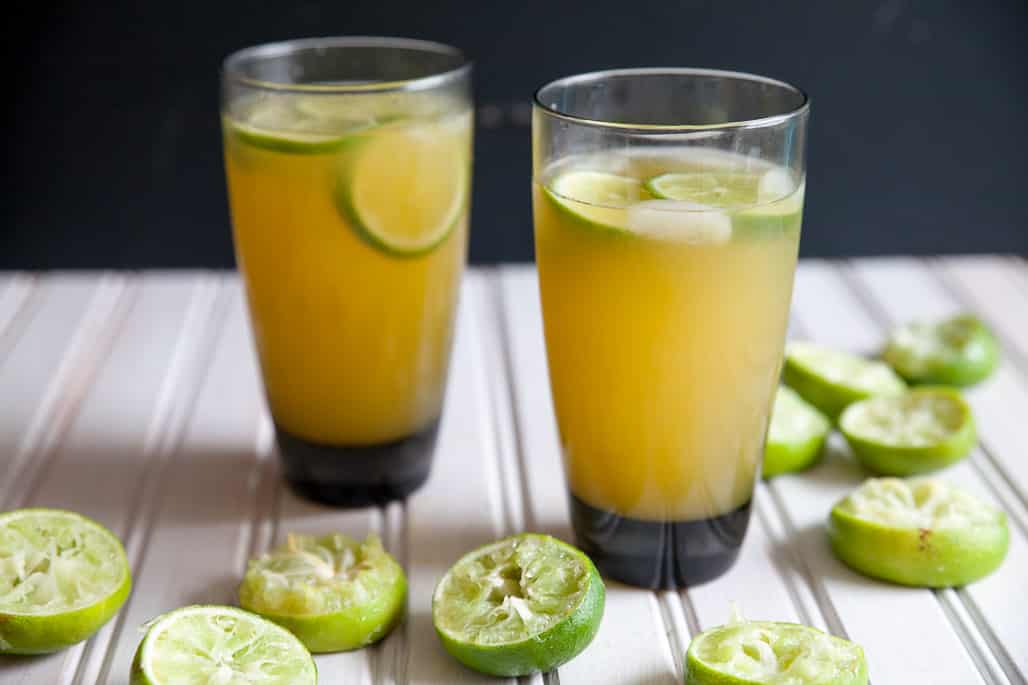 Being a toddler mom is hard work. Sometimes it's so fun, like when your sweet baby girl learns to count to 10 (milestone this week baby) or tells you she loves you, or says her very first prayer by herself and ends it "in the name of Gigi Kite amen." I can't make this stuff up.
But other times, baby girl climbs on your back during your downward facing dog, or screams as if she's been physically harmed because you gave her the princess cup instead of the pink cup. Then promptly and vocally changes her mind after you've meticulously dumped all of the liquid from princess cup to pink cup. Or she steps on her little brother, or she bites you. Yeah. Lots of highs and lows at our house.
One of the most challenging things about dealing with toddlers though, is practicing patience as they learn to navigate this big world, and realizing that (much of the time) when they are wreaking absolute havoc on your house, they are actually trying to help.
Such was the case when I made this scrumptious Mango Kiwi Limeade. I got it all whipped up and photographed during naptime, and was all prepped to take it to dinner at a friend's house that evening. It was one of those days that I felt like I was rocking my mom duties for the day.
On our way out the door, I took the kiwi limeade outside and set it on the front porch so I could come back and grab it after strapping the kiddos in the car without having to go inside. This is one of those moments when baby girl decided to be super helpful by picking up the pitcher of limeade and because it was so heavy, proceeding to dump it out all over the front porch (and my brand new doormat).
Homemade Mango Kiwi Limeade
The 1/4 cup of this mango kiwi limeade that I got to taste before it ended up a sticky puddle on my front porch was pretty scrumptious. Homemade lime and lemonades make a regular appearance on our table, (pretty much whenever limes or lemons are on sale).
I love making tasty drinks like this at home. I have fond memories of drinking red kool-aid in the backyard while running around without a care. I like to think that this homemade fruit drink has at least a little bit of a leg-up on kool-aid healthwise because of the added fruit and lack of mystery ingredients (still lots of sugar though…I can have a little fun, right!?)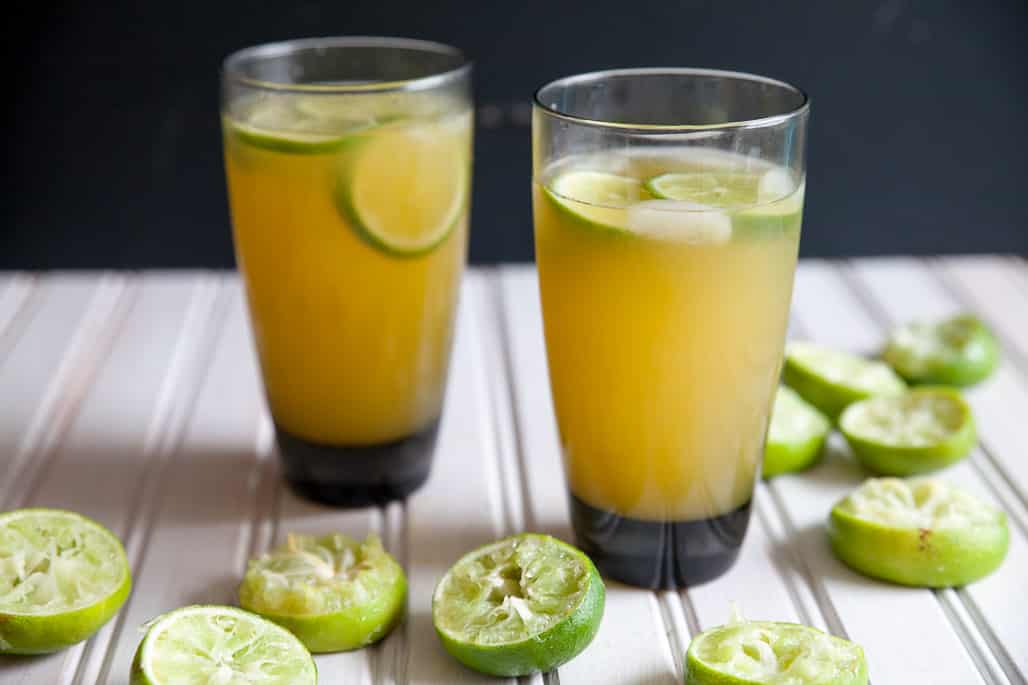 This post contains affiliate links, meaning that if you make a purchase from one of these links a small percentage comes back to me at no additional cost to you. Learn more by visiting my disclosure page.
Most limeade recipes that I have seen floating around the internet are cherry limeades, which are delicious. I've made them a time or two myself, but this time I wanted to change things up a smidge. I chose mangos and kiwis for a tropical twist. It tastes refreshing, and has a lovely yellow-y color.
Making limeade does not require fancy tools. I do suggest, although it's certainly not necessarily, a handheld lemon juicer. This cheap little tool gets used all the time in my kitchen. It really helps to be able to get all of the juice out of the limes and keeps the acidic juice off your hands.
Another tool that comes in handy for this recipe is a fine mesh strainer. I like to push the pureed kiwi and lime and mango through the strainer to remove the seeds/chunks so the drink is nice and smooth. This step is certainly not necessary, but in my opinion it makes for a superior product. Also, in my experience, kids don't do chunks.

So to finish my story. Turns out one of our friend's hosting us for dinner was allergic to limes anyway. Go figure.
I think I'll take this experience to try to enjoy my daughter as she is, and appreciate that her sweet little soul wants to be helpful, even if sometimes her helpfulness ends up being, well, not so helpful. Life goes on, and I won't cry over spilled milk. Or limeade.
Here's hoping you get to enjoy a full glass when you make it at home.
[fl_builder_insert_layout id="2161″]
[fl_builder_insert_layout id="2102″]
Mango Kiwi Limeade
Making your own limeade is fast, easy, and fun. Try adding kiwis and mangos instead of the traditional cherries for a fun and tropical twist.
Ingredients
1 Ripe Mango, Peeled with the pit removed
3 Ripe Kiwis, Peeled
5 large Limes
3/4-1 C Granulated Sugar
2 Quarts, Cold Water
Instructions
Puree Mango and Kiwis in a food processor until smooth. Push through a fine mesh strainer using a the bottom of a glass or a wooden spoon to remove the seeds. Set Aside
Use a handheld lemon/lime juicer to juice 5 limes.
Add pureed fruit and lime juice to a 2 liter pitcher. Add 3/4 C sugar and water. Stir and taste. Add up to 1/4 C more sugar to taste if needed.