Jamaican Jerk Chicken with Fresh Pineapple Salsa
This jamaican jerk chicken dish is seriously one of my favorite things that I have had as of late. It's a perfect summer-y, tropical-y delicious-y meal, and the best part is it's super quick to prepare!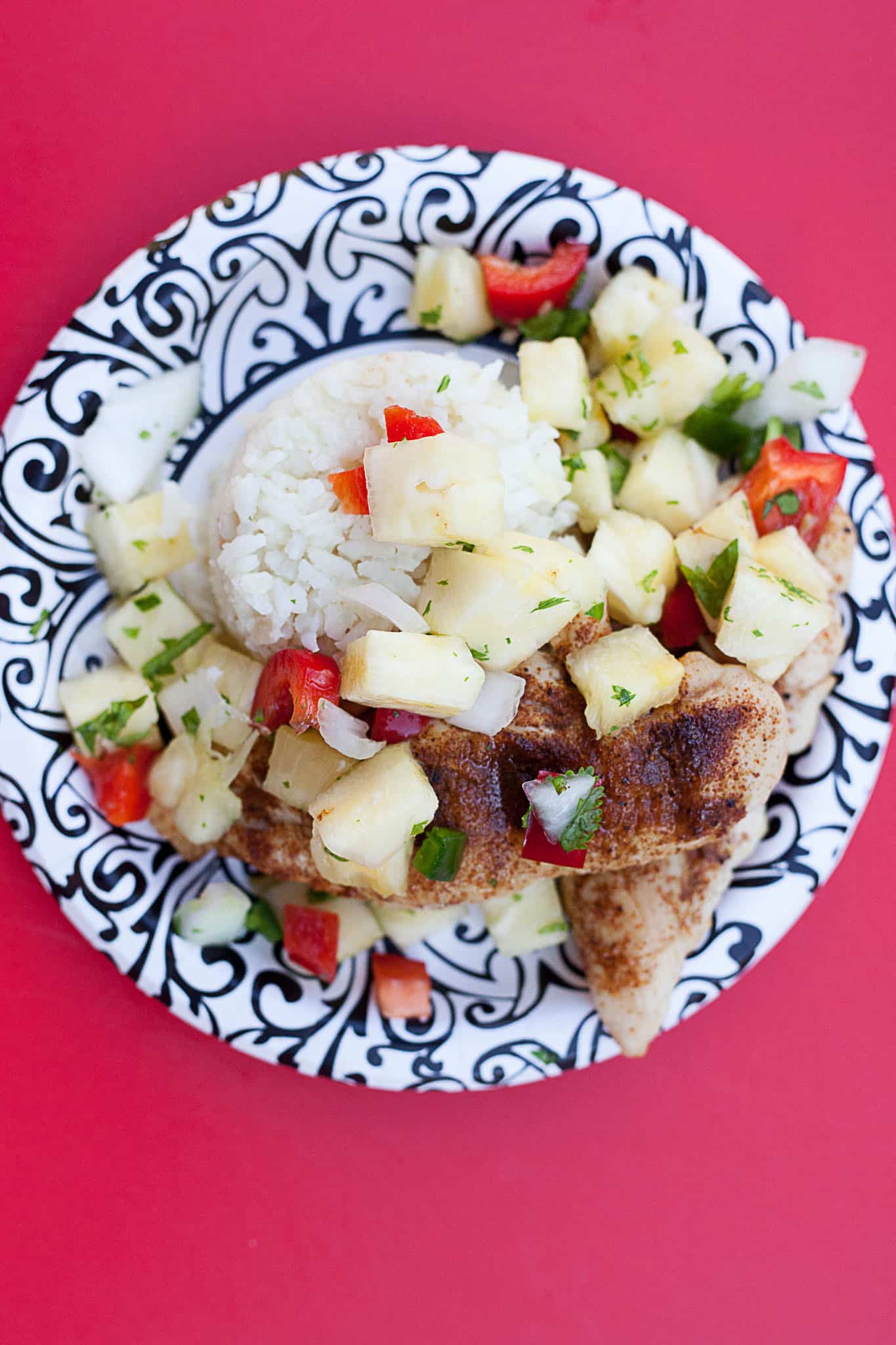 This dish features broiled chicken tenderloins.  Question of the day is how I have not discovered broiling chicken until now!?  It is a super quick method, and because it cooks so hot you get a nice browned outside, and a tender juicy inside.  The best part is the chicken is cooked in ~8 minutes.  Which is plenty of time for you to chop up all the ingredients for the salsa, if you've thrown a little rice in the rice cooker before beginning you can be done start to finish in 20 minutes flat!
The recipe for the Jamaican Jerk chicken seasoning makes enough to make this meal several times over, it's an incredible blend of herbs and spices that when paired with the sweet pineapple salsa gets that awesome sweet spicy thang going on…and no, that was not a typo, I used thang for emphasis.  Come on, now. 
This jerk recipe does not have salt in it, so first things first you will need to salt your chicken to your liking.  I prefer to leave salt out of my seasoning blends because I feel like desired saltiness really depends on the person eating.  By not putting salt in the rub you have full control of the saltiness and the spiciness separately.  Good idea, huh? I'm not as dumb as I look. 
Anyway, I used about ~1/4 tsp of seasoning per chicken tenderloin.  I didn't measure, so that is a guesstimate, like I said, how much you want is totally up to you, but I felt mine were just right when they looked like so….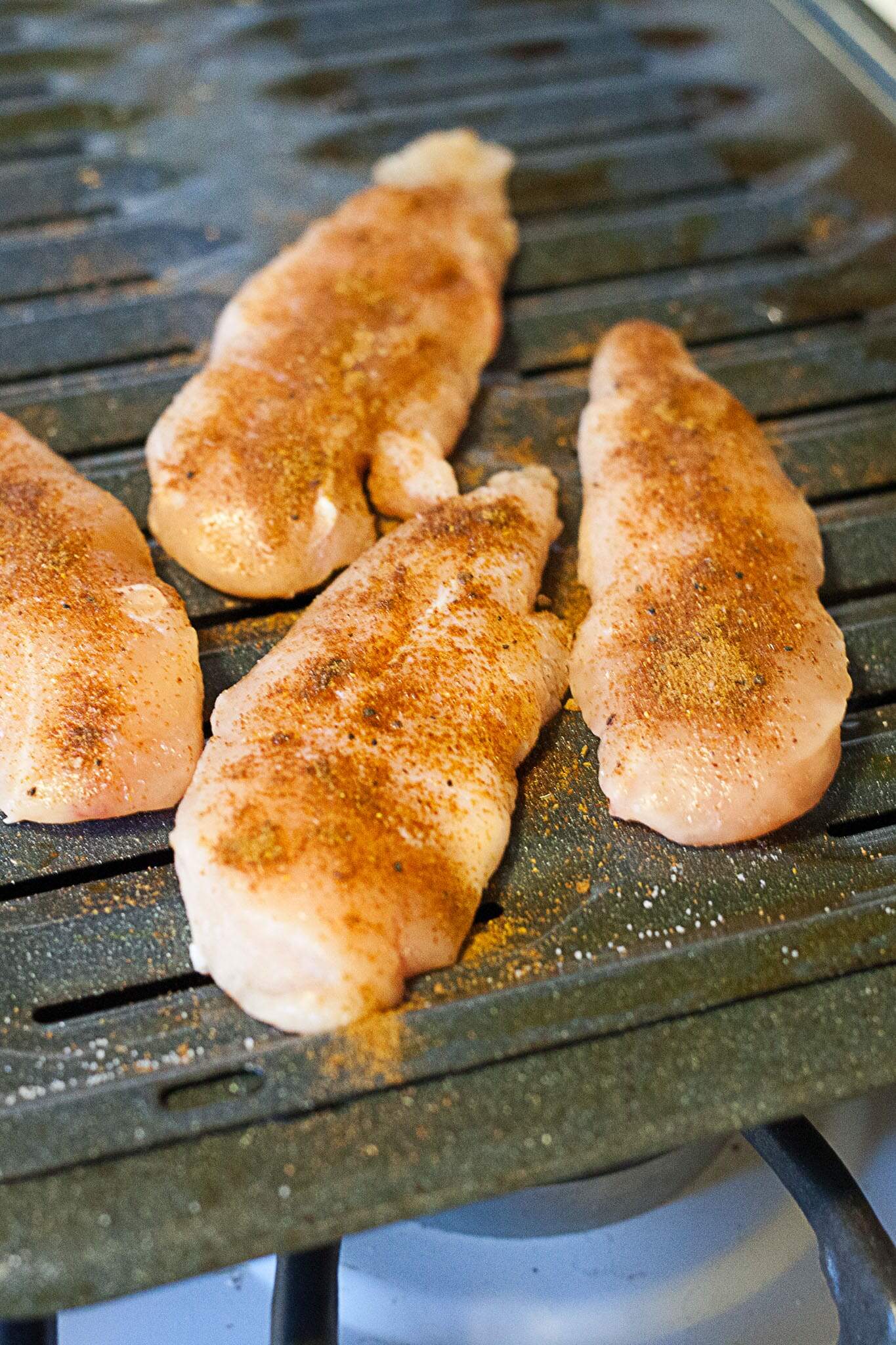 For perfectly moist chicken that isn't overdone, I recommend using a thermometer.  The food safety police say chicken is safe when it's cooked to 165 degrees…you could probably get away with pulling them out when they are closer to 160 and leg carry-over cooking take care of the rest, but don't tell anyone I told you. I broiled my tenderloins on high for ~4 minutes each side and they were perfect.
The salsa comes is just a matter of a little chopping, don't forget to use gloves for the jalapeno!
I hope you enjoy this quick weeknight meal as much as I do, do you have any secrets for perfectly cooked chicken!? Share in the comments or send me a message, I'd love to hear!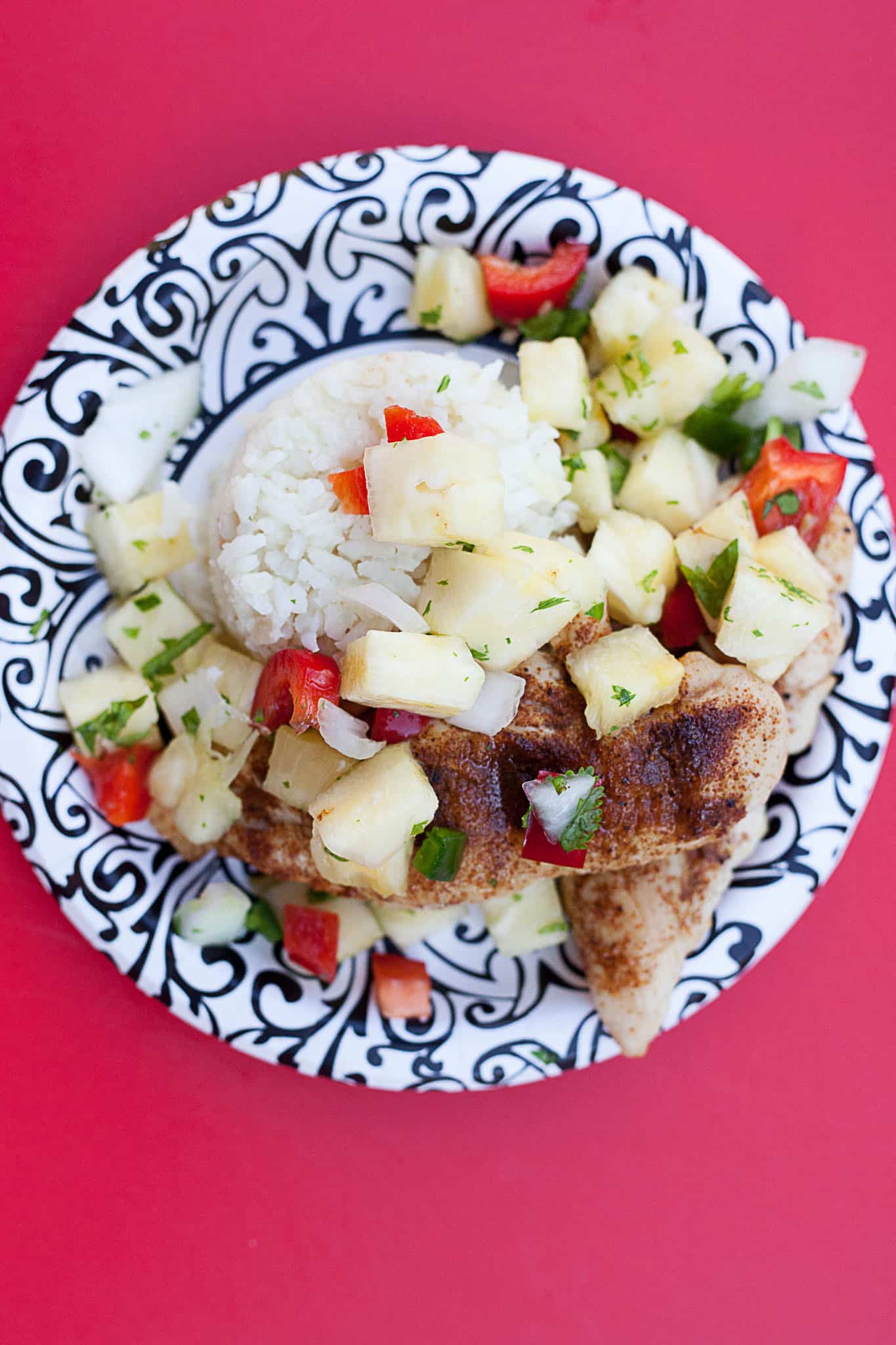 Jamaican Jerk Chicken with Fresh Pineapple Salsa
Ingredients
For the chicken
1.5 tsp allspice
1.5 tsp thyme
1 tsp curry powder
1.5 tsp paprika
1 tbsp brown sugar
3/4 tsp black pepper
1 1/4 tsp cinnamon 1/2 tsp cayenne pepper
8 chicken tenderloins, trimmed
salt, tt
For Pineapple Salsa
1 fresh pineapple, cored and diced
1 small onion, diced
1 bell pepper, diced, red or green
1 t jalapeno, seeded and diced (don' forget to use gloves when dicing!)
3 tbsp chopped cilantro
1 lime, juiced
tsp salt tt, I used about 1/4
Instructions
For Pineapple Salsa
1 fresh pineapple, cored and diced
1 small onion, diced
1 bell pepper (red or green), diced
1 jalapeno, seeded and diced (don't forget to use gloves when dicing!)
3 tbsp chopped cilantro
1 lime, juiced
salt tt (I used about 1/4 tsp)
For the chicken
Mix all of the spices (not including salin a small bowl, set aside.
Heat oven to broil on high.
Salt chicken to your liking, then sprinkle/rub seasoning mixture on both sides of each piece. I used ~1/4 tsp seasoning rub per piece, but season to your liking.
Place chicken on broiling pan and broil for 8-10 minutes or until a thermometer reads 165 degrees Turn chicken halfway through cooking so it is evenly browned on each side.
For the pineapple salsa
Mix all ingredients in a large bowl and serve over chicken
Jamican Jerk Recipe adapted from this one on food.com