Make-ahead breaded chicken for easy weeknight meals
This make-ahead breaded chicken is a great jumpstart for so many dishes, make a big batch and store it in your freezer for quick chicken meals any night of the week.
There are some things that just shouldn't be meal prepped.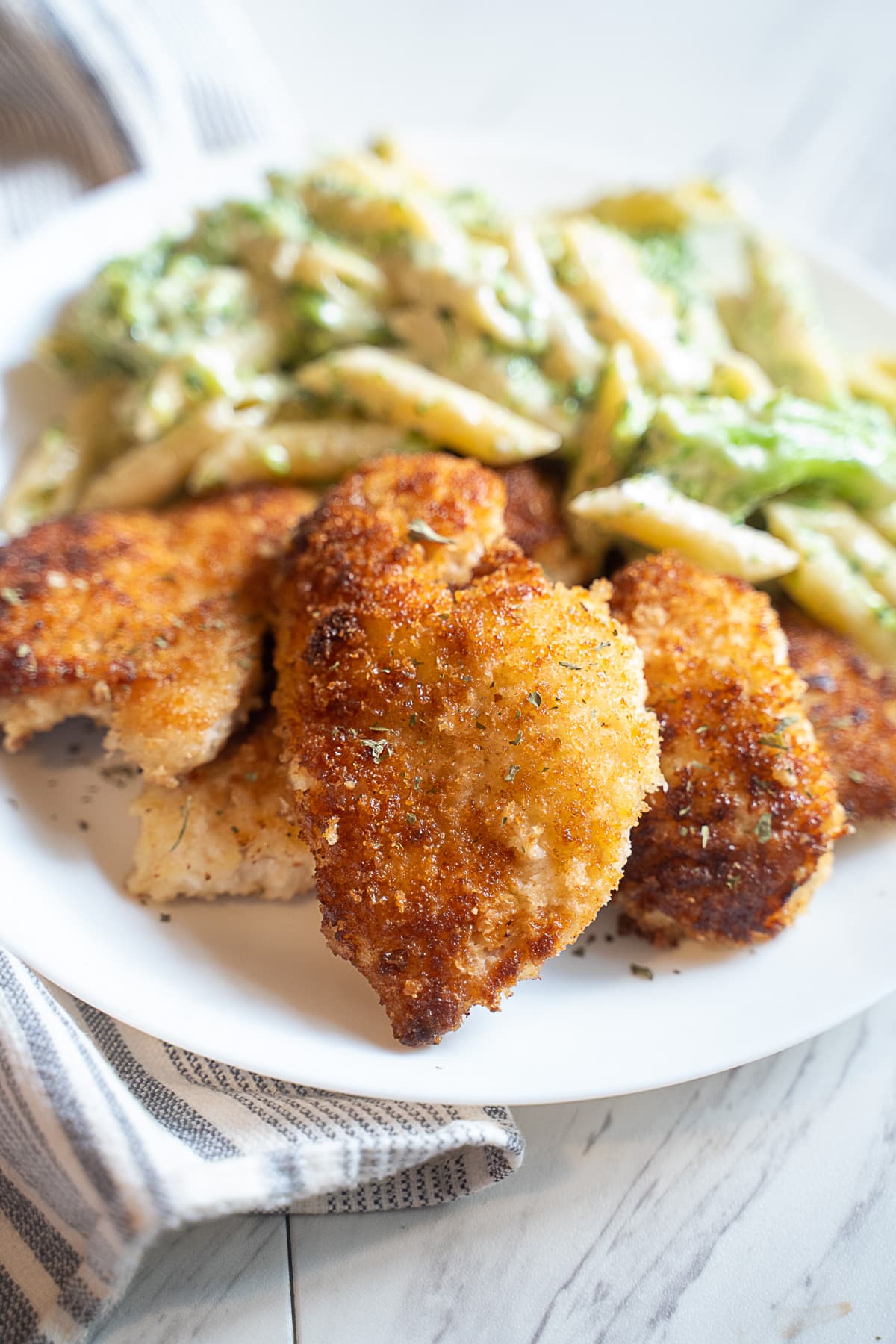 At least, that's what I thought.
If you'd asked me about meal prepping breaded chicken awhile ago you'd have gotten a "hard-pass" from this girl.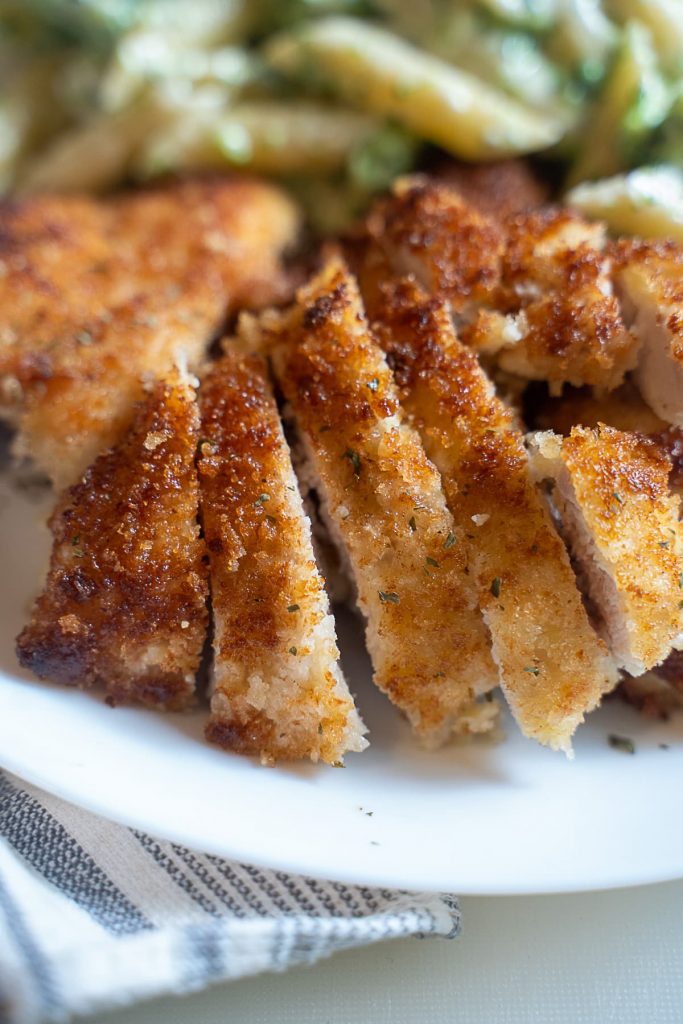 But sometimes, you've just gotta change the way you think about something to find the solution.
…and I can now say that this make-ahead breaded chicken is one of my favorite things to meal prep.
Make-Ahead Breaded Chicken
Normally breaded chicken is about one of my least favorite things to eat as leftovers because the breading gets all soggy and yucky and there's just no way to revive it.
It's also one of my least favorite things to make because of all the messy breading nonesense.
Welp. Let me tell you, this amazing method solves both of those problems.
The key here is keeping the chicken raw and freezing it for later.
Yup. That's it!
Bread the chicken. Freeze it. Have prepped breaded chicken ready to be cooked whenever!
How to make crispy breaded chicken for the freezer
The method here for make-ahead breaded chicken is fairly straightforward.
You start with an egg wash, then dip in salted panko breadcrumbs.
You could use seasoned breadcrumbs, or cracker crumbs, or corn flakes, or whatever you're little heart desires.
…I'm just trying to stick to the basic of the basics and you can play around from there.
Plus Panko breadcrumbs are the bees-knees if you're going for ultra crispy!
Preparing your make-ahead breaded chicken for the freezer
Instead of cooking your breaded chicken right away (though you could, of course) you're going to freeze it.
There is one key to making this chicken super convenient straight from the freezer, and that is flash freezing.
So after you've breaded those babies, you're not going to throw them in a freezer bag, toss it in the freezer, then call it good.
No, no.
You've got to flash freeze.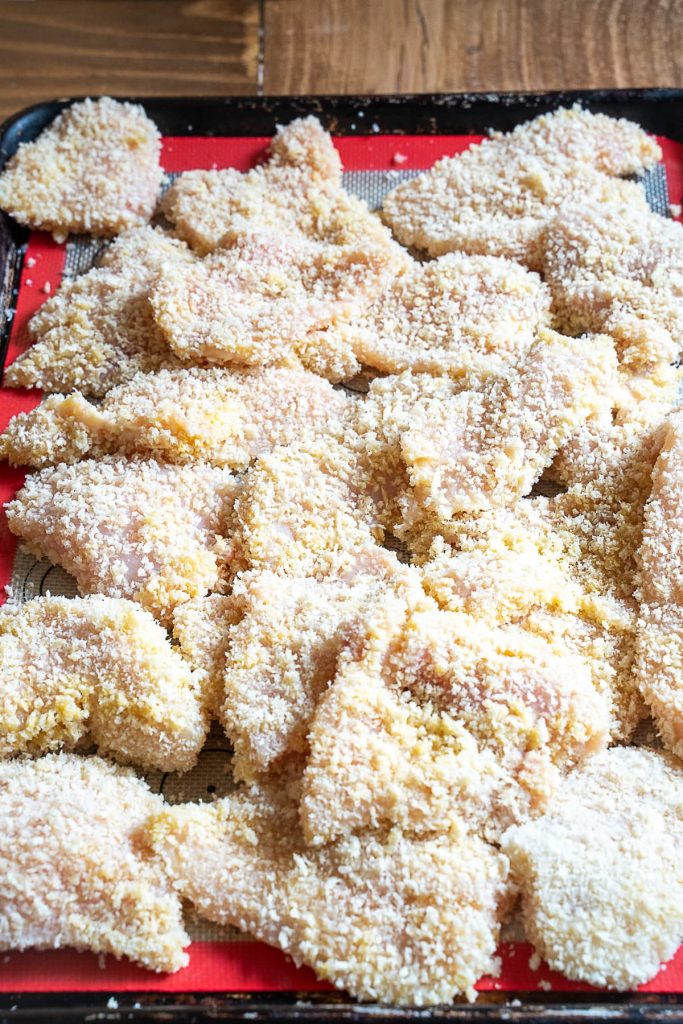 Flash freezing basically just means freezing separately before putting it in the freezer bag so you can get them apart easily when it's time to use them.
If you haven't tried it, it's revolutionary.
To flash-freeze I simply lay the breaded chicken out on a parchment or silicon lined cookie sheet.
After it's frozen for a few hours you can remove it from the sheet (you might have to leave it out for ~5 minutes to be able to separate it from the silicon sheet) and throw it in a freezer bag.
Then the magic happens.
How to cook freezer breaded chicken.
This method of meal prep is almost as fast as completely pre-cooking your chicken.
And even if it's not quite as fast, it's so easy that it will totally clear up needed brain space at dinner time.
Because, Hi, I can barely remember my own name by 5 pm some nights.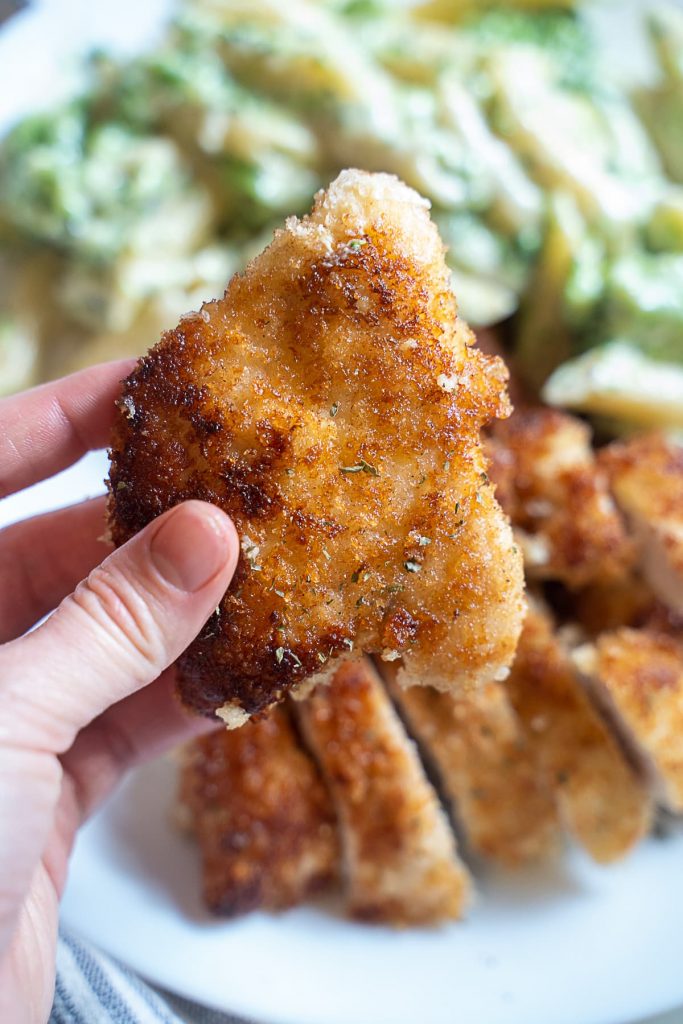 Pan-Fried Breaded chicken
My preferred way to cook breaded chicken is to pan-fry it. Heat oil in a pan over medium high heat.
Place chicken pieces in a pan being careful not to overcrowd it.
Let the chicken cook on one side for 2-3 minutes until brown and crisp and flip. Cook for another 2-3 minutes. Check chicken for doneness.
If the chicken hasn't reached 165, I actually like to move the chicken to the oven to finish cooking, again, just use your thermometer and cook until 165.
That's it! Delicious, breaded chicken in no time flat!
How to use pan-fried breaded chicken.
We sometimes use this recipe in place of the chicken tenders in this sticky finger recipe, or it would taste great with this pasta recipe as well.
You could also change up the seasonings and make chicken parmesan, chicken sandwiches, or chicken bacon ranch wraps, the possibilities are endless!
My mouth's watering just thinking about it.
What will YOU make with your freezer breaded chicken?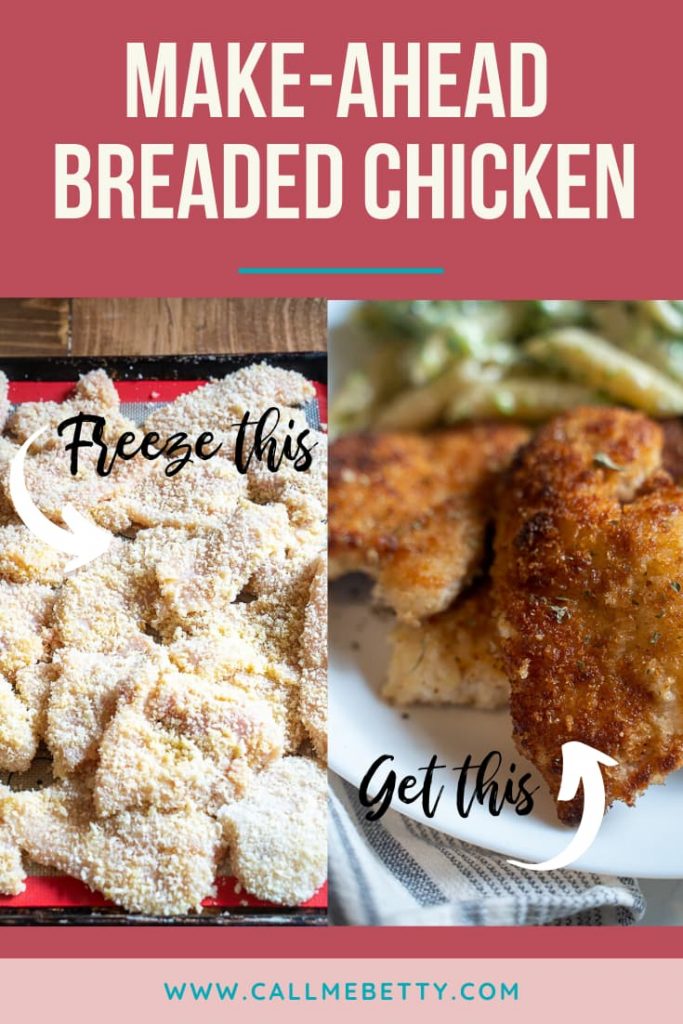 Make-Ahead Breaded Chicken
Yield:
1 lb breaded chicken breasts
This freezer breaded chicken is the perfect jumpstart for so many dishes, stock your freezer up today!
Ingredients
1 lb Chicken breasts, boneless & skinless
1 Egg, Beaten
1 C Panko breadcrumbs – 1 cup (108 g)
1/2 tsp Salt
1/4 tsp Pepper
Instructions
1. Butterfly Chicken and cut into strips
2. Season chicken well with salt and pepper
3. Place egg in a shallow bowl
4. Mix panko breadcrumbs, salt, and peper and spread in a shallow bowl.
5. Dip chicken in egg, then in panko. Coat on all sides.
6. Place breaded chicken on a parchment lined cookie sheet
7. When all of your chicken is breaded, place sheet pan in the freezer for at least 4 hours to flash freeze the chicken. After 4 hours you can transfer chicken to a freezer bag.
To Cook
1. Preheat oven to 350 degrees F.
Heat a skillet over medium heat. Add enough oil to coat the bottom of the pan. Cook chicken in batches being careful no to overcrowd the pan.
2. Cook on each side for about 3 minutes until the breading is golden brown.
3. Transfer chicken to a baking sheet or dish and continue to cook in the oven until the internal temperature reaches 165 degrees F (about 5 minutes)
Nutrition Information:
Yield:

6
Serving Size:

.5 chicken breast
Amount Per Serving:
Calories:

208
Total Fat:

4g
Saturated Fat:

1g
Trans Fat:

0g
Unsaturated Fat:

3g
Cholesterol:

95mg
Sodium:

393mg
Carbohydrates:

13g
Fiber:

1g
Sugar:

1g
Protein:

27g
Looking for other ways to meal prep chicken?
Here are two more favorites!