Spaghetti Squash with Sausage and Kale
So when I made this spaghetti squash with sausage and kale, I really had no intention of posting the recipe.  I guess I just wasn't overly confident that it would be very good. It was simple and quick and I thought it would be a pretty typical weeknight meal, nothing fancy, but boy was it was delicious.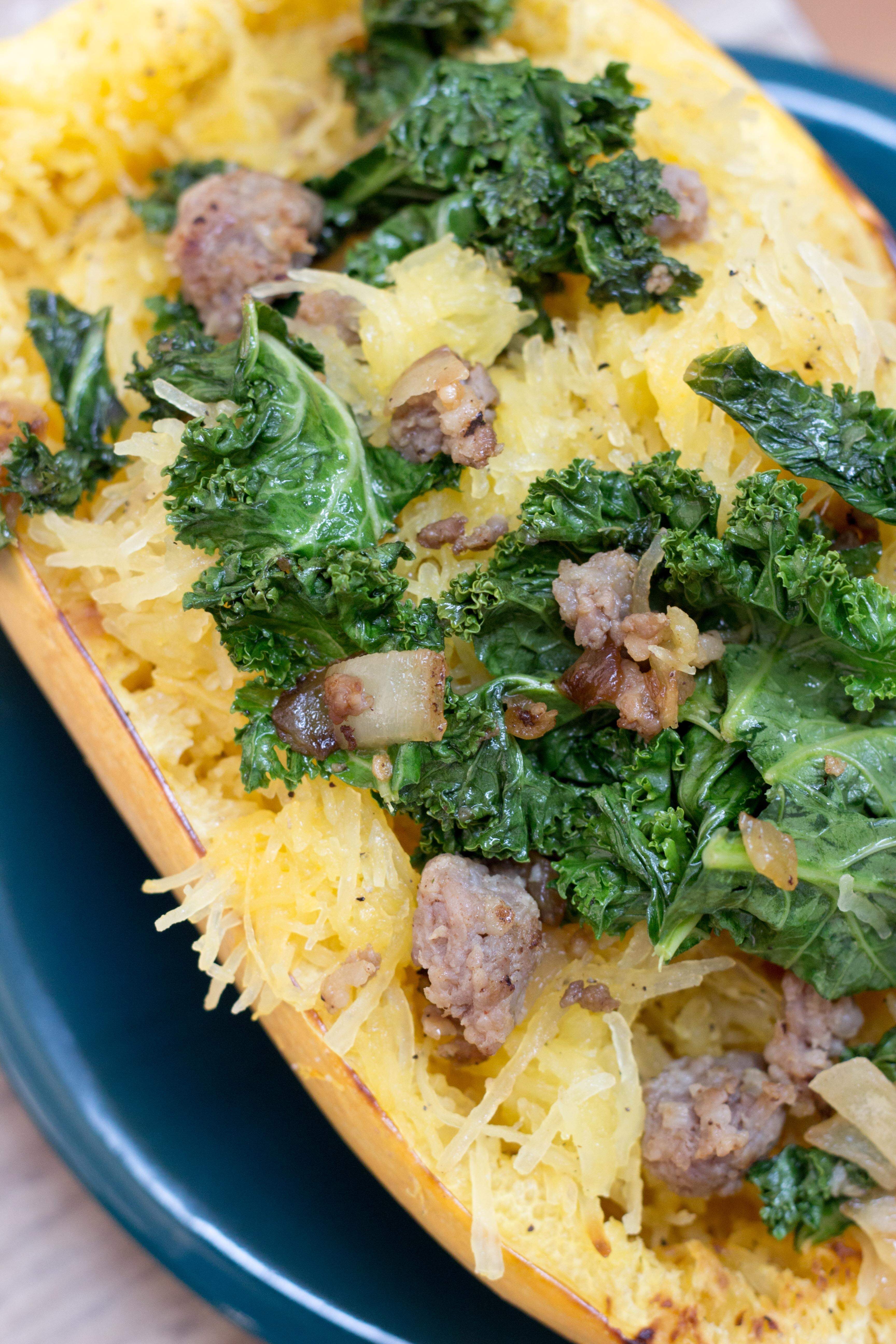 We have an ABUNDANCE of spaghetti squash here in our home. We grew it last summer and the wonderful thing about squash is keep it in a dark, cool area, and it's STILL good. I'm embarrassed to admit that this is the first thing I've made with it. Last summer I was rather pregnant and squash of any kind sounded pretty awful (as did anything else good for you, I subsisted on pop tarts and otter pops. yum.)
Anyway, this recipe totally changed my mind about spaghetti squash. I am now obsessed with it and want to eat it for every meal. Navajo tacos? How about Navajo Spaghetti Squash? Baked Potato Bar? How about Spaghetti Squash Bar? Tuna Noodle Casserole? How about Tuna Spaghetti Squash Casserole? Okay…that one may be taking it a little too far…but seriously. It's good.
The reason I was surprised at how tasty this meal was is because it's SIMPLE! (Mom, this is the recipe for you…it has 5 ingredients…salt and pepper don't count…neither does olive oil). It's a great meal when you want something quick, and will yield some yummy leftovers.
Let's get cookin'. I give you ultra-tasty spaghetti squash with sausage and kale.
Spaghetti Squash with Sausage and Kale
Don't be fooled by the simplicity of this recipe, it packs a lot of flavor and is a quick, easy, and healthy weeknight meal. 
Ingredients
1 Spaghetti Squash
1 Tbsp Olive Oil
1 Small Onion
3 Cloves Garlic, minced
1/2 lb Country Sausage
1/2 bunch Kale, thinly chopped
Salt and Pepper tt
Instructions
Preheat Oven to 375 degrees.
Cut Spaghetti Squash in Half and remove the seeds. (This is easier said than done, I think the easiest way is to cut off the top and bottom so you have a level surface to work with and then carefully saw through with a sharp knife).
Drizzle cut sides of spaghetti Squash halves with olive oil, rub it in evenly. Place squash cut side down on a cookie sheet and bake for 35-45 minutes until soft.
While Squash is cooking brown sausage in a large skillet over medium heat. When sausage is about halfway cooked, add the onion. When the sausage is cooked and the onion is soft, add the garlic and cook for about one minute.
Add the chopped kale and saute until it is lightly wilted.
When the squash is cooked, pull it apart with a fork. It should come out in strands that look like spaghetti. Salt and Pepper the squash to taste. Add the Squash to the sausage and kale mixture and heat through. If you want a pretty presentation, put the finished product back into one of the squash halves and serve.
Recipe adapted slightly from this recipe at simplyrecipes.com