Meal Prep Teriyaki Meatball Stir-fry (Fast family meal!)
This meal prep teriyaki meatball stir-fry comes together so quickly when you pre-make your sauce and meatballs! Make a big batch to enjoy all week or simply prep your meatballs, sauce, and veggies in advance for a super quick weeknight meal.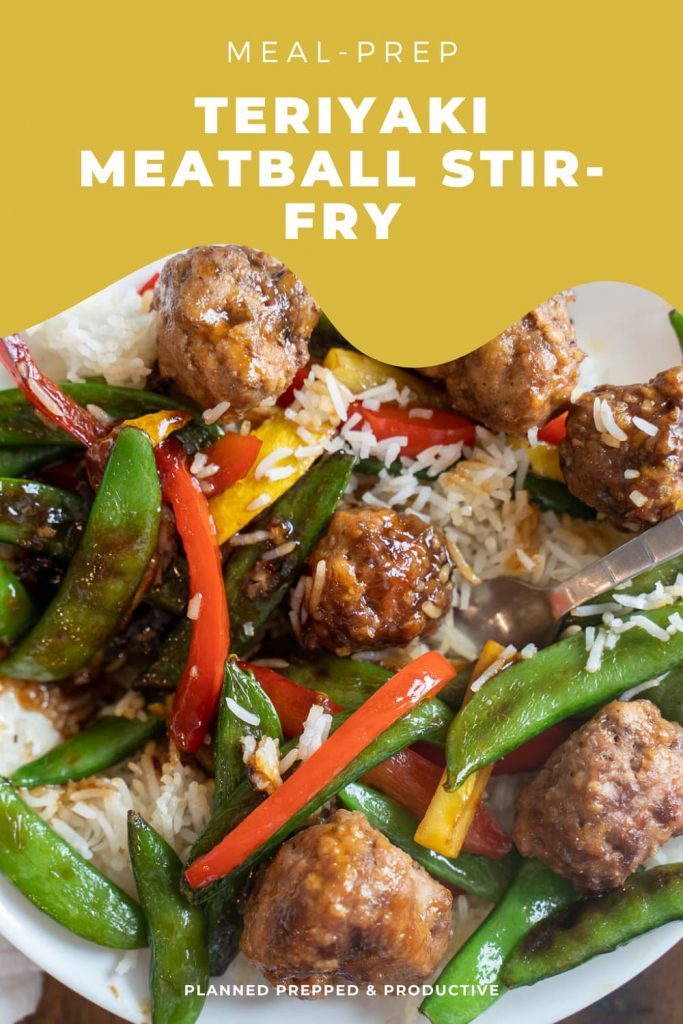 Hey all!
One of my business goals as of late is to do a little more SHOWING and less telling when it comes to meal planning and meal prep.
To do this, I'm going to highlight a recipe and show you everything I did to meal prep it (and how I fit that meal prep into my busy life)
It's one thing to KNOW the things you could be doing to become the boss of mealtime, but something else entirely to put it into practice.
…and to put it into practice, takes practice, and sometimes it just takes an example so let's dig into how to meal prep this meal and hopefully you learn something you can put into practice yourself!
How to meal prep meatballs
Meatballs are one of my very favorite things to meal prep!
There are so many dishes you can make from pre-made frozen meatballs, and while you COULD just buy them from the stores, making them yourself is SOOOO much tastier!
Because frozen meatballs are so versatile, I never make a single batch. Like, ever.
So in this case I made 4 1/2 lbs of meat which will probably feed our family of 5 (+1 as my brother-in-law is staying with us) 3-5 times depending on what dish I'm making.
I did my meal planning last week on Saturday and I knew this week was going to be crazy. I started a new out-of-the-house job this week for the first time since I had my daughter 6 years ago, so I felt a little rusty to say the least, not to mention unlike so many of you moms who juggle motherhood and careers, this was pretty new territory for me. It's a very very part-time job, but nonetheless I knew I would need some extra strategies in place to be sure everyone stays fed and happy.
Anyway, often when I meal prep I just meal prep a big batch on the day that I need it. I rarely have a dedicated meal prep day because it doesn't fit into my life well right now. So normally I would have waited until Monday night and as I was making dinner I would have just made extra meatballs. Easy.
BUT because I wasn't exactly sure how my work was going to go I wanted to be prepared for any situation. I like to call this dinnertime emergency planning.
So, I decided to cook the meatballs all on Sunday because I had ample free time that day. As I was making dinner I also meal-prepped meatballs, and I had more ground beef thawed than I needed so I cooked the rest of the ground beef as well so I could freeze that for 2-3 meals in the future as well.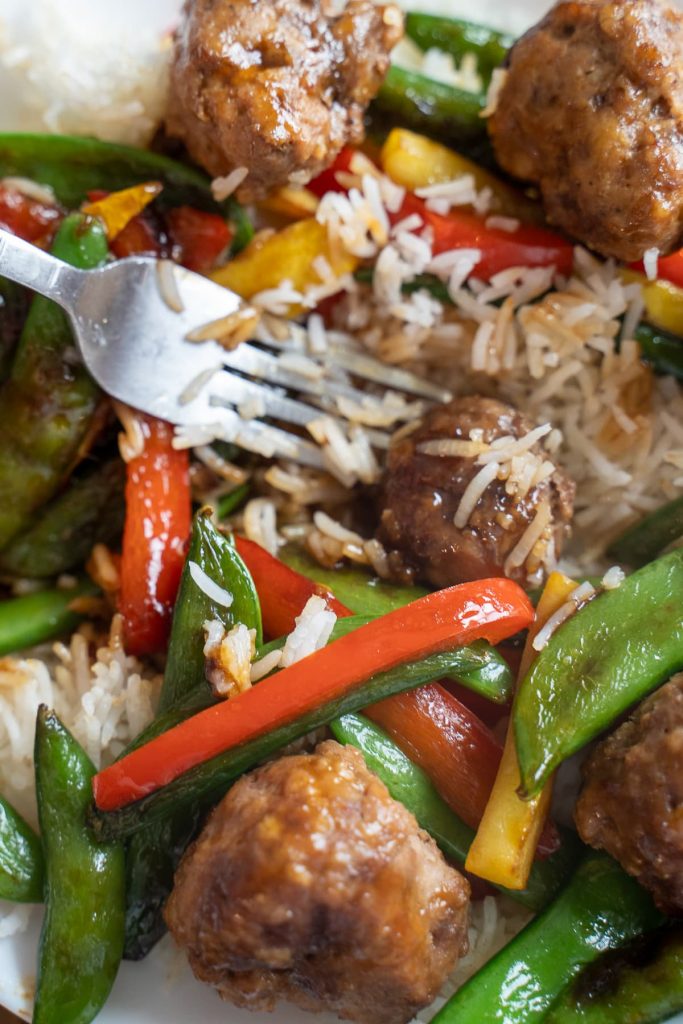 The necessary parts of meatballs
Alright so now you see how I fit the meal prep into my schedule (without making a special day for it) let's talk about how you actually make good meatballs for meal prep to use in these meal prep teriyaki meatballs.
Meatballs are pretty hard to mess up. There are some key parts though:
Ground Meat
Eggs
Breadcrumbs/Oats/Cracker Crumbs
Seasonings
That's basically it! This time I used a combination of Ground turkey and ground beef. I don't love ground turkey on it's own, but mixed I can get behind it.
You need the eggs and breadcrumbs to help bind the meatball together so it doesn't crumble and turn into ground beef. Don't fret if you don't have breadcrumbs, you can use lots of things for this step.
As far as seasonings go I always keep things super basic when I meal prep so the meatballs are versatile and can be used in a lot of different dishes.
How to cook your meal prep meatballs
There are several different methods that work for cooking your meatballs. Most often I see meatballs pan-fried, which is an okay option. Your meatballs will taste great this way. For me, it's WAY too time-consuming though and I choose to bake them. I just pack them all onto a sheet pan nice and tight on top of silicon baking mat to help a little with the mess, bake for 20-25 minutes at 400 (until a thermometer registers 165).
After your meatballs are done you can transfer them to a freezer bag. You can flash-freeze them if you choose to, but I've had good luck just popping them into freezer bags. I usually put them into the size of bag that I think we'll use for a meal so I don't thaw more than I need.
If you will be using the meatballs in the next few days you can store them in the fridge instead of the freezer, but I pop just about everything into the freezer to keep it safe in case I drop the ball on dinner for a night or two.
Making the teriyaki sauce for your meal prep teriyaki meatball stir-fry
Next up we've got teriyaki sauce. If you've only ever purchased teriyaki sauce you'll probably be surprised at how simple this sauce is to make. It usually consists of only soy sauce, sugar of some kind, flavorings like ginger and garlic, and cornstarch to thicken it up. That's it!
Like almost all things, when I make teriyaki sauce I like to get the most bang for my buck and double or triple it to freeze for later.
A word of caution though about freezing teriyaki sauce (or any sauce with cornstarch in it) can get a little gelatinous when you put it in the freezer. It usually thins out just fine when you heat it up, but if you don't love that you can store it in the fridge for about a week (what I'll do this time) or you can just mix your ingredients for the sauce and freeze without the cornstarch. This way you can whip up a fresh sauce really quick by just adding cornstarch. You can also try to decrease the cornstarch in your recipe if you're having trouble thinning it out after it's been frozen, or add more water/soy sauce to thin it out.
In addition to this meal prep teriyaki meatball stir-fry this week, I'm also making a teriyaki chicken noodle bowl later in the week. No reason to make teriyaki sauce twice, so I'll double the recipe and store half of it in the fridge for the next dinner.
This works out well because I will be working again when we're having this sauce again and it will be helpful to my husband who will be doing the cooking to have some of the steps done. He's perfectly willing and able to help, but you moms know that with kids the faster the better, am I right? Especially when you're multi-tasking childcare at the same time.
Prepping your veggies for your meal prep teriyaki meatball stir-fry
So when it comes to veggies, I'm not generally a fan of pre-cooking or freezing veggies.
I like them fresh.
I find that keeping the veggies fresh really helps to brighten up the parts of the meal that were meal-prepped so that you would never even guess they were made in advance (I like to be sneaky). There are exceptions, but generally I cook all of my veggies fresh at dinnertime.
This is something I like to call strategizing my meal prep. The difference between fresh and frozen asparagus? Like huge, monumental. The difference between fresh and frozen meatballs? Much less noticeable, maybe the meatballs will be a little more dry from re-heating but it's not something I would notice easily.
By strategizing the parts of the meal that are meal prepped and the parts that are fresh I'm able to create a meal that's fast and easy to make, and also takes awesome. It's a winning strategy for sure!
Also, just because you aren't cooking your veggies in advance, doesn't mean you can't meal prep.
Tbh because I cooked the meatballs yesterday, I didn't get around to prepping the veggies in advance, and that's okay. Meal prep doesn't have to be perfect. I still saved myself loads of time by pre-making the sauce and the meatballs.
BUT when you do have time, you can measure out and pre-cut your ingredients for your stir-fry and keep them in the fridge until you are ready to use them. Make sure you do this only with vegetables that are hearty enough to last until you need them (fresh herbs are probably not your veggie to pre-cut) but most veggies will last just fine for a few days until you need them. At the very least you can cut your veggies in the morning while your kids are eating their snack or lunch so you can be ready for dinner when it's time.
Putting together your meal prep teriyaki meatball stir-fry
Alright, so the meatballs are made, the teriyaki sauce is made, and the veggies are chopped. What comes next?
Well if your meatballs are in the freezer, the easiest way to thaw them is in the refrigerator during the day so it's best to pull them out and put them in the fridge in the morning on the day you'll be eating them. If you forget, don't stress, all is not lost, this is just the easiest way.
If you don't thaw your meatballs, you'll probably need to bake them again at 350 for 10-ish minutes, they dont' need to be hot (yet) just thaw.
While your meatballs are cooking you can start the stir-fry. Heat oil in a wok or large saucepan on medium high. Add your veggies and try not to disturb them too much at first so they can get a nice little crisp crust on it. Then stir until they're tender enough for your liking. After they are tender add the teriyaki sauce and meatballs and heat until warmed through. If you need to add a little water to thin out the teriyaki sauce do it. It will be fine.
That's it! Now you're ready to sere your meal-prep teriyaki meatball stir-fry over rice or pasta. Rice can be meal-prepped and frozen if that's your thing. I find it just as easy to cook a fresh batch in a rice cooker while I'm doing the rest of my prep.
If you meal prep, this meal will easily be done in 15-20 minutes and it's a total crowd-pleaser!
If you want the details to try it yourself, you can find the recipe in the shownotes!
I hope this gave you more of a birds-eye view of exactly what is going on in my kitchen and how you can implement the same things to make your kitchen run more smoothly as well.
Next week we're going to talk about how to parbake cinnamon rolls. We've talked a bit about par-baking in the past, but I've discovered that cinnamon rolls present some extra challenges to get just right. After I struggled with it a few times, I figured you might want all the deets on how you can parbake cinnamon rolls for a special morning treat, without waking up at the crack of dawn. You're welcome.
Thanks for tuning in, I'm excited to chat with you more. Until next week, happy planning!
Do you feel like you're missing something when it comes to mealtime?
Do you feel like you've tried everything to create more peaceful meals and evenings, but the kitchen still feels like the enemy? You're not alone, BUT there is a better way! Check out my free guide with the 4 secrets to mastering mealtime once and for all! Reclaim your evenings and put homemade meals on the table regularly while spending LESS time in the kitchen. Check out the guide here!
[elementor-template id="7170″]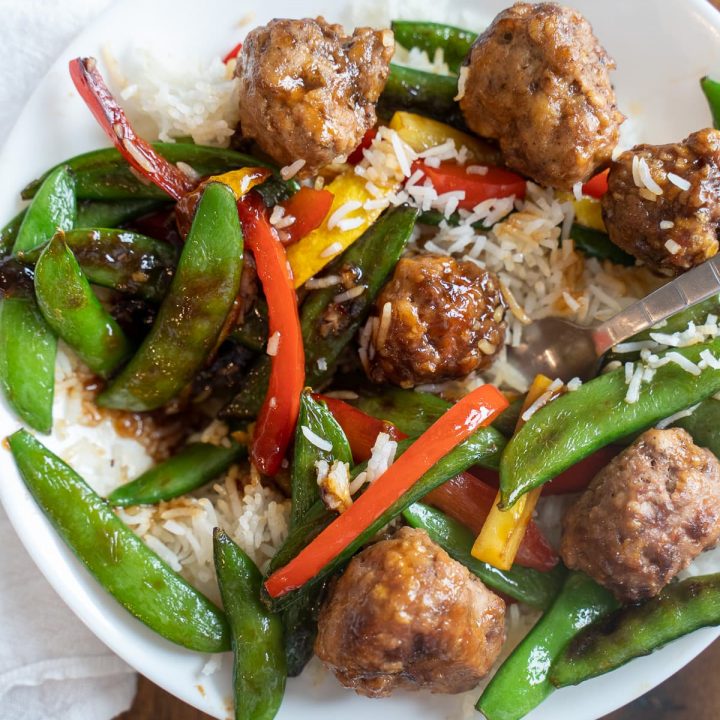 Meal Prep Teriyaki Meatball Stir-fry
This meal prep teriyaki meatball stir-fry is so easy to put together. Make the meatballs and sauce in advance and you'll be able to easily bust this tasty meal out in 15 minutes any weeknight!
Ingredients
For the Meatballs
1 lb Ground Turkey
1 lb Ground Beef
1/2 C Rolled Oats, breadcrumbs, or cracker crumbs
1/2 onion, diced small (optional)
1 large egg
1 1/2 tsp salt
1/2 tsp black pepper
1/2 tsp garlic powder
1/2 tsp onion powder
1 large pinch red pepper flakes
For the Sauce
1/3 C soy sauce
3 Tbsp brown sugar
2/3 C Water, pineapple juice, or orange juice
1 Tbsp squeezable ginger
3 cloves minced garlic
1 Tbsp sesame oil
1 Tbsp corn starch
1 Tbsp cold water
For the Stir-Fry
1 lb sugar snap peas
1-2 yellow squash, cut in strips
1 red bell pepper, cut in strips
1 Tbsp olive oil
Instructions
Preheat oven to 400 degrees. Prepare a sheet pan with parchment paper or a silcon baking mat.
Combine all ingredients for meatballs in a large bowl. Use clean hands to make sure everything gets evenly mixed. Using a small portion scoop to portion out meatballs (about 1 1/2 inches in diameter).
Bake for 20-25 minutes until cooked through and the internal temperature is at least 165 degrees F. (This portion of the meal can be done in advance and frozen for several months or refrigerated for 4-5 days)
Combine all ingredients for teriyaki sauce except for corn starch and 1 Tbsp water. Heat in a small saucepan over medium heat until bubbling. Combine cornstarch and 1 tbsp cold water separately. Drizzle into saucepan and whisk. Continue to heat over medium heat until sauce is thickened to your liking. (This part of the meal can be done in advance and frozen for several months or refrigerated for at least 1 week).
Chop bell pepper and yellow squash into strips
Heat olive oil over medium-high heat in a large skillet. When oil is heated add vegetables. Spread evenly over skillet and then let cook undisturbed for 2-3 minutes (until they start to get a little crust on them). After crust has formed, stir-fry until softened to your liking (2-3 more minutes).
Add meatballs and teriyaki sauce to pan. If either was frozen you will need to thaw them before adding. Cook until heated through.
Serve over white rice.
Notes
You could meal-prep this entire dish and eat it over several days if you desire, though for my tastes I prefer to store all of the components separately.
Nutrition Information:
Yield:

8
Serving Size:

1
Amount Per Serving:
Calories:

516
Total Fat:

28g
Saturated Fat:

8g
Trans Fat:

1g
Unsaturated Fat:

17g
Cholesterol:

146mg
Sodium:

1237mg
Carbohydrates:

26g
Fiber:

5g
Sugar:

12g
Protein:

40g
One thing I love about stir-fries is they are so customizable and easy to mess up! Check out this guide for making your very own stir-fries here!
Want to get more veggies in your diet??
Check out my guide for getting more veggies in the easy and yummy way!