Meal Prep Microwave Egg Cups (Freezer friendly!)
Need a fast+filling+healthy breakfast? These meal prep microwave egg cups are the perfect fast and easy breakfast!
I've said it before, but breakfast is the bane of my existence.
I NEED a quick breakfast to function, but with busy mornings and kids, and all the things it is SO HARD to get a healthy breakfast in. I've even written about this before when I talked about how to meal prep your breakfasts, and shared my top convenient breakfast foods).
My biggest problem with breakfast is that I really don't love reheated eggs. Eggs are hard enough to cook perfectly the first time, and any meal prep versions I tried tasted a bit rubbery to me.
So when I saw microwave egg cups at the grocery store I was super intrigued. What I loved about them is that you just crack an egg and use the power of your microwave. Perfect for a busy weekday morning. IT seemed like a great idea to me!
Storebought microwave egg cups vs homemade microwave egg cups
Naturally though, with storebought meals, I was skeptical. I was also skeptical of my egg coming out of the microwave oven.
So I bought one of these cups to try, and I was pleasantly surprised. My egg wasn't rubbery, and the bell pepper added great flavor. It reminded me of a breakfast casserole or muffin tin eggs, but it was done in minutes. I love that it gave me a high protein breakfast option that with so little cooking time.
The minimal clean up made it the best experience.
…although the storebought version was pretty great, naturally my wheels immediately started turning to figure out if I could make a breakfast meal prep microwave egg cup at home. The storebought microwave egg cup was about $3 which is more than I want to spend on my daily breakfast.
Also, by doing it myself, I am able to change up the flavors, and add additional protein using egg whites and/or collagen peptides to my scrambled egg cup.
So, let's talk about how to make your own meal prep microwave egg cups at home.
Meal Prep Microwave Egg Cups at home
Let's start talking about how you'll make this easy breakfast idea happen at your own house.
You'll want to start out by prepping your proteins and veggies. The version of meal prep microwave egg cups that I bought had cooked sausage, cheddar cheese, cooked potatoes, cooked onions and peppers.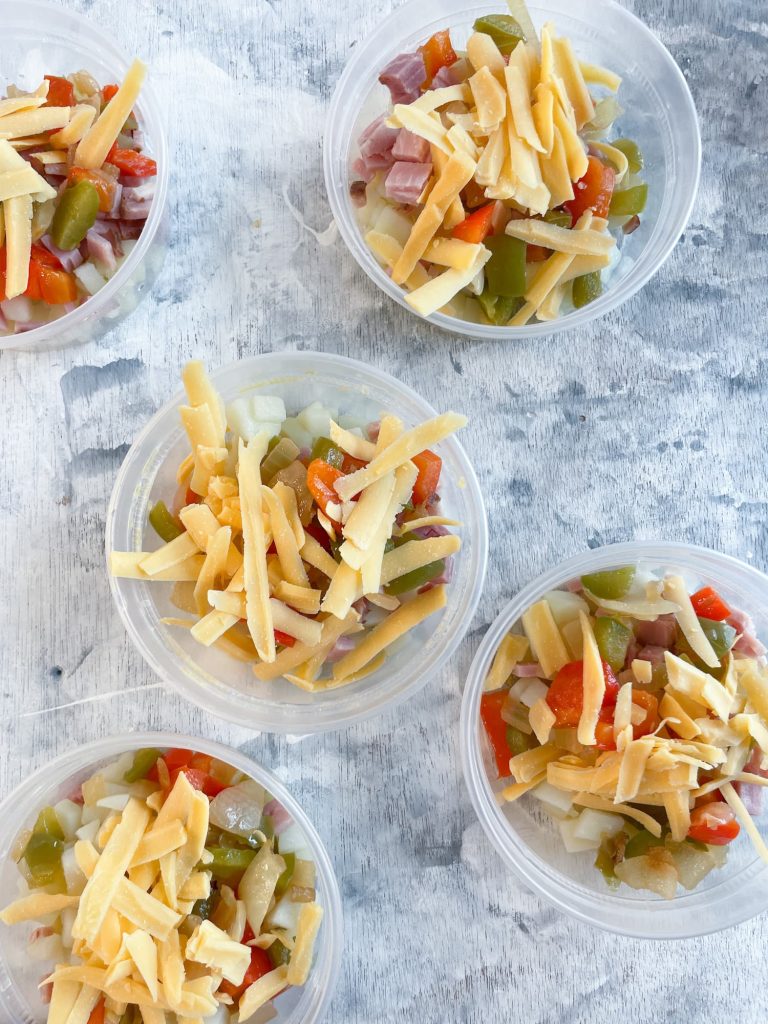 This was a great combination, but you can use a different combination of ingredients that sounds good to you. CHose your favorite protein and your favorite vegetable.
What you'll need to make meal prep microwave egg cups
Cooked protein (bacon, sausage, ham, vegan sausauge, turkey sausage, black beans, etc…)
Cooked veggies (onions, peppers, potatoes, sweet potatoes, etc…)
Raw veggies (baby spinach, tomatoes, mushrooms, etc…optional)
Shredded Cheese (cheddar cheese, mozzarella cheese, goat cheese)
Fresh Egg or Egg Whites or combination
MIcrowave safe container (mason jars, glass jars, ceramic mug, deli container, souffle cups)
To make these cups SUPER convenient at home, we're going to want to do some meal prep. What I like to do is to choose a flavor combination that I want for the week. Let's say that I choose to use ham as my protein, and potatoes and onions as my veggies, with cheddar cheese.
How to meal prep easy breakfast bowls
For that week I'll want to prep my protein. In the case of ham, I don't have to do any cooking (yahoo!!!). I will want to dice it into pieces and then separate it into 4-5 mini tupperwares to use in your egg cups. I love these reusable condiment cups for this, or you can use disposable condiment cups.
Next you'll want to cook your veggies. How you cook them will depend on the veggie. I would boil potatoes, and probably saute peppers and onions. You could also roast veggies for some extra oomph in flavor 🙂 After you've cooked your veggies you will go ahead and separate them into condiment cups as well.
Lastly, you'll want to separate out your cheese into condiment cups as well. You can buy your cheese pre-shredded or you can shred it yourself and separate it into condiment cups.
How to store easy microwave egg cups
I like to store and cook my microwave meal prep egg cups in the same container. I love these deli containers from amazon and I use them for everything. When you are done prepping your ingredients you can put enough for one egg cup into one of the 2 cup deli containers.
If you are using raw veggies (like spinach or mushrooms) I just add them around the condiment cups in the container.
How to cook quick microwave egg cups
To cook your meal prep microwave egg cups you will dump all of the ingredients into the cups. Next, you will crack your egg right into the cup. You can also add 1-2 egg whites, or even stir in some collagen peptides for additional protein. You could also add milk or almond milk as well.
Pop your cup in the microwave and microwave on high for 30 seconds, take it out and stir it, then microwave it again for 30 seconds, stir.
The egg should be cooked through at this point, but if not just go ahead and microwave again in 30 second intervals until the the egg is cooked through.
Top with salsa, avocado, serve on toast, or enjoy however you want to!
Can you freeze microwave egg cups?
Yes! You can freeze the whole cup and microwave from frozen. You will likely have to microwave a little longer, but it's totally do-able!
How long do meal prep egg cups last in the fridge?
Meal Prep Egg Cups will last about 5 days in the fridge.
Alright my friends, I hope you are so excited for a breakfast solution that *actually* works. I for one, am stoked to have found an option that is meal-prep-able and solves the rubbery egg situation!
See the full recipe for these egg breakfast bowls.
Happy Planning friends!
Meal Prep Microwave Egg Cups
Prep these convenient microwave egg scrambles ahead of time, then just crack an egg to enjoy a healthy, protein-packed, breakfast that's ready in minutes
Ingredients
1/2 C cooked protein (bacon, sausage, ham, etc...)
1/2 C chopped bell peppers
1/2 C chopped onion
2 tsp oil or butter
1 russet potato, peeled and diced very small
1/2 C shredded cheese
4 eggs
Instructions
1. Bring Potatoes to a boil in a small saucepan, reduce heat to low and simmer until tender. Drain when tender. It will only take 4-6 minutes because the potatoes are cut so small
2. While the potatoes are boiling, saute peppers and onions in 2 tsp oil or butter in a small skillet over medium high heat. (This step is optional, you can add your veggies to the cup raw, but I prefer the flavor of sauteed veggies)
3. Add the potatoes, and peppers and onions into 4 freezer-friendly containers like mason jars or these plastic containers.
4. If you are planning to freeze the meal prep, you can add the cheese and protein directly to the containers. If you would prefer to keep them refrigerated (for 3-4 days) keep the meat and cheese separate and add it just before cooking.
5. Store in freezer or refrigerator until ready to use.
6. When ready to use, crack an egg into the cup and microwave for 30 seconds, remove and stir, and microwave for 30 more seconds. Repeat this process until egg is cooked through. This will take 2-3 minutes if your egg cup is frozen, and 1-2 minutes if it is refrigerated.
Sprinkle with seasonings, top with avocado or salsa if desired and enjoy!
Notes
Think of this recipe more like a formula and feel free to change up any of the ingredients. You can also add egg whites or collagen powder for additional protein, and a splash of milk if you prefer your eggs a little fluffier
Nutrition Information:
Yield:

4
Serving Size:

1
Amount Per Serving:
Calories:

303
Total Fat:

15g
Saturated Fat:

6g
Trans Fat:

0g
Unsaturated Fat:

7g
Cholesterol:

211mg
Sodium:

227mg
Carbohydrates:

14g
Fiber:

2g
Sugar:

2g
Protein:

28g
Nutrition information will vary based on what options you choose for this recipe
You might also like:
Convenient Breakfast Foods for Lazy People
Breakfast Routines: How to make breakfast *actually* happen