Homemade Baked Beans (Easy Slow Cooker Recipe!)
These homemade baked beans combine only a handful of ingredients in a slow cooker in one easy step with no chopping, but delivers a powerful punch of flavor.  They are completely from scratch, and don't even use ketchup, you won't believe how quick, easy, and tasty this whole food recipe is!
So am I a weird girl in that I absolutely LOVE baked beans!? I feel like baked beans are man food…nonetheless I am crazy about them.  I literally start salivating when I see them at a barbecue and I can't get through the line fast enough to eat em up!!  CRAZY I tell you.  I have been on the hunt for a good homemade baked beans recipe for years.  I have tried several times to make them and they usually are a complete disaster, and then I think why oh why did I not just buy the can!?
 Homemade Baked Beans (Easy Slow Cooker Recipe)
This post contains affiliate links, meaning that if you make a purchase from one of these links a small percentage comes back to me at no additional cost to you. Learn more by visiting my disclosure page.
It is with great pride that I am able to present to you the easiest, most perfect baked beans recipe ever.
Technically these beans are not "baked" since they are cooked in the slow cooker, but they taste the same so let's not get hung up on technicalities.  I'm just trying to make life easier for ya'll.
What kind of beans should I use to make homemade baked beans?
Traditionally, baked beans are made using navy beans.  That's what kind of beans I have featured in this recipe.  But you can do whatever you want.  I'd love to hear about your experiments with different kinds or even a mixture of beans!
Where can I find navy beans?
Dry navy beans are easy to find in any supermarket.  If you choose to buy dry navy beans you will have to cook them prior to using them in this recipe.  My favorite way of cooking dry beans is to use a pressure cooker.  SO FAST.  Usually when I make this recipe, I just use canned navy beans, but these can be a bit harder to find.  I have had fairly consistent success at Giant Eagle, if there's one near you.  I'd love to hear if you find them anywhere else!
What is traditionally added to homemade baked beans?
So it turns out there are approximately 800 variations of baked beans.  In fact, I was sucked in to this baked beans wikipedia page for way too long, reading all about their history.  I was going for Bush's canned baked beans style.  Not sure what their official title is, but mine works, right!?  Anywho, these are flavored with brown sugar, tomato paste, molasses, and some seasonings.  Many recipes call for whole onions.  I chose to omit the onion and use onion powder in this recipe.  Partially for simplicity, and partially because I prefer a smooth texture to the sauce of my baked beans. Many recipes also call for bacon.  I tried bacon in my recipe, and (surprisingly) preferred them without it.
What about ketchup?
Almost every homemade baked beans recipe that I came across called for ketchup.  After lots of trial and error I've found a recipe that doesn't need it.  I'm not really anti-ketchup, but I prefer not to use it in my cooking.  Partially because I love a good challenge(see my ketchup-free bbq sauce recipe), and partially because it's not very from scratch-ish.  The tomato paste, sugars, and vinegars in this recipe make for a good ketchup sub.
This homemade baked beans recipe does one thing that drives me a bit nuts in recipes, so for that I apologize, but it was necessary.  It calls for only 2 tbsps of tomato paste instead of a whole can. If you need to use up the rest of that tomato paste, you can totally freeze it in ice cubes for later use. Another option is to buy these awesome tomato paste tubes. I find that I never use a whole can of tomato paste so I really like these. I've linked to them on Amazon, but I know that Trader Joe's carries a version as well.
So move over men, cause these homemade baked beans are man AND chick food.
What do you think of this classic summer fare?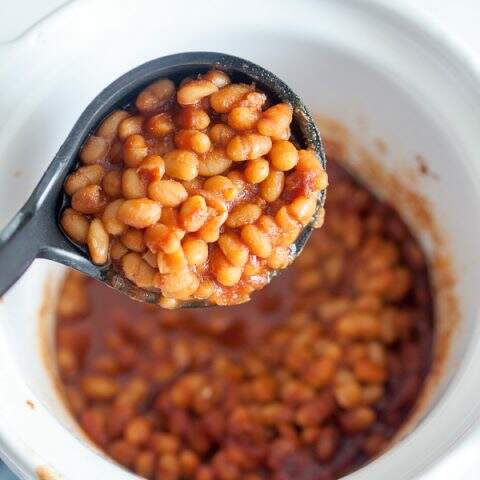 Homemade Baked Beans (Easy Slow Cooker Recipe)
Total Time:
4 hours
10 minutes
These baked beans are made from scratch, with only a handful of ingredients.  They are sweet and tangy and the perfect addition to any summer barbecue!
Ingredients
1/2 lb cooked navy beans, (may sub 2 15.5 oz cans)
1/2 C water
3 tbsp brown sugar
2 tbsp molasses
2 tbsp tomato paste
1 1/2 tbsp white vinegar
1 tsp worcestershire sauce
1 tsp salt
1 tsp onion powder
pinch chili powder
pinch black pepper
Instructions
Mix all ingredients in a small slow cooker.  Cook for ~4 hours until heated through. Serve.
Notes
Calories calculated using MyFitnessPal
An alternate preparation method would be to heat all the ingredients on the stove until bubbly and starting to thicken. 
Nutrition Information:
Yield:

8
Serving Size:

g
Amount Per Serving:
Calories:

194
Carbohydrates:

37.7g
Protein:

8.5g