Kid-Friendly Slushie 4th of July Drink
This slushy 4th of July drink is the perfect holiday treat for kids and families. It's naturally colored using blueberries and raspberries, and flavored with limes and coconut milk. I love the zesty flavor, AND that it's made without any drink mixes. Your kids will love it!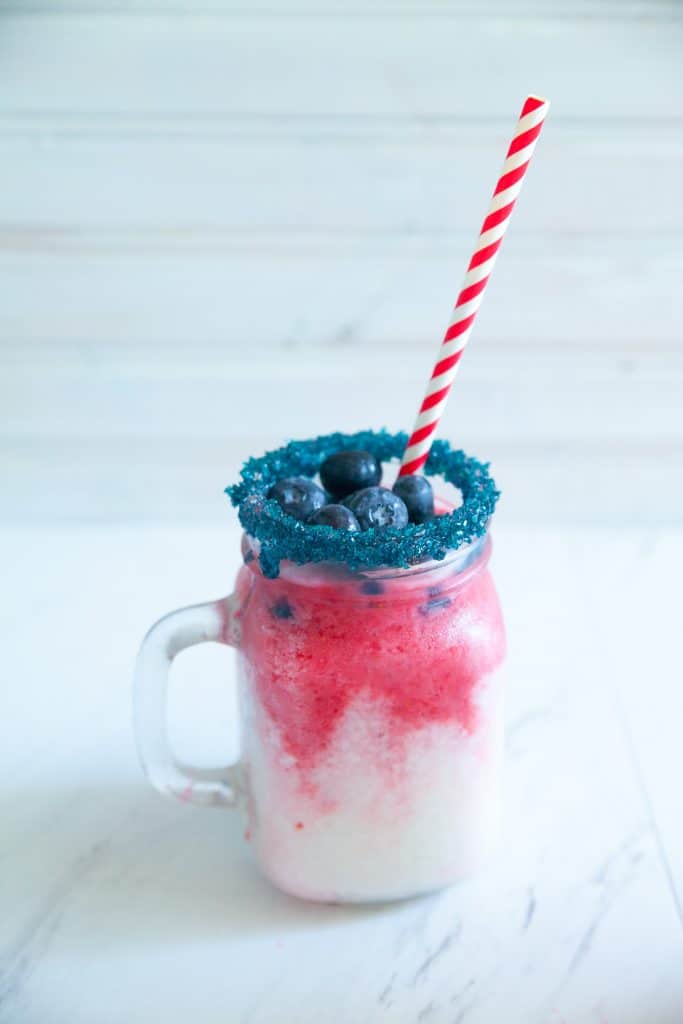 A hot summer's day, everyone decked out in their best patriotic wear, parades and trying to get ALL the candy, hours upon hours of BINGO and ending the afternoon with a refreshing sugar-y snow cone.
Yes, the 4th of July holds many fond memories for me. It's lost only a little of it's appeal since I've had to add stopping my daughter's lightning fast darts into the road to stop the parade, and since it's frowned upon in our society for adults to take all the candy (sigh). I still LOVE this holiday.
Kid-Friendly Slushie 4th of July Drink
This post contains affiliate links, meaning that if you make a purchase from one of these links a small percentage comes back to me at no additional cost to you. Learn more by visiting my disclosure page.
I've seen lots of recipes for 4th of July drinks floating around the interwebs, but most of them are either A: alcoholic or B: use diet drinks and sodas to get the cool layering effect. While I must admit these layered drinks are COOL, I actually wanted my drink to taste good. I know all of you diet drinkers love the stuff, but blech…I can taste fake sugar from a mile away so I knew it was a no-go for me.
How to color your 4th of july drink naturally
I also wanted my drink to be naturally colored. I pondered for awhile as to how to flavor the "white portion" of the drink. I had originally decided on a simple lemon-lime flavor, but then I had a good friend bring her version of this coconut-lime slush to my house, and I almost cried (food makes me emotional). It was soooo yummy. I also loved that the addition of coconut milk made for a BRIGHT white, instead of the clear white the lemon-lime would have had. So I stole her idea (I asked really nice first).
Naturally coloring the red was as easy as mixing some raspberries into the white part of the slush. Easy-Peasy.
The blue part proved tricky. There are not many naturally blue foods out there, and many of them turn purple depending on the circumstances. Blueberries were my go-to thought, but I knew they would turn purple if i blended them like I did the raspberries.
My solution was to freeze them and plop them on top and add a straw. They look darn'd cute like that, and if your kids are anything like mine, they'll love popping them in their mouth before they enjoy their drink. If you want a true blue layer, and you are less stubborn than me, just go for some blue food coloring! There are even lots of natural food colorings you can try at home.
This slushie 4th of July drink will take you back to your childhood days of munching on a snowcone in the park after a long day of festivities. Enjoy the trip back, and if you catch a piece or 10 of candy at the parade, I won't tell!
If you liked this recipe, you might also want to check out another drink recipe.
Here are some other great naturally colored 4th of July goodies to try as well!
Red, White, and Blue Fruit Salad from Eating on a Dime
Healthy 7 Layer Dip from The Pioneer Woman
Easy Flag Fruit Dessert from Family Fresh Meals
Kid-Friendly Slushie 4th of July Drink
Ingredients
5 Cups Ice
1 15.5 oz can coconut milk
1/2 Cup of lime juice (squeezed from 4-6 fresh limes)
1/2-1 Cup granulated sugar (to taste)
1 Cup fresh or frozen raspberries
1 Cup frozen blueberries
Instructions
If sugaring the rims begin by adding the lime juice to a shallow bowl or plate. Spread decorator's sugar over another bowl or plate. Dip the rims of 4 glasses first into the lime juice, then into the sugar shaking off any excess. Set aside for later use.
Blend ice, coconut milk, lime juice, and sugar together. Remove half of slushie mixture and fill four glasses.
Add raspberries to remaining slushie mixture and blend.
Pour raspberry slushie mixture over the top of the white slushie mixture.
Top with frozen blueberries. I prefer to freeze the blueberries myself because they tend to bleed less than storebought frozen blueberries. Garnish with a cute straw.
Serve immediately as the colors will run together as the slushie melts.
Nutrition Information:
Yield:

4
Serving Size:

1 slushie
Amount Per Serving:
Calories:

383
Total Fat:

25g
Saturated Fat:

22g
Trans Fat:

0g
Unsaturated Fat:

1g
Cholesterol:

0mg
Sodium:

20mg
Carbohydrates:

42g
Fiber:

4g
Sugar:

32g
Protein:

3g