Garlic Herb Chicken Con Broccoli (Olive Garden Copycat)
Garlic herb chicken con broccoli is a mouthwatering dish featuring a creamy, garlicky alfredo-style sauce poured over steamed broccoli and al dente orecchiette pasta with perfectly seared tender and juicy chicken breasts on top. This meal is perfect for any time you want to wow and impress. Bonus: it's a VERY close match to Olive Garden's version of the dish.


This post contains affiliate links, meaning that if you make a purchase from one of these links a small percentage comes back to me at no additional cost to you. Learn more by visiting my disclosure page.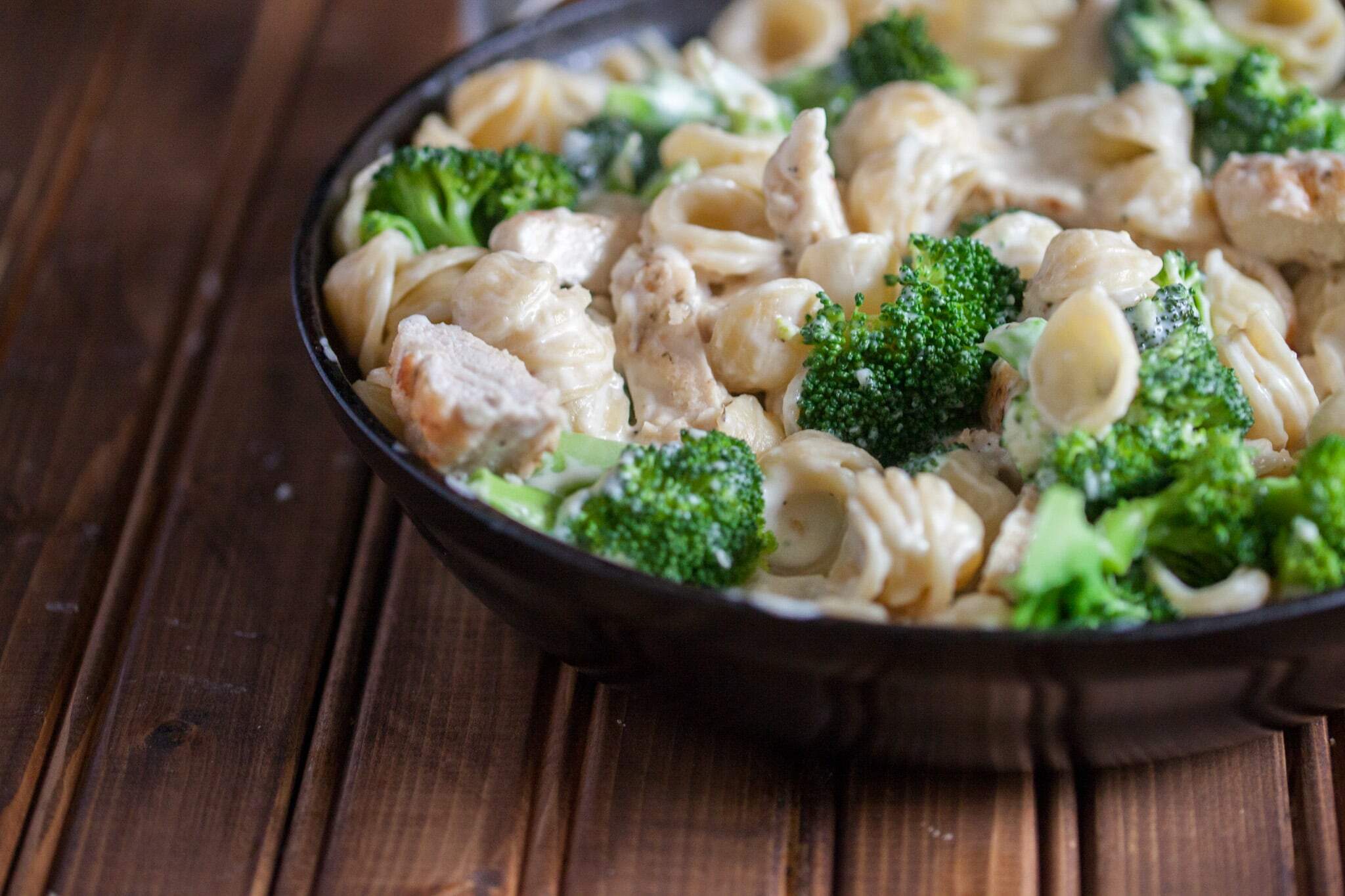 Garlic Herb Chicken con Broccoli (Olive Garden Copycat)
So let's talk about Olive Garden here for a second. On the one hand, it's a pretty great restaurant. They have awesome soup, salad, breadsticks, and entrees. There aren't many restaurants that I look forward to each aspect of the meal (or where I can literally eat a full day's worth of calories in an hour). On the other hand, they change their menu all the freakin' time!! Every time I choose a favorite the next time I go in it's gonzo. And then I cry. I wish I were exaggerating, but I really do get pretty passionate about food, folks.
So what do I do when Olive Garden breaks my pasta-loving heart?? Figure out how to make my favorite dish at home. Enter Olive Garden's Garlic Herb Chicken con Broccoli copycat recipe. This recipe has been in our family's rotation for several years, and while it dirties a few pans, it comes together quickly and is surprisingly simple.
How to create garlic herb chicken con broccoli at home
The secret to this recipe's goodness are LOTS of garlic and LOTS of cream. Recently, however, I've begun using half and half instead of cream in this recipe. If you really want the Olive Garden creaminess, by all means use the cream, but I have found that half and half still produces a nice and creamy pasta. This calorie-reducing switch makes me feel like I can eat an extra homemade breadstick. I am all about justification folks. If you want to cut down on calories even more, I have even had success with 2% milk.
The chicken in this dish also gets a nice brown crust and as long as you don't overcook it, it will be tender and juicy on the inside. I like to butterfly the chicken, and then pound it out even more with a meat tenderizer so it's nice and thin and cooks quickly. Dredging the chicken in seasoned flour helps get that perfect crust, adds great flavor, and helps protect the chicken from overcooking as well.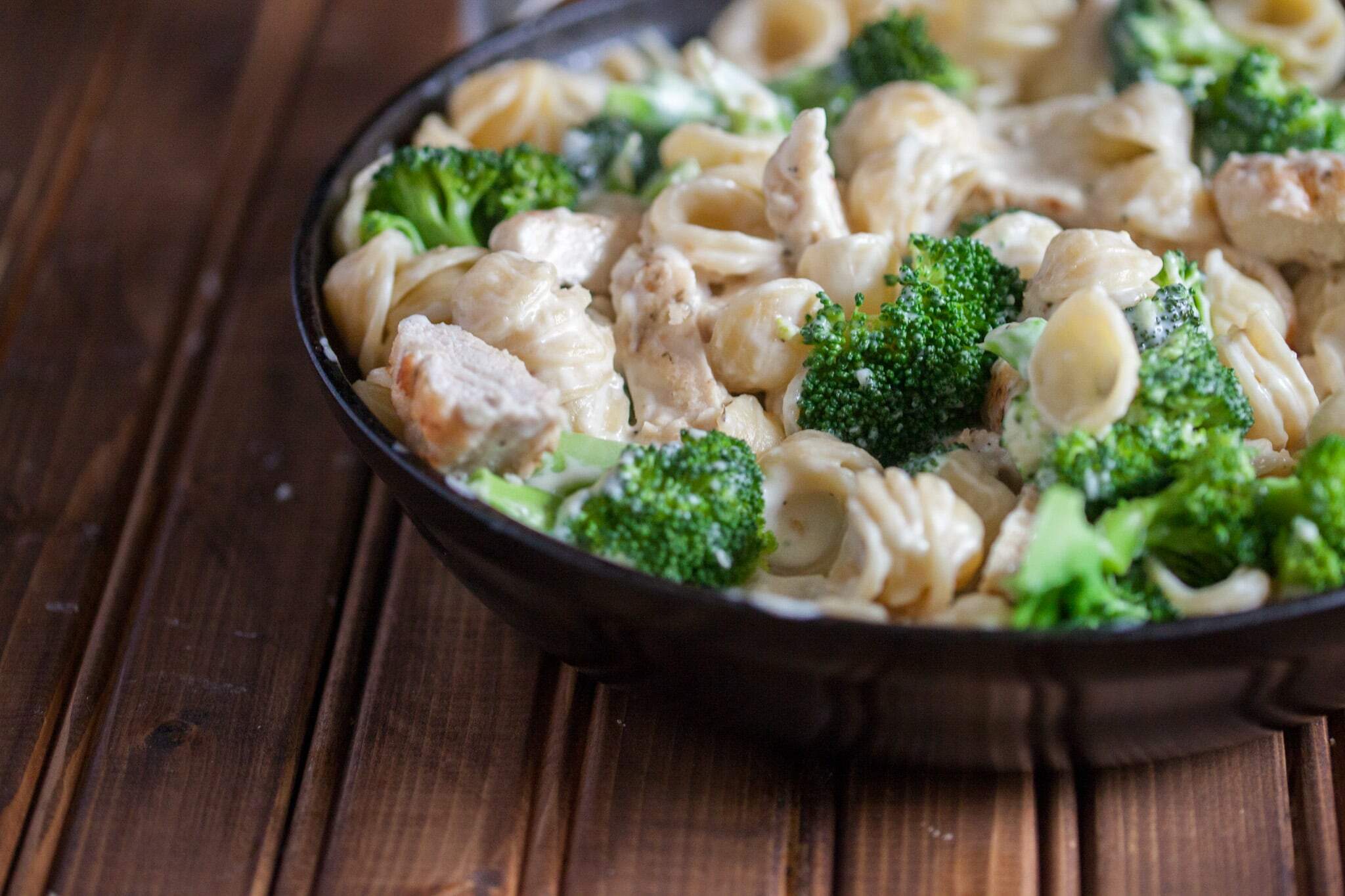 Another tip I use for this recipe is to cook the broccoli in the pasta water. I am sure this is not culinarily correct, but I make my own rules. And yes, I just said culinarily, I told you, I make my own rules. Anyway, it's a good shortcut that saves me a pan, if I add the broccoli to the pasta after it has been cooking for 5 minutes they both come out perfect. If you don't want to be a rebel like me, the proper way to get perfectly good broccoli would be to steam it separately. You can do that using one of these steamer baskets or this AWESOME microwave steamer. It really works out just fine to boil it with the pasta though, I swear.
So if garlic herb chicken con broccoli was one of your favorites at Olive Garden as well, fret no longer and get cooking this dish!
Do you have an olive garden favorite that they've taken off the menu!? Tell me about it, and I might just decide to throw another recipe up!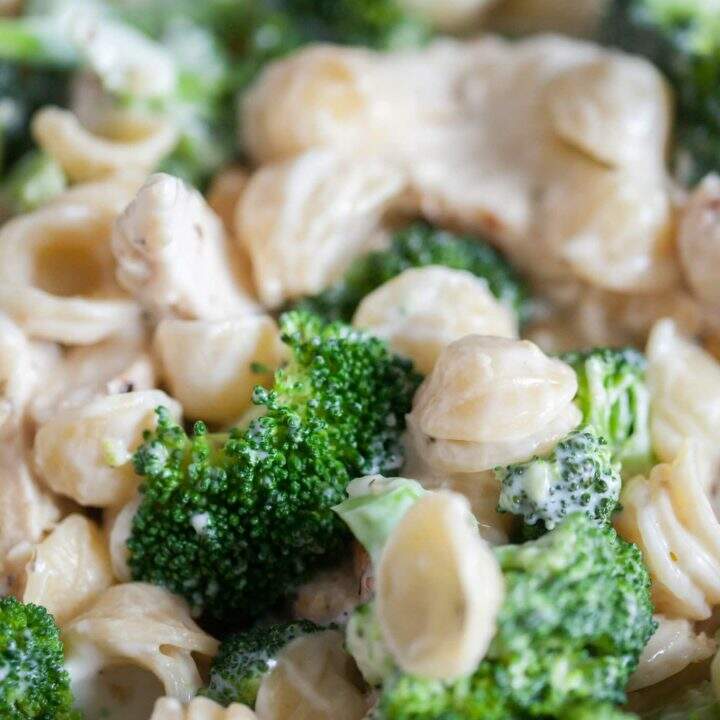 Garlic Herb Chicken Con Broccoli
This knock-off of the Olive Garden classic is not lacking in authenticity or flavor, if you miss this item on their menu be sure to give this a try
Ingredients
10 oz Orechiette Pasta
4 C Broccoli
For the chicken
½ C Flour
1 Tsp Salt
1 Tsp Garlic Powder
1 Tsp Italian Seasoning
¼ Tsp Red Pepper Flakes
2 Chicken Breasts
2-3 Tbsp Olive Oil
For the Sauce
1 Tbsp Butter
2 C half and half
1 Tbsp Minced Garlic
2 tsp chicken bouillon, I like "Better than Bouillon"
2 Tbsp Cornstarch
Salt, tt
Parmesan Cheese, Garnish
Instructions
Cook Pasta according to package directions until just tender, drain.
Steam and/or boil Broccoli until tender but not too soft. (I like to be a rebel and add the broccoli directly to the pasta water when the pasta has 6-7 minutes left to cook to save myself a dirty dish, it turns out perfect!)
While the pasta and broccoli are cooking mix flour, salt, garlic powder, italian seasoning, and red pepper flakes in a shallow bowl. Butterfly and tenderize chicken and dredge in flour mixture. Set Aside.
Heat 2 Tbsp olive oil in a large skillet over medium high heat. When the oil is very hot, add two pieces of chicken to pan. Cook undisturbed for 3-4 minutes before turning to the other side. Flip to the other side and cook another 2-3 minutes then lower the heat to medium and continue cooking until it reaches 165 degrees. Repeat with remaining two pieces of chicken adding more oil if necessary.
In a separate skillet, melt butter over medium heat. Add garlic and saute until fragrant. Mix half and half with bouillon and cornstarch and quickly whisk it into the pan. Continue to cook over medium heat until the mixture starts to bubble and thicken. Remove from heat and salt to taste. Add pasta and broccoli. Taste and adjust seasonings if necessary and serve with a chicken breast on top and garnish with freshly grated Parmesan cheese.
Notes
If I want to really up the yum factor of this dish, I use heavy cream in place of the half and half. Alternatively, I have also used 2% milk to cut on calories. Orecchiette pasta can be somewhat difficult to find, but it really is the best in this dish. I usually find it with the fancier looking pastas. Sometimes, I can even find whole wheat! Recipe Adapted from The Homespun Heart