Valentine's Day Menu Plan (+Free Menu Printable)
Ever since my husband and I have been married (which has been 5 years now, I can't believe it) we've chosen to spend Valentine's Day at home.  Our first year of marriage I bought a bunch of tea candles, made a fancy dinner, and we ate it on the floor of our studio apartment and the tradition just stuck (although, we are old now and might eat on the table this year!)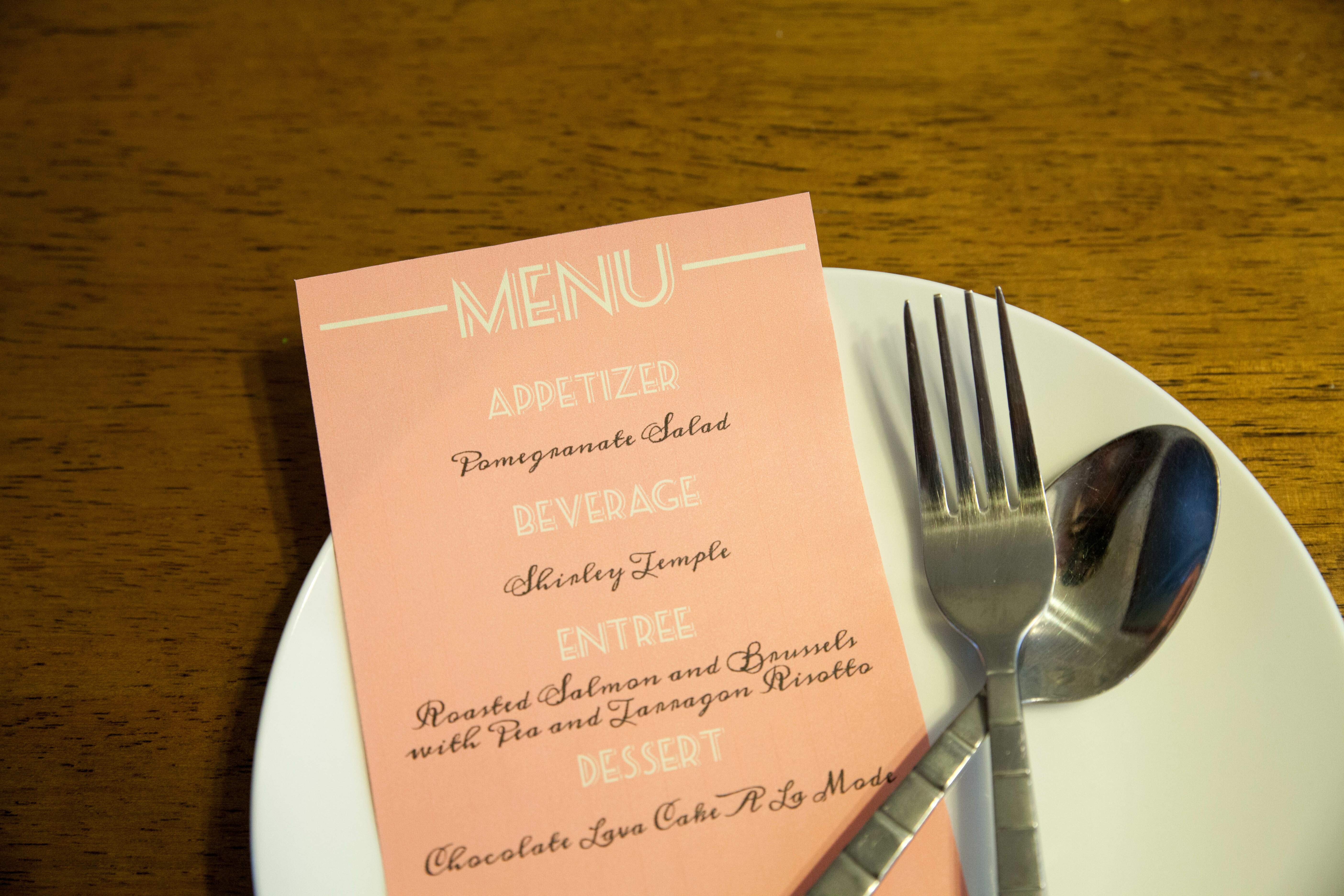 I find staying home to be a much better option on Valentine's Day for a few reasons.
Money– Staying home is a much cheaper option than going out to an expensive restaurant that will probably serve you subpar food because they are so…
Busy-Restaurants on Valentine's Day are PACKED, I never found the option of waiting for 45 minutes to get into a crowded restaurant that is too loud to talk in very appealing!
Creativity-I love planning a special Valentine's Day menu, it's fun to try and come up with the tastiest most romantic dinners to serve your sweetheart!
No Babysitter-Our daughter goes to bed at 6:30 and I have a hard time paying for someone to come sit at our house and watch tv, especially when that money can be used to make your Valentine's Day dinner so much more awesome.  Plus, who really wants to babysit on Valentine's Day anyway
This year I thought I would share our Valentine's Plans with you! Complete with a free printable menu to use as a table setting.  You can either use the menu as is or fill it in with your own ideas and recipes!  I have included some alternate menu ideas at the bottom of the post if you need some extra inspiration as well!
Valentine's Day Menu Plan
Appetizer: Pear and Pomegranate Salad(from AllRecipes)
Beverage: Shirley Temple Mocktail (from SwankyRecipes)
Entree: Roast Salmon with Brussels (from Sally's Baking Addiction) and Pea and Tarragon Risotto (From MyRecipes)
Dessert: Chocolate Lava Cake A La Mode (from Chef in Training)
In order for the menu to work properly, make sure you have the most current version of Adobe Acrobat Reader installed on your computer (get it free here).  You also will need this font installed on your computer prior to opening the document (also free).  I had better luck actually downloading and opening the file in Adobe Reader on my desktop than I did simply editing it in the web browser, the web browser did some funky things to the formatting.
Here are a few more awesome recipes you could fill your menu with!
Appetizers:
Sweet Basil Mushroom Bruschetta (from Shaw's Simple Swaps)
Aquarius Salad with Blueberry Vinaigrette (from Cooking with Curls)
Blackberry Bacon Blue Cheese Salad (from Lemon Tree Dwelling
Herb Lover's Heart Shaped Potato Wedges (from The Fit Fork)
Beverages:
Pink "not" champagne (from Modern Day Moms)
Mexican Chocolate Mock-tini (from HGTV)
Entrees
Spaghetti Squash Chicken Parmesan (from Emily Kyle Nutrition)
Balsamic Braised Beef Short Ribs (from Joyful Healthy Eats)
Beef Tenderloin in Shrimp Mushroom Sauce (from Cooking with Curls)
Lemon Artichoke Asparagus Pasta (from La Creme De La Crumb)
Desserts:
Lighter Chocolate Pot-De Creme (From Mom's Kitchen Handbook)
Strawberry Mousse Parfait (From Nutritiolitious)
Chocolate Cinnamon Pudding with Raspberries (From RealSimple.com)
Hope you all have a wonderful and romantic Valentine's Day! Let me know what's on your menu this year, and also let me know if you have any problems getting the printable working, I want you to enjoy it!
Amanda