Homemade Breakfast Potatoes (home fries)
These homemade breakfast potatoes are perfectly crisp on the outside and soft on the inside.  The addition of sauteed bell peppers, onions, and the finishing touch of your favorite seasoning salt makes these homemade potatoes better than any you will get at a restaurant.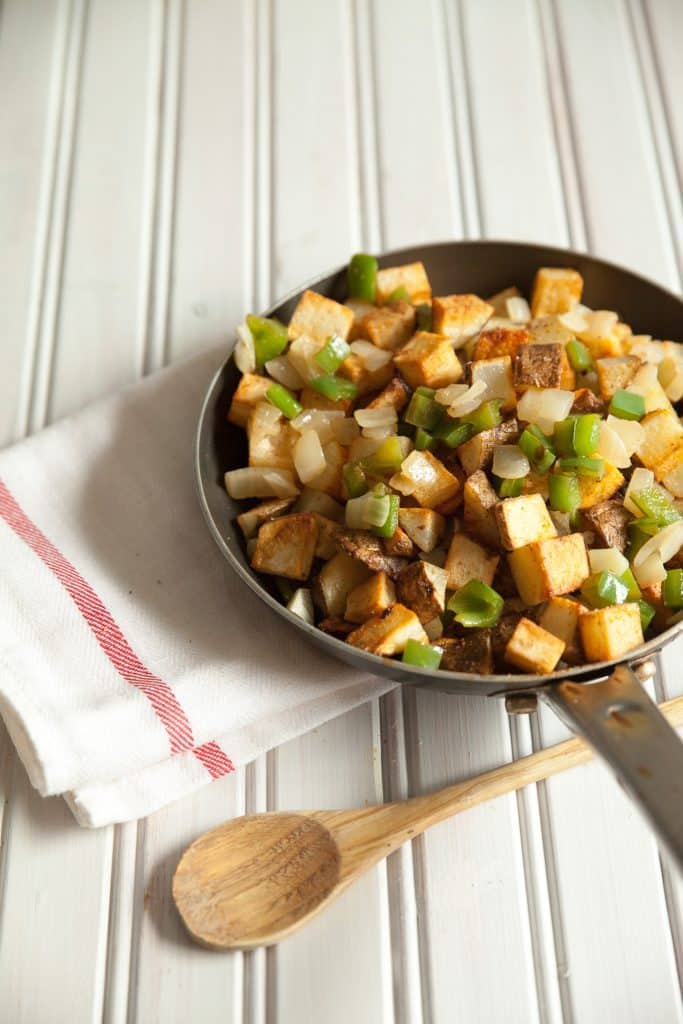 Homemade Breakfast Potatoes (Home Fries)
If I had to choose the one recipe that has been made more than any other in our house, these homemade breakfast potatoes would without a doubt be it.  In the early years of our marriage we probably made breakfast burritos once a week.  They are filling, cheap, easy, and most importantly we usually had all of the ingredients on hand.  These homemade breakfast potatoes are the star of our breakfast burritos.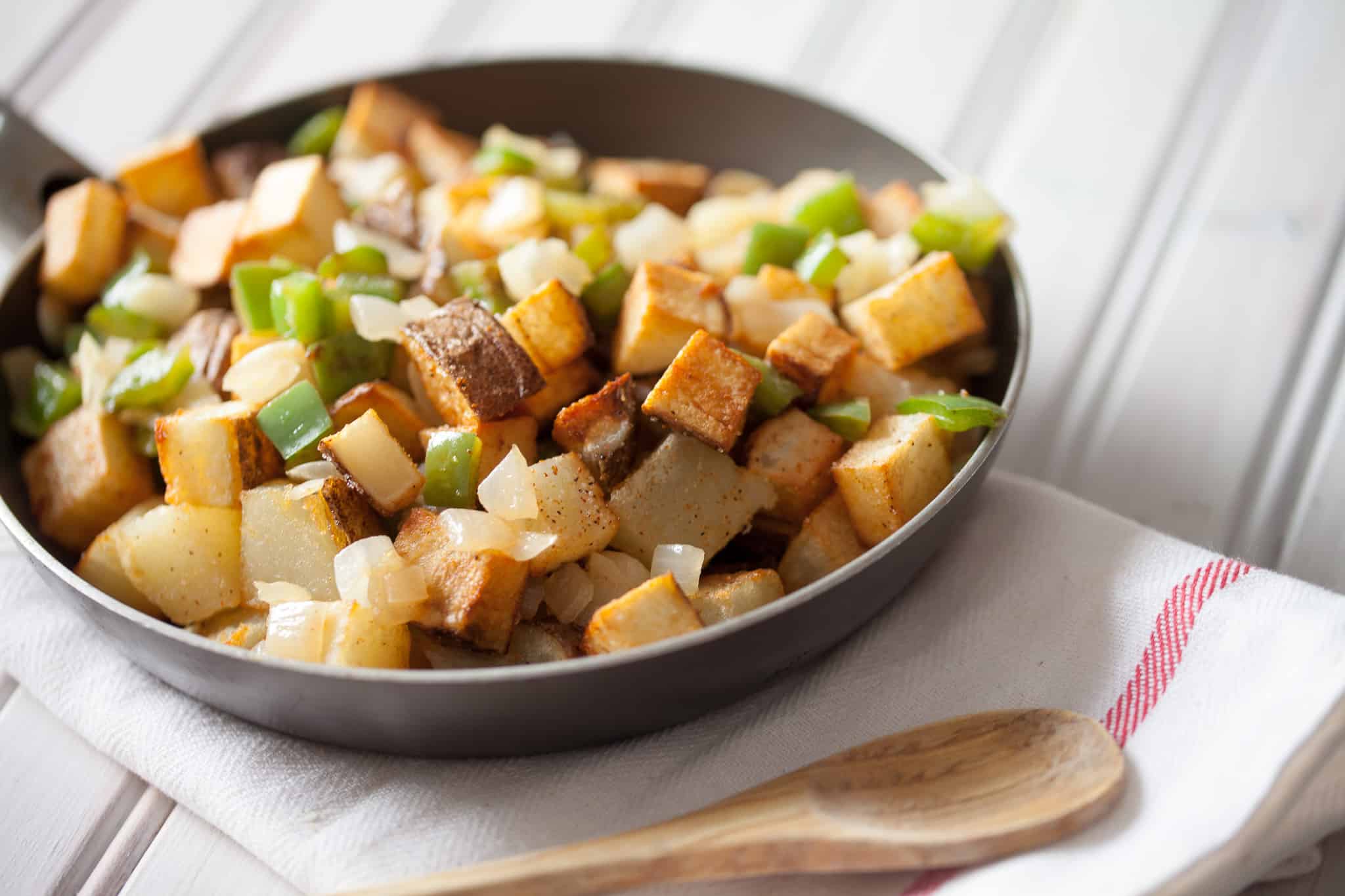 Because I have been making these potatoes *ahem* once a week, I have most definitely had time to perfect this recipe.  I'd say I have it down to a science.  So if you've ever wanted to have restaurant style breakfast potatoes at home, look no further, this is the recipe for you.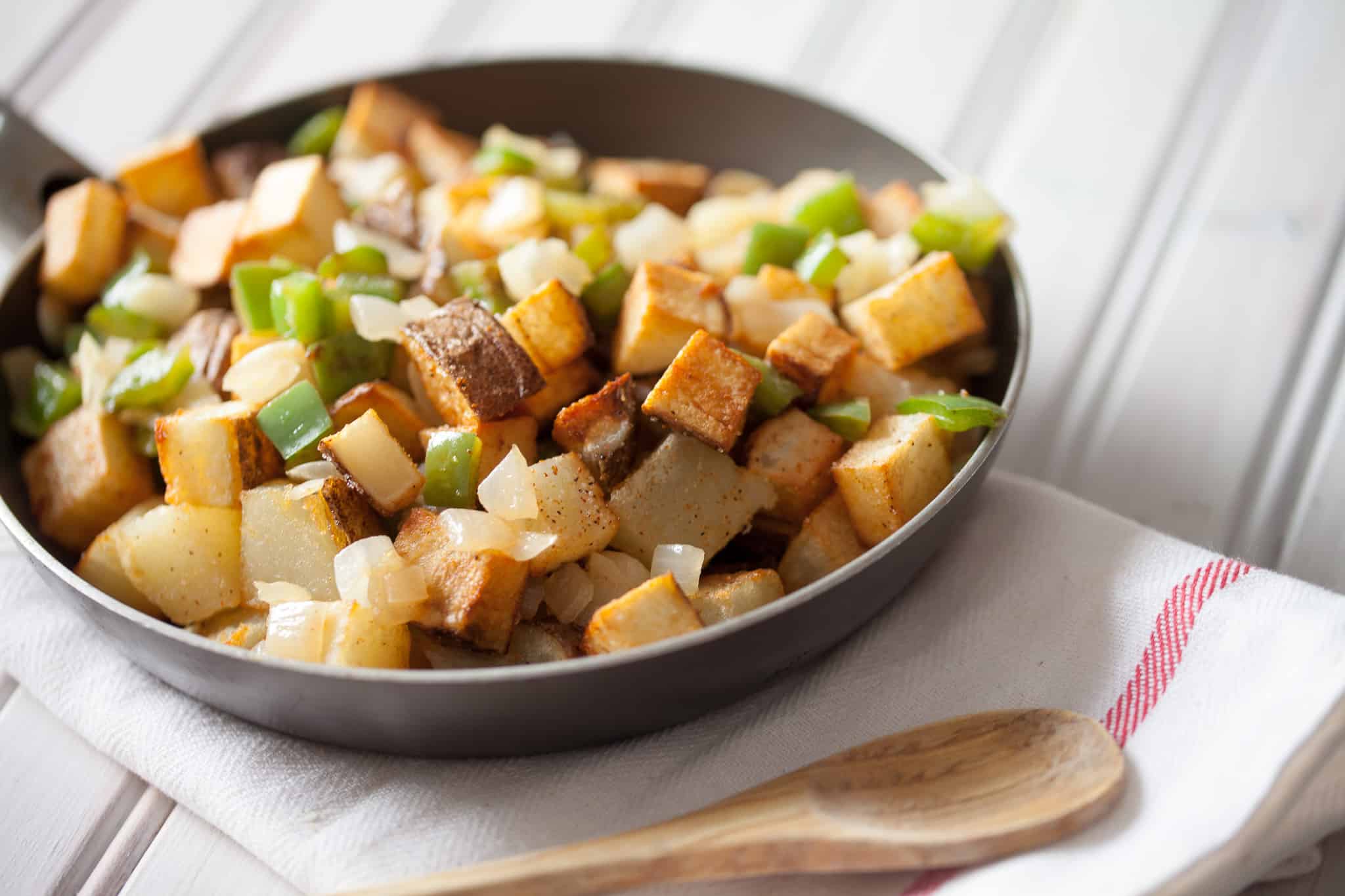 This post contains affiliate links, meaning that if you make a purchase from one of these links a small percentage comes back to me at no additional cost to you. Learn more by visiting my disclosure page.
How to make perfect homemade breakfast potatoes:
Parboil the potatoes: In the early years of making these breakfast potatoes, I used to just throw diced potatoes straight in to the saute pan.  While they turned out okay, they often got too brown on the outside before being perfectly cooked on the inside.  They also took FOREVER to cook.  Recently, my husband and I discovered cooking the potatoes beforehand and we both agree that it makes a world of difference.  The potatoes are nice and crisp on the outside, and more creamy, velvet-y, and tender on the inside.  Bonus points because boiling the potatoes in advance actually makes for faster cooking time.  Since the potatoes are already cooked, they fry really quickly.
Dice the potatoes evenly: I know, I know you have heard this before, but uniformity truly is important my friends.  If you have a hodge podge of shapes and sizes in your pot, the smaller potatoes will be much too dark before the larger ones have even begun to brown.  I am pretty good at even cuts with my trusty chef's knife (if I do say so myself).  However, I have also used this nifty little tool which makes perfect 1/2 inch dices super quickly.  (Disclaimer: While I love this tool, it does break if you overfill it/over work it.  If it feels like it's going to break, it will, so be gentle and don't overfill it).
Use HOT oil: This is a good tip for cooking in general.  Adding food to cold oil or a cold pan is a surefire way to kill any beautiful browning and crisp that you are going for.  Don't add the potatoes until the oil is nice and hot.  I have found that a nice medium high heat on my gas range is perfect, but you may need to experiment a bit to find that perfect temperature on your own stove.
Don't stir the potatoes: My husband can't cook a food and not stir it.  I don't know how many times I have told him to stop. stirring. the. potatoes.  I asked him why he has a compulsive need to stir, and he said it's because he feels like he's not in control just watching things cook, and stirring makes him feel like he's at least doing something.  Well, if like my husband, you have cooking anxiety and stirring is a coping mechanism do me a favor and pick a new one like nailbiting or something for this recipe.  Stirring the potatoes will assuredly leave you with a mushy, fall apart-y mess.  Let the potatoes cook undisturbed on one side until it's nice and golden, then flip once to brown the other side.  Oh, and my husband has made great strides with his stirring addiction.  He even made these potatoes all on his own.  I am so proud of him.
Saute the pepper and onion separately:  Friends, trust me on this one.  In the first few years of making this recipe I always tried adding the peppers/onions straight to the pan of potatoes, and they burned to a crisp. Every time.  It takes a smidgeon more time to saute them separately, but it's so worth the 5 minutes.  I just add them to the same pan the potatoes were in when the potatoes are done cooking (I turn the temp down to about medium).  Then simply toss them with the cooked potatoes and you'll have perfectly cooked veggies every time.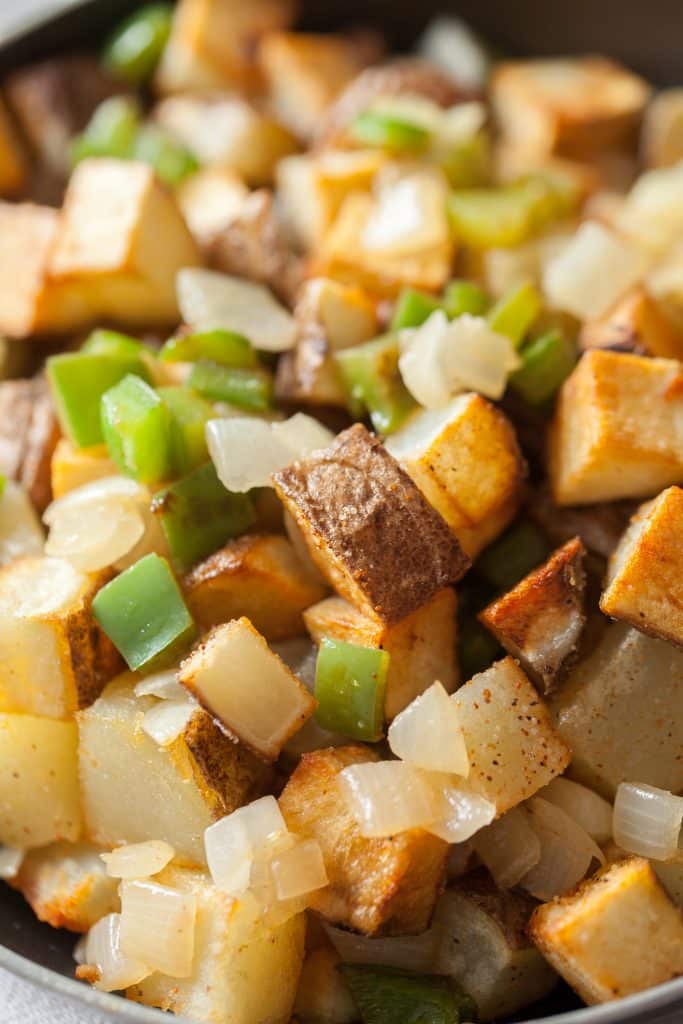 With these tips, your homemade breakfast potatoes are sure to be a hit at your house.  Serve them with this recipe for perfect scrambled eggs, or like we do in a breakfast burrito.  I also use these as a base for a pretty mean breakfast skillet with eggs and cheese on top, and maybe even some extra sauteed veggies. Yum.
I know you already have most or all of the ingredients in your pantry, so get cooking!
Homemade Breakfast Potatoes (Home Fries)
These homemade breakfast potatoes are the perfect base for a tasty breakfast skillet, or a great addition to a breakfast burrito paired with eggs and bacon.  They are perfectly crispy and will taste better than those you can get at a restaurant.
Ingredients
4 med Russet Potatoes
1/2 C Canola Oil, (+more, if needed)
1/2 C Yellow Onion (diced), about 1/2 med onion
1/2 C Green Bell Pepper (diced), about 1/2 bell pepper
tt Season Salt
Instructions
Rinse but don't peel potatoes
Add potatoes to a large pot with enough water to completely immerse the potatoes
Bring water to a boil, once boiling reduce the heat to a simmer.  Simmer potatoes until they are JUST fork tender.  You will still be frying them so you don't want them to be too soft. Set aside until cool enough to handle
Dice potatoes with the skin on into 1/2 inch pieces
Heat canola oil in a medium skillet over medium high heat.  When the oil is hot, add potatoes in a thin layer to the skillet.  You will need to do this in several batches, be careful not to over-crowd the pan. 
Fry potatoes UNDISTURBED for ~2 minutes. When the potatoes are golden brown flip them and brown the other side.  Remove from pan and place on a plate of paper towels to drain.  Continue until all potatoes are cooked.  You may need to add/heat more canola oil if it gets too low. 
When the potatoes are finished, add onion and bell pepper to the same pan you used to fry the potatoes and saute them until soft. 
Add onion and bell peppers to potatoes and sprinkle liberally with your favorite seasoning salt. 
Serve with eggs or as the base for a tasty breakfast skillet or inside of a breakfast burrito. 
[fl_builder_insert_layout id="2161″]
[fl_builder_insert_layout id="2102″]