Quick, Easy, and Amazing Skillet Asparagus with Pecans
This Skillet asparagus comes together in approximately 15 minutes, but most certainly does not sacrifice on taste. The asparagus is first steamed or boiled, then given a quick saute with butter, caramelly shallots, and crunchy, earthy pecans for the perfect weeknight veggie side dish.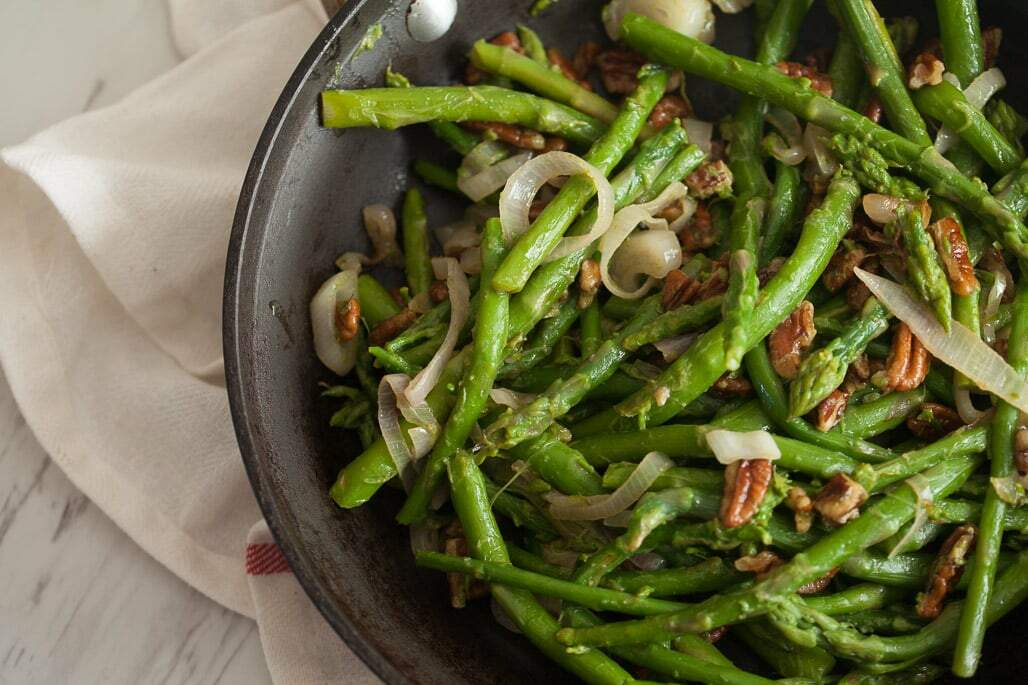 Asparagus is one of two things making me happy right now. Just two things.
Okay, that might be just a smidge dramatic, I have my kids and my hubby, and they make me happy sometimes. Okay, most of the time, but since my two year old is upstairs fighting naptime for the umpteenth day in a row, my ability to be positive is decreased slightly. Turns out, my happiness rating is directly related to the amount of time my two year old sleeps.
But there are only TWO things about Springtime in Ohio that are making me happy right now. Ohio is a strange place, while the weather isn't completely horrible (except for our Spring Break in the 30's with wind chill up the wazoo…that was a pretty cruel and horrible joke), but Ohio somehow managed to cast a dark shadow over the entire state for the past 4 months. True story. This place is bleak, and miserable, and there doesn't seem to be an end in sight.
I consider myself a pretty chipper and optimistic person in general, but this rain cloud has had me pretty down in the dumps. But I have to find happiness somewhere right?
My happiness lately is found solely in Rhubarb, and Asparagus.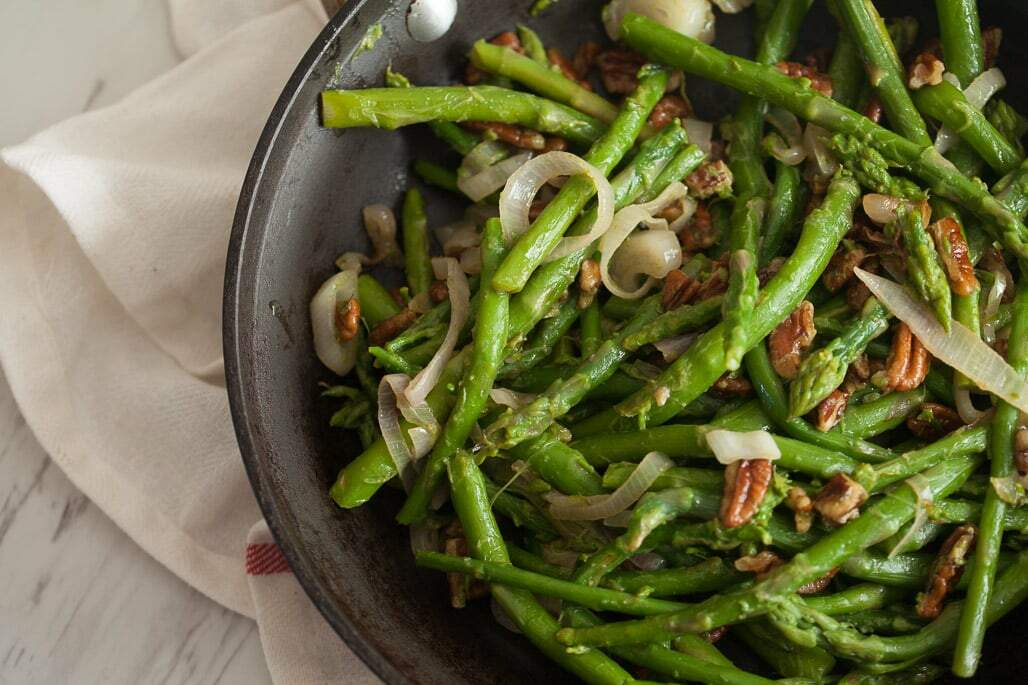 Quick, Easy, and Amazing Skillet Asparagus with Pecans
Yes, despite the gloom, Spring has still managed to bring two of my favorite Spring veggies to my grocery store to help relieve my winter blues.
When asparagus is FINALLY in season each year, we make the most of it. We roast it, saute it, put it in soup, everything short of injecting it's goodness straight into our veins. We like it that much.
This quick skillet asparagus sauteed with buttery pecans and shallots is one of my favorite ways to serve my favorite springtime veggie. It's super quick and easy, but uber earthy and flavorful, and a great side for just about any meal. Let's talk about it a bit more, shall we?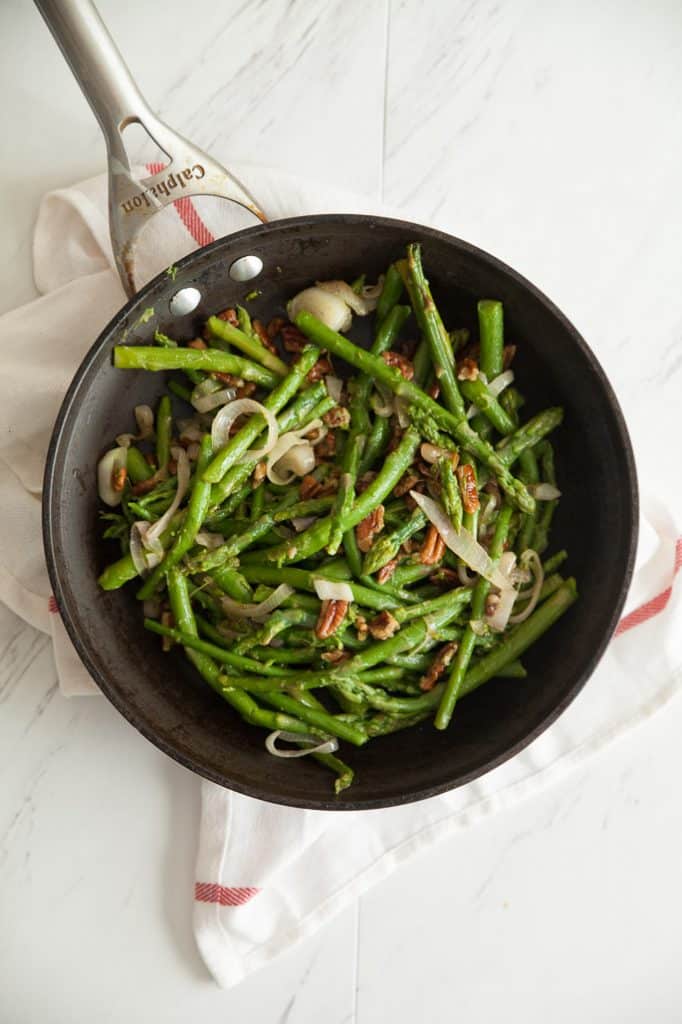 This post contains affiliate links, meaning that if you make a purchase from one of these links a small percentage comes back to me at no additional cost to you. Learn more by visiting my disclosure page.
The cast of characters:
Asparagus
Olive Oil
Butter (Just a little)
Pecans
Shallots
Salt tt
Wooden Spoon/Heat Proof Spatula
See, I told you it was easy, there's literally nothing to it. Let's talk just a smidge more about the cast of characters for a minute.
First, Shallots.
Are you familiar with shallots? I was first introduced to Shallots in college, incidentally when I was first introduced to a variation of this recipe using green beans. (Note: Yes, you can sub green beans, and yes it will be equally quick and delicious).
Anyway, Shallots. I thought that shallots were seafood. I had to go find the shallots for our recipe, and after searching everywhere had to ask my instructor for help. Turns out I was thinking of Scallops. She directed me to the tiny purple onions. Embarrassing. Turns out shallots are these super thin, mild, onions that are great for dishes like this when you want delicate onion flavor, without huge strips of onion.
Second, a steamer. I used to use this stellar microwave steamer until it broke. Then my mom instilled fear in me about plastic in the microwave killing everyone, so I figured it was probably for the best. They do, however, have some pretty awesome silicon steamers that can be used in the microwave (SCORE!) or you could use a traditional steamer basket, or even just give the asparagus a quick boil before sauteing it.
The saute is really just a finishing touch here, so make sure the asparagus is fully cooked before sauteing to avoid burning the pecans and shallots, do we have a deal!?
Finish the dish off with some butter, and a bit of salt. You'll be shocked at how delish this five ingredient side is.
Try this quick skillet asparagus recipe, I guarantee it'll help bring you out of the winter blues and restore some sunshine to your life, even if it is only figuratively.
[fl_builder_insert_layout id="2161″]
[fl_builder_insert_layout id="2102″]
Quick, Easy, and Amazing Skillet Asparagus with Pecans
Pecans and shallots add a sweet nuttiness to perfectly crisp-tender asparagus making it the perfect veggie side dish.
Ingredients
1 lb Asparagus, trimmed
1 Tbsp Olive Oil
1 Shallot, sliced
1/2 C pecans, chopped
Salt tt
1 Tbsp Butter
Instructions
Steam or simmer asparagus until it's crisp/tender. This should take 5-7 minutes. Rinse with cold water or immerse in ice water when finished to stop the cooking process.
While Asparagus is steaming, Saute shallot in olive oil over medium heat until soft and lightly browned.
Once the shallots are browned, add pecans and toast for 1-2 minutes. Be careful not to overcook the nuts to avoid burning.
Stir in asparagus, remaining butter, and salt to taste and cook until heated through.
Notes
I have had success substituting green beans for asparagus