How to Make Bagels at Home
Have you ever wondered how to make bagels at home!? The process is really quite simple, and with a few simple steps you can have hot, chewy bagels smothered in cream cheese straight from your oven.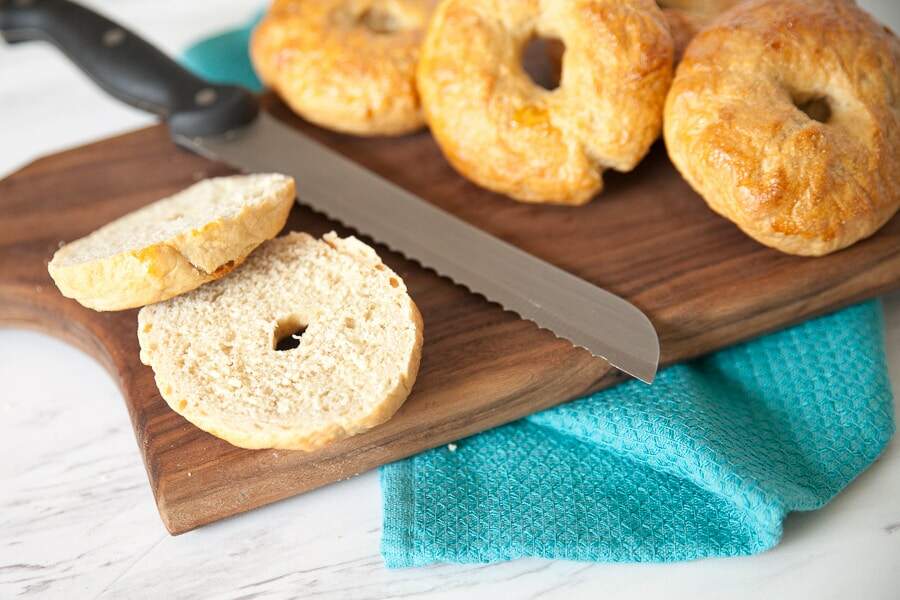 Have you noticed that there are some foods that you eat, but never stop to wonder how they are made? Examples Ketchup, Marshmallows, and Pringles (seriously, how do they get them that shape)!?
I take foods like this as a challenge.
I've always loved bagels. I'll take any bagel, the grocery store ones are just fine. But I REALLY love a good Einstein's bagel smothered in cream cheese.
Back before I gave up my professional life to raise tiny humans, bagel day at the office was the absolute best.
Bagels are pretty baffling though, aren't they!? How do they get them so chewy, but still somehow airy, and mostly delicious!?
Challenge Accepted.
How to Make Bagels at Home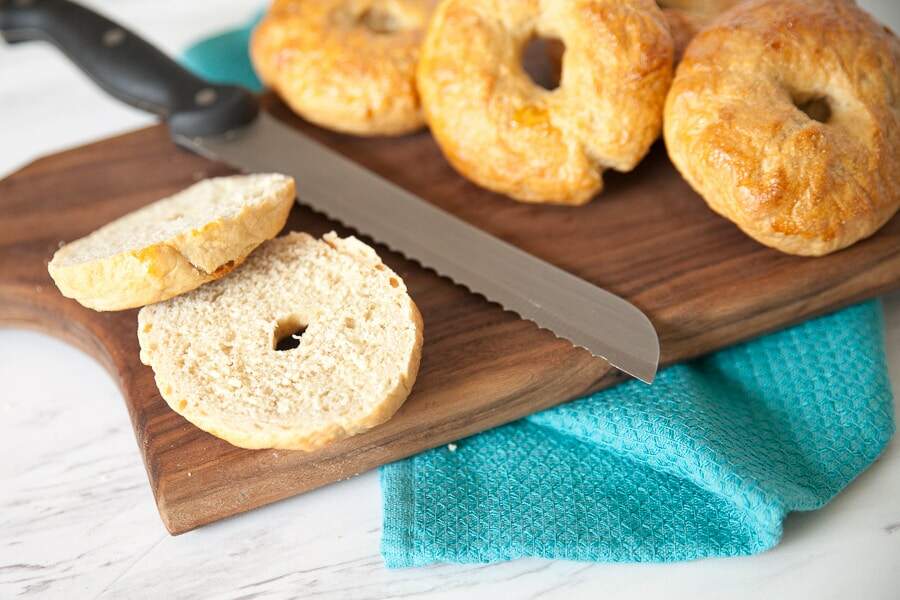 This post contains affiliate links, meaning that if you make a purchase from one of these links a small percentage comes back to me at no additional cost to you. Learn more by visiting my disclosure page.
I had to do a bit of research to figure out how to make bagels at home. Bagels are a bit different than most breads you make at home. See the steps below for how to make a bagel at home that's spot-on perfection.
Add a lot of flour for a stiff dough-Usually, you want to add only enough flour to make the dough workable. But bagels are more sturdy than say, a roll, and you actually want them to be a bit dense. So instead of having a sticky, hard to work with dough, you actually want to pack quite a bit of flour into the dough when you are making bagels. You're definitely going to want a Kitchen Aid or Bosch Mixer to do this, since kneading a stiff dough by hand can be pretty difficult.
Use a High Protein Flour– If you've been a follower of this blog for very long, you will know that I use wheat flour as much as possible (see breadsticks). I like to throw at least a smidge more nutrition into most things I cook. Also butter. But that's beside the point. Anyway, in order for bagels to have their signature chewiness, they need a high protein flour (aka bread flour). Unfortunately wheat flour isn't a great choice. I still use about half wheat flour, and half bread flour to get the best of both worlds, and these turn out pretty great. You could also experiment with adding gluten to your wheat flour for a trully 100% wheat bagel. But today, let's just focus on getting these things made, okay!?
The boil– It turns out another key to homemade bagels is a quick boil before baking (similar to making homemade pretzel). I like to boil mine for about 30 seconds/side. This sets the crust, and stops the bagels from rising much more in the oven.
Use an Egg Wash-An egg wash with give your bagels gorgeous color right out of then oven. It also gives them that shiny look and smooth crust that you are used to.
Music is SchoolDays From Purple Planet.
How to Shape your Bagels
I totally meant to take an AWESOME series of photos of this step to help ya'll out, but I was in the middle of creating my very first food video, and forgot. I will do my best to explain in words, but it's probably easiest just to watch the video below.
To shape your bagels, first split the dough into eight even pieces. I simply cut the dough like a pizza and guess-timate (lots of "guess-timating happens in my kitchen). If you want to be totally precise, go ahead and use a kitchen scale. First weigh the dough, then divide that number by eight and make each piece of dough that size.
After you have split the dough into pieces, roll each piece into a ball as if you were shaping a roll. Then take that ball and pierce a hole in the center using your thumb and pointer fingers. then take your pointer and ring ringer on each hand, stick it into the hole, and rotate them in a circle to stretch out the hole and form a large "O."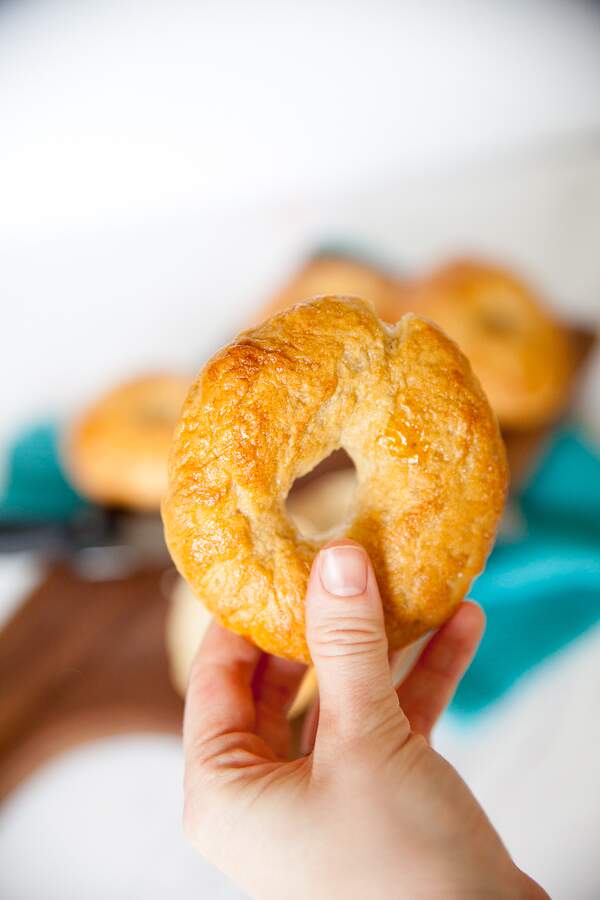 Baking your bagels and adding Toppings:
There's seriously nothing fancy about baking your bagels, except the egg wash. Oh, and they bake a bit longer than you are probably used to. Yes, 30 minutes. Don't worry, they won't burn, they'll be perfect!
If you want to add toppings, simple sprinkle them on top of the egg wash right before you bake. I have made poppyseed, sesame seed, oat, and cheese topped bagels with success!
That's it!
You can go ahead and cross bagels off your mystery food list now that you know how simple it is to make bagels at home. Next up, Pringles. 😉
[fl_builder_insert_layout id="2161″]
[fl_builder_insert_layout id="2102″]
Homemade Wheat Bagels
Homemade Bagels are so much easier than you think, this recipe is made with part wheat flour and tastes great hot from the oven with a generous schmear of cream cheese.
Ingredients
1 1/2 C Lukewarm Water
2 Tbsp Granulated Sugar
1 Tbsp Instant Yeast
1 Tbsp Salt
2 C White Whole Wheat Flour
1 1/2-2 C Bread Flour
1 Egg White
Instructions
In the bowl of a bosch or stand mixer mix water, sugar, yeast, salt, and wheat flour. Mix until well combined. Slowly Add 1 1/2 C flour. If dough seems to soft or sticky, add 1/2 C more bread flour. Dough should be workable, but fairly stiff and firm.
Form dough into a ball, place in a greased bowl, cover and let rise in a warm place until approximately doubled in size (about 1 hour)
Punch down dough and divide it into eight equal pieces (if you want to be perfectly precise, use a kitchen scale. First weigh all of the dough, then divide that amount by 8 and make each ball that size)
Form each piece of dough into a ball as if you were shaping a roll. Then pinch a hole in the center of the dough. Insert your pointer and ring finger of each hand into the hole and rotate your fingers to stretch the whole in the center bigger (see video for demonstration).
Cover shaped bagels and let them rest for about 10 minutes.
While Bagels are resting, bring a large pot of water to a boil and preheat the oven to 375 degrees F.
Drop the bagels into the boiling water and boil for 30 seconds per side. Be careful not to overcrowd the pan, I do about 3 bagels per batch.
Place Bagels on a greased or parchment lined cookie sheet.
Whisk egg and brush generously onto the tops of all of the bagels. If you would like to add toppings, add them after you add the egg whites.
Bake the bagels for 30 minutes, until a beautiful golden brown and crisp on the top.
Serve however you like to serve bagels!