Butternut Squash and Apple Soup
This butternut squash and apple soup is the perfect bowl of winter warmth and goodness! Squash, sweet potato, carrot, and apple combine for a lightly sweet and richly flavorful soup that is sure to satisfy and comfort.


I was recently reminded by a friend how much I love a creamy, delicious, squash soup. My husband isn't a huge fan of squash, so while I like it, it's one of those foods that I just kind of let go so that everyone agreed at the dinner table. Then a few weeks ago a friend served me a creamy and delicious pureed pumpkin soup with curry powder. It was pretty divine. I think I gobbled up approximately 5 bowls (don't judge, 4 were for the baby, who is currently measuring large for his gestational age, he can't stop). I decided that despite hubby's feelings I needed to reintroduce squash into my life. I want to say I won him over completely with this butternut squash and apple soup, but that would be a lie. He did say it was good "for squash" which I guess is good enough for me.
Butternut Squash and Apple Soup





This post contains affiliate links, meaning that if you make a purchase from one of these links a small percentage comes back to me at no additional cost to you. Learn more by visiting my disclosure page.
Suggested Tools and Equipment
Silicon Spatulas or Wooden Spoon
This butternut squash and apple soup is really basic. I don't have tons of tips and tricks to share with you, because it comes together fairly quickly and easily. I will say that butternut squash is a tricky vegetable. That might be part of the reason that it doesn't often grace our table. The peel or shell is just so dang hard to peel or cut through. Whenever I cook with squash, I prefer to use a good quality chef's knife to cut the squash in half, and bake it before I use it. This way I don't have to try peel the hard shell at all. This works especially well for soups like this one where you will be pureeing the squash anyway, so you don't have to have perfectly adorable little cubes. If you are particularly good at peeling squash, you are welcome to peel and cut the squash and cook it directly in the soup pot with the other vegetables. This will cut down a bit on the cooking time.
I really like to cook all of my soups in my enameled cast iron pot. Of course, any large soup pot will do, but the cast iron heats nice and evenly which makes it great for sauteing veggies. The enamel makes for really easy cleaning which is a plus in my book. I also just can't get over how cute it is, I love all the color choices. These pots are also great for making no-knead bread, which is pretty incredible stuff if you have yet to try it.
My last tip for this butternut squash and apple soup is to puree the soup using a stick/immersion blender. This is also not 100% necessary, however it makes pureeing the soup so much easier. If you've never used one, you just plug it in, stick it straight into the pot and blend until the soup reaches your desired smoothness. It's awesome. You can also blend the soup in a regular blender, but be VERY careful when working with hot liquids. Work in small batches and blend until all of the soup is pureed, then return it to the soup pot.
This butternut squash and apple soup can make a wonderful light dinner if paired with bread and salad, or can be the perfect side dish for a holiday party or event. It's smooth, healthy, lightly creamy, and totally delicious.
What are your feelings about squash, love it or hate it!? Let me know in the comments below!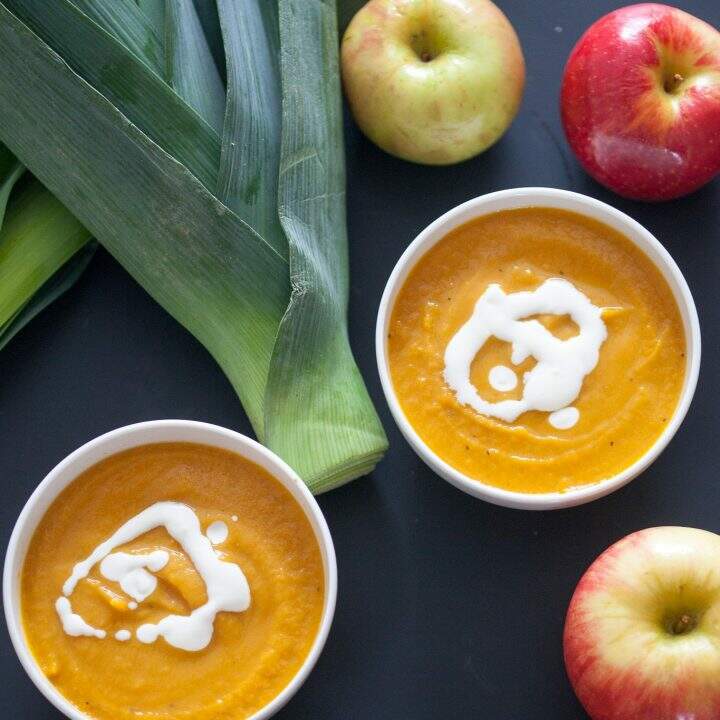 Butternut Squash and Apple Soup
Cook Time:
1 hour
30 minutes
Total Time:
1 hour
50 minutes
This lightly sweet, savory, and creamy soup is warm and comforting, it's the perfect recipe for fall harvest time!
Ingredients
1 C small/medium butternut squash, 2-3
2 Tbsp Butter
1 Medium yellow onion
2 Leeks White and Green parts only
1 Small/Medium Sweet Potato
2 Large carrots
1 Large tart apple (granny smith, honeycrisp, etc...)
1 Quart Chicken Broth
1/4 C Apple Cider or Juice
1/2 C Cream, half and half, or milk
1/4 tsp Cinnamon
tsp Salt and Pepper tt, I used about 1 salt
Instructions
Preheat oven to 350 degrees Cut butternut squash in half and remove seeds. Place cut side down in a 9x13 casserole dish. Fill with ~1/2 C water and bake for 45 min-1 hr until very soft. Set aside.
Dice leeks and onions. Melt butter in a large pot (I prefer to use an enameled cast iron poover medium heat. Cook leeks and onions until soft, about five minutes.
Peel and dice sweet potato, carrots, and apple. Add to pot with chicken broth. Bring to a boil, cover and reduce heat to low and simmer until vegetables are very soft and easily pierced with a fork.
Add cooked butternut squash and simmer about 5 minutes longer until squash is warm.
Using a stick blender*, puree the soup right in the pot. I like the soup very very smooth so I try to get all the chunks out.
Once the soup is pureed to your liking, add 1/2 C cream or milk and 1/4 C apple juice. I used cream, but the soup is very rich and creamy on it's own so it wouldn't hurt to use milk instead.
Add cinnamon, and salt and pepper to taste.
Garnish with cream, green onions/chives, or pumpkin/sunflower seeds. Serve with crusty bread and a side salad or as a side for a harvest dinner.
Notes
You may also use a regular blender, just be very careful when using hot liquids not to overfill the blender. Puree in small batches until finished.
Notes
You may also use a regular blender, just be very careful when using hot liquids not to overfill the blender. Puree in small batches until finished.