5 minute tomato basil soup
Want a super fast 5-minute tomato basil soup recipe that's almost as easy as a can of tomato soup but with ALL the flavor of homemade tomato soup? You've come to the right place. Check out this easy recipe for busy weeknights!
Is there a more common emergency meal than a grilled cheese sandwich and creamy tomato soup? It's the best easy comfort food, and it's honestly a family favorite in our house.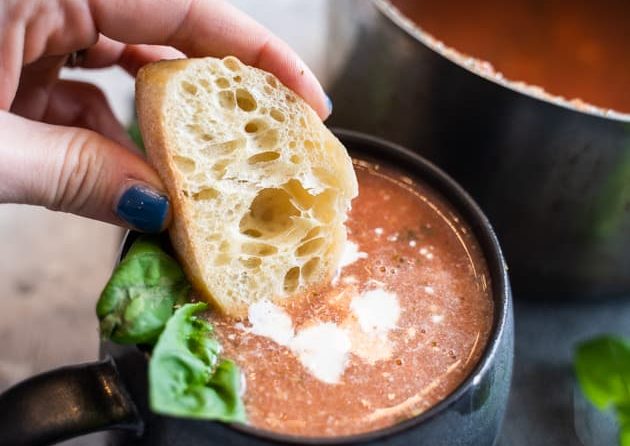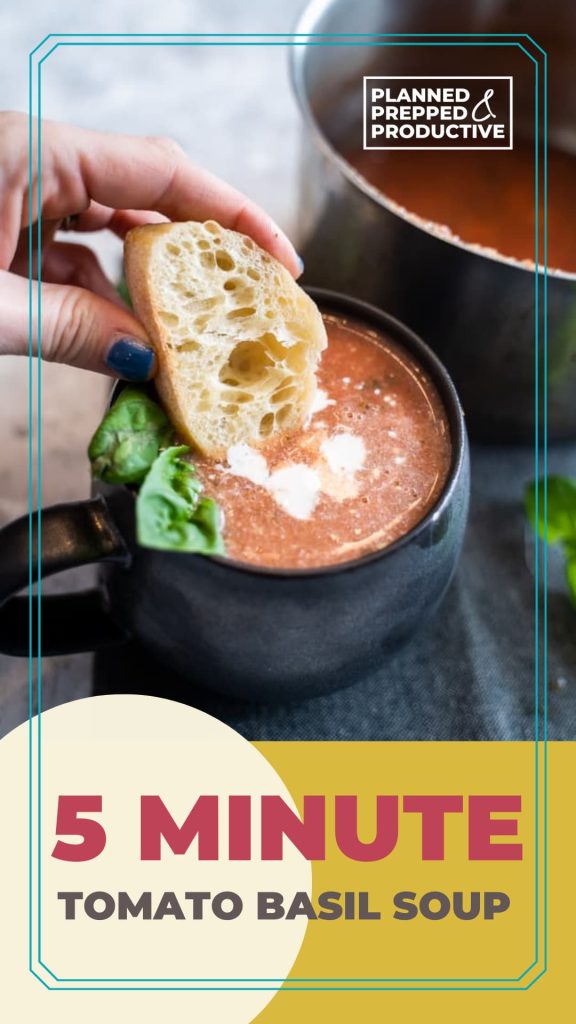 Growing up I never really understood the appeal of dipping grilled cheese, but it's probably because I was always stirred the canned stuff. This recipe does come together with not much more than a can of tomatoes, but it's soooo much better.
Let's dig into how to make it.
5 minute tomato basil soup
So not only is this quick recipe fast, it also comes together with only 5 simple
Let's look at the ingredient list, shall we?
2 cans hunt's stewed tomatoes
2 tbsp prepared pesto (storebought or homemade)
4 cups chicken stock or vegetable stock
Salt, pepper, and sugar (tt)
A splash of cream
Hunt's stewed tomatoes are sort of like my secret ingredient in this delicious soup. I've tried using other brands and they are never quite the same. Using stewed tomatoes is a great shortcut in this easy tomato basil soup recipe for getting a great depth of flavor.
How to make 5 minute tomato basil soup
Okay, now that we've looked at the ingredient list, let's talk about the directions.
To make this soup you'll first want to get your vegetable broth or chicken broth and cans of tomatoes heating on the stovetop in a medium saucepan. Go ahead and crank the heat up to medium high for this point.
As soon as they start boiling you can add in your prepared pesto and give it a stir.
This is also the point where you may want to add a pinch of sugar. Sugar in tomato recipes helps to cut through the acidity of the tomatoes.
Now is the trickiest part, we want to puree the soup until it's smooth.
Because hot liquids are scary, my favorite way to blend is an immersion blender for this part of the process. A regular blender will work fine in a pinch, but I just love how I can leave the hot soup in the pot and blend it without fussing with warm soup that might burn me.
After the soup is pureed to your liking (I like it smooth but some like to leave some whole tomatoes) it's time for the last steps. Add salt and pepper to taste, and then finish off with a splash of heavy cream on top. You can also garnish with some fresh basil leaves if you really want to get fancy.
You seriously won't believe how tasty this creamy tomato basil soup recipe is, especially with how fast it is to prepare. I promise this will become your go-to easy tomato soup recipe.
My favorite way to enjoy this is with cheese sandwiches, but you may also enjoy it with crusty bread.
Can I make this vegan tomato basil soup?
The pesto is going to be the part that trips you up the most, but other than that it should be pretty easy to make this vegan. You could easily make a homemade vegan pesto sauce , use vegetable stock, and skip the cream (or use a vegan alternative like a splash of almond milk!)
How should I store the soup?
This soup will store in an airtight container for 3-5 days in the refrigerator. It can also be frozen, but I would skip the cream if freezing and add it at the end so it's nice and fresh.
I hope you enjoy this recipe as much as we do in our family, it really is the best meal the whole family can enjoy on a cold day!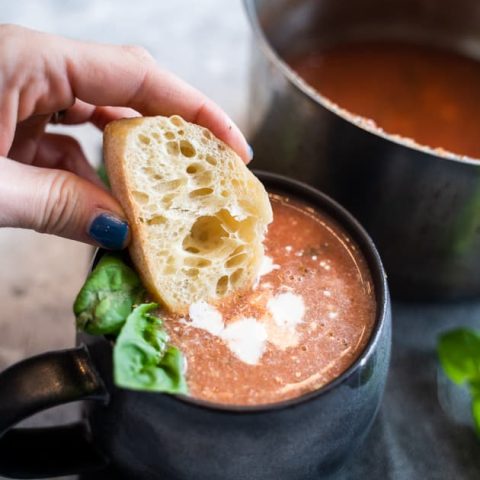 5 minute tomato basil soup
The easiest and tasties tomato soup you ever will make!
Ingredients
2 cans hunt's stewed tomatoes
4 C chicken or vegetable stock
2 Tbsp prepared pesto
salt, pepper, and sugar tt
1/4 C heavy cream
Instructions
Combine tomatoes and stock in a medium saucepan. Bring to a boil over medium heat.
Add prepared pesto after soup has started to boil.
Using an immersion blender, puree to your liking.
Season tt with salt, pepper, and sugar (to cut down on the acidity of the tomatoes
Finish with a splash of heavy cream and serve with crusty bread or grilled cheese sandwiches
Nutrition Information:
Yield:

6
Serving Size:

1
Amount Per Serving:
Calories:

288
Total Fat:

18g
Saturated Fat:

6g
Trans Fat:

0g
Unsaturated Fat:

10g
Cholesterol:

97mg
Sodium:

490mg
Carbohydrates:

7g
Fiber:

1g
Sugar:

4g
Protein:

23g
Nutrition information is an estimate only, calories are not always accurate.
If you like this soup recipe, you might want to check out some other popular soup recipes on the blog!