The bowl method: Make a nourishing bowl without a recipe
Recipes are great, but they can feel a little limiting. This is the first post of it's kind where I begin teaching you to cook with templates instead of recipes. Make almost any recipe into a nourishing bowl without a recipe.
Bowls are a winner in my book for family dinner.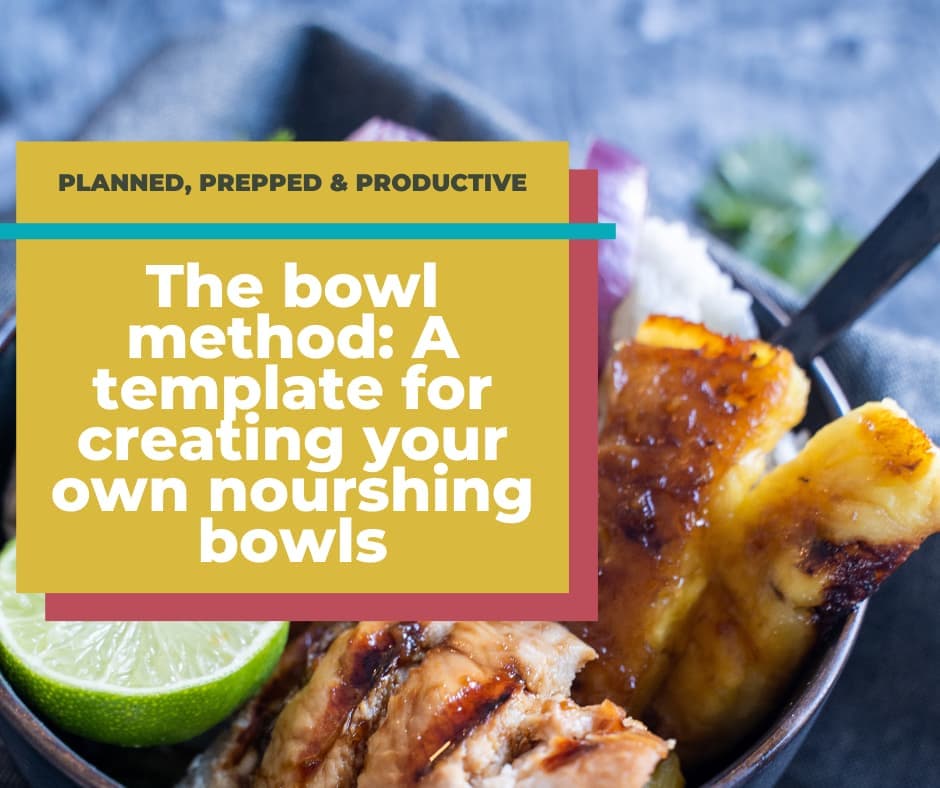 Nourishing bowls, buddha bowls, or macro bowls are definitely having a moment. Something about a bunch of bright, colorful, and nourishing foods arranged in a bowl is just so pretty and instagrammable.
Bowls are great way to get a healthy meal fast, they are super good for meal prepping. They are also good for kids because you can easily leave them separated or leave out the items that kids aren't loving (brussels sprouts anyone?)
Now I don't know if there's an official definition for what a nourishing bowl is, so my definition is this. Any dish that you can layer into a bowl with protein, grain, and veggies is a bowl.
They can be served hot, they can be served cold, and at any time of the day. Generally speaking bowls are a wholesome meal with lots of your favorite veggies and whole grains. According to my definition they can be really any delicious meal that fits the template I am sharing.
The bowl method: How to create a nourishing bowl
In my current season of life, I am finding managing recipes to be more than I care to deal with. Because of this I have developed a series of templates instead.
This bowl template is the first of these templates that I am sharing here on the blog. I love that using templates helps me curb food waste. Templates are not rigid and I can use up whatever is in the fridge. Using the template you can create your own bowl recipes out of whatever you have on hand.
So let's get into how to create your own healthy nourish bowl
The idea of a bowl is that everything is cooked and then put together in bowl form. If you have come meal prep chicken on hand this is a great way to use it. Youou can totally use meat as your protein (although I think it's technically not a buddha bowl if it isn't vegetarian). You can also use other forms of protein, and you can mix or match. Try adding other quality proteins like sesame seeds, tuna salad, hemp seeds, pumpkin seeds, and other nuts. You can also use plant-based proteins like tofu
After you've chosen a cooked protein you will also want to add 1-2 cups raw or cooked veggies. The great thing about this is you can totally mix and match cooked and raw veggies. You could use cooked sweet potatoes and raw avocado or red onion, or roasted beets with a raw fresh green apple.
Another important part of a nourishing bowl is the grains. This can be a really great opportunity to try some lesser-used grains like wild rice. You can also incorporate whole grains like brown rice. You can also stick to basic white rice, or even pasta as your grain base.
As I said earlier you can totally enjoy your bowls hot or cold. If you are enjoying cold, I would add a dressing of sorts. If you are enjoying your bowl hot, you can still use a dressing if desired. You could also add any sauce you enjoy for flavor like spicy sriracha, tahini dressing. Another idea is going with a basic marinara or teriyaki sauce. The flavor is the part where you get to really have fun. You can keep it simple with a splash of soy sauce or lime juice or make it super fancy with homemade or storebought sauces.
That's basically all there is to creating power bowls, but let's break it down a little more simply.
The bowl method template
1 C cooked grain or carb per person (examples include potatoes, sweet potatoes, grains, or whole grain pasta)
1-2 C raw or cooked veggies per person (mix and match a variety of nutrient dense ingredients examples include a base of leafy greens, swiss chard, bell peppers, green beans, carrots, broccoli, etc…)
1/2 C cooked lean protein per person (chicken breasts, ground turkey, tofu, etc…)
Sauces and/or spices to taste (this is a great opportunity to add healthy fats with a drizzle of olive oil, you can also use the flavor as an opportunity to theme your bowl like a mediterranean bowl)
Optional: nuts, crunchy garnishes, cheese, etc…for extra flavor and pizazz
As for prepping your bowls, I like to add everything cooked. You can choose sauteed veggies, steamed veggies, or roasted veggies. You can prep your protein however you like, and cook your grain according to package directions (here's a great guide for cooking grains). If making your sauce from scratch you can use any of your favorite sauce recipes, or you can totally just use storebought sauces.
One thing I like to do is prep ingredients for all of the items separately. This gives me an easy lunch and is my favorite way to keep things tasting fresh.
Try your own hand at creating these nourishing bowls for yourself. I hope you learn to enjoy wholesome food the perfect solution for your family meals.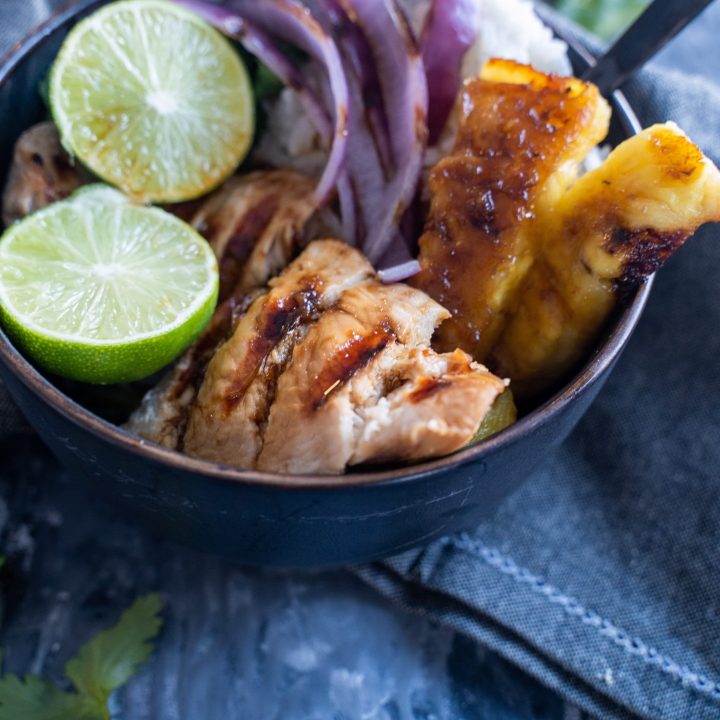 Nourishing Bowl Formula
Create your own nourishing bowl with whatever you have on hand using this method
Ingredients
1 C cooked carb per person (rice, whole grains, pasta, potatoes etc...)
1-2 C raw or cooked veggies per person (can mix and match)
1/2 C-1 C cooked protein per person (chicken, ground meat, beans, etc....can mix and match)
Sauce and/or spices to taste (dressings, teriyaki sauce, soy sauce, chili sauce, pesto, aioli, etc...)
Optional: nuts, crunchy garnishes, shredded cheese, etc...as topping
Instructions
Layer all ingredients into a bowl. Mix and enjoy. Can enjoy hot (like a teriyaki bowl) or cold (like a grain salad) depending on the ingredients you use and your preferences