Stewed Puerto Rican Beans and Domplines (Fry Bread)
These simple stewed puerto rican beans (habichuelas guisadas) and domplines (puerto rican fry bread) are super quick to make, but bursting with flavor! Ready in less than 30 minutes it's the perfect vegetarian weeknight meal. You'll want to make this one again and again.
[wprm-recipe-jump] [wprm-recipe-print]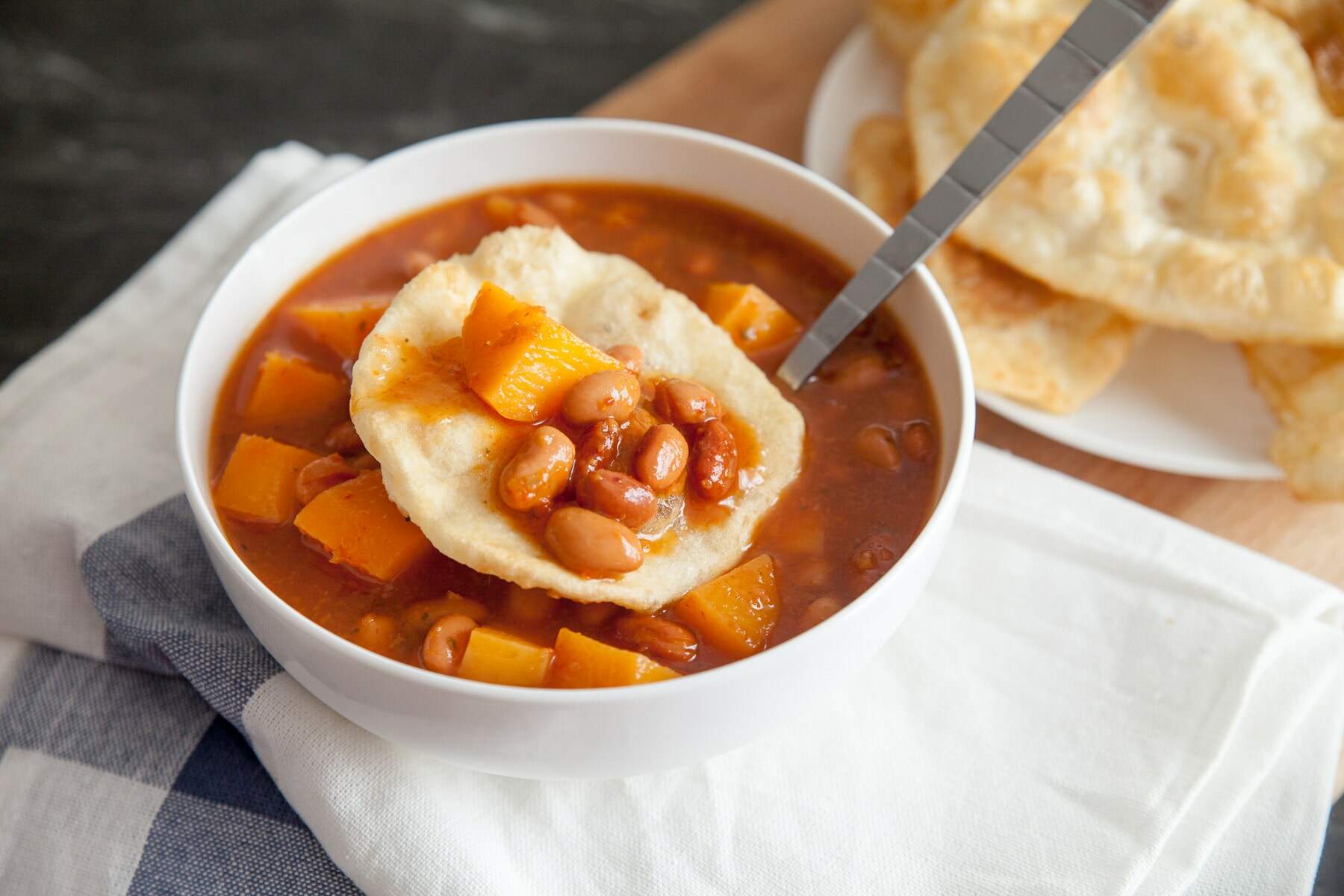 Of all of the Puerto Rican recipes that I've shared in the past few weeks, this one (my last one in this series) is definitely nearest and dearest to my heart.
The last organization I have to share with you is spear-headed by the first lady of Puerto Rico, called Unidos Por Puerto Rico.
Again, this organization will be providing 100% of proceeds directly to hurricane victims. One cool thing about this organization is their rockin' website that shows you exactly how your donations are being used.
Stewed Puerto Rican Beans and Domplines (Fry Bread)
I have so many fond memories of visiting my grandparents in Puerto Rico, and of my abuela. She's still living, so I don't want this to sound too much like a tribute, but I do miss the carefree childhood days running around on their back porch, chasing frogs, and cooking with my abuela.
I like to think that maybe my love of cooking came from my abuela. My mom's never been big into it. She's got many other amazing qualities, but cooking's not really her jam (she blames picky kids…sorry mom!) But my abuela cooks to show love.
Whenever my abuela visits every spot on the stovetop fills up with pots and pans. Stewed puerto rican beans, white rice, yellow rice, some kind of meat dish. What always amazed me is that I would look in the cupboards or fridge and feel like we had NOTHING to eat, yet she always managed to make a stellar meal out of whatever we had. I am guessing she's getting to put those skills to practice again with her limited resources in puerto rico right now.
My all time favorite thing to make with my abuela is domplines. Domplines are basically like these adorable tiny scones or fry bread.
The meal would usually start with me begging my abuela to make me some dough to play with (she was used to me begging…other things I begged for were chiclets (gum), pan con mantequilla (amazing puerto rican bread called pan sobao and butter) or asking her to play jacks with me.
Anyway, abuela would make enough extra dough for me to play with and she would cook up the habichuelas guisadas (stewed puerto rican beans) and roll the rest of the dough out into domplines. I just loved the way the dough felt on my hands and pretending to be like my abuela rolling it out into something delicious. Probably not a coincidence that now one of my very favorite things to cook is bread!
Making stewed puerto rican beans (habichuelas guisadas)
The amazing part about this dish is that it's seriously simple. It takes 30 minutes to make and is made up of mostly ingredients that I'm sure are already lurking in your pantry. The only tricky part about this dish is the sofrito(click for my recipe), but you make it once and it will last you 6 months or longer in the freezer. You can also find GOYA brand sofrito (they make bottled and frozen varieties) in many regular grocery stores, and almost certainly in a hispanic market…but I don't think it really compares to the real deal.
All you do for the recipe is fry the tomato sauce and sofrito for a minute or two, add all of the other ingredients and simmer until the potatoes are tender. That's it. It's like 7 minutes of active time to chop potatoes and open a few cans. So simple.
The fry bread is also very simple. There are a couple keys to making the domplines turn out just right though. Let me share them with you.
How to make domplines (puerto rican fry bread)
Let the dough rest: I find if I give the (super easy to make by hand) dough a 5 minute rest before rolling it gives the gluten a chance to relax a bit and is easier to roll super thin.
Roll the dough thin: Domplines are a bit different than a traditional american scone or fry bread, because it's rolled super thin. This makes it a big lighter and less "bready" and more "airy."
Make sure your oil is very hot: One of the very best parts of domplines is the big air bubbles that you can then stuff the beans in. In order to get these air bubbles the oil needs to be very hot when you add the dough. The dough should sizzle and bubble up immediately when you add it, if not it's likely not hot enough. I heat over medium high heat and I like to test one of the domplines before adding 3 or 4 to make sure it's perfect!
Now I will never measure up to my Abuela, but I'm so glad for what she taught me and our experiences in her kitchen growing up. Please continue to support Puerto Rico so that more memories can be made in their kitchen as power and necessary food and supplies are restored to the island.
Stewed Puerto Rican Beans and Domplines
These saucy beans and fry bread are so quick and easy to make, but they have such great flavor you'll find yourself wanting to make this fast vegetarian meal again and again!
Ingredients
For the stewed beans (habichuelas guisadas)
1 8 oz can tomato sauce
3 tbsp puerto rican sofrito, (click for my recipe)
2 15.5 oz cans pinto beans, rinsed and drained
2 medium russet potatoes, peeled and diced
2 1/2 C water
1 tsp kosher salt
pinch sugar
For the domplines (puerto rican fry bread)
2 C all-purpose flour
1 tbsp olive oil
1/2 tsp baking powder
1/2 tsp kosher salt
1/2 C warm water
~1 1/2 C canola oil, for frying
Instructions
For the stewed beans (habichuelas guisadas)
In a large saucepan heat tomato sauce and sofrito until aromatic. Add beans, water, potatoes, salt, and sugar and bring to a boil. Reduce heat to a simmer, cover, and cook on low until potatoes are soft and mixture has thickened slightly. Serve with rice or domplines (puerto rican fry bread)
For the domplines (puerto rican fry bread)
Mix all ingredients except for water (and frying oil) in a medium bowl. Gradually mix in water until mixture comes together (you may need slightly more or less water). Mix until all flour is incorporated, then roll into two "logs". Cover with a damp paper towel and let rest ~5 minutes.
While dough is resting begin heating up the canola oil in a large fry pan over medium high heat. The oil does not need to be too deep (maybe 1/2 inch).
Cut the dough into about 16 pieces. Roll each piece out very thin with a rolling pin.
When the oil is very hot (but not smoking) add the rolled pieces of dough. The oil should sizzle immediately and the dough should start to bubble up. If this doesn't happen the oil is likely not yet hot enough.
Fry on each side for 30 seconds to one minute until the fry bread is golden brown.
Remove from oil and let drain on paper towels. Serve Immediately with puerto rican beans.
Notes
Calories calculated using MyFitnessPal
Homemade sofrito is by far the best choice for this dish, but you can find GOYA brand sofrito frozen and jarred at some grocery stores and most hispanic markets.
Nutrition Information:
Yield:

6
Serving Size:

g
Amount Per Serving:
Calories:

576