Freezer-Friendly Homemade Naan Bread
Homemade Naan Bread is seriously so easy, and so much more useful than just as a side for your favorite Indian Dishes (although, it's great for that too!) I love keeping my freezer stocked with homemade naan and using it as pizza crust whenever that craving strikes!
Just after having my 3rd child, my husband and I signed up for a cooking class to take together.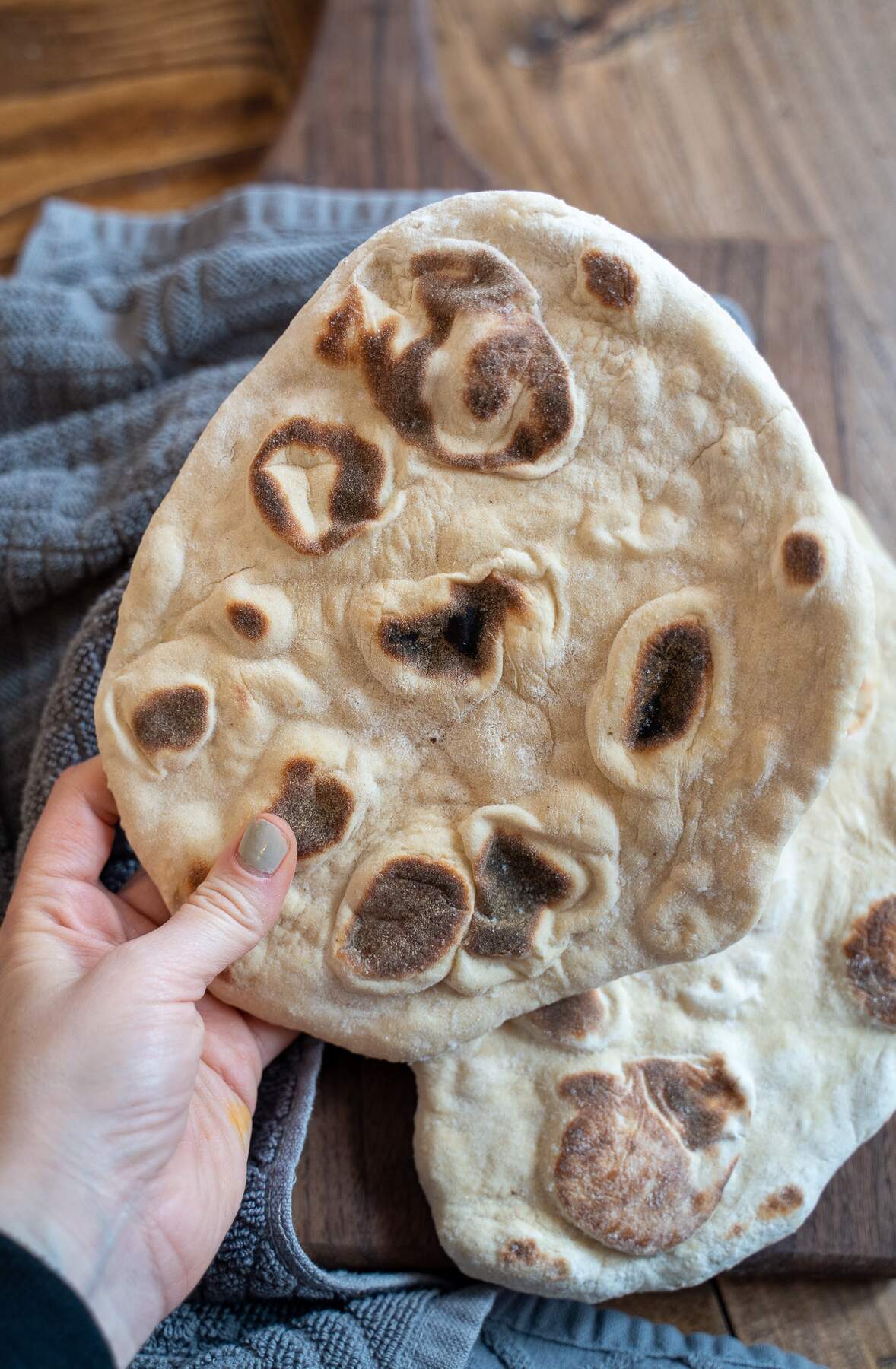 If you've never taken one, cooking classes are such a fun date night!
The class we signed up for was quick and easy meals…and honestly, I wasn't super stoked by the topic because I tend to like more elaborate meals.
I was so wrong, I learned SO many time-saving tips from that class, one of which was flatbread pizzas made on naan bread.
After that class I became hooked on naan bread pizza! I would make all kinds of pizzas, hawaiian, margherita, tomato and pesto, bbq chicken, all on naan bread which made cooking super quick and convenient and such a breeze.
The problem was, I was using storebought naan bread for all these dishes…which while it tasted great, it cost about $1.50 per naan bread so it wasn't the best option economically.
Freezer-Friendly homemade naan bread
I decided to try my hand at making my own homemade naan bread, and to make it JUST as convenient, I decided to store it in the freezer for quick and easy meals whenever I wanted.
Let me tell you it worked like a charm!
The biggest problem has been not gobbling all the naan bread up before it hits the freezer.
(Which is why this recipe is for a super-large batch, because if you're cooking for the freezer, you want to make enough to make it worth it!)
This batch makes 16 naan breads, which is enough to feed my small family about 4 times (if we don't eat the extra naans before they hit the freezer!)
How to use freezer-friendly homemade naan bread
As I said, my favorite way to use homemade naan is to make pizza out of it.
To make pizza, simply add your toppings and bake at 425 until the cheese is melted (about 6-7 minutes). I usually put my naan straight onto the rack in the oven instead of on a pan so it gets nice and crispy!
You can also use your homemade naan the traditional way by serving on the side of chicken tikka masala or your other favorite Indian Dish.
If you're enjoying it this way, Saute some fresh garlic in a little butter and brush it on when you're ready to eat. You can also sprinkle on some fresh cilantro!
Another option is to make it into a sandwich or wrap of some kind. This post has lots of good ideas!
Tips for making homemade naan bread
As far as yeast bread goes, this ones pretty simple.
I do like to use instant yeast to make it even easier, but active dry works as well. If using active dry, simply add the sugar or honey, water, and yeast and proof the yeast in the warm water for about 10 minutes until it's bubbly before adding the rest of the ingredients.
This dough shoudn't be too sticky to handle, but should stay soft. Add flour until the dough pulls away from the side of the bowl, and knead. When the dough is done kneading (after 3-4 minutes in the electric mixer) it should pull away from the side of the bowl and form a ball. if it's still sinking and sticking to the bottom you probably need to add more flour.
You may not even need all the flour in this recipe, especially if you choose to do part-wheat (which you SHOULD, it tastes great and can make this a slightly more healthful alternative than the storebought version). Start checking for the signs that your dough is properly floured once you've added about 5 cups and continue adding flour slowly only as needed.
To cook, you simply roll out thin discs and cook them like a tortilla on a skillet or griddle. They only take about a minute per side, and they'll bubble up a little and brown slightly when they're done. Cook until the bread is all the way cooked through.
This homemade naan is truly one of my favorite timesavers to keep on hand and it's so yummy! Try it yourself!
How will you use your homemade naan?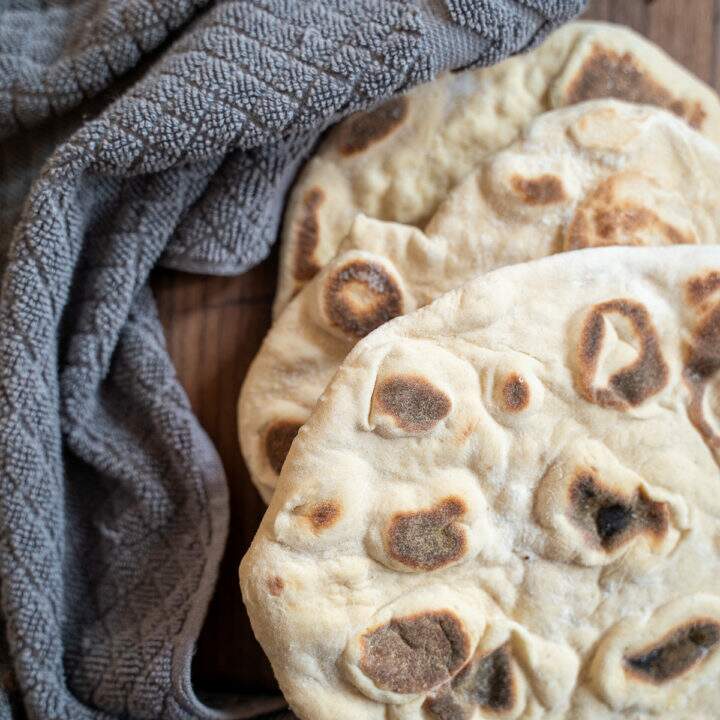 Freezer-Friendly Homemade Naan Bread
Total Time:
1 hour
35 minutes
Keeping your freezer stocked with this naan bread will have you seconds away from so many
Ingredients
2 C warm water
1/4 C Sugar or Honey
1 1/2 Tbsp Instant Yeast
7 C flour (can use up to 50% whole wheat)
1/2 C Plain Yogurt
1 Tbsp Salt
1 tsp baking powder
2 eggs
Instructions
In a large mixing bowl (or the bowl of a bosch or kitchen aid with the dough attachment) mix together all ingredients (except flour).
Turn the mixer to low speed and gradually add the flour 1 C at a time until the dough starts to pull away from the sides/bottom of the bowl. Dough should be sticky, but manageable. Continue mixing on medium-high speed for 2-3 minutes until mixture is totally smooth and forms into a ball that pulls away from the sides of the mixing bowl. If the mixture is too sticky, add a little more flour. If mixing by hand, follow the same instructions but remove from the bowl to knead for 5-6 minutes when finished.
Remove the dough from the mixing bowl and shape it into a ball. Place it in a greased bowl and cover it with a towel. Place somewhere warm to rise for about 1 hour until the dough has doubled in size.
Once the dough has risen, punch it down and split it into 16 equal pieces.
Roll each piece out into a circle that is approximately 1/4 inch thick.
Heat an electric griddle to 350 degrees (or use a skillet on medium-high heat, but a griddle will allow you to cook more at one time)
Cook in batches on the electric griddle for about one minute on each side until the dough is cooked through. Dough will have brown spots and bubble up slightly.
To freeze, simply put in a labelled gallon ziploc bag and store in the freezer. Naan will last for about 2 months in the freezer.
Notes
To serve: This naan bread can be served with butter and garlic, as pizza crust, or as a pita/sandwich. If serving out of the freezer, simply leave out to thaw, or reheat in the oven or microwave until thawed and warmed through
Nutrition Information:
Yield:

16
Serving Size:

1
Amount Per Serving:
Calories:

232
Total Fat:

1g
Saturated Fat:

0g
Trans Fat:

0g
Unsaturated Fat:

1g
Cholesterol:

24mg
Sodium:

483mg
Carbohydrates:

47g
Fiber:

2g
Sugar:

5g
Protein:

7g
Check out my other homemade bread recipes.
Super soft homemade french bread