Poppy Seed Chicken Casserole (From Scratch)
Poppy seed chicken casserole is a family favorite with buttery crackers, and a scrumptious creamy chicken sauce.  This recipe is made completely from scratch with no canned cream of chicken soup, and is comfort food at it's finest.
[wprm-recipe-jump] [wprm-recipe-print]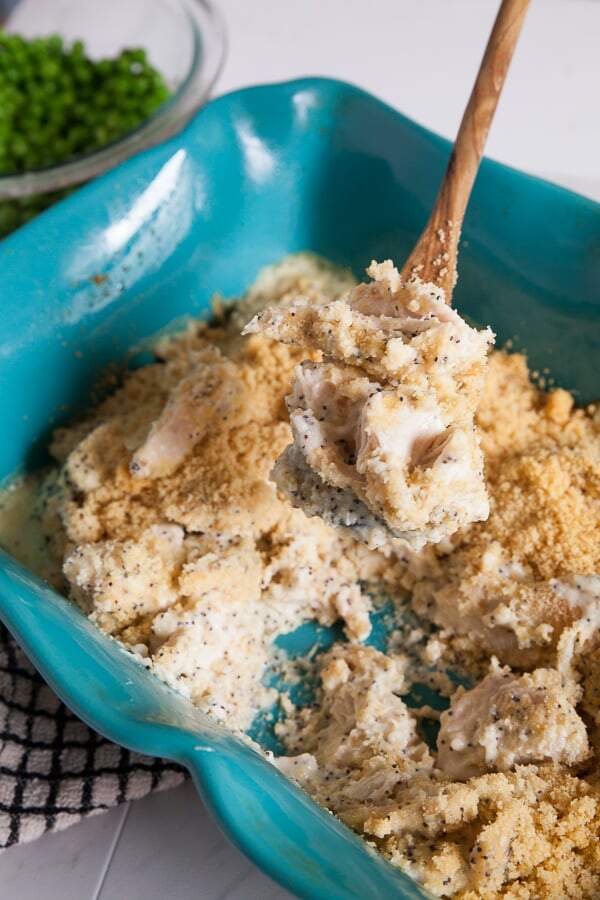 In, Utah, dinnertime is a challenge.  Let's be honest, ANYWHERE, dinnertime can be a challenge, but Utahns have an extra level of challenge to manage.  You know that joke about Mormons and HUGE families!? Well, they say every good joke has an element of truth.  This joke has more than an element of truth.  My husband comes from a family of 8 kids, and I grew up with a family of 4 (which felt small in comparison to most of my friends). When I told my husband that I thought I might be done at two kids he couldn't contain his hysterical laughter. Until he saw the seriousness on my face at which point he began his desperate baby-making sales pitch.
Since we hail from such large families, giant casseroles are a staple.  Many of my favorite dishes growing up were casseroles made with some protein, some grains, and some trusty cream of chicken soup mixed together and called dinner.  It's no wonder casseroles are so popular, their fast and easy, fairly tasty, and there's always enough for everyone.
Poppy Seed Chicken Casserole
I'll be honest, my tastes haven't changed much since coming to adulthood.  I have developed a taste for most veggies, and I only turn my nose up at certain cheeses (I'm looking at you goat cheese), but generally speaking, the foods I liked in my childhood, I still like to day.
But….I do try to limit the number of "convenience food" items used in our home, partially for health and simplicity, and partially because it makes me super mad to think that some processing company can make better food than me. I don't think so.
How to Make Cream of Chicken Soup from Scratch
Mastering cream of chicken soup from scratch was a bit more challenging than it should have been. A quick look at the nutrition label told me it was chicken-y flavored something, milk, thickener, and some spices, but it still took a bit of mastery. Some versions I tried were a bit flavorless, and others were overloaded with spice.
This recipe makes a simple chicken gravy as the sauce, and the taste is spot on.  I do find that the brand of chicken broth you use can make or break your sauce. The first choice, of course, would be a nice homemade chicken broth.  I'll be honest though, as much as I love from-scratch cooking, I have not yet found a method of chicken broth making that is convenient and keeps up with my chicken broth usage (I use a lot!).
This post contains affiliate links, meaning that if you make a purchase from one of these links a small percentage comes back to me at no additional cost to you. Learn more by visiting my disclosure page.
Using chicken base instead of chicken bouillon, broth, or stock.
Instead, I use a product that I feel is seriously under-hyped.  Chicken Base.  If you haven't heard of it, it is used in the same way as chicken bouillon, but instead of being a dry powdery substance, it's a thick paste that is kept in the refrigerator.  It's made by SERIOUSLY reducing chicken stock, and it is AMAZING.  Every professional kitchen that I have ever worked in uses chicken base, and I love using it in my kitchen.
Where to buy chicken base:
There are several brands of chicken base, but the one most readily available in my local stores is Better than Bouillon. I typically use the organic kind, only because it's a smidge less salty and I prefer the flavor, but both are great. I have been able to find it in any grocery store next to the bouillon cubes or granules. Get it. It will change your life.
Other Questions about Poppy Seed Chicken Casserole from Scratch:
What kind of crackers should I use to make the topping for poppy seed chicken casserole?
This dish is typically made with Ritz Crackers, however, when I last checked, Ritz Crackers are still using partially hydrogenated oils in their products, which makes them a no-go for me. I use "golden rounds" from Trader Joe's, but you could use any type of buttery cracker with a similar result.  Often the store-brands, strangely, have a better ingredient list.  Even if you don't like the taste of the crackers on their own, you probably won't be able to tell after you make it into a topping.
If you want to make it even more wholesome/from-scratch you can use homemade breadcrumbs, or panko bread crumbs. I've done this before, but to be completely honest, I prefer the flavor of the buttery crackers. If you really want to get crazy, you could make your own buttery crackers, (cool idea, but seems a bit much for what's supposed to be an easy week night recipe, huh!?).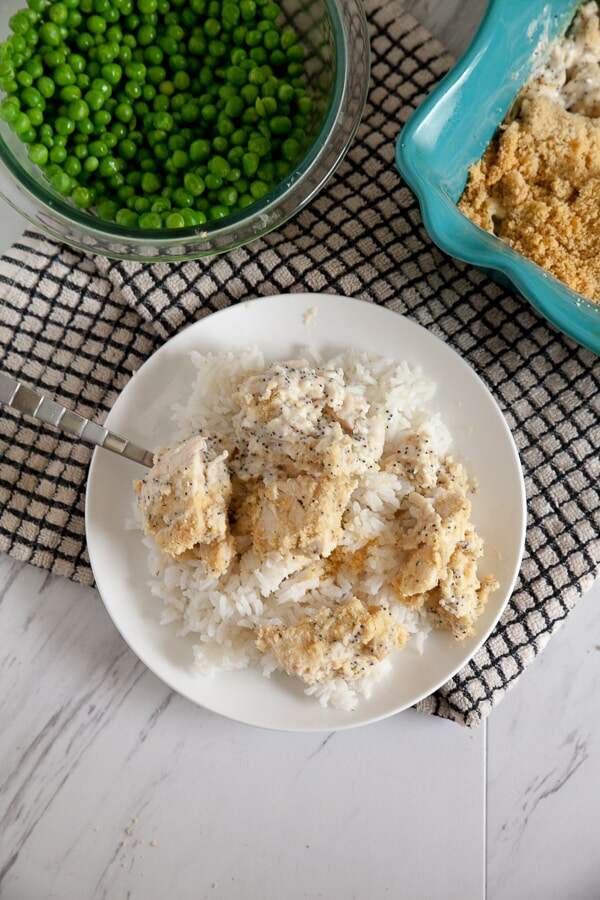 Can I freeze Poppy Seed Chicken Casserole?
Absolutely! This is a great meal to take to a new mom or someone in need frozen for them to enjoy whenever they want.  To cook either put in the fridge for a day to bring to thaw and cook as directed, cook it from frozen by covering for 20-30 minutes, then removing the foil and cook for 20-3o minutes more to brown the topping.
How should I cook the chicken?
When I make dishes like this, I usually like to throw a bunch of chicken in the crockpot at the beginning of the week, and use it all week long.  So that's what I usually do.  You could also poach it, bake it, or cook it in the pressure cooker, but I like the texture of slow-cooked best for this dish.
I'm watching my Calories, is there a sub for sour cream!?
Maybe.  You could definitely substitute low-fat sour cream, however it actually has a longer ingredient list than regular sour cream, so I tend to stick to Original.  You MIGHT be able to substitute Greek Yogurt, the flavor will be great, but cooking yogurt can do funny things to texture.  Let me know if you try it, and how it works out!
This poppy seed chicken from scratch is so much tastier than the family favorite your used to. And even if you have 12 kids, you've still got time for this.
If you like this post, you might like this cheesy potato casserole recipe, also featuring cream of chicken from scratch.
[fl_builder_insert_layout id="2161″]
[fl_builder_insert_layout id="2102″]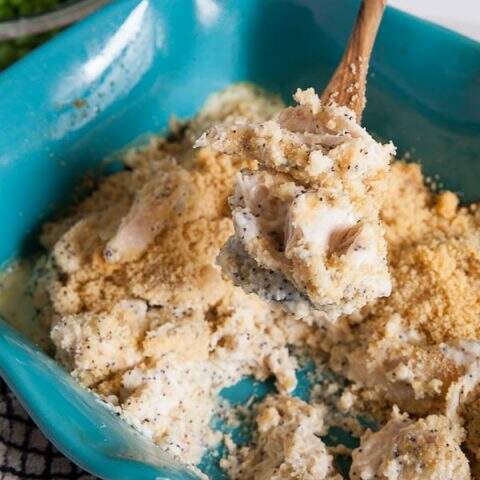 Poppyseed Chicken Casserole From Scratch!
A from-scratch version of the classic Poppyseed chicken casserole sans cream soup!
Ingredients
2 Chicken Breasts, cooked and shredded/chopped
3 Tbsp Butter
1/2 Medium Onion, (can sub 2 tsp onion powder)
2 Cloves Garlic, (can sub 1/2 tsp garlic powder)
3 tbsp flour
1 1/2 Cups chicken broth, my chicken broth preference is "better than bouillon" chicken base
1/2 C Milk
8 oz . Sour Cream
1 tbsp Poppyseeds
2 Tbsp Butter
1 1/2 C Ritz Cracker Crumbs, Crushed Corn Flakes, or Breadcrumbs
Salt and Pepper tt
Instructions
Pre-heat oven to 350 degrees F.
Heat olive oil in a large skillet and saute onions until just starting to brown. Add garlic and stir until fragrant (about 1 minute).
Add flour and whisk until combined, cook for about 1 minute more so the flour doesn't taste raw in the finished dish.
Add chicken broth and milk and whisk vigorously to ensure there are no lumps. Continue to cook over medium heat until bubbly and thick.
Add shredded chicken and salt/pepper to taste. I used ~1/2 tsp of salt in my version, but this will vary depending on what kind of chicken broth you use.
Add sour cream and poppy seeds and spread mixture into a lightly greased 9x13 casserole dish.
Melt butter and mix it with breadcrumbs until they are well-coated. Sprinkle evenly over casserole. Bake for 30 minutes until bubbly and delicious. It's best served over rice.
Notes
Calories counted using MyFitnessPal
Nutrition Information:
Yield:

6
Amount Per Serving:
Calories:

410