How to Make Super Soft French Bread at Home
This soft french bread recipe is so much easier than you think. It tastes just like those big fluffy loaves that you get at the super market, only fresher and more delicious. This bread is great for garlic bread, or tasty sub sandwiches.
Homemade soft french bread took me 2 weeks and 39 recipe tests (give or take) to get it just right.
Seriously, my floor had an almost permanent layer of flour dust, and my husband actually got sick of bread. As if that's even possible.
My daughter didn't stop loving every minute though.
Anywho. You'd think after all of that this recipe would be super complicated, right!?
Nope.
I've talked in the past about my tendency to over-complicate things (see my easy classic lasagna recipe to read more about it). Anyway, when something tastes REALLY good, I think it must be incredibly difficult. It turns out, the more time I spend in the kitchen, the more I discover that cooking usually is SIMPLE and simplicity tastes oh so good.
Super Soft French Bread
So, how do you achieve super soft on the inside, lightly crunchy on the outside, fluffy, airy, delicious, french bread at home!? Let me tell you.
What kind of flour should I use to make soft french bread?
I spent a lot of time researching this question and made attempts with lots of different combinations. I tried bread flour, whole wheat flour, all-purpose flour, and several combinations. Here's what I learned:
First off, leave whole wheat flour out of your french bread. Gah. It pains me to say it. I usually try to use at least 50% whole wheat flour in all of my bread products around here, but soft french bread is just no place for it. It didn't rise well, and made for super crumbly, dense bread. Not appetizing. I even tried all my wheat bread tricks like using dough conditioner and vital wheat gluten. Didn't really help. Trust me on this one and make this a white bread splurge. It's worth it.
I spent a lot of time researching authentic french bread, and decided I should use bread flour. Turns out the super soft french bread they have for 99 cents at the grocery store that I was trying to replicate is not super authentic. Weird. So while bread flour makes a fantastically chewy and wonderful loaf, it isn't what I was going for with this recipe.
All-Purpose Flour was exactly what I was looking for, which is great since most everyone has it on hand.
What makes french bread so soft?
Here's another time when the authentic french bread makers let me down. An authentic french baguette usually only contains flour, water, yeast, and salt. But again this yields a chewier more artisan-like crust. I wanted soft almost sub sandwich kind of bread so I needed to stray from the norm.
I went back to my college food science days and thought I should add a smidge of sugar and oil to the dough. Sugar in breadmaking, acts as food for the yeast, helping it to grow big and making for fluffier, yummier bread. It also helps to condition and soften the dough a bit. Oil in breadmaking also tenderizes the loaf.
How do I make the crust of my french bread crusty?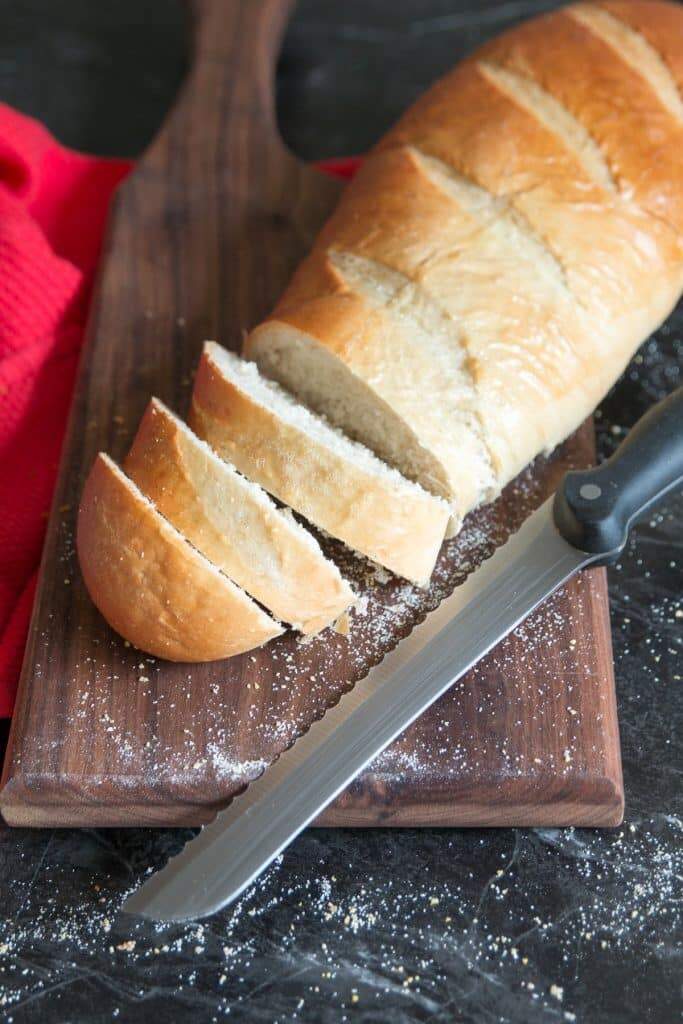 Much of the appeal of a delicious loaf of soft french bread comes from the juxtaposition of that crusty outside and super soft inside. Opposites truly do attract in this case. The crust development in this recipes comes from two things.
Use of an egg wash. I use an egg wash in almost all of my baking to help achieve a golden color and add a little crustiness to the outside. The cool thing about an egg wash is that you could also top the bread with oats, sesame seeds, etc…if you wanted to change things up.
Many commercial bakeries use steam to achieve a great crust on the loaf as well as help the loaf continue to rise in the oven to it's fullest potential. To achieve this at home,I simply fill a sheet pan placed at the bottom of the oven with the hottest water that comes out of my tap. It works fairly well in the absence of a steam oven.
Do I need any fancy equipment to make soft french bread at home?
This post contains affiliate links, meaning that if you make a purchase from one of these links a small percentage comes back to me at no additional cost to you. Learn more by visiting my disclosure page.
This recipe is so simple, and I suspect that the dough could even be made by hand. Having said that, kneading dough by hand is the bane of my existence so I have not tested my theory. I use my bosch mixer which I love and swear by. Seriously, for bread making this thing totally rocks! I have also used kitchen aid mixers in the past with success.
Other than that, this loaf is free-formed so you only need a sheet pan to bake it on. A rolling pin is helpful when shaping the loaf, but not strictly necessary either.
One simple tool that is super helpful in making this bread is a razorblade or a *clean* utility knife. It's important to cut slits in the top of your bread when you put it in the oven so when it continues to rise as it bakes, the bread has somewhere to go. If you don't cut slits, the bread will split on it's own haphazardly making for a pretty ugly loaf (albeit still tasty, I know from experience ;)) Try as I might to cut these slits with my kitchen knives, they just weren't strong enough to get the job done. A utility knife made perfect slits, and helped me achieve my prettiest loaf to date!
With this recipe, you'll get it right on the first try and avoid the mess and extra carbs of recipe testing that I dealt with. Promise.
Looking for something delicious to make with your homemade french bread? Check out my tips for making the best garlic bread at home!
Super Soft French Bread
This soft french bread is a homemade upgrade from those delicious loaves at the grocery store, it's so much easier to make than you think!
Ingredients
2 1/4 C Warm Water
1 Tbsp Active Dry Yeast
2 Tbsp Granulated Sugar
2 Tbsp Olive Oil
2 tsp Kosher Salt
5-6 C All-Purpose Flour
1 Egg White
1 Tbsp Water
1 Tbsp Cornmeal, as needed
Instructions
Add warm water, sugar, and yeast to the bowl of a bosch mixer or kitchen aid with the dough attachment. Make sure the water is warm/room temperature and not too hot to avoid killing the yeast. Let proof for about 10 minutes until bubbly.
Add olive oil, salt, and 3 cups of flour. Mix well. Continue to add flour until the dough begins to pull away from the side of the bowl. The dough should be soft and slightly sticky, but should hold it's shape. You may not use all of the flour called for.
Once the dough has the correct amount of flour, continue to mix and knead for 5-7 minutes on medium speed. The dough should spring back when "poked" when it is finished kneading.
Place Dough in a large bowl sprayed with cooking spray. Cover with a towel and let rise in a warm place until approximately doubled in size. This usually takes ~45 minutes but will vary.
When dough has doubled in size, punch down and place on a lightly floured countertop. Split dough into two equal pieces. To shape dough, roll out into a ~8x14 inch rectangle. Roll from each of the long ends toward the middle. pinch the seam together at the middle. Taper the ends of the dough and place on a cookie sheet sprinkled with cornmeal, seam side down. Repeat with the second piece of dough. There will be room to bake both loaves on the same cookie sheet if desired.
Cover with a towel and let rise in a warm place again until double again.
Preheat oven to 375 degrees F
When the dough is ready to bake, use a very sharp knife or a razorblade /utility knife to make 4-5 diagonal slashes in the dough.
Whisk together egg white and 1 tbsp water. Brush over loaves gently with a pastry brush. If desired sprinkle with oats, sesame seeds, or other grains for visual appeal/texture.
Place a half sheet pan at the bottom of your oven (if your oven has coils on the bottom place it on the bottom shelf as low as it will go. Place the prepared loaves on the top shelf, and pour ~2 Cups of the hottest tap water you can into the empty sheet pan and quickly shut the oven door.
Bake for 25-30 minutes until golden brown in color and baked through.
Nutrition Information:
Yield:

32
Serving Size:

g
Amount Per Serving:
Calories:

98
Total Fat:

1g
Saturated Fat:

0g
Trans Fat:

0g
Unsaturated Fat:

1g
Cholesterol:

0mg
Sodium:

185mg
Carbohydrates:

19g
Fiber:

1g
Sugar:

1g
Protein:

3g