Slow Cooker Meal Prep Shredded Chicken
Slow cooker meal prep shredded chicken
This meal prep shredded chicken recipe (if you can even really call it a recipe, it's that simple) has completely revolutionized the way I cook!
I truly don't know why I haven't been doing this for my entire adult life, but I really only discovered slow cooker meal prep shredded chicken a few years ago.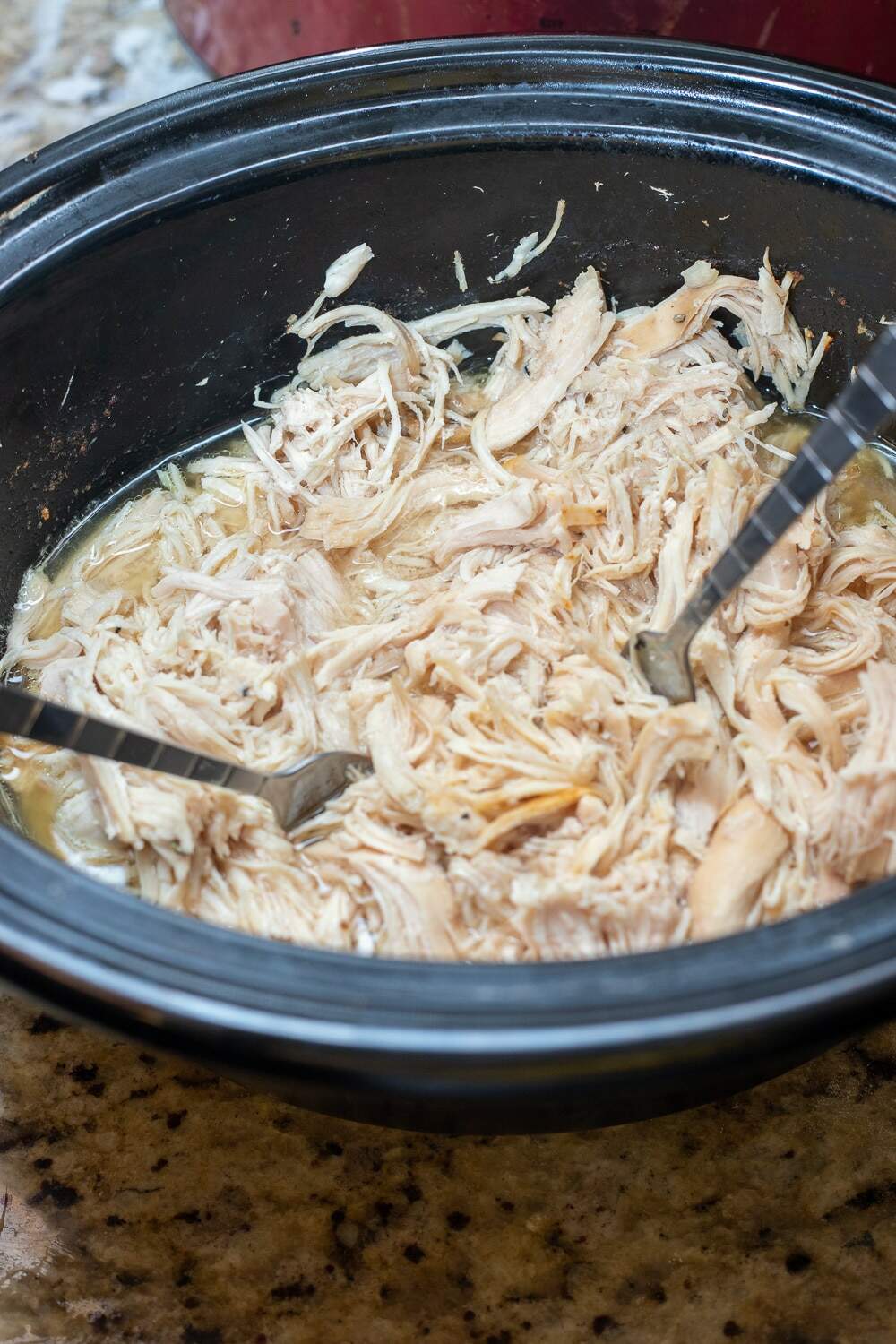 Since then, I make it at least monthly, stock my freezer, and have access to cooked chicken at all hours to throw together the fastest weeknight dinners ever
How to make slow cooker meal prep shredded chicken
This recipe takes LITERALLY 5 minutes of active time. It could not be simpler. Throw your chicken breasts in the slow cooker, cover with seasonings and cook on high for about 4 hours (low for 6-8).
When it's done, drain off the extra broth (save it for use later if you want!) and shred the chicken! This method gets the chicken mouth-wateringly tender and it will shred almost effortlessly!
After it's shredded, portion it out into 2 cup portions (I find that this amount is typically how much I will need in a recipe) and throw it in the freezer for later use.
How to thaw meal prep shredded chicken
Thawing couldn't be simpler, it's easiest if you remember to throw the frozen chicken into the refrigerator on the morning you want to use it, but if you forget (which I do a lot…) it's no big deal!
Just cut the plastic bag off and depending on what you are eating you might be able to throw it straight in (soups for example!)
If you do need it thawed and warmed, I suggest doing it on the stovetop. I add just a little water so it won't stick and burn and heat over medium while stirring until it's thaw.
You can also absolutely use the microwave to thaw, but I have an aversion to microwaved meat so stovetop it is for me 😉 If you do want to microwave it, just be sure to remove the plastic bag and use a microwave safe dish
How to use meal prep shredded chicken.
The possibilities here are truly endless! So many recipes require you to pre-cook chicken anyway, and the slow cooker is such a great way to do so because the texture ends up absolutely delicious! Here are a few recipes you could use meal prep shredded chicken for that are some of my favorites!
Here are even more possibilities from some of my good friends in the blogging world
Want more help and practical tips to make your meal plan actually work? Sign up for my free mini-course!
[oceanwp_library id="5306″]
What dishes would you use this shredded chicken in? I'm always up for new ideas, let me know in the comments!
Slow Cooker Meal Prep Shredded Chicken
Total Time:
4 hours
5 minutes
This slow cooker meal prep shredded chicken will revolutionize the way you cook. Take 5 minutes of active time and cook enough chicken to eat for a week! You'll love throwing together 15 minute meals all week long from this recipe
Ingredients
3 lbs chicken breasts, thaw
1 cup chicken broth
Instructions
Place all ingredients in slow cooker and cook on high heat for about 4 hours (low for 6-8)
When finished, shred with two forks and portion out into 2 cup portions, freeze for later use.
To thaw, place in refrigerator in the morning before use, heat over medium on stovetop, or microwave in a microwave safe bowl until thaw.
Notes
Use this recipe for any dish that calls for cooked chicken.
Recommended Products
As an Amazon Associate and member of other affiliate programs, I earn from qualifying purchases.
Nutrition Information:
Yield:

16
Serving Size:

1/2 C
Amount Per Serving:
Calories:

142
Total Fat:

3g
Saturated Fat:

1g
Trans Fat:

0g
Unsaturated Fat:

2g
Cholesterol:

73mg
Sodium:

548mg
Carbohydrates:

0g
Fiber:

0g
Sugar:

0g
Protein:

27g