Freezer Sweet Potato Home Fries
Freezer sweet potato home fries are a great way to put a hot breakfast on the table in 5 minutes flat. This is perfect for you if you want to uplevel your breakfasts without spending tons of time cooking.
I'm a meal prep queen, I absolutely LOVE stocking my freezer with items to make my life easier later.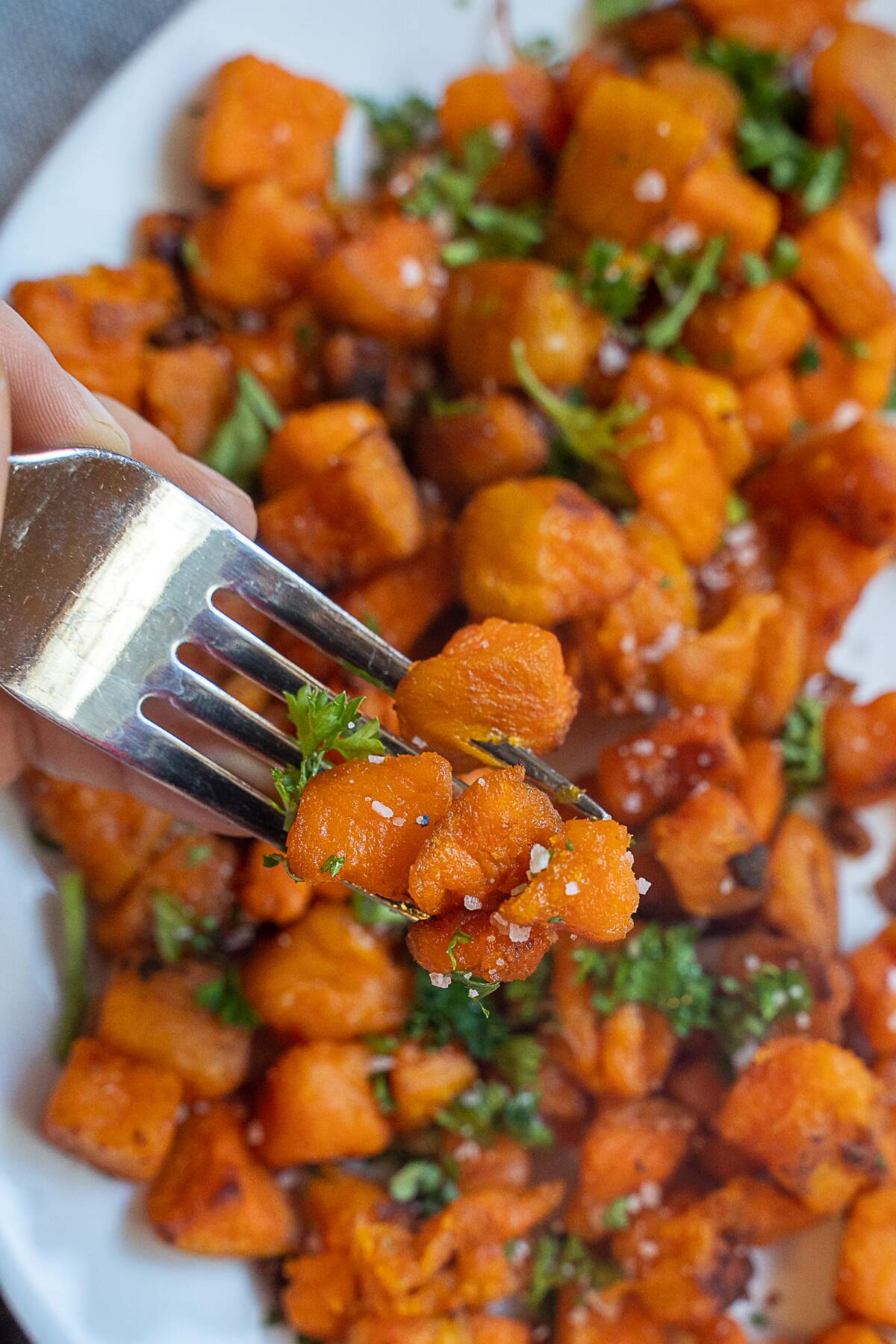 But…some foods just make meal prep difficult.
Freezer sweet potato home fries
Potatoes for example.
So many veggies (onions, peas, corn, peppers) I can just plop in the freezer for use later and they work GREAT!
…but raw sweet potatoes become a slimy yucky mess when you do that.
I don't know about you, but I love me a good breakfast skillet with some pan-fried potatoes! (see my regular potato home fries recipe here)
I also love how great my body feels when I wake up and fuel it well! However, I don't have time to do that on a regular basis without a little help from meal prep.
Freezer home fries are an easy way to get hot and healthy breakfasts in the morning. After freezing they are perfect for baking or even deep frying. You can cook them a lot of different ways. This is the best way to get homemade frozen sweet potato fries with a shorter cooking time.
…which is why I HAD to figure out a way to freeze potatoes for quick and easy breakfasts.
The good news is that you can totally do it. I knew you could do it because otherwise the freezer aisle would not be stocked with your favorite brand of frozen french fries.
But freezing potatoes does take a few extra steps.
How to freeze potatoes (and sweet potatoes)
To make freezer sweet potato home fries, you've gotta cook the potatoes for the best results.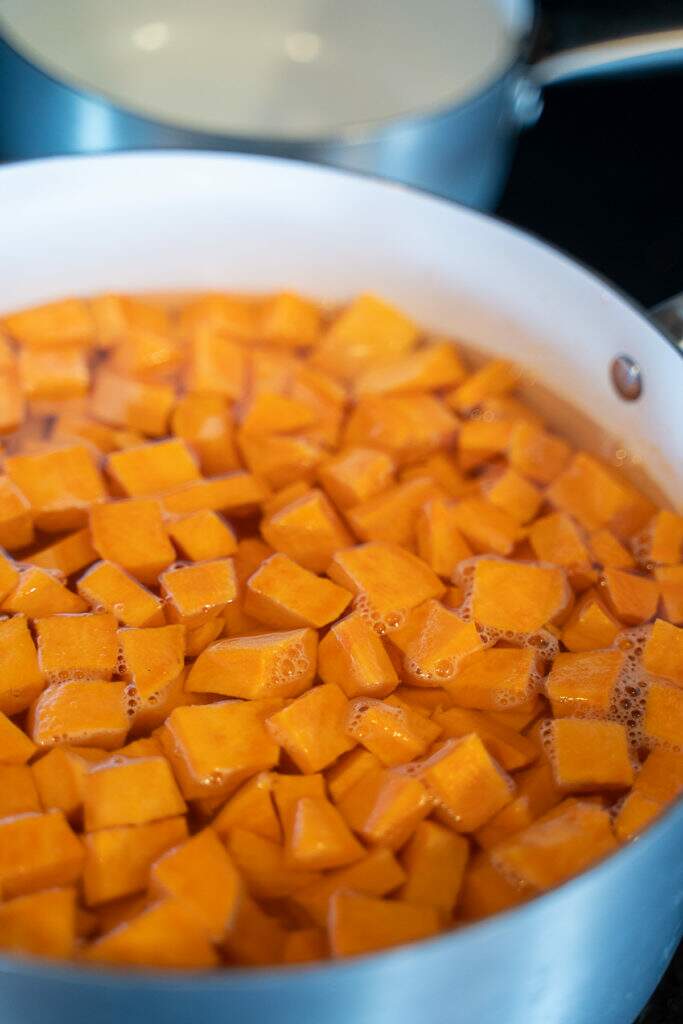 Blanching is the process of quickly cooking veggies and then plunging them in a bowl of ice water to halt the cooking process.
This is helpful because the cold water will ensure that your sweet potatoes don't overcook and become mushy.
How to make sweet potato home fries
Cut the sweet potatoes into the desired size using a very sharp knife. Many recipes out there would have you boil or steam the whole potato and then cut them. I don't love this approach for two reasons. Number one, it causes the outside of the potato to get too soft before the inside is cooked through. Number two it makes the whole proccess more time consuming because you have to wait until after the potato is cool to cut it into the desired shape.
Bring the diced sweet potatoes to a boil in a large pot of salted room temperature water. After the sweet potato cubes are boiling, turn the heat to low and continue to simmer until potatoes are just barely cooked through. In my case it took 4-5 minutes after they started boiling. You don't want to overcook the sweet potatoes, because freezing the potatoes will already soften their structure. If you overcook the potatoes to begin with you'll end up with mushy veggies.
Plunge in a large bowl of ice water (if desired). I often skip this step, but it will help to halt that cooking process and make sure you don't overcook the potatoes.
Spread the potatoes out on a baking sheet in a single layer lined with a silicon baking mat or parchment pater. Put in the freezer for about 4 hours to flash freeze them.
5. When the potatoes are frozen, store in a gallon freezer bag or another airtight container until you are ready to use them.
How to use freezer sweet potato home fries
There are many ways you can cook the sweet potato home fries after you freeze them. You could roast them, or sometimes I even batter them, fry them and toss them in sea salt. You could even try tossing them with chili powder, or your other favorite seasonings for extra flavor. To roast them coat with olive oil and spread them in an even layer on a cookie sheet. Bake at 400 degrees F for 12-18 minutes until golden brown. Turn halfway through baking for best results.
To fry, coat in about 1 tbsp of cornstarch after you remove them from the freezer. You can also add seasonings like garlic powder or any other seasoning you like. Heat a thin layer of canola oil in large skillet or frying pan on the stove top over medium high heat. Fry until lightly brown and tender in the middle, then drain on a paper towel.
After you cook the sweet potatoes, you can also mix them with sauteed onions, peppers, mushrooms you name it! It's so easy to make a tasty little breakfast skillet,
Sometimes I'll even top them with green onions or parsley.
Cooking them directly from the freezer only takes about 5 minutes on the stove-top. It's just enough time to fry a few eggs to go with it. There are so many easy recipes you can make with these sweet potatoes as a base. Enjoy a from-scratch hot breakfast in no time flat! This is one of my favorite ways to enjoy breakfast potatoes. A bonus is that you can store regular fries from white potatoes in the same way. It's the perfect side dish for breakfast!
I don't have an air fryer, but if you do you can try it. It might take even less time and it's a healthier alternative to deep frying.
If you're looking for a simple recipe to try them, try this recipe! (yum!) This is my favorite recipe for sweet potato home fries.
Little hacks like these freezer sweet potato home fries help me stay sane. It helps me keep my body nourished in the mornings (something that's so easy to neglect as a mom!)
What's your favorite way to to get healthy breakfasts with the added benefit of being fast and easy?
Let me know in the comments below! Check out the recipe card for the full instructions to make your very own freezer sweet potato home fries!
Freezer Sweet Potato Home Fries
Freezer sweet potato home fries make a wholesome hot breakfast totally do-able even if you have no time. Once they are stored in the freezer take out only what you need and have a hot and healthy breakfast on the table in no time flat!
Ingredients
2 Large Sweet Potatoes
1 Tbsp Salt
Olive or Canola oil (enough to lightly coat the number of potatoes you are cooking)
Salt tt
1 Tbsp cornstarch (optional)
Instructions
To Prep:
Peel sweet Potatoes and cut into bite sized cubes.
Add potatoes and salt to a large pot of room temperature water. Bring to a boil over medium high heat. Once the pot is boiling turn down the heat and simmer until the potatoes are just barely tender (4-5 minutes)
Remove from heat and strain potatoes. Plunge sweet potatoes into a large bowl of ice water to halt the cooking process. Strain again.
Lay sweet potatoes out evenly on a cookie sheet lined with parchment paper or a silicon baking mat. Freeze potatoes for 2-4 hours to keep them separate while frozen (instead of frozen in one giant lump).
Store in a labelled freezer bag for 2-3 months.

To Cook
Saute only as many as you need in olive or canola oil over medium-high heat for 4-5 minutes until lightly browned on all sides. Salt to taste. Taste great with your favorite sauteed veggies, avocados, and eggs prepared however you like them.

Nutrition Information:
Yield:

12
Serving Size:

1
Amount Per Serving:
Calories:

91
Total Fat:

5g
Saturated Fat:

2g
Trans Fat:

0g
Unsaturated Fat:

3g
Cholesterol:

11mg
Sodium:

772mg
Carbohydrates:

8g
Fiber:

1g
Sugar:

3g
Protein:

3g