Creamy Chicken and Wild Rice Soup (With Meal Prep Instructions)
Creamy Chicken and Wild Rice Soup
Guys, this creamy chicken and wild rice soup grace's my table at least once a week during the winter.
I literally can't get enough of it (especially with an entire package of soda crackers for dipping).
As always, I like to meal prep this meal to make it a 20-30 minute weeknight meal (cause what momma has any more time than that?)
How to make Creamy chicken and wild rice soup.
This soup is pretty basic, but it does have a fair number of steps involved, so if you don't use the meal prep tips it will easily take you close to an hour to pre-cook the chicken, pre-cook the rice, and chop all of those veggies.
The soup gets it's creamy deliciousness by making a roux and thickening up milk (and then adding a little splash of heavy cream at the end there for good measure!)
How to meal prep creamy chicken and wild rice soup.
What can be done ahead of time.
Pre-Cook the Chicken-This recipe is perfect for my slow cooker meal prepped chicken. For those of you who are new followers, I recommend always keeping your freezer stocked with homemade pre-cooked meats like shredded chicken, pork, beef, meatballs, you name it! This makes weeknight cooking a breeze and is perfect for this recipe.
Pre-Cook the Rice-This recipe uses a tasty, earthy, healthy wild rice blend, but because it's made with brown rice the rice alone takes about 45 minutes to cook! Which would pretty much take this recipe out of the running for this busy mama if it weren't for freezer cooking and meal prep. But never fear! Cook up an entire package whenever you have time (I tend to do tasks like this while we are eating breakfast or lunch and I'm already in the kitchen but can multitask other things) and freeze them in baggies. You'll get enough to make this soup 3 times with one package of Lundberg wild rice blend!
Pre-chop for veggies-This step is optional, but I love to pre-chop all of my veggies for the week in a weekly meal prep session to make cooking the fastest thing ever. Doing this cuts down on dishes, and means that I don't have to be glued to a recipe while cooking which makes everything so much smoother and faster!
How to store pre-made portions of this meal
I store pre-cooked chicken and pre-cooked rice in quart sized freezer bags divided into the correct proportion you will need for the recipe.
I store pre-chopped veggies in labelled tupperware in the refrigerator until ready to use. Chopped onions, celery, and carrots will last in the refrigerator for 4-5 days. Pre-chopped veggies can also be frozen (though I don't love the texture of frozen carrots and avoid freezing them).
Creamy Chicken and Wild Rice Soup
If you haven't tried this soup before, guaranteed it will be going on your favorite's list. Especially as you use these productivity tips and are able to make it in 20 minutes flat!
What's your favorite comforting winter soup recipe?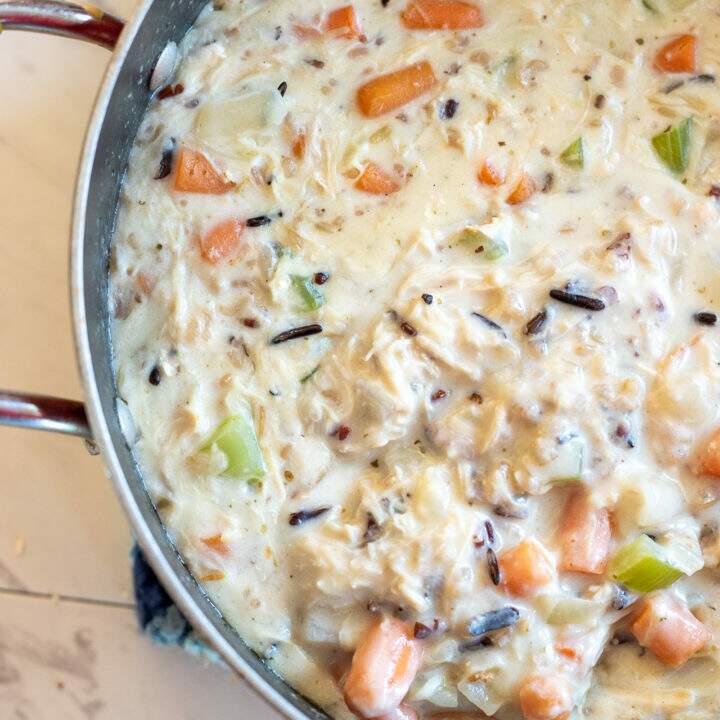 Meal Prep Creamy Chicken and Wild Rice Soup
This creamy chicken and wild rice soup is sure to become a weekly staple on your dinner table. Try pre-cooking and freezing the chicken and rice in advance to be able to make this meal come together really quickly for a weeknight dinner!
Ingredients
About 2 Cups cooked brown and wild rice blend (from 3/4 C dry) I like Lundberg
1 cup chopped yellow onion (from about 1 small onion)
1 cup diced carrots (from 2 medium)
1 cup diced celery (from 2 - 3 stalks)
7 Tbsp butter , diced, divided
1 clove garlic , minced
4 1/2 cups chicken broth (I use better than bouillon)
1/4 tsp of each dried thyme , marjoram, sage and rosemary
Salt and ground black pepper , to taste
2 Cups chicken cooked (I like shredded chicken for this recipe but you could use grilled or poached)
1/2 cup all-purpose flour
1 1/2 cups milk
1/2 cup heavy cream
Instructions
1. Prepare rice and cook chicken if you haven't done so in advance

2. Melt 1 Tbsp butter over medium heat in a large pot. Add onions, carrots, and celery and saute about 4 minutes. Add garlic and saute 30 seconds more.

3. Add chicken broth, thyme, marjoram, sage, rosemary, and season with salt and pepper to taste. Increase heat to medium-high and bring mixture to a boil.

4. Cover pot with lid and boil for 12-15 minutes.

5. While veggies are simmering, melt 6 tbsp of butter over medium heat in a separate medium saucepan. 6. Add flour and cook for 1 1/2 minutes, whisking constantly.

7. While whisking, pour milk into butter/flour mixture. Whisk to combine well and continue to cook until mixture is nice and thick.

8. Add rice, shredded chicken, and milk mixture to large veggie pot and cook 5 minutes more.

9. Stir in heavy cream. Taste and adjust seasonings.

10. Enjoy!
You might also like these recipes:
Chicken Tetrazinni from Plain Chicken
Costco Style Chicken Salad from 40 aprons