No Cook Homemade Pizza Sauce
Homemade pizza sauce is a necessity in our house.  We make pizza all the time.  I love trying every variation of pizza I come across.  Calzones, pizza rolls, stromboli, bagel pizzas, you name it.  I We love pizza.  I don't love commercial pizza sauces, I feel like they are often lacking flavor.  What I really don't love is remembering to buy commercial pizza sauce everytime I want to make pizza, which, as aforementioned, is a lot!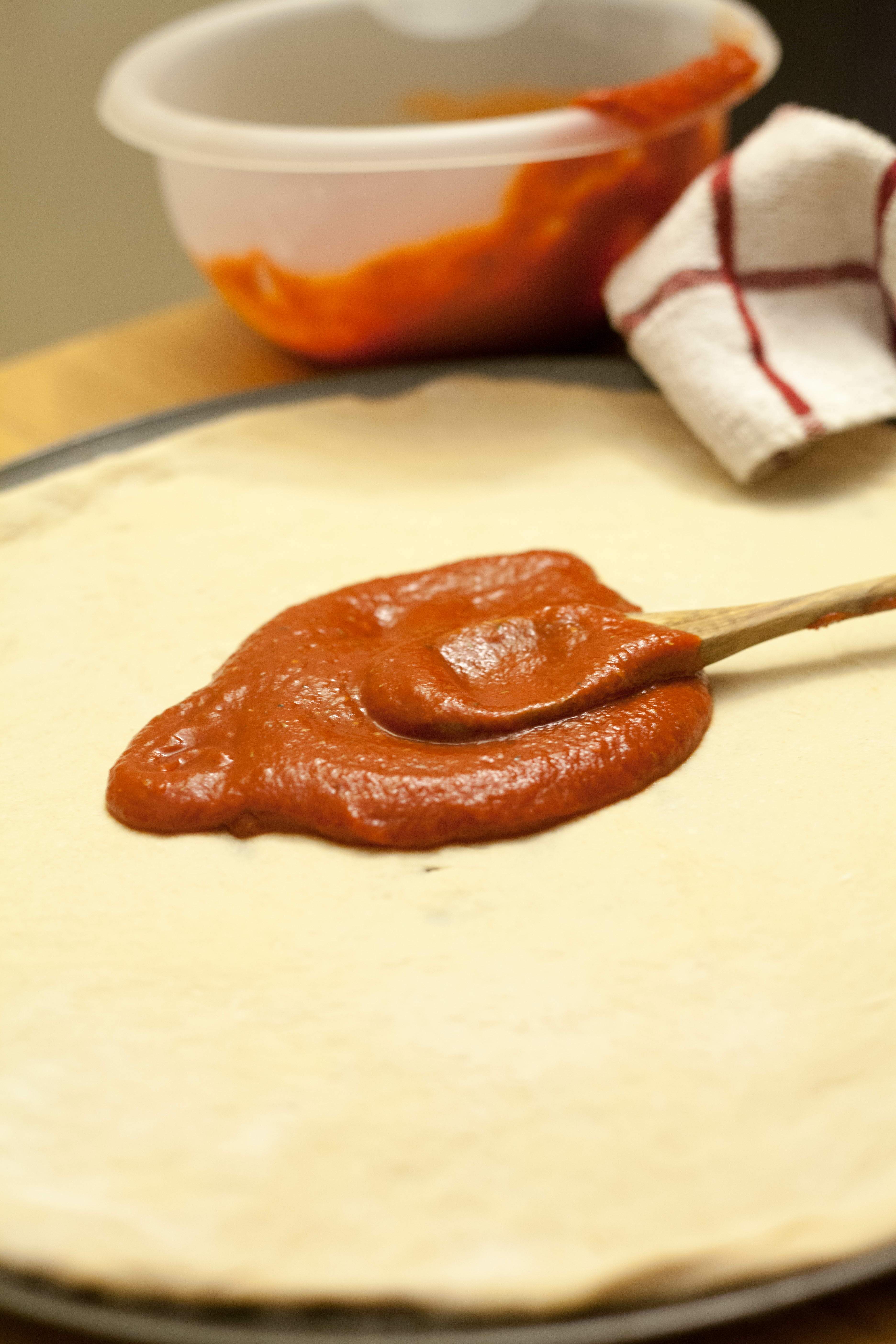 This homemade pizza sauce takes approximately ~2 minutes longer than opening the can of pizza sauce from the store, but it is SO much more delicious, and fully customizable to your tastes.  I have been using variations on this recipe for several years.  In fact, most of the time I don't even really use a recipe.  It's easy enough that you don't need to.  Throw some tomato sauce and paste in a bowl, and add some seasonings until it tastes good.  That's all there is to it. 
I have been known to fail a time or two by adding WAY too much of something (usually garlic, I have an obsession with garlic my friends) so I measured carefully as I was making this for the blog and I know this combination of herbs and spices works in these proportions.  But hey, don't be afraid to change it up according to your fancy. 
I can almost guarantee that you have everything that you need for this recipe in your cupboards already.  Don't you just love recipes like that!? You're welcome!!
Once you try this homemade pizza sauce you will never go back to buying it in the jar.  You'll love the convenience of using things that you already have, and the tastiness of something homemade! Speaking of homemade, here's an awesome wheat pizza dough recipe to go with this sauce. 
Alright, alright, have I convinced you yet!?
Here's the recipe!
No Cook Homemade Pizza Sauce
Quick and Easy pizza sauce recipe that is just as quick and easy as opening a can from the store, made with typical household pantry ingredients!
Ingredients
15.5 oz can diced tomatoes
6 oz can tomato paste
1 clove fresh garlic, minced
1/2 tsp onion powder
1/2 tsp dried basil
1 tsp oregano
1/2 tsp salt, or more to taste
1 tsp sugar
1/8 tsp cayenne pepper, or more to taste
Instructions
Mix all ingredients in a mixing bowl until smooth, use in any recipe that calls for pizza sauce.
Nutrition Information:
Yield:

6
Serving Size:

1
Amount Per Serving:
Calories:

41
Total Fat:

0g
Saturated Fat:

0g
Trans Fat:

0g
Unsaturated Fat:

0g
Cholesterol:

0mg
Sodium:

296mg
Carbohydrates:

9g
Fiber:

3g
Sugar:

6g
Protein:

2g