I still remember the first time I tasted this pear and apple salad. It was at a family party and my sister-in-law brought it. It was when I was a noob to homemade salad dressing, and candied almonds. This salad was a LITTLE different than the one I am featuring here as my husband's family makes this salad all the time, varying the fruit depending on the season so when I first tasted it, it was a strawberry salad. I took one bite and I was in heaven. Those little bits of candied almonds were like buried treasure, the dressing was sweet and tangy and to die for, and I honestly felt like I was eating a dessert it was THAT GOOD (so good that only an over-dramatized run-on sentence could accurately describe it…okay, okay, I'm done.) I kept eyeing the bowl in the kitchen to see if I could get seconds without being rude (it was pretty popular, I don't think I got my seconds!)
I found out that it was my mother-in-law's recipe and now we have it at many get-togethers and I still get excited every time! I think the first time I tasted it with apples and pears instead of strawberries I was at my husband's grandmother's house, and lo and behold, it was equally awesome. Score, it was out of this world delicious and could be enjoyed in all seasons! I got the recipe and it is now my go to salad recipe for get togethers and parties.
Of all the recipes I make, I would say I get more requests for this salad recipe than anything else. All the credit goes to my mother-in-law, but hey I figured why not share the goodness!?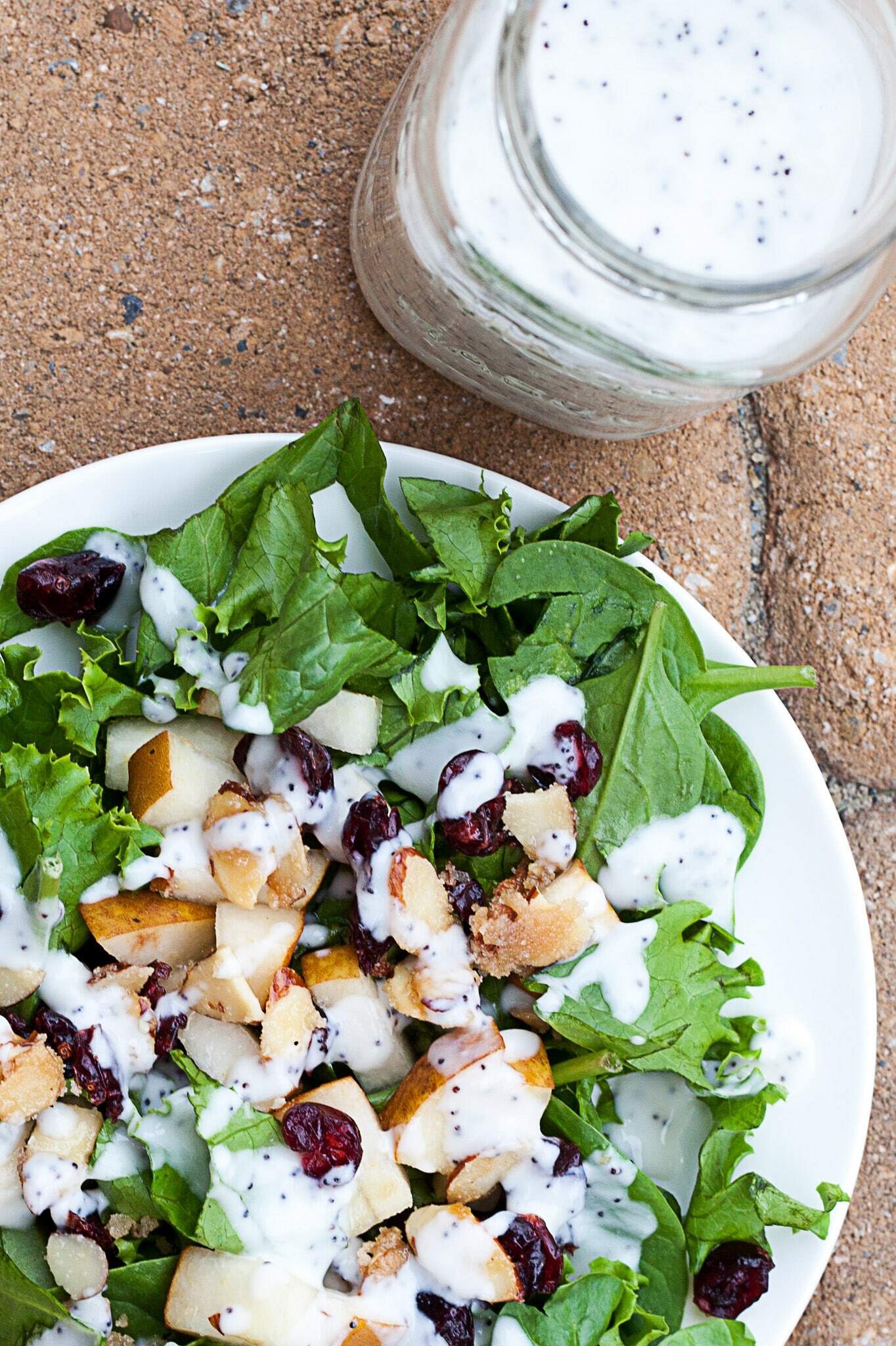 The homemade dressing calls for Mayo, but I use plain greek yogurt about half the time for a lower calorie option and it is so so good. If I use Mayo, I use low fat with Olive Oil and that also works just fine, I am sure any mayo will do. I also cut down on the sugar called for in the original recipe a little, and you could certainly cut it down more according to your tastes!
Hope you enjoy this amazing pear and apple salad! Do you have any amazing homemade salad dressings!? I'd love to hear about em!
Pear and Apple Salad with Poppyseed Dressing
This fall fruit salad is sweet, tangy, and a delicious addition to any of your autumn meals!
Ingredients
1 head romaine lettuce, chopped
6 C fresh spinach
1 medium apple, diced
1 pear, diced
1/2 C dried cranberries
For the Candied Almonds
1/2 C almonds
2 Tbsp butter
1/3 C sugar
For the Dressing
3/4 C Mayo, or plain greek yogurt
1/4 C Milk
2 Tbsp poppyseeds
2 Tbsp Red Wine, Pomegranate, or Raspberry vinegar
1/3 C sugar
Instructions
For the Salad
Toss romaine, spinach, apple, pear, and dried cranberries in a large salad bowl.
For the Almonds
Melt butter in a skillet over medium high heat. Add sugar and almonds. Toss to coat, continue to cook over medium high heat until sugar mixture is lightly browned. Remove from heat and let cool and harden. Once cool enough to handle, break into bite sized pieces and toss with other salad ingredients
For the Dressing
Whisk together mayo or yogurt, milk, poppyseeds, vinegar, and sugar until combined. You may toss the entire mixture with the salad, or serve on the side.
Notes
I have used strawberries and raspberries in this salad for a springtime salad!