Strawberry Rhubarb Crumble: Tart and Tangy Spring Dessert
Strawberry Rhubarb Crumble is the perfect marriage of tart rhubarb,sweet and tangy strawberries, and a rich and buttery whole grain topping. It's sure to become a springtime staple in your house.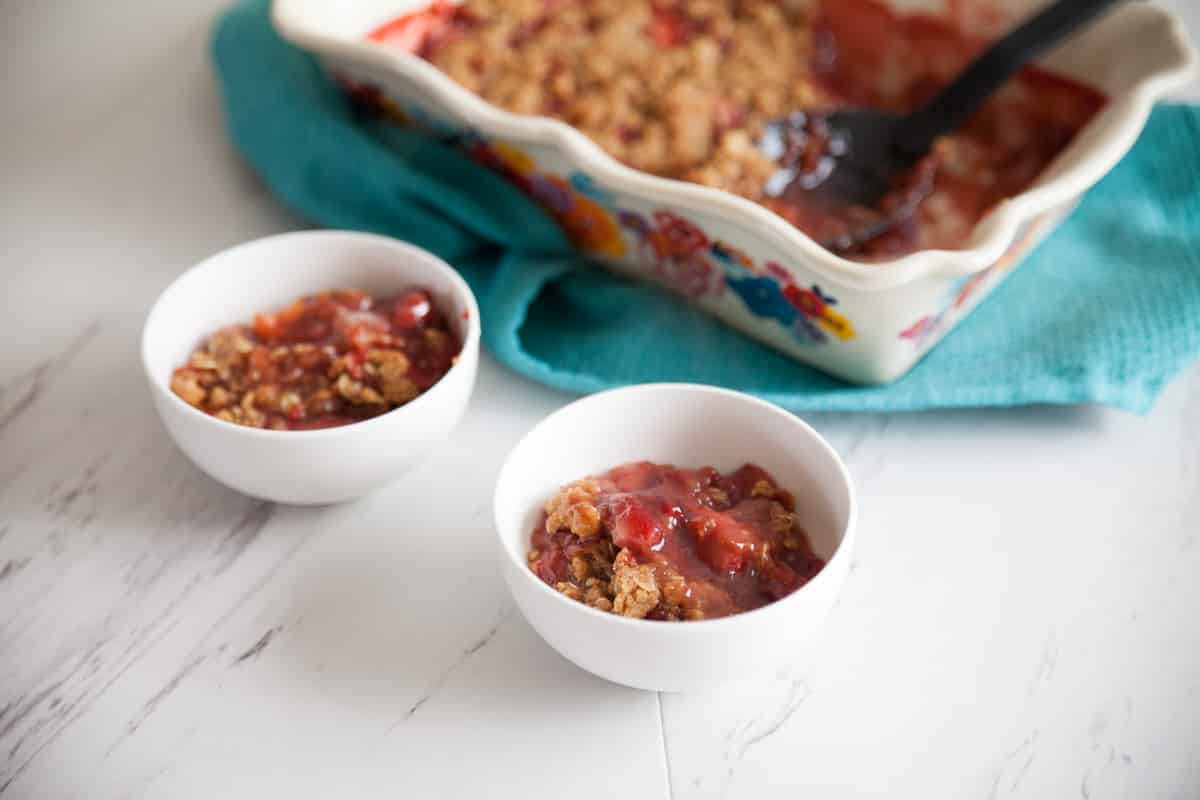 It probably doesn't matter that this strawberry rhubarb crumble is a smidge healthier than some if I've made it 6 times in the last 3 weeks, does it!?
Rhubarb is a strange and elusive little vegetable. It's only in season for a short time in the spring, and when I see those gorgeous red and green stalks show up, I take advantage. I mean really, take advantage. I may be single-handedly keeping the rhubarb business afloat here in central ohio. To the rhubarb farmers of Ohio, you're welcome.
Strawberry Rhubarb Crumble
While this crisp definitely rocks plenty of butter and sugar it's made a smidge healthier with the addition of whole wheat and oats to the crumb topping. In all honesty, I didn't really do this for the health benefits. I love the depth of flavor wheat flour adds to dishes like this. It blends so wonderfully with the cinnamon and tart rhubarb. It might help your conscience to know it's whole grain when you go back for serving number 3. Just Sayin'.
Strawberries and rhubarb are basically made for each other. They marry in this strawberry rhubarb crumble to a sweet, but tart, perfect flavor.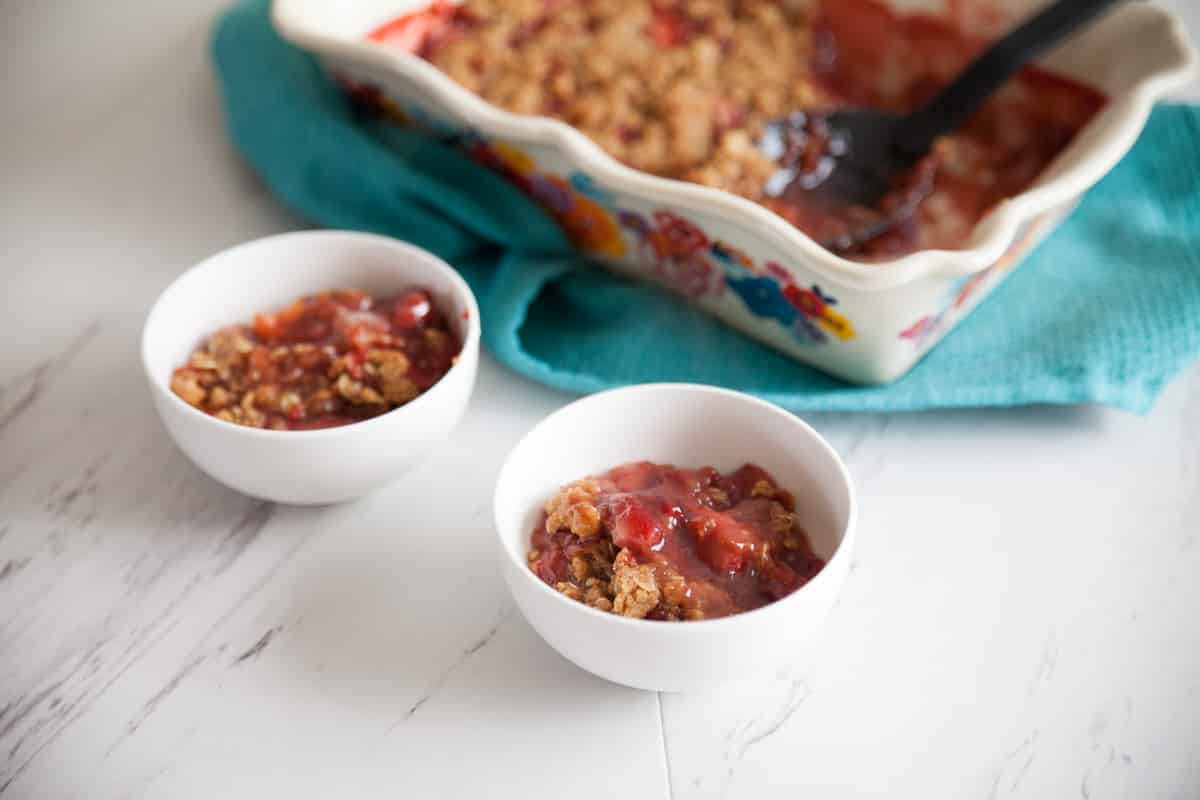 This post contains affiliate links, meaning that if you make a purchase from one of these links a small percentage comes back to me at no additional cost to you. Learn more by visiting my disclosure page.
This strawberry rhubarb crisp recipe is basic. All you need is your rhubarb, strawberries, a handful of kitchen staples, and a pretty casserole dish to bake it all in. That's it. The flavor though is anything but basic.
Shopping for Rhubarb:
Rhubarb isn't always the easiest vegetable to find. I tend to have better luck at grocery stores with large produce departments, and when it's in season I always find an abundance at local farmer's markets. Rhubarb season runs from about April (I found it at the end of March) to May or June so that's the time
to be looking. Rhubarb is also easy to grow, and while I have never planted it myself, I have had it in the gardens of a few apartments that I have lived in and it'salways growing bountifully even with no one maintaining it so it's definitely on my list to try.
Other Uses for Rhubarb:
Here are a few other things that I am hoping to do with rhubarb before it's short season is up.
Homemade Rhubarb Syrup from Tori Avey (I actually already tried this and paired it with my whole grain pancakes, and it was awesome!)
Rhubarb Sorbet from Simply Recipes
Rhubarb Bars (like lemon bars) from Broma Bakery
Coconut Rhubarb Cake from Foodista
My last tip for this strawberry rhubarb crumble is to serve it with ice cream. Always. If I get the opportunity to serve a dish a la mode, I take it.
Oh, and if you make this six times. Your secret's safe with me. Promise.
Lighter Strawberry Rhubarb Crumble
[fl_builder_insert_layout id="2161″]
[fl_builder_insert_layout id="2102″]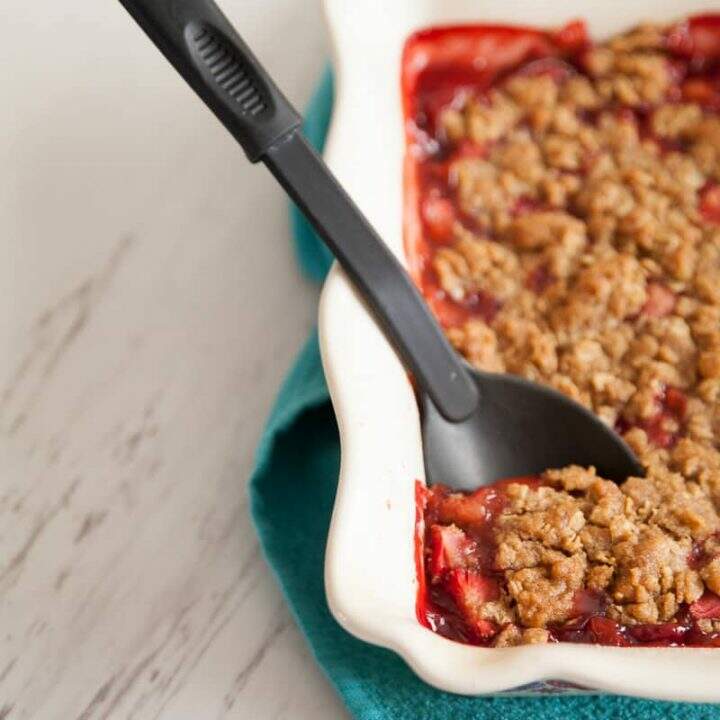 Whole Grain Strawberry Rhubarb Crumble
Strawberry Rhubarb Crumble is the perfect marriage of tart rhubarb, sweet and tangy strawberries, and a rich and buttery whole grain topping. It's sure to become a springtime staple in your house.
Ingredients
For the filling
1 pint strawberries, diced
3 long stalks rhubarb, diced
1/2 C White Sugar
1/4 C White Whole Wheat Flour
For the Crumble Topping
1/2 C Oats
1/2 C White Whole Wheat Flour
1/2 C Brown Sugar
1/2 C Butter, cold and diced
2 tsp Cinnamon
1/4 tsp salt
Instructions
Preheat oven to 375 F
Grease a 9x13 casserole dish. Mix strawberries, rhubarb, sugar, and flour in a medium bowl until well mixed. Add to casserole dish.
Mix Oats, flour, brown sugar, cinnamon, and salt in a medium bowl. Add butter and incorporate with your fingers until well mixed. Sprinkle over fruit mixture.
Bake at 375 degrees F until topping is lightly browned and the fruit is bubbly, approximately 40-45 minutes.
Notes
I have added coconut to the topping for a fun twist, try if you want to add some tropical flair!