Shredded Chicken Taco Salad with Salsa Ranch Dressing
This shredded chicken taco salad is loaded with veggies, crunchy tortilla trips, perfectly seasoned, juicy shredded chicken made from scratch, and tied together with a zesty salsa ranch dressing. It's easy to throw together and a perfect healthy-ish weeknight meal.
I was the. pickest. eater. ever. as a child. My poor mother. I basically grew up on Wendy's chicken nuggets and Little Caesar's pizza, and it really wasn't her fault. Mom's always been big on eating every meal, and at some point (especially given my tiny gangly frame) I think she conceded health for calories and fed me whatever she could get me to eat (sorry mom).
Among the foods I LOATHED the most was salad. While I would never touch it at home, I remember being at my fair share of dinner parties or events where I was polite enough to at least make an attempt at eating everything on my plate. I truly could not understand why humans were eating rabbit food, and pretending to enjoy it. I just. didn't. get. it. Lettuce? Spinach? They are leaves, and they taste like leaves. Amiright?
Things changed when I got to college. I remember being on a date with a super nice guy who was sweet enough to make me dinner. Of course, salad was included, and it was the first date. Awesome. I knew I had to grin and bear it, and even pretend to like it if I wanted things with this guy to continue, and he really was sweet. To my horror things got even worse. They didn't have ranch dressing. The only thing that had gotten me through eating rabbit food the few times I'd had to in my life was copious amounts of hidden valley ranch dressing.
I cautiously drizzled the zesty italian salad dressing over my bed of greens and tentatively took a bite. To my surprise, I LOVED the dressing, and I began to see what salad was all about AKA eating leaves because it's uncivilized to drink delicious dressings. Turns out that hidden valley ranch wasn't my jam, but salads were.
Now, salads are like my ultimate favorite food. I love the variety and all the different ways you can put ingredients together, and then tie it all together with a super tasty dressing.
Shredded Chicken Taco Salad with Salsa Ranch
This shredded chicken taco salad is everything I love about salad. Meaning there is as much "other stuff" as there is lettuce. The dressing is super tasty. Made with ranch (might I suggest using a homemade ranch for this recipe!? If you're interested in trying out my trusty homemade ranch packet to make your own dressing sign up for email updates HERE and I will send you my trusty cooking from scratch mini-ebook where it's included). To amp up the traditional ranch flavor, I mix some salsa in with the ranch. It's a super easy tip that will take your dressing to the next level. I recently made and canned some of this salsa which turned out pretty great, but any salsa will do.
This post contains affiliate links, meaning that if you make a purchase from one of these links a small percentage comes back to me at no additional cost to you. Learn more by visiting my disclosure page.
The next part of this recipe that's pretty out of this world is the chicken. The flavor of this chicken is incredible, and it's so juicy, that it almost acts like a dressing in and of itself. My secret to getting this meal on the table quick and to juicy shredded chicken is to throw the chicken in the slow cooker in the morning. In fact, I like to use the slow-cooker to cook chicken for a LOT of my recipes, so for a time-saving tip, I will often cook the meat for all of my recipes at the beginning of the week and store it in the refrigerator until I am ready to use it. Another option is to use a stovetop or an electric pressure cooker. Instant pots are all the rage these days, and though I haven't invested in one myself yet, I have heard they are a real time saver and would be perfect for batch cooking chicken quickly.
Anyway, after your chicken is cooked, all you need to do is simmer it with the seasonings quickly on the stove and you're good to go. Chop some veggies, throw in some crunchy tortilla strips, and toss it all in the incredible zesty salsa ranch dressing, and you have yourself an amazing shredded chicken taco salad that you will leave you wanting more. Seriously, I ate this for days and was so sad when it was all gone.
So if you are still stuck in your salad hating days, I encourage you to give this zesty shredded chicken taco salad a try. You might just find out that with enough flair, rabbit food isn't so bad.
[fl_builder_insert_layout id="2161″]
[fl_builder_insert_layout id="2102″]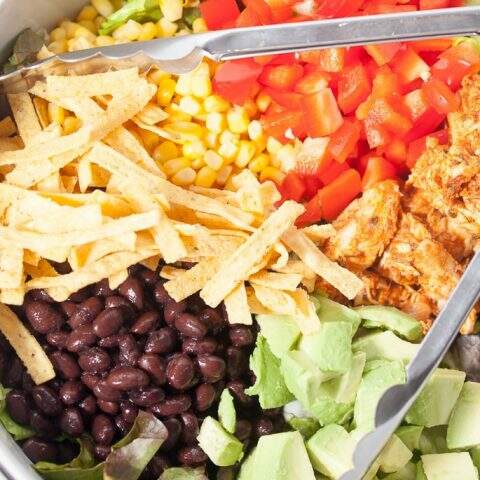 Shredded Chicken Taco Salad
Shredded Chicken Taco Salad with perfectly seasoned chicken, crunchy tortilla strips, tied all together with a tasty salsa ranch.
Ingredients
Shredded Chicken Taco Meat
2 chicken breasts
1 8 oz can tomato sauce
1/2 C water, +more if needed/desired
1 tbsp chili powder
1 tsp cumin
1 tsp sugar
1 tsp salt
1/2 tsp onion powder
1/2 tsp garlic powder
1/2 tsp paprika
1/2 tsp chicken bouillon, I like better than bouillon
1/4 tsp cayenne pepper
For the Dressing
1 C Ranch Dressing, (preferably homemade)
1/2 C Salsa, (preferably homemade)
For the Salad
1 head romaine lettuce, chopped
1 15.5 oz can black beans
2 C frozen corn, thawed
1 red bell pepper, diced
1 C tortilla strips
1 avocado, diced
1 C shredded cheddar cheese (optional)
Instructions
For the Chicken
Season Chicken with salt and pepper. Cook in water in a slow cooker or pressure cooker until it can be easily shredded (about 4 hours on high in the cooker, or 10 minutes on high in a pressure cooker). Shred
Add cooked shredded chicken and all other ingredients to a large skillet over medium high heat. Heat until it comes to a boil, then turn down the heat and let it simmer for 5 minutes. You may want to add more water than called for the achieve your desired consistency.
For the Dressing
Whisk together 1 Cup of your favorite ranch dressing (homemade is best) with 1/2 C of salsa. You may choose to either toss this with the salad, or serve it on the side.
For the salad.
Toss all ingredients together. Top with chicken and salsa ranch dressing.