Convenient Breakfast Foods for Lazy People
So let's get real for a minute and talk about breakfast.  Guys, I hate breakfast.  I have no desire to do anything in the morning aside from curl back under the covers and go back to sleep.  Cooking is the last. thing. on. my. mind. I have had a long-standing relationship with grape nuts for breakfast, which I suppose isn't the worst choice (fiber, protein, filling) but seriously so boring, and it isn't doing much for my fruit and vegetable game.
Convenient Breakfast Foods for Lazy People
Anyway, I recently decided that I need to up my breakfast game.  I am constantly preaching that breakfast is the most important meal of the day, and I truly believe that if you kickstart your day with a nutritious, filling breakfast that it is so much easier to curb cravings and eat a more balanced variety of food throughout the day.  So long story short, I am beginning to feel like a bit of a hypocrite because I don't practice what I preach so I have begun to look for practical ways to eat a more balanced breakfast.
Knowing that I am NOT morning person, I decided to round-up breakfast recipes that are either freezable, make-ahead, or grab-n-go.  I am all about realistic nutrition people.  If you're the type of person who wakes up and makes a hot breakfast for your children every day then this post might not be for you. (Are there people out there like that anyway? Holler if you are so I can shower you with praise.)  These recipes ARE for those of you who want to do something more than cheerios and OJ for breakfast but don't have the motivation at 6:00 in the AM, I am so with you.
I got downright giddy about shagring these convenient breakfast foods for you.  I was so excited as I visited the pages of some talented and creative bloggers and realized that changing my long-time breakfast habits is not only totally possible, it can be totally delicious, and totally convenient.  I hope these recipes get you excited as well!
Egg Recipes
Eggs freeze incredibly well and are a great make-ahead convenient breakfast food.  These recipes can all can be frozen and popped in the microwave for a thirty second breakfast that is full of protein and veggies, and they are filling so you won't be dying for more after only an hour!
Egg Wraps from The Lean Green Bean
Veggie Lover's Crustless Quiche from Emily Kyle Nutrition
Spinach Ricotta Quiche Muffins from Love and Zest
Smoothies
Smoothies are such a great way to pack a nutritional punch.  They are versatile and a great way to get a ton of fruit and veggies, as well as other add ins like oats, flax seed, you name it.  These recipes take some of the prep work away from the morning making it more realistic to enjoy a smoothie on your way out the door.
Freezer Smoothie Packs from Super Healthy Kids
Make Ahead Breakfast Energy Smoothie from Thrifty DIY Diva
Baked Goods
Just like Eggs, baked goods freeze well and are a perfect grab and go breakfast.  Back before my breakfast slump I often made healthy muffins, breakfast cookies, or granola bars to keep in the freezer to grab quick in the morning.  They thaw quickly and were usually perfect to eat without even popping in the microwave after about an hour.  These recipes are some tasty and wholesome baked goods you can easily add to your repertoire for some tasty variety.
Ricotta Berry Oatmeal Cups from Nutritiolicious
Baked Butternut Squash French Toast from Amy Gorin Nutrition
Whole Wheat Meyer Lemon Ricotta Muffins from Kara Lydon, The Foodie Dietitian
Ultimate Superfood Breakfast Bars from Hungry Hobby
Breakfast Sandwiches/Burritos
Breakfast sandwiches are a great way to get a variety of food groups in your breakfast, which can be difficult to do with breakfast foods, especially with veggies.  These grab-n-go recipes are a great example of well-rounded, quick breakfast foods
Gyros Breakfast Burritos from Live Best
Freezer Breakfast Sandwiches from Must Have Mom
Breakfast Enchiladas from Kenarry
Oats/Bowls
Overnight oats and breakfast bowls are seriously trendy right now, and for good reason.  It doesn't get much easier than mixing a few ingredients into a bowl for a nutrient packed grab-n-go breakfast. They are also incredibly versatile and customizable to your tastes  These recipes are a seriously great solution for a fiber-filled breakfast that you can prepare entirely the night before.
Cinnamon Apple Overnight Oats from Be Truly Nourished
4 Grain Breakfast Pudding from Call Me Betty
Sausage and Cheese Quinoa Breakfast Bowls from Organize Yourself Skinny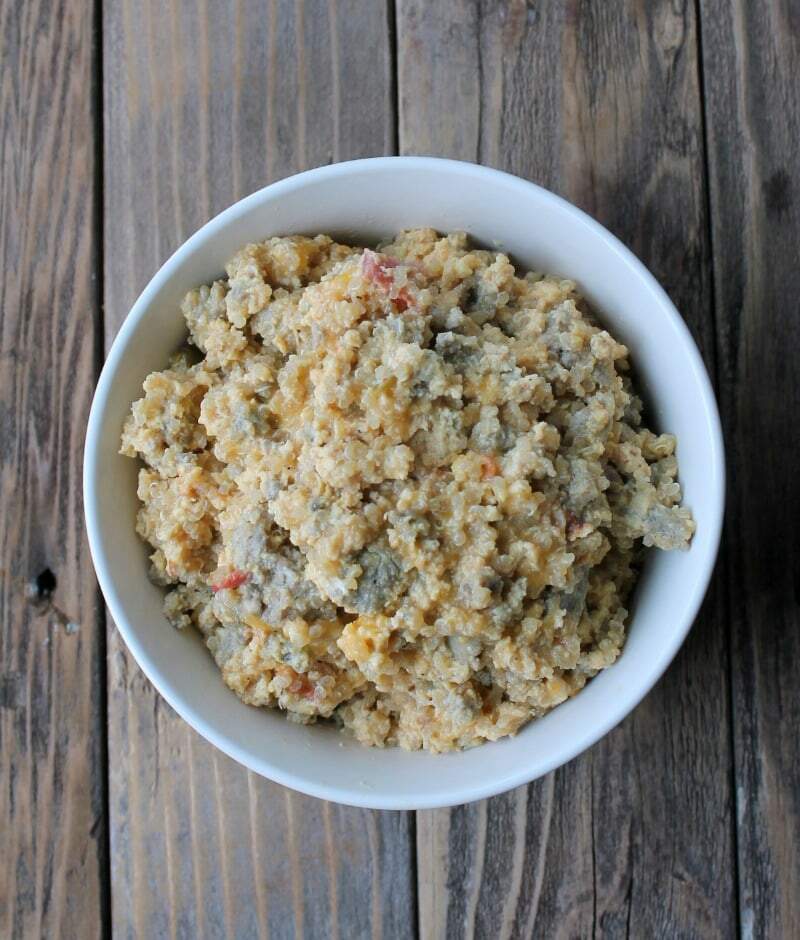 Chocolate Chia Overnight Oats from Mama Likes to Cook
I hope you found some inspiration from this round-up.  Do you have any "hacks" for fast and easy, convenient breakfast foods at your house? I would love to hear about them.
If you liked these, be sure to check out my DIY Whole Grain Pancake mix for another morning time-saver.  Just add liquids and cook.  Leftover pancakes freeze great for an even faster breakfast, just pop in the microwave for 20 seconds, then toast for a nice crisp outside.
Stay tuned for next week as we will be keeping the breakfast talk going with one more  (awesome) breakfast time-saver.  Be sure to subscribe, or like/follow on facebook, twitter or instagram so you don't miss it!
Thanks for reading, and remember, if you liked this be sure to share it with all your "lazy" friends!
Amanda