Cheesy Potato Casserole with No Cream Soup
Cheesy Potato Casserole, affectionately called "funeral potatoes" is comfort food to the max. This rich, cheesy dish pairs wonderfully with Ham and is the perfect addition to your Holiday Table.
Nicknames can be a funny thing. Sometimes they are loving and endearing, like when my sister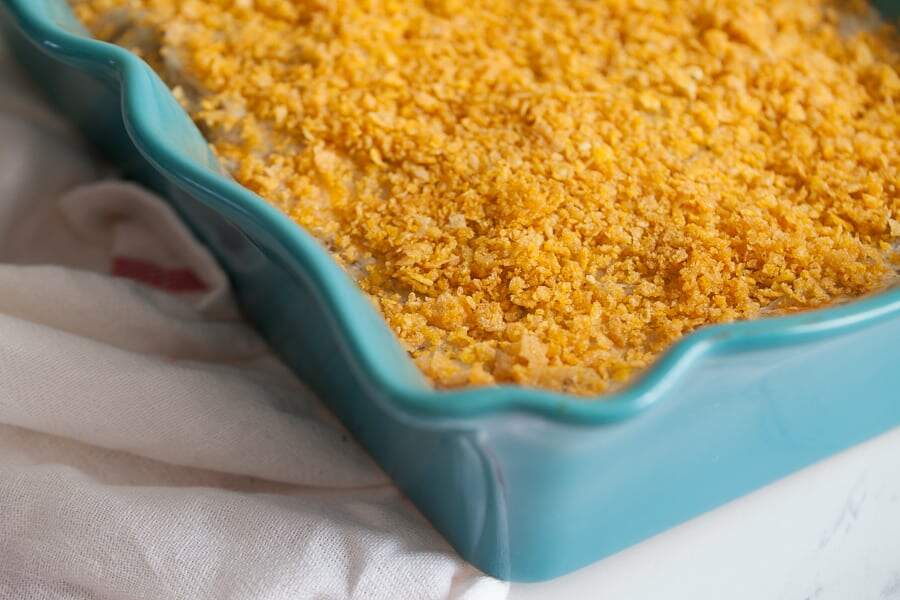 calls me "panda." Other times they are flattering, like when I learned to cook and my family started calling me Betty Crocker (how my blog got it's name).
Other times nicknames are straight. up. cruel. Like calling the fat kid Tiny.
Today, I want to address what I consider a cruel nickname.
Funeral Potatoes.
Are any of you familiar with this decadent and comforting staple. You may also know it by what I consider to be it's REAL name. Cheesy Potato Casserole.
If you are from out west, or as I like to call it (speaking of nicknames) the Land of Absurdly Large families, you are sure to be familiar with this dish. Typically made with frozen hashbrowns, butter, canned cream soup, a hefty amount of sour cream and cheese, and a nice toasty crunchy topping, this dish is comfort food to the max.
The nickname funeral potatoes was pretty naturally derived, as it is commonly served at, you guessed it, funerals. It's no surprise, really. This dish is easy, makes enough to serve a small army, and, as aforementioned, is big-time comfort food, something people are generally looking for at a funeral. In fact, where I'm from, this dish is so common at funerals, that my dear husband used to look forward to funerals, and to plopping some of each contributor's version onto his plate and choose which one he deemed to be the best.
Morbid, I know.
So my gripe with the nickname for this dish, is that it pigeon holes it's amazingness as something that is only appropriately served at funerals. I personally, happen to love this dish, and would like to enjoy it whenever I darn'd well please, so in our house. It's cheesy potato casserole, mmkay?
Cheesy Potato Casserole From Scratch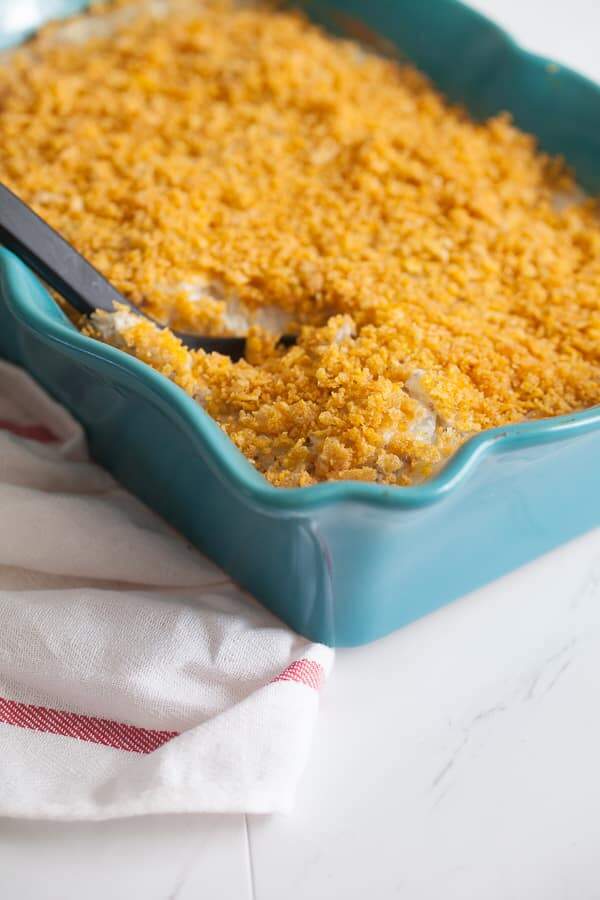 Try googling funeral potatoes (or cheesy potato casserole) and about eight bajillion different versions will come up, give or take. Most of them are some variation of the same theme, but I hope that this one stands out just a smidge. Not enough to change it from the dish you know and love, just enough to show you that you can actually make this dish without cream soup, and without frozen hashbrowns.
The result, if I do say so myself, is spectacular.
It has the same rich and comforting flavor, only amplified by using real, fresh ingredients.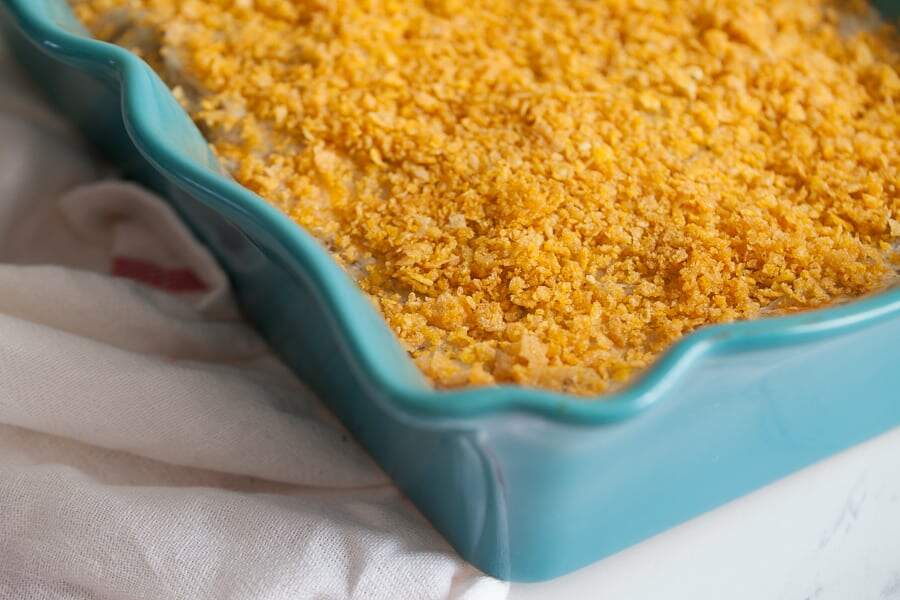 This post contains affiliate links, meaning that if you make a purchase from one of these links a small percentage comes back to me at no additional cost to you. Learn more by visiting my disclosure page.
You'll need a few things to accomplish this on your own:
Items Needed:
Box Grater (or Food Processor with shredder attachment, if you've never used that attachment, see how here.)
Food Processor (or Chef's Knife and some killer knife skills)
Organic Better than Bouillon (Or homemade chicken broth, BUT even i'm not that committed yet. I use chicken broth like a thousand times/week and ain't nobody got time for that.)
Saucepan or Skillet
Casserole Dish
Making Cream soup from scratch is actually super simple. It took me a long time to develop a fool-proof recipe that I love, but it turned out to be the most simple solution of all the ones I've tried. You basically just make a gravy, and flavor it however you'd like. I typically do mushroom or chicken flavored tosub for cream of chicken or mushroom soup. Simply brown butter and flour, add liquid, stir til thick. Done. No reason to buy cans of gloop ever.
The rest of the dish is pretty straightforward and like the original, although I do make my own hashbrowns as well.
So what do you say? Want to give poor funeral potatoes a break from the name calling, and simply call them Cheesy Potato Casserole like me?
Hope so, but if not I guess we can still be friends. Here's the recipe.
[fl_builder_insert_layout id="2161″]
[fl_builder_insert_layout id="2102″]
Cheesy Potato Casserole with no Cream Soup!
This casserole is an upgrade from the original boasting a delicious homemade cream soup sauce and fresh shredded potatoes in place of hashbrowns.
Ingredients
Homemade Cream Soup
1 Tbsp Olive Oil
4 oz White Mushrooms
1/4 C Butter
1/4 C Flour
1 C Water
1 1/2 C Milk
2 1/2 tsp Chicken Better than Bouillon*, or chicken bouillon granules
1 tsp Salt, or to taste
1/4 tsp Pepper, or to taste
Funeral Potatoes
8 medium baking potatoes, scrubbed clean
1 recipe Homemade Cream Soup, see above
1 1/2 C Sour Cream
2 C (8 oz) sharp cheddar cheese, shredded
2 C Corn Flakes, crushed
2 Tbsp butter, melted
Instructions
For the homemade cream soup
Puree mushrooms in a food processor, or mince finely with a chef's knife.
In a liquid measuring cup mix water, milk, and bouillon. Set aside.
Melt butter in a large skillet over medium heat. Add mushrooms and cook for 1-2 minutes. Add flour and cook for an additional minute. Quickly whisk in milk mixture. Stir constantly and continue to cook until mixture is thick (3-4 min). Remove from heat and use in desired recipe.
Add Salt and Pepper tt (if needed)**
For the Casserole
Preheat oven to 350 degrees.
Boil potatoes with skin on for 25 minutes with a lid on. You want to be able to pierce them with a fork, but you still want them to have their shape. Let cool. Once cool, grate directly into a greased large casserole dish.
In a large bowl mix cream soup, sour cream, and cheddar cheese. Pour over potatoes in casserole dish and mix gently.
Mix melted butter with crushed corn flakes and sprinkle over the top of the potatoes.
Bake uncovered for 30 minutes until cornflakes are crispy and mixture is bubbling at the sides.
Notes
*Better than Bouillon is my favorite way to get concentrated chicken flavor. It is a pasty consistency and can be found right next to chicken bouillon cubes and granules. The organic version is less salty and I prefer it slightly, but both options are good. It has great concentrated flavor which is perfect when making knock off cream soups!