Non-Alcoholic Piña Colada (with homemade coco lópez)
This classic non-alcoholic piña colada is so tropical and refreshing. It's made using a simple substitute for coco lopez and pineapple juice, and will have you feeling like you are basking in the sunlight at your beach of choice any time of year.
[wprm-recipe-jump] [wprm-recipe-print]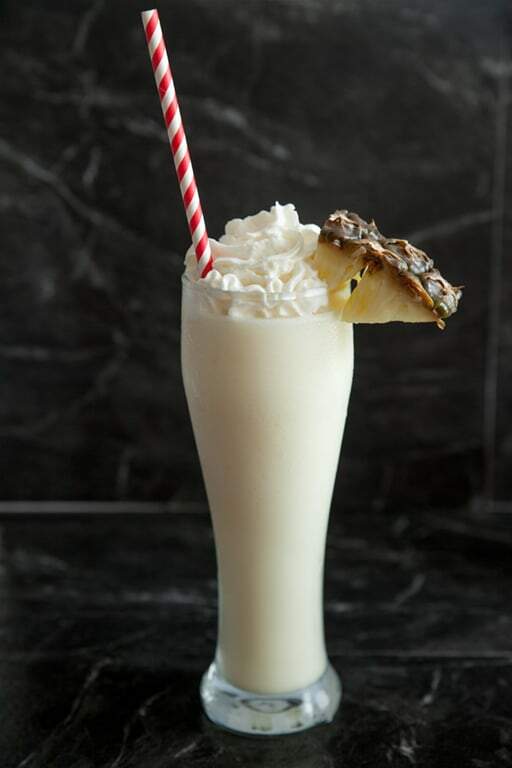 Normally when I write a blog post I try to be all sort of coy and creative and funny, all while educating you lovely readers on the how and why of cooking from scratch. With a lighthearted recipe like a non-alcoholic pina colada, you'd think I would be doing just thought, but this post will be a bit more somber.
Just over 2 weeks ago, Hurricane Maria slammed into a place that I like to think of as my home away from home. Though I am half Puerto-Rican, I was born and raised in the United States. However, some of my fondest childhood memories were formed on the beautiful "Isla del Encanto."
My heart breaks for the people who have lost everything, and for the island that has lost it's beauty and charm due to uplifted trees, destroyed homes, and debris. I wish I could drop everything and hop on a plane to start rebuilding homes, cleaning up streets, and help make the island better than it has ever been. Unfortunately, due to circumstances and a pretty shallow pocket book, I can't make that happen.
So instead of sending myself, I thought I would share my words and memories of what Puerto Rico, it's people, and it's food means to me. The next few posts on the blog will be a tribute to the food of Puerto Rico (be excited, these folks can cook!) I will also be highlighting different organizations to donate to or different ways to help. There is a saying that "many hands make light work." I'm changing it to many wallets make rebuilding possible (It's a work in progress, a'ight?). I can't donate a lot, but I am donating what I can and doing my best to share awareness to get Puerto Ricans the help they need.
How to help victims of Hurricane Maria
First up is the Hispanic Federation. This non-profit company has started a relief fund entitled Unidos specifically to help the victims of Hurricane Maria in Puerto Rico and the Dominican Republic. To donate go to the Hispanic Federation Website and click hurricane relief in the drop-down. There are also options to text in a donation, or donate in person. If you donate to this fund 100% of the proceeds will go to victims of the hurricane.
Non-alcoholic Piña Colada (with homemade coco lopez)
Normally, this is where I would dive into the nitty gritty details of making a no-fail non-alcoholic piña colada. Don't worry, we'll get there. The great thing about Puerto Rican food is that it's simple. Delicious, but simple. You certainly won't need a full 500 word post to make any of the recipes in this series work. Instead I'm going to talk a bit about the Piña Colada's puerto rican origins and my memories and experience with the tasty drink.
History of the Piña Colada
Piña Coladas are pretty rampant throughout pop culture, and nowadays it's pretty easy to get one on basically any cruise ship, many restauraunts, and there's always a pina colada mix in your grocery stores mixed drink section, but did you know the drink was actually invented in Puerto Rico?
True Story. It was first served at the Caribe Hilton in San Juan shortly after coco lopez (a mix of coconut cream and sugar) was invented. Later it was named the island's national cocktail in 1978.
While Pina Coladas are a dime-a-dozen today, the best pina coladas I have ever had have come from my many trips to puerto rico (although my dad's take a close second, mine are coming in at 3rd, but don't let that deter you, I promise they are more rockin' than any you've had here!)
One of my favorite memories of visiting Puerto Rico is making a goal to eat a pina colada every single day we were there, and to find the "best pina colada on the island." My dad and I ate them everywhere from the corner frappe stand around the corner, to fancy restaurants. I'll have to hand the best to a little restaurant in my mom's hometown (they were GIANT!) But honestly, none of them disappointed.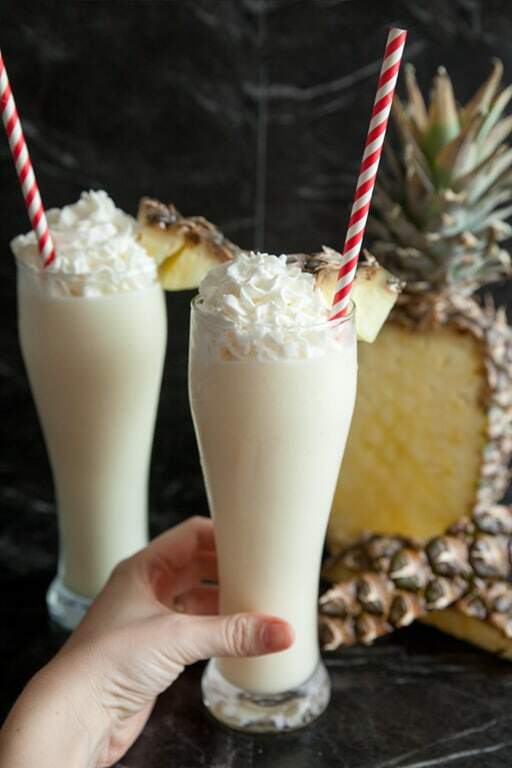 How to make a piña colada without alcohol.
The first piña colada was made with pineapple juice, ice, coco lopez, and rum. Since we don't drink alcohol around here we simply nix the rum for a super tasty and refreshing tropical drink. Sometimes I will add a smidge more pineapple juice, or even a splash of heavy cream to make up for the lost liquid from the rum. If you like the flavor of rum, but don't want the alcohol you could also experiment with adding a bit of rum flavored extract. I have never tasted a piña colada WITH alcohol, but I will say that I don't think you'll miss it (at least not from a taste perspective ;))
How to make homemade coco lopez for non-alcoholic piña coladas
While the piña coladas of my childhood were made with the traditional coco lopez, lately i've been experimenting with a homemade version, and it's basically just as awesome, not to mention much cheaper and easier to find.
Coco Lopez is typically made from coconut cream and sugar. For an easy DIY version I simmer coconut milk and sugar to form a thick syrup. This would also work (and be a bit more authentic) with coconut cream, but I have never been able to find coconut cream in my regular grocery store. As much as I want this recipe to be authentic, I also want it to be easy and accessible, and it still tastes great with coconut milk.
Recap: Donate the money you would have spent on your cocktail at dinner tonight to the hispanic federation, then whip up this non-alcoholic piña colada for yourself instead and feel great about yourself.
If you're looking for another tropical tasting drink recipe, be sure to try this mango kiwi limeade.
Non-alcoholic Piña Colada (with homemade coco lopez)
This homemade piña colada is light, refreshing, and made with real ingredients. It features an easy homemade coco lopez and will have you feeling like you are on the beach somewhere without a care in the world!
Ingredients
For the homemade coco lopez
1 15.5 oz can coconut milk, full fat
2/3 C granulated sugar
For the Piña Colada
4 C Ice
8 oz Pineapple Juice
6 oz Homemade Coco lopez
splash heavy whipping cream, optional
Instructions
For the homemade coco lopez
Simmer coconut milk and sugar together until sugar has completely dissolved and mixture has thickened slightly (~5 minutes). Remove from heat, cool, and store in refrigerator until ready to use.
For the Piña Colada
Blend all ingredients in a blender until smooth. Pour into 4 8-oz glasses, garnish with a pineapple wedge and/or a maraschino cherry and whipped cream.
Notes
Calories calculated using My Fitness Pal
Nutrition Information:
Yield:

4
Amount Per Serving:
Calories:

340