Creamy Chicken Noodle Soup
So we eat a LOT of soup around here. Soup is one of my favorite winter foods, it's so easy to make, lasts for a week in the fridge, and around here is usually healthy and veggie loaded.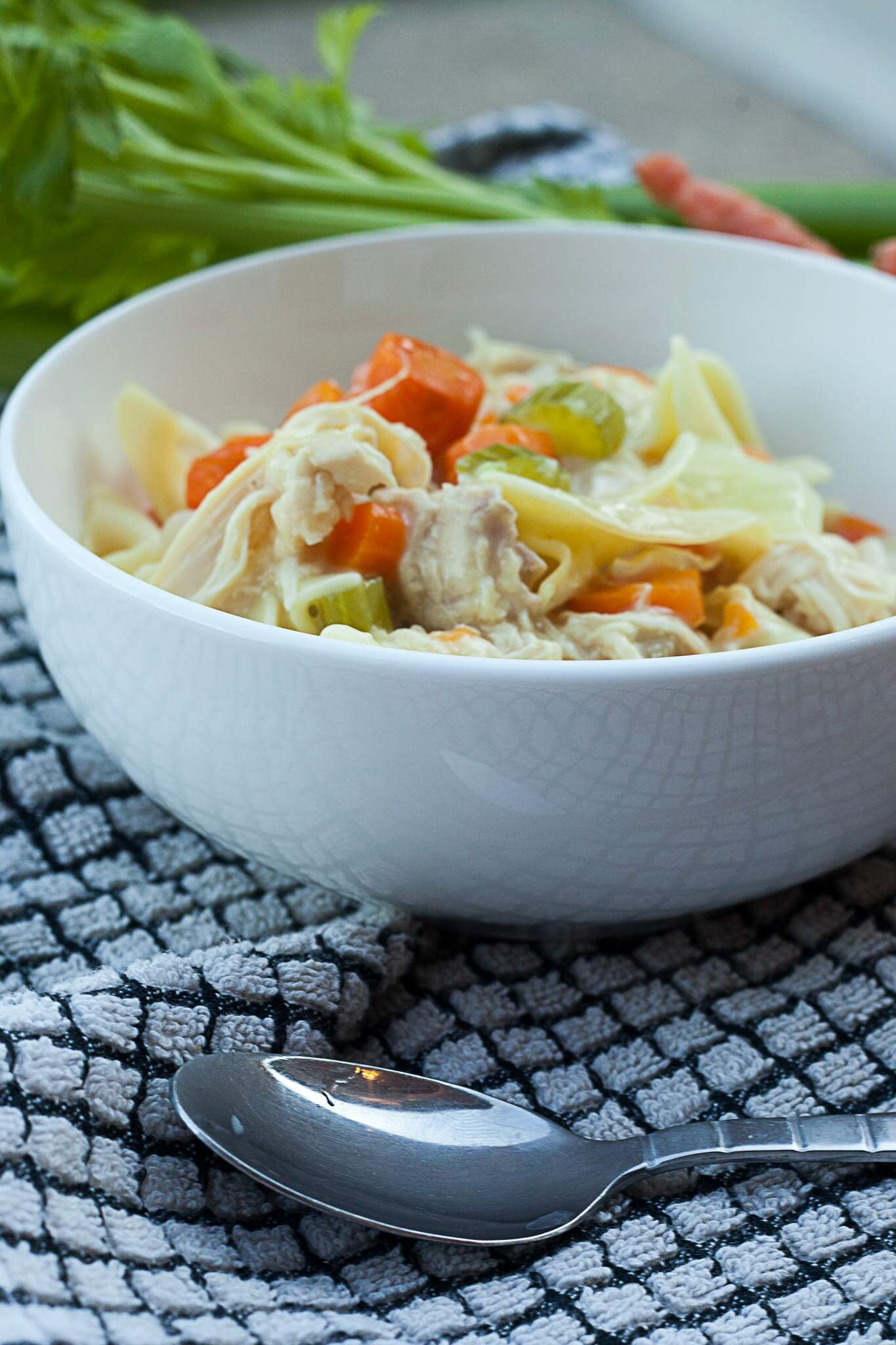 This creamy chicken noodle soup is an adaptation of my Mom's chicken noodle soup that I absolutely LOVED eating as a kid.  I guess I was a food snob even as a child because I remember being served homemade chicken noodle soup by people other than my mother thinking what is this? Where's the CREAM!!!? I think ALL chicken noodle soup should be creamy! Now I will admit, my tastes have matured and I can go for a good broth-based chicken noodle soup these days, but this creamy chicken noodle is still my favorite.
Anyway, I decided to tweak my mom's version a bit as hers calls for cream of chicken soup as a thickener, which I try to avoid in my cooking nowadays, no worries though. It's still equally as easy and tastes equally delish.  All you brothy chicken noodle soup eaters will have something to look forward to with this recipe. I don't think you'll turn back.
How much salt you will need for this dish REALLY depends on what the saltiness of the broth and bouillon you choose to use.  I used about 1 1/2 teaspoons, but I'm a salt a lover, I confess.  I would probably start at about 1/2 teaspoon and keep tasting until it suits your tastes.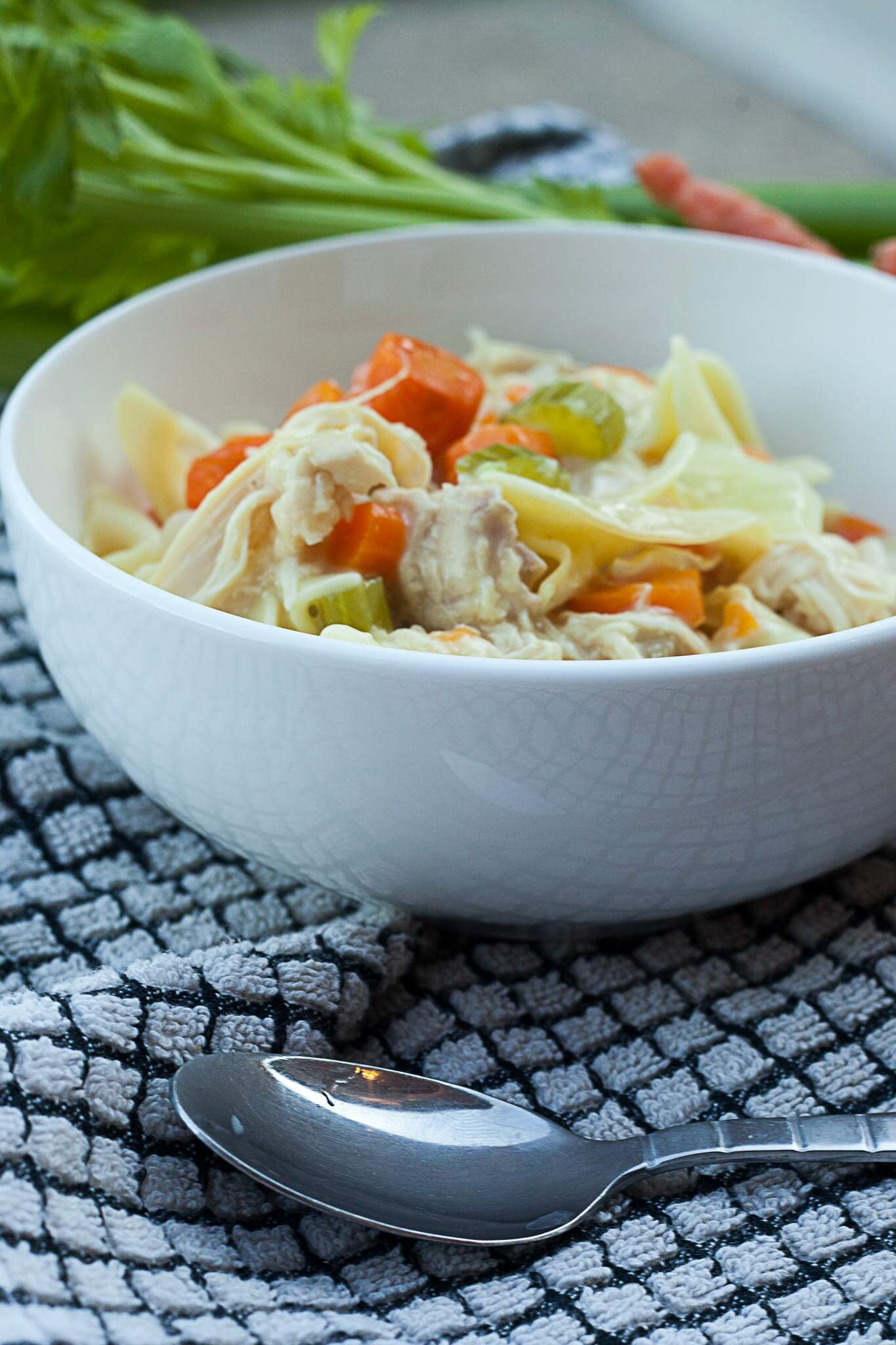 This recipe calls for cooked chicken breasts, and you can really cook the chicken breast however you like.  I typically throw the chicken in the crockpot in a little salted water in the morning so it's nice shredded chicken for the soup, but feel free to poach it, grill it, saute it, anything really works here. 
What do you think of creamy chicken noodle!? What is your favorite version of this popular dish like!?
Homemade Creamy Chicken Noodle Soup
This homemade creamy chicken noodle is comforting and light, it's sure to be a favorite version of the popular dish. 
Ingredients
3 C Chicken Broth
2 Tsp Chicken Granules or Base
2 C Chopped Celery
3 C Chopped Carrots
1/2 Medium Onion, Diced
1 Clove Fresh Garlic, Minced
2 C Egg Noodles
1/4 Cup unbleached all purpose flour
1/4 Cup COLD water
1 1/2 Cups Milk
2 Chicken Breasts, Cooked and Chopped
Salt and Pepper tt
Instructions
Heat chicken broth, granules or base, carrots, celery, and garlic over medium high heat until it comes to a boil. When it comes to a boil cover and reduce to a simmer. Simmer until veggies are tender, about 15-20 minutes.
While the veggies are simmering, cook the egg noodles in a separate pot according to the package directions.
When the veggies are cooked to your liking, mix whisk cold water and flour together until there are no lumps. Pour this mixture into the veggie and whisk quickly so that no lumps form. Continue to simmer until broth is nice and thick.
Whisk in milk and salt and pepper to taste. How much salt you will need depends on the saltiness of your broth, but I added ~1 tsp.
Stir in cooked chicken and pasta, and continue to simmer until heated through.