Foolproof Make Ahead Thanksgiving Stuffing
This make ahead thanksgiving stuffing is like a more wholesome, more delicious version of the stovetop you grew up on. It's bursting with fresh herb flavor, crisp on top and chewy in the middle, and the best part is that it can be made almost entirely ahead of time, freeing up your precious Thanksgiving Day schedule!
Ah, stuffing. Some people love it, and some people hate it, but for me it is one of my FAVORITE parts of the Thanksgiving Feast. It is with great fear that I admit to the foodie world that I am normally a stovetop kinda girl. I know. Partially hydrogenated oils and all, I love the stuff. I've been trying homemade stuffing recipes for years. Unfortunately, I usually find the flavor lacking and the texture either too stiff and chewy, or soggy and yucky. This year, I decided to change that. I have been working on this recipe since September, and just last week I perfected the version I am sharing today. This make ahead thanksgiving stuffing recipe is moist, sufficiently but not overly chewy, and perfectly seasoned. While it doesn't taste exactly like stovetop, it's an alternative that I'm happy to switch for.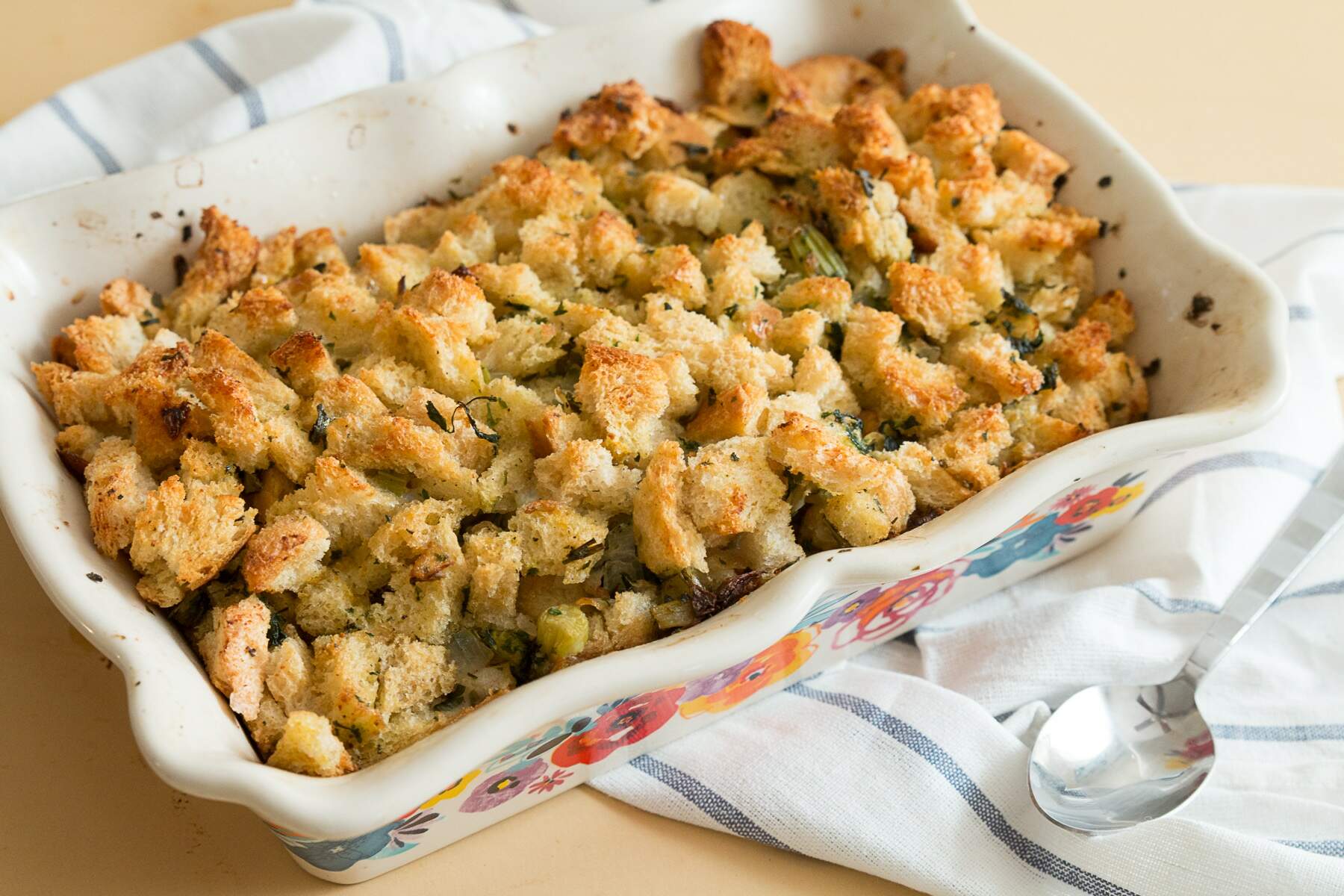 Want more make-ahead and easy Thanksgiving Recipes? Get my make-ahead Thanksgiving guide complete with recipes, timeline, and everything you'll need for the simplest most stress-free Thanksgiving dinner possible!
Make Ahead Thanksgiving Stuffing
Keys to the Perfect Stuffing
Want to learn how to create ALL of your Thanksgiving recipes with the least amount of stress? Listen to my Thanksgiving meal prep podcast episode!
This make ahead thanksgiving stuffing recipe is straightforward, basic, and pretty awesome, but I wanted to share a few tips that can make any stuffing recipe awesome. See how you can adapt your stuffing recipe to be even better using the techniques and tips below: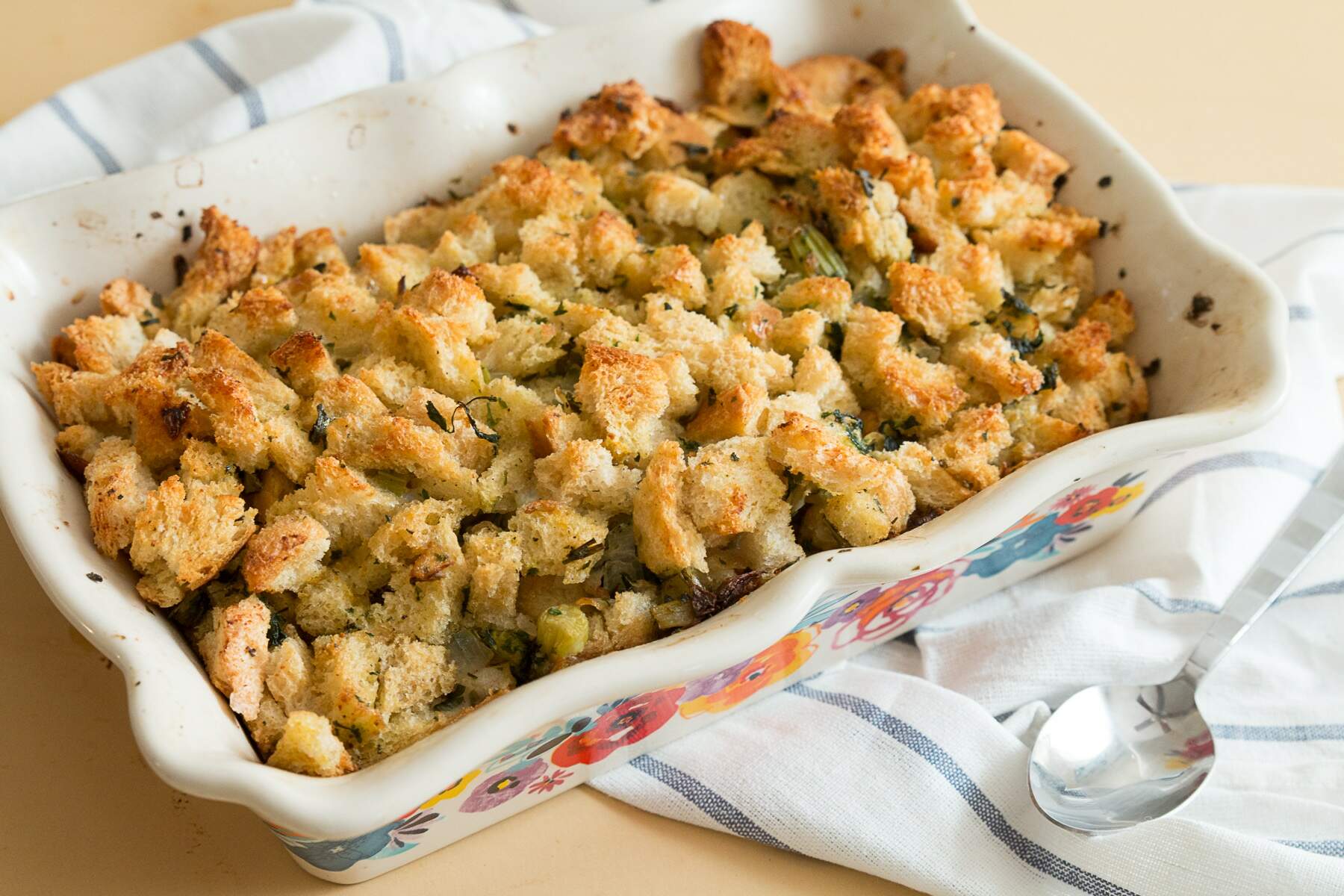 Type of Bread
Stuffing is pretty straight-forward, but, like I said, it took me a long time to nail down the perfect texture of this make ahead thanksgiving stuffing. I found that the type of bread you use in stuffing is VERY important. I've mentioned before in this blog that I tend to over-complicate things (see here). When I first started making homemade stuffing I would over-complicate by buying the most expensive crusty artisan bread I could find. The texture of this stuffing was too chewy and didn't soak up the broth/butter well. I decided to try cheap, typical white bread, but this produced an overly soft, soggy stuffing. I found the perfect balance in a thick, hearty, high quality white bread. I bought my loaves from Great Harvest and it was perfect if you have one nearby. If not, you should be able to find some at any local bakery or even your grocery store's bakery. Homemade white bread is also the perfect texture, but I don't usually have homemade white bread laying around, if I did make it, I would scarf it down before I could make it into stuffing!
Dryness of Bread
Another thing I found important in making the perfect make ahead thanksgiving stuffing is fully drying out the bread. Many recipes suggest using stale bread that has sat out to dry overnight or so. This recipe, which is the recipe my make-ahead thanksgiving stuffing is based on, suggested drying out the bread in the oven instead. I had much better results with this method. Getting the bread really dry helped so when the broth is added it doesn't soak it up immediately like a sponge. This really helps to avoid soggy dressing. Because you will be using a hearty, somewhat dense white bread it takes a while to dry the bread in the oven. I baked mine at a low heat for about an hour and a half to get it nice and dry.
Controlling Moisture-Containing Add-ins
Many stuffing recipes call for celery, onions, apples, and other high moisture ingredients. While it's perfectly acceptable and even a good idea to add these ingredients, it's important to control them. This make ahead thanksgiving stuffing recipe calls for celery and onions, but instead of calling for one onion and 2 stalks of celery, it calls for the celery and onions and cups. While this is always a best practice in recipe writing, it's especially important in a recipe like stuffing because these veggies will add moisture as the stuffing bakes. Too much moisture=soggy stuffing, which is what we're trying to avoid. So while you might be tempted to just throw in the rest of that onion or celery if you have more than is called for, resist the urge to keep the texture of this make ahead thanksgiving stuffing perfect! You also will want a kitchen scale to weigh your bread and make sure you're using just the right amount.
Making the stuffing the day before
I have to admit, I really love it when something that makes a recipe more convenient, also makes it taste better. This make ahead thanksgiving stuffingstuffing actually turns about better when made in advance. I like to add the broth in two different stages. I find this helpful for two reasons. The first is that letting the stuffing sit overnight allows the herb flavors to sink into the bread making the flavor even and delicious. The second, and probably more important reason is that adding the broth in two steps helps to assure you are adding just the right amount of broth for perfectly moist but not soggy stuffing. When you are working with such dry bread (as you've hopefully gotten from toasting the bread in the oven right?) it can be hard to know how much broth is going to ultimately soak into the bread which can make adding the broth difficult. Adding the broth in two steps allows the bread to soak up some of the broth at the beginning, then you can better judge how much broth to add the second time. The broth amount is not a hard and fast amount, you will likely need to adjust it depending on the exact density/structure of your bread.
I really love this recipe and I'm so excited to this make ahead thanksgiving stuffing to my holiday table. I love that it can be made almost entirely the day before, needing just some last minute prep and a bit of oven time the day of, and the flavor of the fresh herbs, butter, and broth make it the perfect, irresistible side. Yum, Thursday can't come soon enough.
Make Ahead Thanksgiving Stuffing
Other awesome Thanksgiving Recipes
If you're interested in some other thanksgiving day dishes be sure to check out my make-ahead rolls, the creamiest mashed potatoes ever, and the easiest pumpkin pie.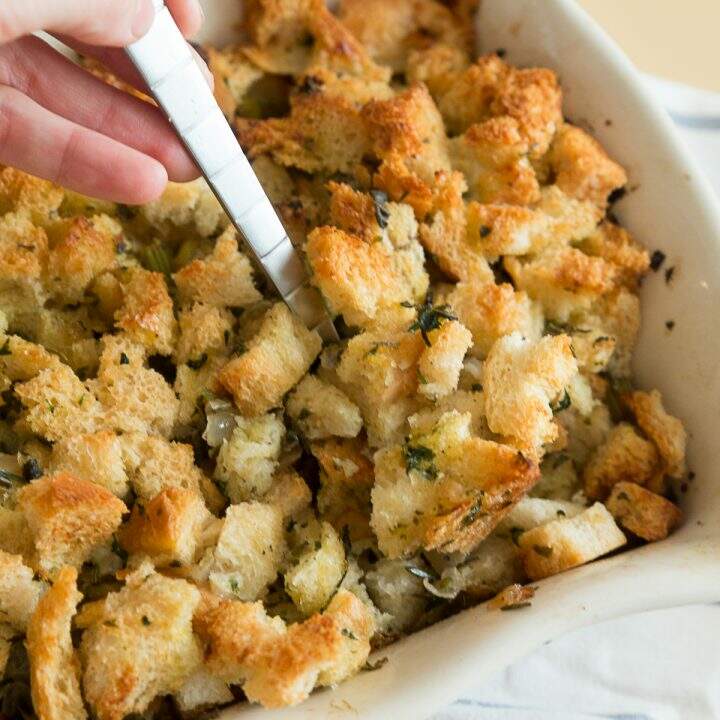 Make Ahead Thanksgiving Stuffing
Total Time:
1 hour
5 minutes
This make ahead thanksgiving is the perfect addition to your Thanksgiving table, especially because it's made almost entirely the day before clearing up your Thanksgiving Day schedule!
Ingredients
1 lb quality white bread, (amount will depend on the density of your bread, I would say I had 7-8 C)
1/2 C Butter
2 1/2 C yellow onions, diced
1 1/2 C celery, diced small
1/2 C fresh parsley, chopped
1 1/2 Tbsp fresh sage, chopped
2 tsp fresh rosemary, chopped
2 tsp kosher salt
1/2 tsp black pepper
2-2 1/2 C turkey or chicken stock, divided*
2 large eggs
Instructions
Tear the bread into small, bite size pieces (~1/2 in). Spread evenly over a large sheet pan. Bake in a 250 degree oven for 1-1 1/2 hrs until crispy throughout (not soft in the middle). The bread may start to brown slightly and that's okay. This can be done up to a day ahead if needed. Store in a loosely covered bowl until ready to use.
Saute onions and celery in butter for about 10 minutes until soft, translucent, and starting to brown.
Add herbs, salt, and pepper. Mix with 1 1/4 C stock. Add to dry bread and let sit in refrigerator overnight.
When ready to bake, preheat oven to 375 degrees Whish together two large eggs and add 3/4 C broth. Stir into bread mixture and add to a lightly greased casserole dish. I found two cups to be the perfect amount of stock for me, but depending on your tastes or type of bread you may need more. I like all of the bread to be covered and moist, but no extra liquid to be pooling at the bottom of my bowl. Add up to 1/2 C extra stock if necessary/desired.
Bake at 375 for 45-60 minutes until the top of the stuffing is lightly browned and crisp. Serve with all of the other Thanksgiving fixings!
Notes
I like to use turkey stock from trader joe's, but kitchen basics also carries a brand of turkey stock. Chicken stock will work just fine, I just like to keep things authentic on Thanksgiving and use turkey stock.
Calories calculated using MyFitnessPal
Recipe Adapted from Bon Appetit
Nutrition Information:
Yield:

10
Serving Size:

g
Amount Per Serving:
Calories:

271