Orange Cashew Quinoa with a Zesty, Healthy, Crunch!
Orange Cashew Quinoa
I can still hear my cute but sometimes purposely obnoxious husband's voice echoing around the house like it was yesterday.
"KEEENWAAAA" he said.  "KEEEEEEEEEEEENWAAAAAA" he repeated, louder and more emphatically. "I just can't stop saying it, it's such a strange word.  And look at it, it looks like fish eggs or something, and what are those curly things in there!?"
I sighed and thought this was yet another one of the foods that I enjoyed that I was going to have to put on the back shelf for the unusual times that I would be alone for dinner.  Other items on that shelf include mushrooms, squash, cauliflower, and weird pureed soups.  My husband is pretty accommodating and really doesn't make too much of a fuss over what we eat from dinner, but these few items were off the dinner.  After his humorous and over the top reaction to the quinoa sitting on his plate, I knew my chances of it becoming a weeknight staple were slim.  One bite and my suspicions were confirmed.
"It's okay I guess, but it's weird how you don't have to chew it. Remind me why we can't just have rice again!?"
So I shelved the quinoa for several years, despite how much I actually like it.  Did you know that quinoa is one of the only plant-based sources of all of the essential amino acids!? That's why we can't have rice. C'mon.
A few weeks ago a good friend of mine brought dinner while I was recovering from the birth of our sweet baby boy.  Among other things, she brought quinoa.  I hadn't had it in awhile, and I was reminded how much I like it.  I'm pretty stubborn, and decided I would bring it back for another try.  But this time, it had to be different.  My skeptical husband already had preconceived notions about this ancient grain, and it was going to take some work to overcome that. I went to the drawing board.
What is weird about Quinoa?
It has a funny name. Sorry, nothing I can do about that one.
It looks like fish eggs. This one is pretty tough to overcome as well, but I had some ideas.  I decided to try white quinoa instead of red.  They taste about the same, but the white quinoa is the color of rice, and thus looks a bit more like grains most people are used to.  I also decided it needed some color to distract from the fish egg look, so I added bright colorful fruits and veggies and cooked it in orange juice giving it a delightful orange color.
It has a strange texture. Okay, I can't really do anything about this either.  I'm not doing very well am I? Though I can't change the texture of quinoa I can add some other items to up the "crunch" factor and distract from the arguably too soft texture of quinoa. Enter Crunchy bell peppers and cashews.
Orange Cashew Quinoa
This post contains affiliate links, meaning that if you make a purchase from one of these links a small percentage comes back to me at no additional cost to you. Learn more by visiting my disclosure page.
Orange Cashew Quinoa (based on one of my favorite rice recipes from Mel's Kitchen Cafe) succeeded in melting my husband's quinoa-hating heart.  He gladly gobbled it all up, and even had seconds.
If you've never done it before, don't worry, quinoa is so easy to cook.  If you can cook rice, you can cook quinoa.  In fact, even if you can't cook rice, you can cook quinoa.  Random sidenote, I am REALLY REALLY REALLY bad at cooking rice.  I end up with crunchy and/or mushy rice about half of the time.  I hope you'll still trust me as a food blogger despite my lack of rice expertise.
Here are just a few tips for quinoa success.
Rinse the quinoa.  Quinoa can be pretty bitter on it's own.  Rinsing vigorously before cooking helps to get rid of that bitterness. The best way to do this is with a fine mesh strainer, as quinoa is pretty tiny and will fall through a traditional colander.  If you've tried and hated quinoa in the past, it might be because it wasn't rinsed properly.  Try this recipe and report back, mmmkay? Thanks.
Let the quinoa sit undisturbed for a few minutes after cooking.  This step reminds me a bit of cooking couscous, those few minutes allow the quinoa to suck up any extra moisture that it hasn't had a chance to yet.
The ratio of cooking quinoa is 1:2 So 1 cup quinoa means 2 cups of liquid.  This recipe uses half water and half orange juice, but just stick to the 1:2 ratio and you can't fail.
Now, when I hear the words "KEENWA" bellowing throughout the house, it's from excitement about this delightful orange cashew quinoa instead of disdain.  That's a win in my books.
Your Turn
What do you think of the strange grain "quinoa" do you dig it, or do you think it should be left in the past where it came from? Let me know in the comments!
[fl_builder_insert_layout id="2161″]
[fl_builder_insert_layout id="2102″]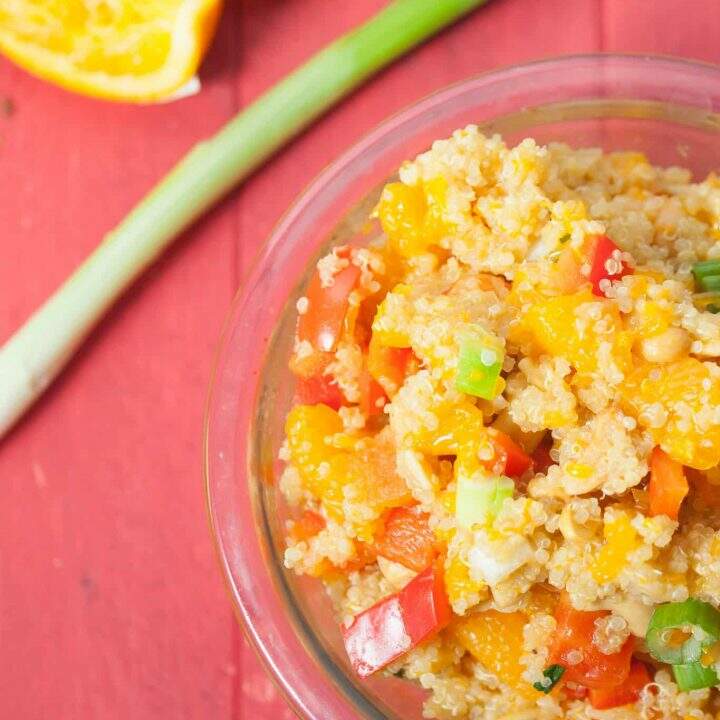 Orange Cashew Quinoa
This orange cashew quinoa is lightly sweet, zesty, and has a delightful crunch.  We love to pair it with fish, or grilled chicken for a complete meal. 
Ingredients
1 C White Quinoa
1 tbsp olive oil
1 C Water
1 C Fresh Orange Juice, (Approximately 4 Naval Oranges, Juiced)
1 Orange, zested (About 1 tbsp zest)
1/4 tsp salt
1/2 C Cashew Halves and Pieces, salted
1 Red Bell Pepper, diced (about 1 C)
2 Green Onions, sliced
1 15.5 oz can Mandarin Oranges, drained
Instructions
Rinse Quinoa well using a fine mesh strainer.  Quinoa tends to be bitter so the rinse is crucial for removing bitterness.  Don't skip this step. 
Heat olive oil in a medium saucepan over medium-high heat.  Add drained quinoa and cook about a minute to evaporate any leftover water and lightly toast the quinoa. 
Stir in orange juice, water, orange zest, and salt.  Bring to a boil. 
Turn heat down to low, cover and cook for 15 minutes.  When finished let stand for 5 minutes before removing the lid. 
Gently stir in cashews, bell peppers, green onions, and mandarin oranges.  Serve with fish or grilled chicken.