Complete guide to Family Vacation Meal Planning
Meal costs can add up for families on vacation. Not to mention, restaurants can take a lot of time out of your adventures! …but meal planning is stressful enough at home! How do you do it on vacation? Well I've put together this complete family vacation meal planning guide to help you. It even includes great ideas for easy meals AND a vacation menu plan template!
When I was in my early 20's my family and I visited New York City for the first time.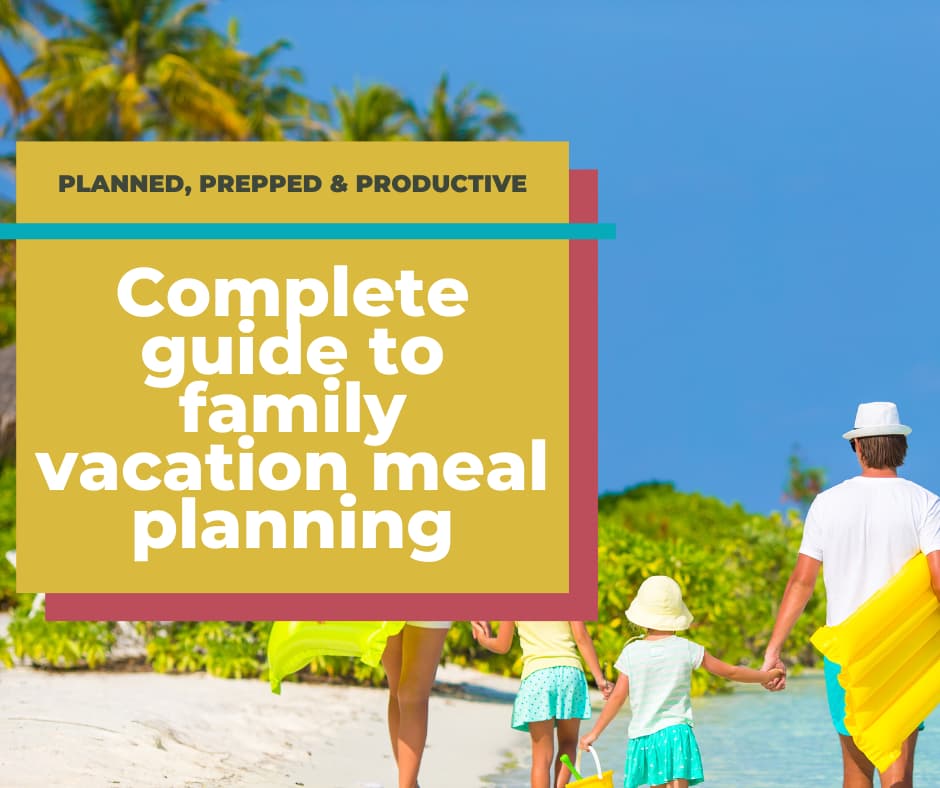 …and while it was such a fun experience, some of my strongest memories from the trip are…well…less than positive food experiences.
The first night of vacation we went to Applebee's. I was FLOORED when my salad cost 2x what it did at home. Another day we ate pizza which was amazing, and then we returned multiple times throughout our trip. This was fine, but it was really due to a lack of planning. We didn't want the stress of finding somewhere new to go. Many places we tried to go had 2 hour wait times. This wasn't helping anyone's hunger and was seriously cutting into our vacation time.
My strongest memory though was slowly waltzing into a restaurant and staring up at the menu trying to decide what I wanted. I might add that I wasn't deciding very quickly. The next thing I knew getting yelled at by an angry new-yorker behind the counter. Yikes. It was then I learned that while New York is a great place to visit, it's not the pace for me!
Anyway, the point of this story is that while we did have a ton of fun on the trip, a little bit planning would have let us focus on the most important things. It's also important to note that there were no young children on this trip so the wait times and overall grumpiness due to hunger would have been more than just an annoyance!
There are lots of different ways you can prep a couple weeks in advance of your next trip. It's a good idea to prepare, it can save a lot of money to make some of your own meals and you may even find that those quieter meals at your rental home or hotel room are your favorite meals.
Family vacation meal planning (with printable vacation meal plan template!)
Write down what resources you will have available
It's difficult for me to tell you all the best tips for planning successful meals for your vacation, because there are just so many factors to consider! So instead of just handing you all the top tips, first I need you to do a little work! Here are some questions to ask yourself before you even start planning meals for your vacation that will help you figure out what resources will be most useful for you!
Are you flying or driving on your vacation? It's clearly not going to make any sense for me to tell you to plan a meal of bbq chicken that you pack in a cooler if you are flying to 5-star hotel. It also doesn't make sense for me to tell you to find a fun local restaurant when you are a big group of 20 people camping somewhere remote. If you are driving you can consider packing some cooking items. You can plan meals that utilize a slow cooker or even an instant pot. On an airplane this isn't feasible. For road trips you can likely prep some things in advance and take them with you. This is one of my favorite camping tip! Again, your plan neighbors will thank you for NOT bringing a cooler full of melting food on the airplane ;))
What kind of access will you have to restaurants and the local grocery store? If you are flying, it really doesn't make much sense to pack a lot of food. If I am flying I will probably only pack a small lunchbox or cooler bag with some items for the plane. I will do the rest of my shopping when I get there. If where you are going does have access to grocery stores, but they are expensive, consider packing some healthy snacks that don't require refrigeration in a carry-on. Keep in mind that liquids must be packed in your suitcase, not your carry-on! (there are exceptions for baby food)
Will you have access to a kitchen? If your vacation rental doesn't have a kitchen it's going to be a bit more challenging to prepare your own food. It's not impossible, with just a mini-fridge you can certainly enjoy at least some no-cook breakfasts at your hotel with a little planning. You can even get creative and use your coffee pot or a microwave to cook. (This isn't something I necessarily recommend, but if you want to see it done check out easy-bake battle on netflix for some entertainment 😉
Put together your vacation itinerary
This is the most important step to making sure your whole family enjoys their vacation! When I talk about meal planning I always teach that you should plan your meals around the lifestyle you want instead of trying to fit your lifestyle around your meals. If you have a lifestyle that keeps you out busy doing fun things with your family in the evenings, it doesn't make much sense to plan elaborate meals that take two hours to make and clean-up.
In a similar way, you want to plan your week-long vacation meal ideas around the kind of trip you want to have, not the other way around.
To get your summer vacation meal plan template, enter your email in the box below and you'll be well on your way to planning your next vacation!
Some people are more into planning vacations then others. My husband's family are serious planners and when I first married into the family I had to adjust my idea of what a vacation was! Vacations with his family are packed with family fun every minute!
My family on the other hand usually wouldn't mozy out of the hotel room until noon. We'd frequently come up with our plans on the fly.
My pro tip here is to be somewhere in the middle. I get it if you don't like the idea of planning down to the minute. Also, being flexible will help your plans go better anyway. But in order to get the most out of your vacation meal planning you will want to have at least a rough idea of what you are doing each day.
Family Vacation Meal Planning: Plan your meals around your itinerary
While I am all for saving a little stress and money by making quick meals myself while on vacation instead of eating every meal out, enjoying local restaurants is one of my very favorite parts of vacation!
In fact, my husband teases me because I tend to choose vacation locations based on the food I imagine myself enjoying there!
Plan the meals you will eat at restaurants and what restaurants you will eat at
So for us, unless we are camping we will probably enjoy several meals out. However it's still important to include restaurants and eating out in your meal plan. One reason is that depending on the time of the year, there may be long wait times at local restaurants. This is difficult for young families. Looking things up in advance can give you the chance to make a reservation if they are accepted. You can also plan to go at a less busy time.
Another reason to plan your restaurants around your itinerary is so you can make sure you are choosing restaurant locations that are convenient. You want them to make sense based on your other plans.
One final reason to plan your meals around your itinerary is so you can take the needs of all of the different people on your vacation into consideration. You can avoid "where to eat" arguments while you are out and about. I suggest getting input from anyone old enough to care while you are planning. This way everyone is able to get something they enjoy while on vacation.
If planning restaurants takes away some of the fun and spontaneity of exploring a new area, that's fine! You can plan to choose a local spot to eat on the spot. You just want to make sure it fits into your itinerary. Plan those kinds of adventures for days when you don't have scheduled plans and you have time to just enjoy!
Fill in the gaps with meals you will prep at home (or the vacation rental)
Let's get started with family vacation meal planning
If you're not sure what meals you should eat out and what meals you should eat or pack at home, I've got you!
Generally speaking, I am all about enjoying a fast breakfast at home before heading out for the day. Starting the day with something nourishing without having to wait is ideal with young kids. Young kids are also typically up early. If you don't want to be rushing out the door yourself you'll definitely want some breakfasts at the rental! Hotels with continental breakfasts are a great option. Lately with our large family size we have found ourselves gravitating towards airbnbs so this isn't frequently an option for us.
At lunch time, I usually like to go out. Depending on the location of your hotel you may be able to stop back for lunch. However, I generally prefer not to be interrupted from my activities to go back and eat. One exception is if we're hiking or otherwise outside I will pack a cooler with lunch from home. This way we don't have to stop our playing!
For dinner, whether or not we eat out will depend on the day. It will also depend how many of our bucket list restaurants we have visited already!!
Often, with young kids we'll head back to the hotel early so prepping an easy dinner and enjoying the night in might be just what we need. A few dinners out for a special meal will likely make it on the itinerary as well.
What kinds of meals to cook while on vacation
When I'm "cooking" on vacation, it's all about ease and simple recipes. Camping may be the exception. Who doesn't enjoy a tasty dutch oven meal made from scratch…and what else are you doing while camping? But usually food at home is more about simplicity then it is about making your very favorite things.
Another note is that not all airbnbs have super well-stocked kitchens. You'll want to keep your go-to meals cook-able in a potentailly less than ideal kitchen.
Here are some of my favorite things to "cook" while on vacation. "Cook" is in quotes because unlike when i am cooking at home, I am going to use pre-prepared products as much as possible when cooking on vacation. I also may use paper products for easy clean-up, especailly for breakfast.
Vacation meal ideas
Breakfast burritos
Spaghetti and frozen meatballs
Frozen potstickers and fried rice
Sub sandwiches and salad
Pre-cooked hamburgers with chips and raw veggies
Frozen pizza and salad
Frozen lasagna
Rotisserie chicken tacos with frozen corn
Frozen or canned chili and baked potatoes
Chicken salad or pasta salad
Make your "grocery list"
The last step to your vacation meal planning list is to make your grocery list. I like to separate it into two columns. The one on the left is things you will bring from home or prep ahead at home, and the list on the right is the things you will buy when you get there. If you will be staying in the same hotel or airbnb the whole time it makes sense to do all of your shopping at once. If you are changing it up you might want to consider shopping each time you get to a new location so you don't have the problem of keeping your food safe while travelling!
Okay, I said that was the last step but the REAL last step is to enjoy your vacation AND enjoy all of the hard work you did ahead of time when you save yourself a ton of money and even more importantly save yourself stress and anxiety!
Planning food for your whole vacation can seem like a lot of work. It does require a bit of prep work, but learn from my experience in New York with my own family. Consider me the angry New Yorker behind the counter saying, get to planning your vacation or scram!! I hope this guide helps with your family vacation meal planning!
If you enjoyed this blog post you might also enjoy: