How to get in the right mindset to make dinner
Cooking is one of those things that is just part of life…but at times it can be boring and tedious, or worse stressful and overwhelming. This week on the podcast I'm welcoming Rebecca Mudrick of Shift for Health to share all of her best mindset tips and tricks to help you get in the right mindset to make dinner (even if you don't want to!)
I am so excited to introduce you guys to my guest this week. She's one of my favorite people, and I absolutely love her philosophy when it comes to food, fitness, and health. I'm excited to share just a little bit of her wisdom with you all today!
Rebecca Mudrick is half of the team that runs shift for health.
Rebecca Mudrick is a health geek turned health coach living in Columbus, Ohio. She's a busy mom of 4 boys, Jeni's ice cream lover, yoga teacher, and advocate of sustainable health goals rooted in moderation, instead of extremes. She loves helping her clients tackle issues that are holding them back and empowers them to make forward progress in smart, do-able ways . But most of all, she loves helping her clients see how they can shift their mindset to shape their lives in extraordinary ways.

How to get in the right mindset to make dinner (even when you don't feel like it)
On episode 55 of the podcast we dig into why cooking from scratch is important, what keeps most of us from doing it more often, and some simple shifts we can make that will help you get in the right mindset to make dinner.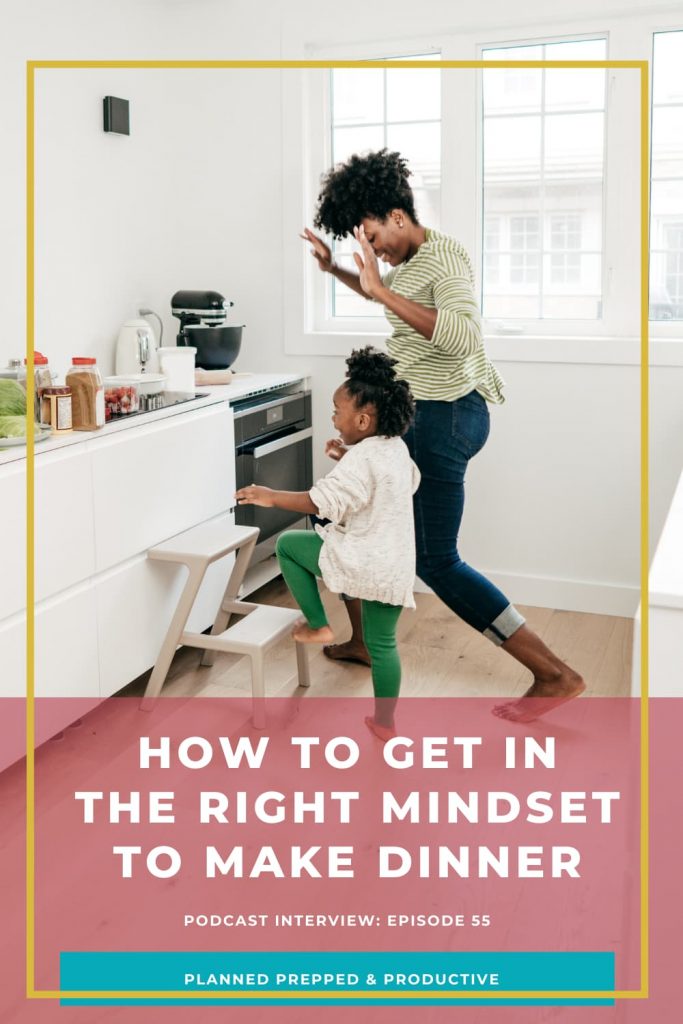 What you'll learn inside this episode:
The number one problem facing individuals trying to cook more from home (and how to solve it)
How to find your big why so you never lose focus again
How a mealtime mantra can help get you through even the most stressful days in the kitchen
The key to finding motivation even when you absolutely don't want to cook.
Also in this episode we are announcing an exciting collaboration between the shift for health team and, yours truly!
Feeding your family is a comprehensive guide covering all aspects of cooking from scratch. You really get the best of all worlds with this guide. Inside you'll learn.
Why cooking from scratch matters and why you should even bother trying when you could just buy it

How to navigate the many conflicting messages about food

Mindset shifts around cooking and take away the dread

How to organize your recipes so you can make your meal plan work for you

The ways you can make your recipes work around your busy lifestyle, not the other way around

Build your kitchen toolbox with tips and tricks to work smarter (not harder)
We're so excited to finally get this product into the world!
As part of our launch plan and promotion, anyone who uses the code PODCAST10 can get $10 off of the ebook! Hurry on over to get your copy right now!
Next week on the podcast we're digging into Thanksgiving! We'll be talking all about different ways you can prepare your Turkey to clear up precious oven space for all of those tasty sides!
Thanks so much for listening, and another huge thanks to Rebecca for coming on the show!
I will catch you next week, until then, happy planning!
Other interviews you may like:
Meal prep in real life: A Case Study with Andrea Brandley
Holiday entertaining tips and tricks with Megan Porta