#5 How to Meal Prep your Thanksgiving Dinner
Meal prep your thanksgiving dinner to make time for the important things like spending time with loved ones and actually enjoying that big feast! Many aspects of the meal can be made in advance without affecting quality (or even improving the quality) read on to see what dishes you can meal prep, and what things you really should for that day!
Check out my podcast episode on this topic for more details of how to meal prep your thanksgiving to relieve stress and overwhelm and enjoy the holiday!
Do you get stressed just thinking about hosting Thanksgiving?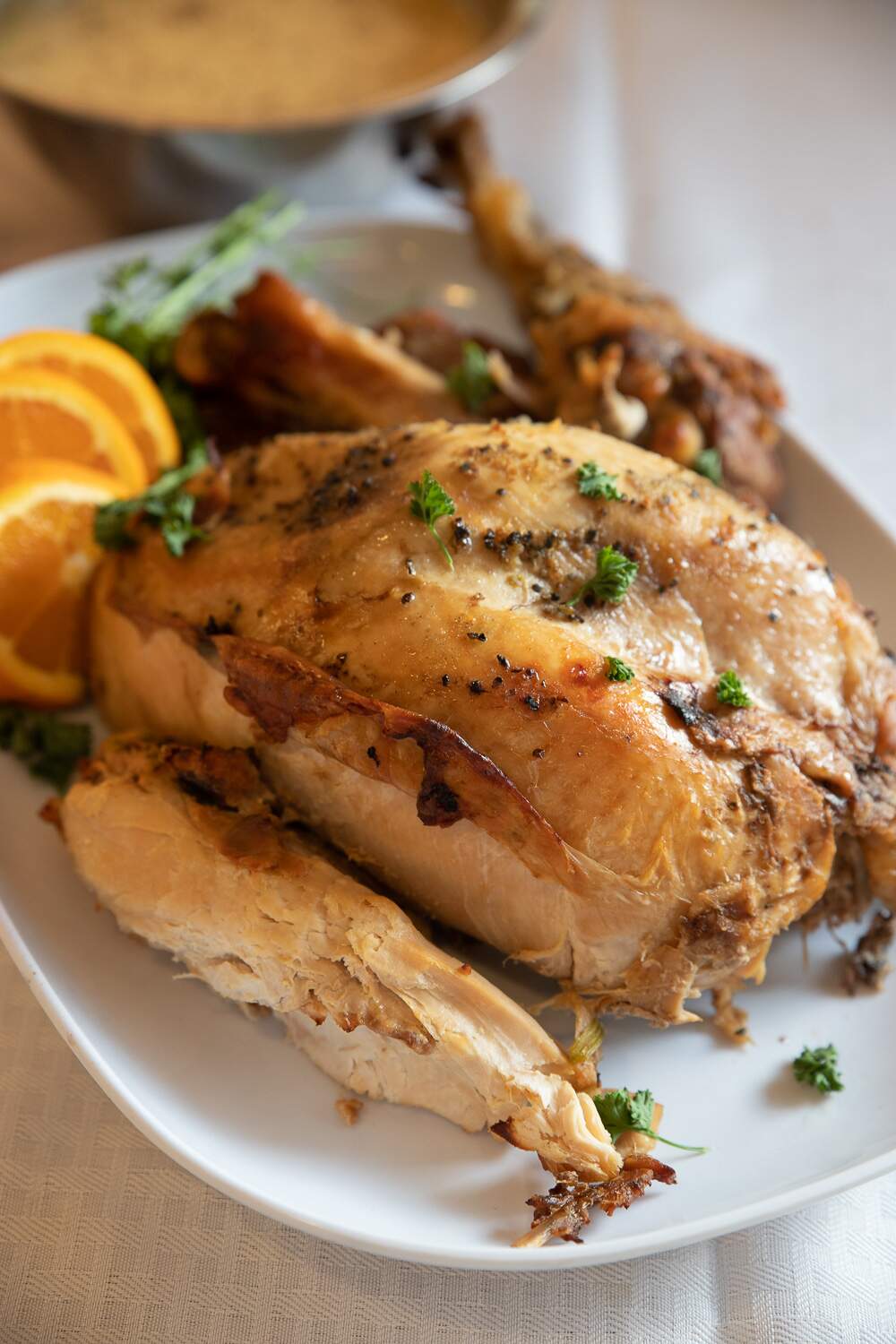 From thawing, to brining, to cleaning your house, to all the side dishes, making sure everything goes off without a hitch can be stressful!
The last 9 years I have made it my mission to create the perfect Thanksgiving timeline complete with delicious traditional recipes and exactly what to do and when to do it.
I can honestly say that it has taken this long to find the perfect combination of recipes and I'm beyond excited to share this free resource with you that will simplify your Thanksgiving Day allowing you to spend time with your family being grateful.
Instead of running around the kitchen like a turkey with your head cut off.
This free resource is a gold mine of information and will simplify your Thanksgiving Dinner by a mile because you don't have to hunt down recipes, or even write your own grocery list (it's all done for you!)
FREE Stress-Free Thanksgiving Dinner Guide
I've included links in this post to recipes already on the blog, but a few are available only in the freebie so you'll definitely want to be sure to sign up below.
[oceanwp_library id="5587″]
How to meal prep your Thanksgiving for a Stress Free holiday
What to outsource to meal prep your Thanksgiving
Some Pies-I save pumpkin and apple to make myself because to me they are the must-have Thanksgiving Day pies!
Drinks-It's so fun for guests to pick up a fun specialty drink for everyone to try, I love the specialty drinks at Trader Joes!
Appetizers-You definitely want something for your guests to munch on as they arrive to tide them over until the meal begins and keep them out of your hair. But making appetizers the day of is an added stress that I never want to deal with. I like to make a dip or spread and then ask each guest to bring crackers or veggies to go with it to keep everything cohesive but also to take most of the work off of me and onto someone else
Someone's specialty-If you know someone has a really great recipe for any of the rest of the dishes on your list feel free to have them bring it and take one thing off your list of things to do!
What to prepare in advance for your Thanksgiving Day Meal
When you meal prep your Thanksgiving you can actually enjoy your holiday instead of beiing stuck in the kitchen all day. These are my favorite things to prepare at least partially in advance to relive stress and overwhelm.
Gravy -You can absolutely make Gravy the day of, but I find it so stressful trying to get the hot broth to cool enough to skim the fat off of and making one more thing in that last hour before dinner. I choose to make my gravy ahead from turkey parts and keep it in the freezer so on the day of all I have to do is thaw and serve
Stuffing-Stuffing is magical and it turns out it tastes BETTER when made partially ahead of time. Put the whole casserole together the day before and let the broth really soak into that bread and all you have to do the day of is throw it in the oven.
Rolls (Maybe)-Fresh rolls are absolutely amazing, but Rolls are the bane of my existence on Thanksgiving day. They never seem to rise in the correct amount of time and planning the oven around them is a nightmare. Save yourself from stress by making them ahead of time. The recipe included here is for crusty artisan rolls that are baked only partially ahead of time and stored in the freezer so on the day of they finish cooking and taste fresh and delicious.
Cranberry Sauce-Can be made completely ahead and kept in the freezer
Sweet Potatoes-My favorite sweet potato recipe is an incredible sweet potato soufflé, I prepare it the day before but don't bake until the next day. Bonus, the stuffing and sweet potatoes are designed to be baked at the same time in the oven so they can both be served warm right when you need them!
Green Beans-I typically shy away from the typical green bean casserole that's often served on Thanksgiving, not because it's not delicious, but to free up oven space. I think you'll find this skillet recipe a bit more sophisticated and totally delicious anyway. I don't make this dish entirely in advance, but I do Blanch the green beans the day before and chop my pecans and shallots so the dish comes together in less than ten minutes, easily, on Thanksgiving Day.
Pie-Pies are another magical dish that are better prepared in advance. Pies have to set to come out of the pan in the perfect beautiful slice and that can take several hours. Make the pies the day before and heat them up (if desired) while you are enjoying dinner.
What you really shouldn't meal prep for your Thanksgiving Dinner:
Turkey– Sorry guys, there's no way around this one. Fresh turkey is best. I do save time and energy by preparing Bone-in Turkey Breasts instead of a whole Turkey in the slow cooker.
Mashed Potatoes-Mashed potatoes are my pride and joy, and while we have tried a few make-ahead options (slow cooker mashed potatoes are quite good!) I like to save this dish for the day of. A potato ricer and lots and lots of cream and butter make for the smoothest, creamiest, mashed potatoes you ever will taste!
Whipped Cream-The texture of whipped cream can get a little funny if made too far in advance, It will keep in the fridge just fine if you make it in the morning on thanksgiving before things get too crazy, but I wouldn't make it the day before!
For the complete timelines for how to meal prep your thanksgiving for a stress-free holiday, you'll absolutely need my completely free pdf guide! Get it and you'll be on your way to your least stressful Thanksgiving Holiday Yet!
[oceanwp_library id="5587″]
What do you plan to meal prep for your Thanksgiving dinner this year? Do you like the craziness on the kitchen on Thanksgiving or do you wish the holiday was a little bit less chaotic?